It's a rare win for migrant workers in Singapore, and critics says it again shines a spotlight on the poor treatment of these invaluable labourers in one of the world's richest countries.
An Indian manual labourer has achieved an uncommon legal triumph in Singapore in an equally uncommon case brought by a migrant worker against a powerful employer. He successfully sued his employers for negligence after falling from an overcrowded lorry. This outcome has spotlighted the rights of migrant workers and renewed discussions on their treatment in the prosperous city-state.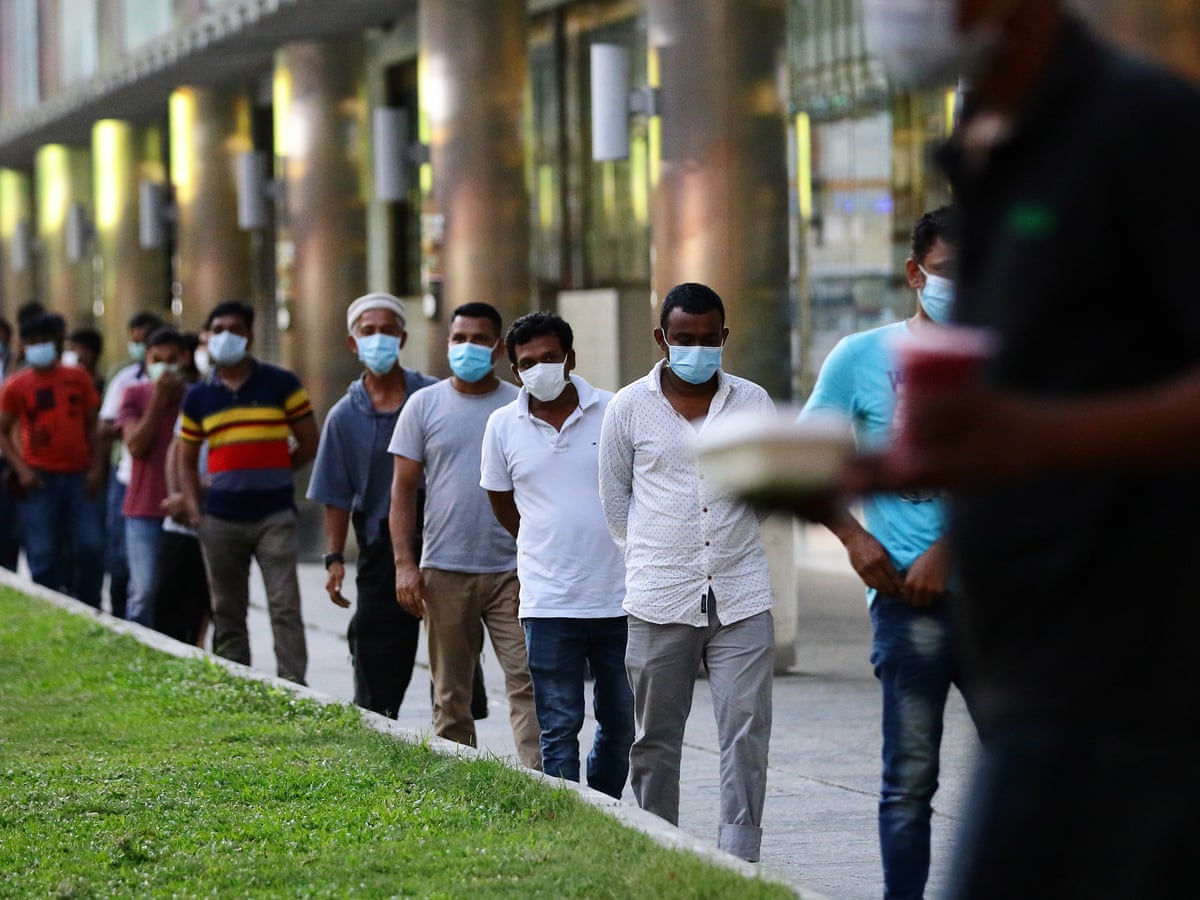 Ramalingam Murugan, a 37-year-old father of three from Tamil Nadu, South India, suffered a leg fracture in 2021 while alighting from an overcrowded truck. Consequently, he was unable to work, as stated in court documents.
His lawyer, Muhamad Ashraf Syed Ansarai, noted the intensity and persistence of his pain. "He injured himself coming down from a lorry which was overcrowded – a simple thing that turned out to be risky," Ansarai said. "But it is not uncommon for companies, especially those involved in heavy construction, to take risk assessments for granted."
FOR FOREIGN WORKERS, THIS IS NOTHING NEW
Singapore, one of the world's wealthiest countries, has long leveraged cheap foreign labour to its benefit, with observers saying that modern Singapore has largely been built on the backs of these workers. Indeed, migrant workers from neighbouring nations like Bangladesh, China, and Vietnam often undertake labour-intensive and perilous jobs in construction and maritime sectors. They endure prolonged hours outdoors, often under harsh conditions, without guaranteed minimum wages.
Transportation on lorries, which are typically overcrowded and lack safety features like seat belts, is the norm for getting these workers to their job sites from their outlying dormitories. This practice, common in the industry, has caused a number of accidents and fatalities, leading critics to accuse businesses of prioritising profits over workers' safety.
Tragic incidents, including a collision involving a lorry carrying 17 migrant workers in April 2021 that claimed two lives, have underscored the urgency for better working conditions and road safety assessments. This is further highlighted by several events 2021, which witnessed multiple accidents involving lorries ferrying workers.
As for the April 21, 2021 incident, a lorry carrying 17 migrant workers to a project site collided with a large truck along an expressway, killing two men – Toffazal Hossain from Bangladesh and Sugunan Shudeeshmon from India. Both men were fathers and the sole financial providers for their families. Virtually everyone else in the truck suffered injuries to varying degrees.
In July 2021, no less than 26 men were taken to hospitals after three lorries, two ferrying migrant workers, collided on a major highway in Singapore. Officers from the country's Civil Defence Force (SCDF) had to use hydraulic rescue equipment to free two men who were trapped in the wreckage of the vehicle.
A mere day later, another lorry, which was ferrying at least 10 workers, collided with a car on an expressway. All the workers were taken to hospital to treat their injuries, officials said.
Amid this backdrop, Murugan's case becomes a fresh reminder of the pressing need for better worker welfare and improved transport practices. Singapore is home to approximately 1.4 million migrant workers, constituting almost a quarter of its population.
THE COURT CASE
Murugan's unfortunate incident unfolded on January 3, 2021.
Based on court documents available to the media, he, along with at least 24 other workers, was transported via a lorry from their dormitory to a work site. He was the fourth to disembark from the vehicle, amidst heavy rainfall.
According to Murugan's testimony, the urgency of a fellow worker seeking refuge from the rain led to an unintended push, resulting in him losing his balance and crashing to the ground with significant force and causing injury to his knee.
His discomfort persisted, prompting a hospital visit due to persistent pain in his right knee. There it was found he had actually suffered a fracture.
Due to the injury, he underwent surgery and remained on medical leave for around five months. Ansarai (Murugan's attorney) emphasized the gravity of the situation, saying, "The injury left him unable to work. And even if he could, he would not have been able to fulfill basic duties required as his knee injury was causing him great pain."
In the subsequent year, Murugan initiated legal action against Rigel Marine Services, seeking S$100,000 (approximately RM343,000) as compensation.
His argument centered on the company's failure to establish a secure transport system for him and fellow workers, along with a disregard for conducting risk assessments to identify potential dangers.
In response, representatives from Rigel Marine Services rejected the assertions, asserting that Murugan's mishap was a result of his own negligence for not watching his step while disembarking from the lorry. The company further presented a counter-claim for the medical expenses and wages related to the medical leave provided to Murugan.
However, on August 17, District Judge Tan May Tee ruled in favor of Murugan, asserting a "breach of duty by the company."
Tan highlighted the absence of proper supervision and order during the disembarking process, attributing Murugan's fall to the push from his coworkers. She emphasized that Murugan bore no contributory negligence and had no means of preventing the accident, given that the vehicle was not designed to accommodate more than 22 individuals at the time.
Considering these factors, Tan concluded that a proper and secure system for access and egress from the lorry's deck was absent during the incident.
The determination of damages awarded to Murugan will be undertaken in due course, as indicated by the judge.
In response to queries, Rigel Marine Services offered no additional comments after the legal proceedings concluded.
Through his lawyer, Murugan expressed his anticipation for closure. He voiced his hope for reasonable compensation for the hardships he endured due to his injuries. Additionally, he aspired to inspire other workers in similar situations to come forward and seek appropriate redress. He called for increased attention to the safety of workers and a concerted effort to address the risky nature of their work.
"This ruling marks an important milestone," civil rights activist Jolovan Wham stressed. He highlighted the government's responsibility to legislate worker protection and implement safer transport practices. Murugan's victory is not just about his personal case; it signifies the ongoing struggle for improved migrant worker rights and welfare.
Citizens routinely complain in the news and on social media following the all-too-common accidents involving lorries transporting migrant workers, and even started a petition calling on the government to mandate transport in buses or vans rather than in open lorries. Still, nothing has changed.
While the Singaporean government acknowledges safety concerns, debates persist about banning lorries for worker transport. The Ministry of Transport acknowledges mixed views and cites practical challenges, including alternative transportation shortages and a lack of bus drivers.
"We recognize that it isn't ideal for workers to be transported on lorries, but we also understand the genuine concerns from employers," Senior Minister of State for the Ministry of Transport Amy Khor said in responses to questions fielded in Parliament on August 2. "Employers have stated that if the government imposes a ban, many companies, especially small and medium enterprises, will not be able to continue operating their businesses," she continued, as reported by CNN Asia.
"Our efforts will focus on improving safety for all road users," Khor added. "My ministry has been working closely with the relevant government agencies as well as industry associations to progressively implement a suite of additional measures to improve safety for our workers."
Addressing the fatal accident in 2021, Khor previously said further regulations like banning the transportation of workers in lorries would "likely impact" various building projects for businesses looking to keep costs down in the country's post-pandemic recovery. If this isn't a tacit way of saying that maintaining the status quo of Singapore's various projects is more important than the lives of the men who are staffing them, it's hard to know what would be.
"From a road safety perspective, it would be ideal for lorries not to carry any passengers in their rear decks, but there are very significant practical and operational issues on top of just cost considerations," Khor remarked.
Admittedly, it's often challenging to balance the needs for safety and welfare against that of financial interests, but something as seemingly basic as finding a better way to transport workers to job sites shouldn't be that daunting, particularly for a wealthy and fully modernised country like Singapore. After all, other modern nations have stringent safety standards and regulations framing the transport of migrant and seasonal workers, so it seems evident that Singapore could do this, too – if there was enough will to do so.
Despite the ongoing struggle and plenty of legal complexities, Murugan's legal triumph nevertheless serves as a reason to hope for better worker treatment in the future, as his case once again re-energizes the call for improved migrant worker welfare and better legal rights in Singapore.
---
Reporting from CNN Asia, The New Straits Times, and Must Share News contributed to this article.
---
"ExpatGo welcomes and encourages comments, input, and divergent opinions. However, we kindly request that you use suitable language in your comments, and refrain from any sort of personal attack, hate speech, or disparaging rhetoric. Comments not in line with this are subject to removal from the site. "
Comments