Once China's largest property developer, Country Garden is struggling with crippling debt problems which threaten to cause further damage to the country's faltering economy.
China's critically important property sector is facing a potentially existential crisis, with Country Garden, one of the nation's leading developers, making headlines. On October 18, the Credit Derivatives Determinations Committees declared a "failure to pay" event for Country Garden, marking its first international bond default.
Country Garden has been struggling with a severe cash crunch, further underscoring the ongoing challenges in China's cooling real estate market.
Once hailed as China's biggest real estate developer, Country Garden has witnessed a significant decline in fortunes recently. The company's sales of apartments plummeted by 81% in September compared to the previous year, and it reported a staggering $7 billion loss for the first half of 2023.
Listed in Hong Kong and based in Foshan, Guangdong, Country Garden has developed some 3,000 projects across China, built housing for more than 5 million people and converted more than 1,400 rural towns into cities.
Though largely focused on residential real estate, the group also develops commercial spaces, such as hotels, parking lots, and retail stores, and had been branching out into other areas, such as robotics and agricultural services.
Country Garden also creates a huge number of jobs in China, employing some 300,000 people, according to its most recent annual report.
The company's financial turmoil has raised concerns of a looming debt restructuring and the potential for a disruptive financial collapse, which could have ripple effects throughout China's fragile economy, which is largely underpinned by the property sector. Reports that new housing starts are down by 60% only further highlight how precarious the situation in China's once-buoyant economy currently is.
THE MALAYSIAN CONNECTION
Naturally, Country Garden's financial troubles raise serious concerns about the future of its ambitious Forest City development in Malaysia. (Country Garden is a majority shareholder in the development.)
Forest City, a massive residential and commercial project located in Johor, near the border with Singapore, was once envisioned as a futuristic smart city, but has so far not fulfilled any of its lofty ambitions, having been victimised by government instability in Malaysia, political changes in both Malaysia and China (the latter severely impacting the ability of Chinese citizens to buy the property units in Forest City), the Covid-19 pandemic, and plenty of bad press.
Now, its parent company's liquidity issues and potential debt restructuring could jeopardize its ability to fund and complete the development as planned. Given the scale and significance of Forest City, any disruptions could have a substantial impact on Malaysia's property market, the local economy, and the broader vision of creating a thriving, tech-driven metropolis in the Peninsula's southern region. The Johor project's fate serves as a stark reminder of the challenges faced by major Chinese property developers operating both at home and abroad.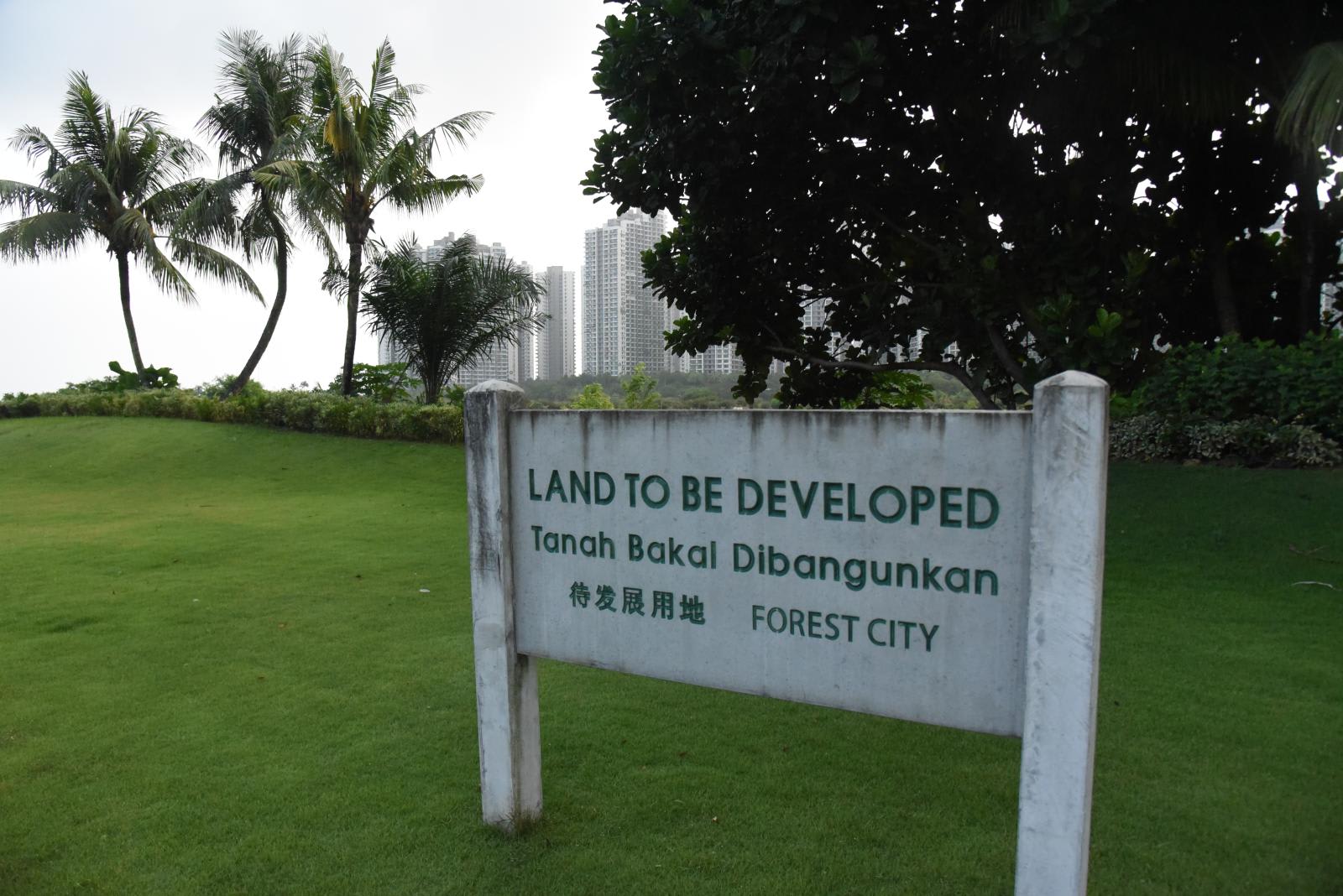 One Singaporean living in Forest City echoed these concerns, saying she fears that construction for the remainder of the Forest City development may not be completed and that the area she lives in will continue to be a "deserted ghost town." 
"The reports are very worrying. I think it raises a lot of questions (on) whether the developer in Malaysia also has cash flow problems, and if they will be able to finish what they planned to do?" she said.
In an interview with CNA, she explained that she believes it to be "extremely unlikely" that Forest City's construction will be eventually completed. 
"What I'm concerned about is the impact on my property's value. I bought the unit at around RM700,000, but now they are worth only (around) RM400,000," she said, adding, "I fear that with this news of potential default, the Malaysian developer will cease construction of the remainder of the project and we will see the value drop even more in the coming months." 
Property experts in Johor interviewed by various media have agreed that these concerns are valid, especially given recent steps taken by Country Garden to divest its property ventures in other countries.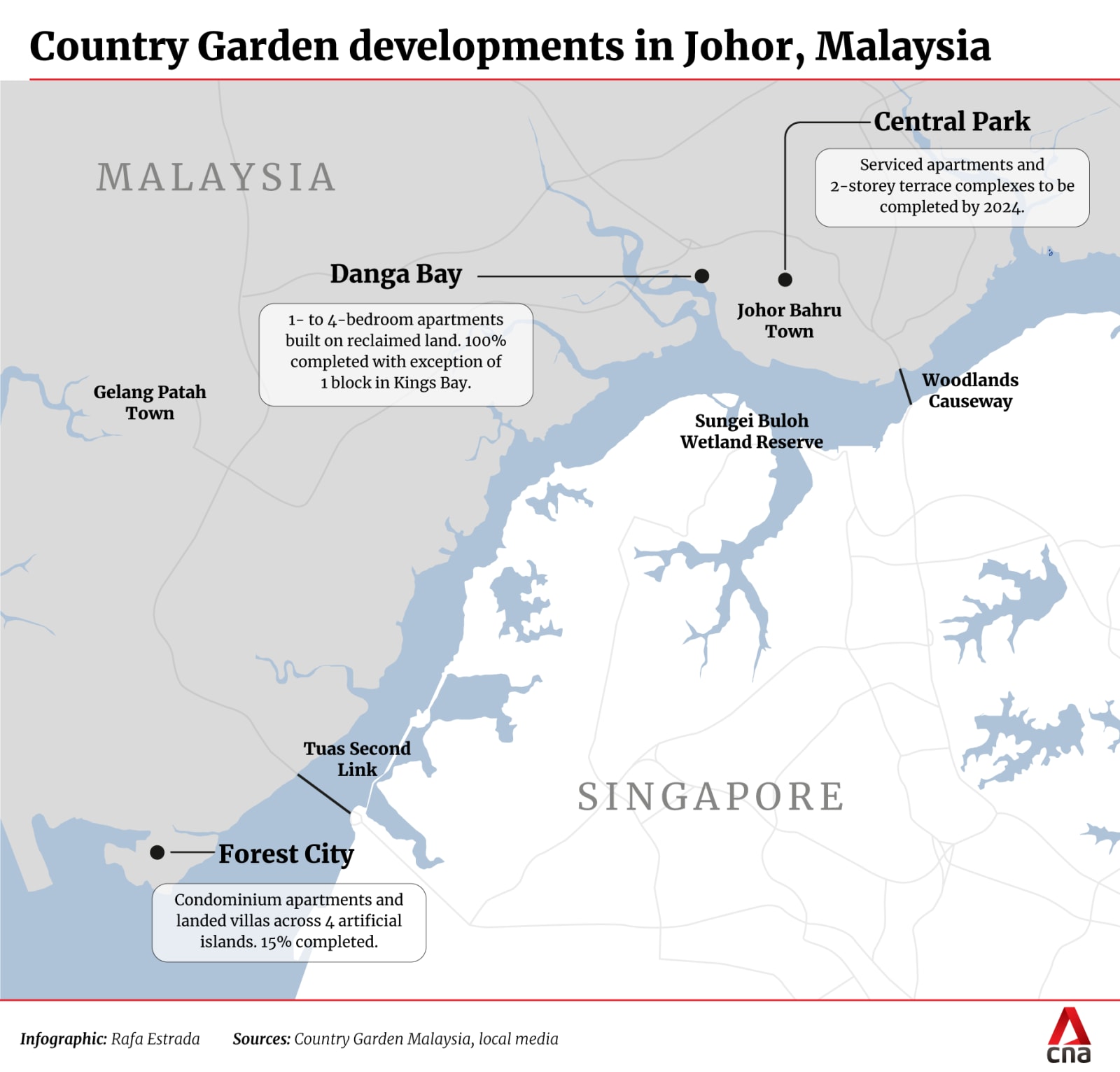 COUNTRY GARDEN NOT ALONE
The company's woes are reminiscent of those experienced by Evergrande, another major Chinese developer that defaulted in 2021 following losses of $81 billion in the previous two years, subsequently filing for bankruptcy in the United States. China's real estate sector is a vital component of the nation's economy, contributing to an estimated 25% to 30% of its GDP.
Country Garden's liquidity crisis surged into public view in August when reports surfaced that the company had missed interest payments on two US dollar bonds. As the company grappled with mounting debt issues, it warned investors about potential defaults, casting a shadow over its ability to service its substantial debt.
Country Garden's troubles highlight the persistent challenges in China's property market, which has been grappling with an enormous oversupply of housing. The International Monetary Fund (IMF) has urged China to adopt a "comprehensive strategy" for the real estate sector. China's ongoing property market woes continue to pose significant economic risks, both domestically and globally.
---
Reporting from CNN, Bloomberg, The New York Times, and CNA contributed to this article.
---
"ExpatGo welcomes and encourages comments, input, and divergent opinions. However, we kindly request that you use suitable language in your comments, and refrain from any sort of personal attack, hate speech, or disparaging rhetoric. Comments not in line with this are subject to removal from the site. "
Comments