The Michelin Guide gives Malaysia its first two-star restaurant, and a total of five eateries in Kuala Lumpur and Penang were awarded with the coveted star recognition.
In a glitzy awards ceremony held on Friday, November 17 at the Four Seasons Kuala Lumpur, Dewakan, the modern Malaysian culinary haven led by the innovative chef Darren Teoh, clinched the coveted status of Malaysia's first two Michelin-starred restaurant. Chef Teoh, expressing his gratitude, gave thanks to "all the people who put this (the Michelin Guide) together and to all the people that have journeyed with us and continued to support us."
The recognition of Dewakan, a restaurant dedicated to championing Malaysian produce and indigenous ingredients, as the most recognized and awarded in Malaysia, underscores the realization of Teoh's ambitious dream.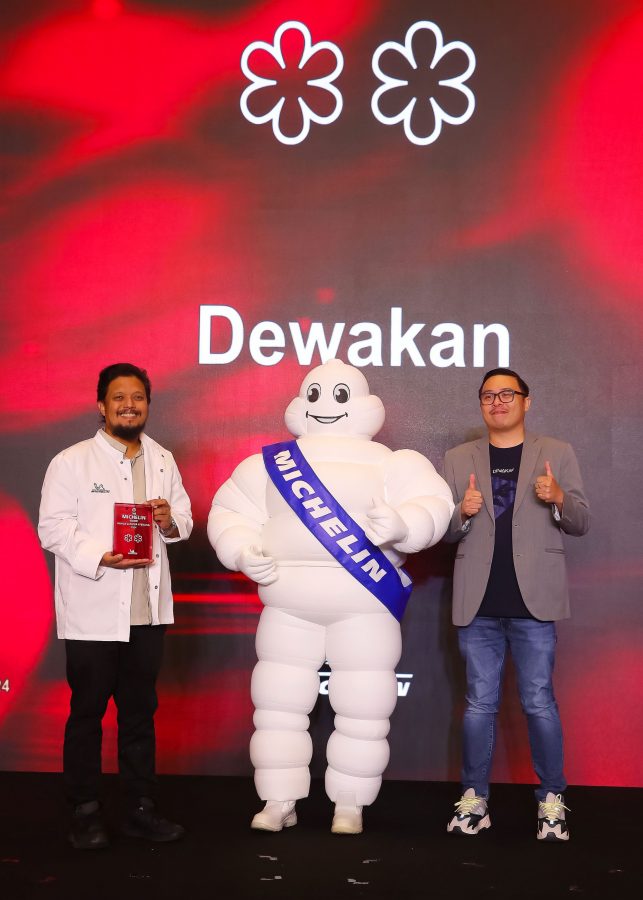 Alongside this, four distinguished restaurants were honored with one Michelin star each, with three retaining their star from the previous year—Auntie Gaik Lean's Old School Eatery and Au Jardin from Penang, and renowned chef Darren Chin's DC Restaurant in Kuala Lumpur.
A notable addition to the Michelin star category is the progressive Malaysian gem, Beta KL, under the skilled guidance of Chef Raymond Tham, securing its first Michelin star this year.
Chef Tham, expressing his joy, shared, "I would like to share this award with my team. One person can't do this job alone. We will work harder after this." Interestingly, both Teoh and Tham, former colleagues and friends who once taught together at KDU University's hospitality school, united by a dream to elevate Malaysian cuisine, find their Michelin star accolade a fulfilling homecoming.
Reflecting on their culinary journey, Tham stated, "We always had a dream to showcase Malaysian cuisine in a different manner. That was eight or nine years ago, but the fundamental thing is still what we believe in, which is Malaysian ingredients."
The Michelin Guide also bestowed Michelin Selected awards on 25 new establishments, raising the total number of Michelin Selected restaurants in the country to 77. Among these, 16 new establishments in Kuala Lumpur and nine in Penang received this esteemed recognition.
"As we unveil the second edition of the Michelin Guide Kuala Lumpur and Penang, it is a testament to the gastronomic adventures that await everyone in these two remarkable cities. From traditional heritage dishes to contemporary interpretations, the culinary landscape continues to evolve, providing a true reflection of the diverse culinary artistry in Kuala Lumpur and Penang," said Gwendal Poullennec, International Director of the Michelin Guide. "It is also delightful to learn that many young talents are joining the culinary industry, devoting their time and energy to serve great food that is dedicated in showcasing the beauty and uniqueness of Malaysian ingredients and cuisine."
Further enhancing the 2024 Michelin Guide awards, four special accolades were presented. A noteworthy addition was the Opening of the Year award, presented by UOB Malaysia, recognizing chef Remash Thangaraj from Jwala, a hot new progressive Indian restaurant in Kuala Lumpur. This award celebrates those who have significantly contributed to the gastronomic scene by successfully opening a restaurant in the past 12 months.
Other distinguished awards included the Michelin Guide Service Award presented to Wan Mohd Zulkifeli from Gai by Darren Chin for his exceptional knowledge, attentiveness, and calm demeanor. The Michelin Guide Sommelier Award went to Yap Cze Ying from Hide Restaurant, and the Young Chef Award was claimed by 32-year-old Johnson Wong, head chef at the acclaimed Penang restaurant Gen.
The 2024 Michelin Guide Kuala Lumpur and Penang has brought the total to 127 restaurants bestowed with Michelin stars, Michelin Selected, and Bib Gourmand titles, solidifying its status as a significant player in the culinary scene. The Michelin Guide, launched in Malaysia last year, continues to shine a spotlight on outstanding gastronomic experiences in Kuala Lumpur and Penang.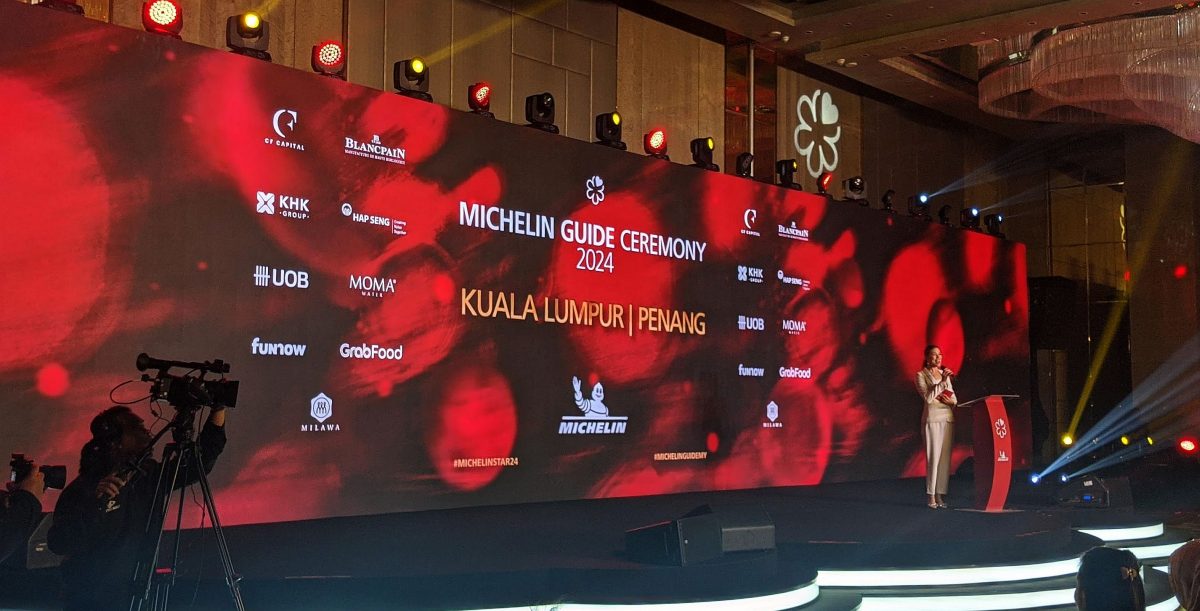 THE AWARDS: THE OFFICIAL LINE-UP DIRECT FROM THE MICHELIN GUIDE
The First Two-Michelin-Starred Restaurant in Malaysia
Dewakan in Kuala Lumpur, which attained the One Michelin Star recognition in the first edition of the Michelin Guide Kuala Lumpur & Penang, continues to perform and is the first restaurant to receive two Michelin Stars in Malaysia.
Dewakan means 'food from God,' and the chef crafts a heavenly dining experience that is Malaysian down to its very core. Each ingredient is sustainably and locally sourced; even the dinnerware is handmade by local artists. The set tasting menu features many items that are fermented or dry-aged in-house, alongside seasonal fruits and herbs.
One Restaurant Newly Promoted to One Michelin Star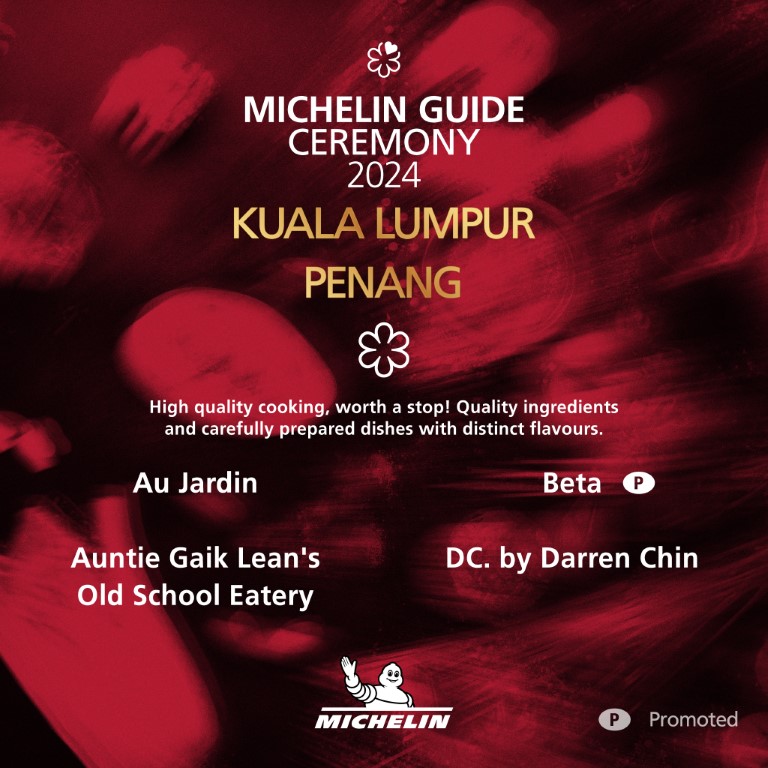 Beta, a Michelin Selected restaurant in the 2023 edition, has been promoted to a one-Michelin-Starred restaurant in the Michelin Guide Kuala Lumpur & Penang 2024. The restaurant offers discerning foodies an exciting way to taste Malaysia's rich culinary heritage with a touch of finesse. The chef reimagines favourites from around the country, often jazzed up with modern techniques and soigné plating. Head to the lounge first for a round of cocktails and appetisers, before sampling the main courses in the theatrically appointed dining room with an open kitchen.
With the newly promoted restaurants, the Michelin Guide Kuala Lumpur & Penang 2024 has a total of one 2-Michelin-Starred restaurant: Dewakan in Kuala Lumpur; and four 1-Michelin-Starred restaurants: Au Jardin and Auntie Gaik Lean's Old School Eatery, both located in Penang; and Beta and DC. by Darren Chin, both located in Kuala Lumpur.
25 New Dining Establishments
Join the Michelin Selected Distinction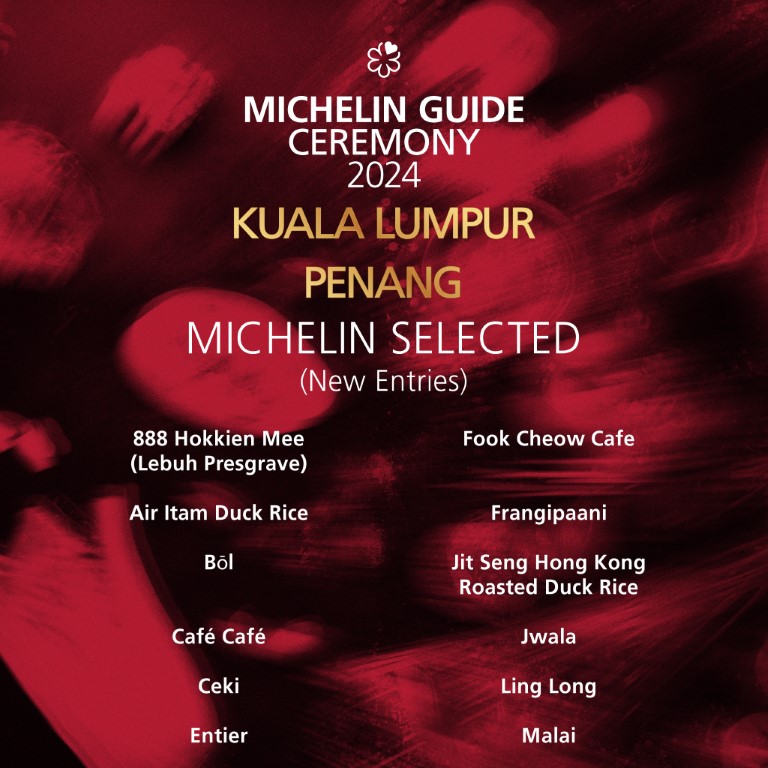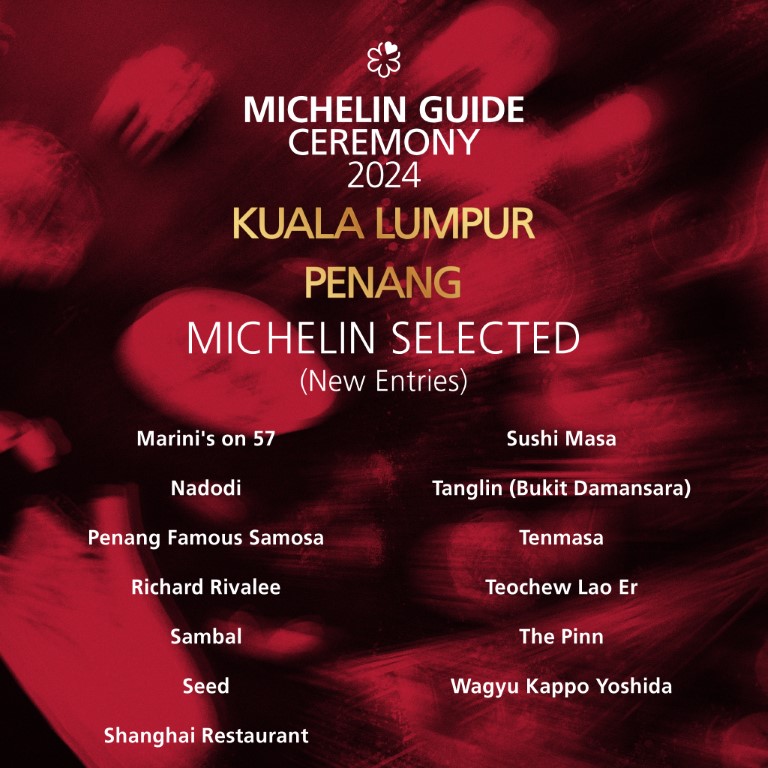 In addition to the Starred restaurants and Bib Gourmand food establishments, the Michelin Guide Kuala Lumpur & Penang 2024 welcomes 25 new recommended establishments to the Michelin Guide 2024 selection which showcase the region's diverse culinary landscape, bringing the total number of Michelin Selected establishments to 77.
Of the 25 new Michelin Selected establishments, 16 are located in Kuala Lumpur, and nine are in Penang.
The 16 newly added Michelin Selected establishments in Kuala Lumpur are: Bōl, Café Café, Entier, Frangipaani, Jwala, Ling Long, Malai, Marini's on 57, Nadodi (relocation), Seed, Shanghai Restaurant, Sushi Masa, Tanglin (Bukit Damansara), Tenmasa, Teochew Lao Er, and Wagyu Kappo Yoshida.
The nine newly added Michelin Selected establishments in Penang are: 888 Hokkien Mee (Lebuh Presgrave), Air Itam Duck Rice, Ceki, Fook Cheow Cafe, Jit Seng Hong Kong Roasted Duck Rice, Penang Famous Samosa, Richard Rivalee, Sambal, and The Pinn (relocation).
Each of these establishments offers a unique culinary journey, contributing to the rich tapestry of flavours that defines the region's gastronomy. From innovative cuisines to time-honoured traditions, these new selections are a testament to the culinary excellence found in Kuala Lumpur and Penang.
Four Michelin Guide Special Awards
In addition to recommending quality restaurants, the Michelin Guide also aims to highlight talented individuals who contribute to enhancing the gastronomic dining experience. By doing so, it also acknowledges the diversity of jobs and know-hows involved in the restaurant industry.
The Michelin Guide Service Award
The 2024 Michelin Guide Service Award aims to highlight and encourage skilled and talented professionals who dramatically add to the customer experience. This year's Michelin Guide Service Award, presented by FunNow, is awarded to Wan Mohd Zulkifeli, recognised for his exceptional knowledge, attentiveness, and composed demeanour as he leads the team at Gai by Darren Chin (Kuala Lumpur). Mr. Zulkifeli willingly shares his professional skills with the staff, contributing to the creation of a solid service team that ensures a harmonious dining ambiance.
The Michelin Guide Sommelier Award
The 2024 Michelin Guide Sommelier Award recognises the skills, knowledge, and passion of talented sommeliers of the industry. This year's Sommelier Award is given to Yap Cze Ying, who serves as the sommelier and restaurant manager at Hide (Kuala Lumpur). Ms. Yap, although she may be somewhat reserved, possesses a well-groomed and welcoming attitude. She also exudes a genuine passion for wine management and hospitality.
The Michelin Guide Young Chef Award
The 2024 Michelin Guide Young Chef Award recognises a young chef working in a restaurant of the selection, and whose exceptional talent and great potential have impressed the inspectors. This year, the Young Chef Award is given to Johnson Wong Jia Liang from Gēn (Penang). A Le Cordon Bleu Sydney graduate, Mr. Wong, the chef-owner of Gēn, was born in 1991 and has honed his culinary expertise in some of the finest kitchens. He is committed to local ingredients and aimed at presenting them with native flavours complemented by his memories of growing up in Malaysia.
The Michelin Guide Opening of the Year Award
The 2024 Michelin Guide Opening of the Year Award is given to a chef, host, or restaurant manager, for the successful opening of a dining venue over the past 12 months, with a creative degustation concept and a cuisine approach which has had an impact on the local gastronomic scene.
This award, presented by UOB, marks the first-ever Opening of the Year Award in Malaysia. The recognition is given to Remash Thangaraj from Jwala (Kuala Lumpur). Opened in 2023, with custom-made tandoors, Jwala, which means "flame" in Sanskrit, serves up refined charcoal-grilled specialties of Northern India.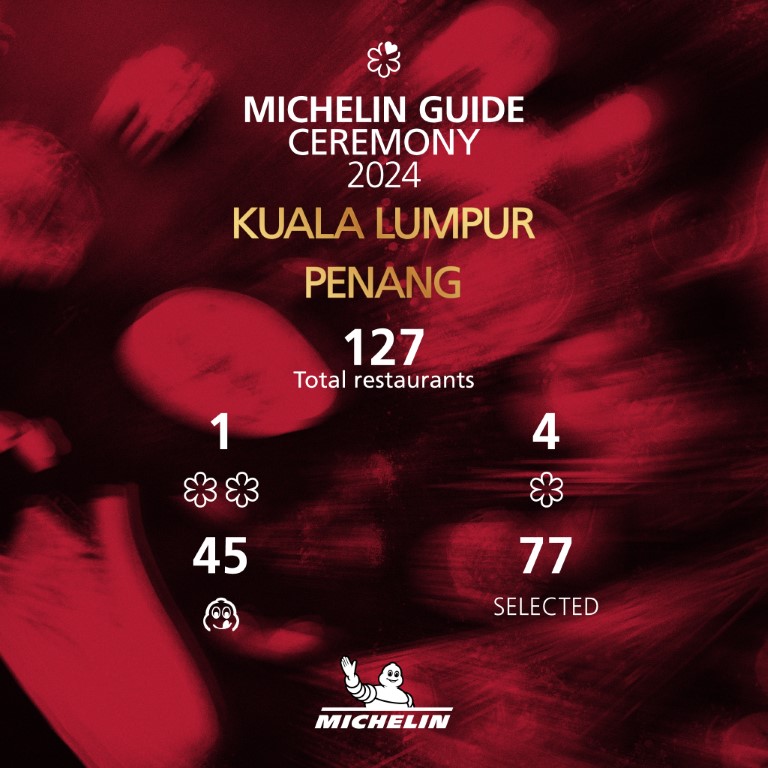 The full selections of the Michelin Guide Kuala Lumpur & Penang 2024 can be found here.
---
"ExpatGo welcomes and encourages comments, input, and divergent opinions. However, we kindly request that you use suitable language in your comments, and refrain from any sort of personal attack, hate speech, or disparaging rhetoric. Comments not in line with this are subject to removal from the site. "
Comments