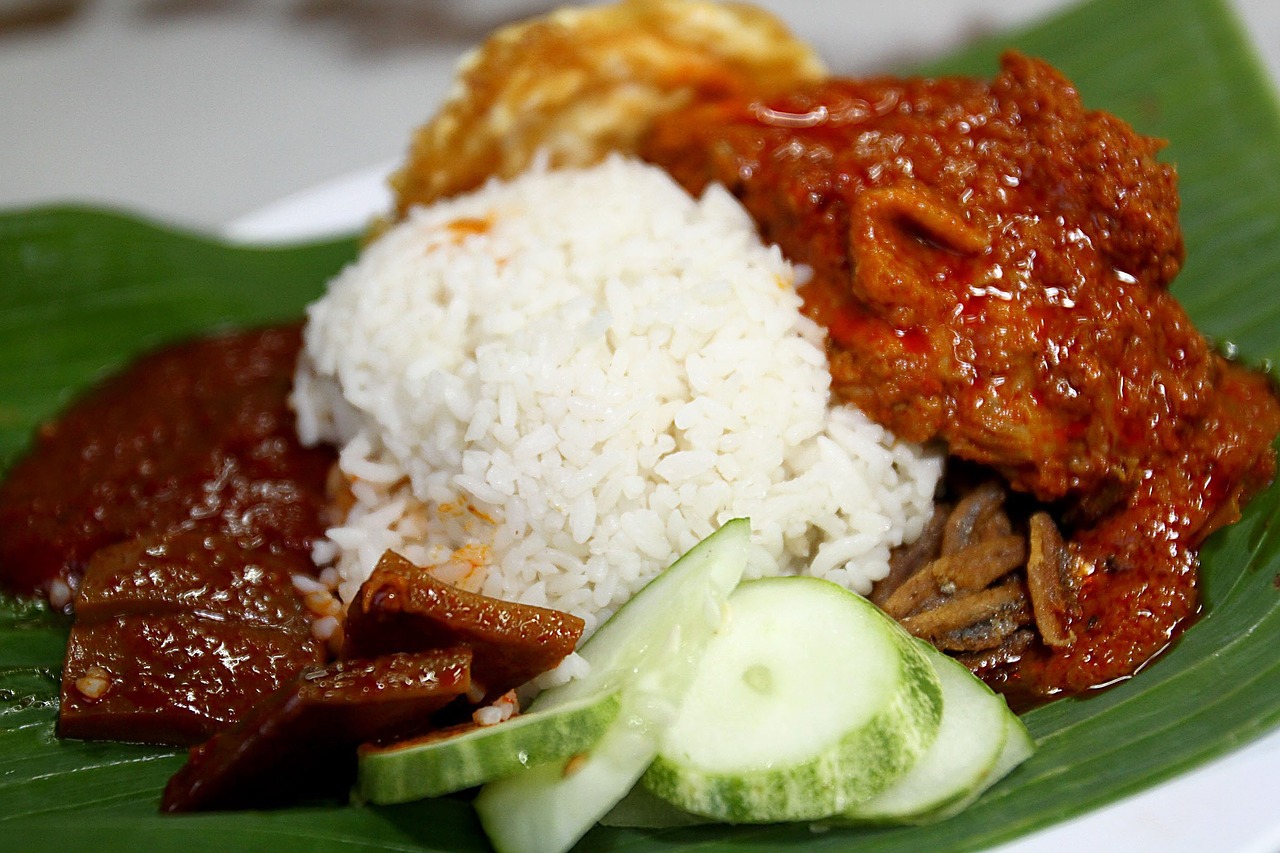 Perhaps Malaysia's most famous local cuisine, as close as any as there is to a national dish, is nasi lemak. Who can say no to fluffy, coconut milk-infused rice topped with a spicy but slightly sweet chilli paste known as sambal, accompanied by fried anchovies, cucumber, peanuts, and egg (either boiled or fried)? Nasi lemak, which translates rather unappealingly into "fatty rice", usually comes wrapped in banana leaves that lend the nasi lemak its traditional presentation.
Throughout the years, the recipe has been adopted by many people in Malaysia, and like most Malaysian dishes, this dish has been tweaked to suit the different cultures present in this country, as well as the varying preferences of the people who enjoy them. Realizing that the rice goes well with almost anything, the original sambal is now being substituted by other sauces and pastes, such as chicken sambal and cuttlefish sambal, among others.
Here we list three of the best nasi lemak vendors in Greater KL; to find out if they are indeed deserving such praise, pay these stalls a visit and judge for yourself.
1. Nasi Lemak Bumbung at Seapark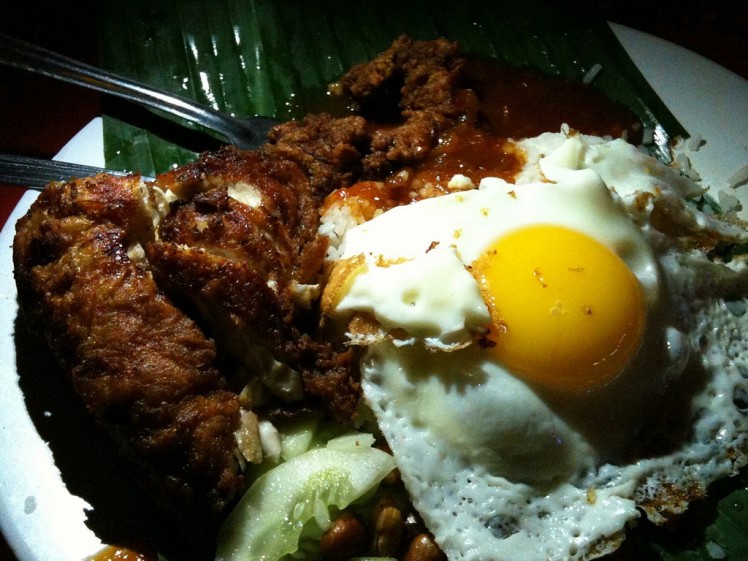 Going by different names such as Nasi Lemak Maybank, Nasi Lemak Bumbung, and Nasi Lemak Paramount, this is one famous spot for having great nasi lemak on the cheap. Found in a back alley behind Maybank in Seapark, be prepared to sweat it out as the ambiance here is different from the usual cosy café. Although situated at a back alley, readers need not fret as the place recently had a mini facelift – they've tidied up and there are even potted plants and fans now.
For just RM5 a pop, diners get a plate of steaming rice cooked with coconut milk, ikan bilis (anchovies), fried peanuts, cucumbers, a sunnyside up egg served with fried chicken that is tender and moist. One notable highlight at this stall, which is open from 6pm till 2am, is their sambal, which is a bit salty and mildly spicy, bringing everything together perfectly. Portions can be on the small side, but at this price, no one is complaining.
2. Nasi Lemak at Village Park Restaurant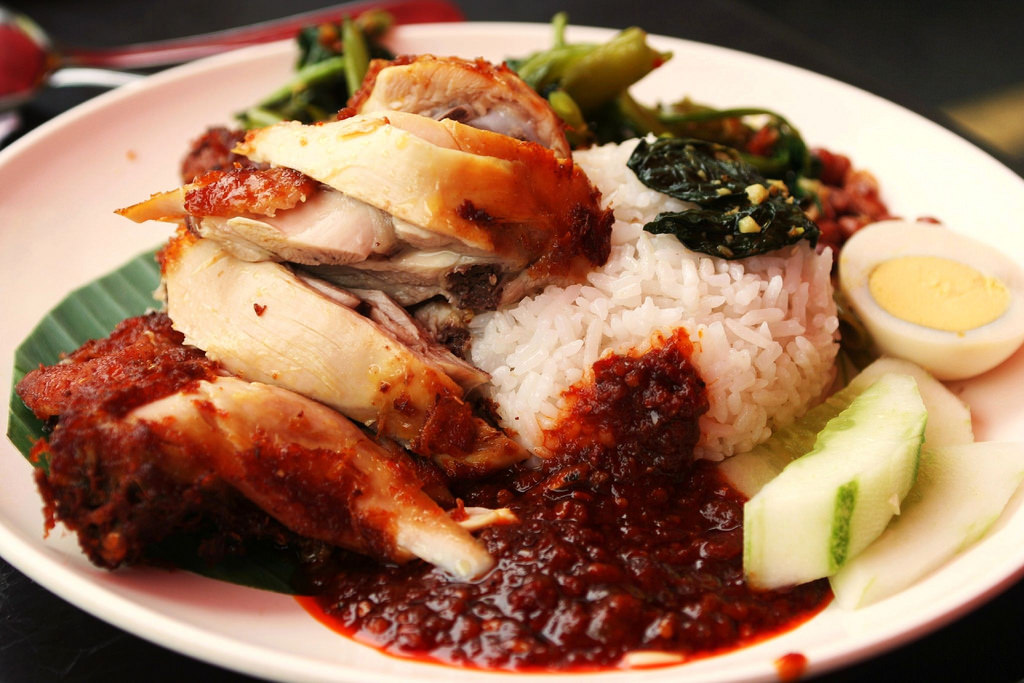 Nasi Lemak needs no endorsement as it is a dish loved by all, but at Village Park Restaurant it may please you to know that famous Malaysians like Dato' Lee Choong Wei and Tun Mahathir have eaten here. and such name-dropping simply adds to the allure of irresistible nasi lemak sold here.
There are two main attractions here: the rice and fried chicken. The coconut milk-infused rice served at this restaurant doesn't clump together, instead it falls grain by grain, releasing rich aromatic scents of coconut milk and pandan leaves. But the magic doesn't end there: it continues with half an egg, long thick slices of cucumber, a generous helping of peanuts with crisp fried anchovies, sambal that is sweet and spicy, all finished with fried chicken that's done just right.
Mix them all together and what you get is a spoonful of pure gastronomical delight. The fried chicken gets an extra nod simply for the savoury aroma wafting through the air and the rempah bits added to the plate for that extra crunch.
3. Nasi Lemak at Gerai Selera Jalan 223

Photo credit: acme / Foter / CC BY
P/S: Image does not depict the nasi lemak at Gerai Selera
Every once in a while, when the dressier version of nasi lemak gets a bit too much for the taste buds and tummies, it is okay to go back to the roots: the humble nasi lemak wrapped in banana leaf, boasting nothing but the most basic ingredients.
In Petaling Jaya, at a food court called Gerai Selera 223, you will find the best nasi lemak freshly wrapped in banana leaf. It's what this place is famous for, and when you try one, you'll be hard-pressed to disagree. It is quite hard to locate this place if you've never been there before as this food court is located right smack in the middle of huge office blocks and factories.
There are two types of nasi lemak bungkus (that's a take-away parcel) available here: Yati and Suri, both priced at RM1.20. The former comes with a red stamp and the sambal is the dry and spicier version, while the latter, stamped in blue, features a slightly sweet and wet sambal.
Both versions go down well with patrons and the packets are finished as quickly as they are prepared. As a result there is always a fresh batch prepared to meet the never-ending demand.
See also: 
This article was originally published in The Expat magazine (January 2015) which is available online or in print via a free subscription.
This article was updated in May 2016.
Comments