To read about history is interesting, but yo hear it  come alive in the words of someone who lived it is truly fascinating. In July, The Expat was invited for an informal and intimate afternoon tea with Tristan Russell, now the non-official Chairman of BOH Plantations Sdn Bhd. Seeing the history of BOH through his eyes was both an honour and a pleasure, and the few journalists invited for this 'walk down memory lane' found themselves sipping tea and hanging on Mr. Russell's every word.
Tristan Beauchamp Russell is the only son of the late John Archibald Russell, founder of BOH Plantations in Cameron Highlands, Malaysia. Mr. Russell's family arrived in then-Malaya in 1890, his grandfather the founder of the Selangor Journal. Together with four brothers, Mr. Russell's father began to make a name for himself in contracting, building (among other enterprises) the railway station, a rubber company, and a coalery. They were also the first importers of motorcars to Malaya, as Mr. Russell fondly pointed out while perusing the old photographs.
In fact, the BOH plantation was John Archibald Russell's last venture, and proved quite a timely one. As the Great Depression set in around the world, the premium teas grown at high elevations managed to maintain their prices. At the time, the Cameron Highlands were just being opened up, and John Archibald Russell obtained a land grant to start planting tea.
The work at BOH plantation actually began before a road was cut. Mr. Russell, openly sharing his personal past, related a story as told by his mother, pregnant with him at the time and his father sick with malaria, scurrying up the rough terrain to the BOH plantation. In the midst of a proud smile, Mr. Russell says seeing BOH before birth is a family tradition that's since been carried on by his children and grandchildren.
Born in 1932, Tristan Russell's father passed away in 1933. After his father died, Tristan left with his mother to South Africa, where he was brought up during the years of World War II. At 18, Tristan left home to study at Oxford University in London, and later at the Royal Agricultural College in Cirencester, where he majored in agriculture.
At 22, Tristan returned to Malaya in 1949 to continue the family legacy at BOH. The war had taken its toll, with the estates of Cameron Highlands left mainly abandoned. Amid 20ft high overgrown tea bushes and tree ferns, much work was needed to restore the tea plantation to its former state. Tristan's first post was as junior assistant to then BOH's Manager, Bill Fairlie, for what was then a princely sum of 500 dollars.
That 500 dollars, however, came at a price of assured security. It was the beginning of the Communist Emergency, and the area of the Cameron Highlands was prime 'ambush country' for Communist Terrorists (CTs). As Mr. Russell spoke during our tea, some of his stories seemed hard to believe by today's standards: he slept in a bungalow with a Smith & Wesson pistol beneath his pillow, A Walk Down Memory Lane with Tristan Russell Group Editor of The Expat, Canadian Mike Street has settled into life in Malaysia after a long stint as a freelance writer & cartographer. When not adding commas & formatting text, you'll find Mike relaxing on a beach with a favourite beverage. ([email protected]) www.expatKL.com The Expat_33 the bungalow guarded by trained Ghurkhas. He looked fondly upon the grainy black and white photographs from that period of the bungalow, relaying a seemingly warm recollection of how he would heard the shelling of CT camps nearby, and how he had to learn to drive an armoured car, his head bumping against the cold steel on the ragged journey up to the BOH plantation. He smiled, and said something those who were present at this tea would never forget: "For a young man, it was rather fun."

His adventurous spirit continued as Mr. Russell recalled what it was like to live and work in the Cameron Highlands during this period. His smile growing, he gave snippets of stories from the plantation – the kind that would take hours to explore fully… the woman who wore the orange dress made of parachute material, engaged in a love triangle of 'Harlequin Romance' proportions… the "curry lunches" on Sunday that would begin in the afternoon and last long into the night… Around the table at our afternoon tea in downtown KL, we could all easily tell Mr. Russell was far, far away, and we were graciously along for the ride.
Young Tristan learned the business fast, and after 18 months he was transferred to head office. In one of his first postings in marketing, Mr. Russell was instrumental in bringing 'Mr. BOH' to Malaysian television – one of the first televised company mascots in Asia. The lone expat at this afternoon tea, it was heartwarming for me to look around the room as the old black and white commercials played, Mr. BOH in his signature top hat, with everyone present remembering a simpler time.
BOH tea was an unmitigated success, on both the domestic and international markets. Expanding from the original plantation, BOH eventually grew to four plantations in Malaysia, including the 1958 acquisition of Sungai Palas, a former Dutch estate. Again regaling us with a timely story, Mr. Russell told of visiting the small towns of Malaya to expand the local tea markets. But what we know today as a simple flight or scenic drive to Kota Bharu, Mr. Russell related as 'an expedition' that involved 'ferry to ferry' transfers.
As the slideshow progressed, Mr. Russell described in vivid detail how tea was once collected at the BOH plantation. A hand-plucker would harvest 50lbs of tea per day, and would carry each leaf bag from the fields to the factory, Bill Fairlie Harvesting 34_The Expat where the 'advanced' machinery of the day would whither and process the leaves. Around the room, we each rubbed our neck silently as Mr. Russell spoke of these physical hardships, happy that modern mechanisation is upon us.
Becoming chairman of J.A. Russell & Co. and BOH in 1969, Tristan Russell helped to modernise and perfect the art of growing and manufacturing tea. Today the BOH plantation (and the other holdings in Australia) are modernised, and where once 27 people were needed for the 'rolling room,' today only one minds the machines. In Australia, on grades more conducive to mechanisation, harvesting machines can pick 40tonnes in a 12-hour shift. We listened – fascinated – as Mr. Russell explained the economies of scale present in today's tea industry.
Tristan Russell was born Malaysian, as were his children and grandchildren, and like the farmers of any plot, they have a deep respect for the land that has given their family such rich rewards. At our afternoon tea it was very easy to see the concern for nature in Mr. Russell's eye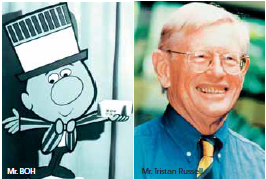 s and words. As he unrolled the aerial photography depicting the deforestation that has encroached on the Cameron Highlands, a certain anxiousness loomed, though coupled with Mr. Russell's undeniable positive outlook: this is what has happened, but we can still preserve the 'scenic reserve' of the Cameron Highlands.
Myself, raised on a farm in Canada, I have sat with my forefathers as I did with Mr. Russell, captivated by the Mr. BOH Mr. Tristan Russell stories. I have listened intently while looking out across the land that has provided so much for my family. A feeling much deeper than appreciation is instilled, one of connection – of love – for the land itself, and the potential the land holds for our future generations.
Perhaps it was a meaning to inspire this feeling, much deeper than appreciation, that Mr. Russell allowed we few journalists to join him for this walk down memory lane. In any case, someday I hope to walk in Mr. Russell's shoes, to relay my own gratitude of nature's bounty and sustaining legacy, so that I may pass it on to the future. And in that time, I sincerely hope I can retrace the years, look back in warm contemplation and solemn respect for my accomplishments, and say: "For a young man, it was rather fun."
This article was written by Mike Street
Source: The Expat September 2005 
This article has been edited for ExpatGomalaysia.com
Get your free subscription and free delivery of The Expat Magazine.

---
"ExpatGo welcomes and encourages comments, input, and divergent opinions. However, we kindly request that you use suitable language in your comments, and refrain from any sort of personal attack, hate speech, or disparaging rhetoric. Comments not in line with this are subject to removal from the site. "
Comments