TAKE A STROLL DOWN ONE OF THE OLDEST STREETS IN MELAKA WITH DAVID BOWDEN, AND DISCOVER HOW FOOD, CULTURE, HISTORY, AND MIGRATION HAVE PLAYED A PART IN SHAPING THIS FASCINATING ROAD.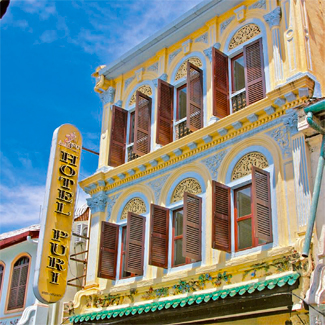 While Jalan Hang Jebat (often referred to by its former name of Jonker Street) is arguably Melaka's most famous street, there are several others of note in this UNESCO protected World Heritage Site. To the west, and parallel to Jonker Street, is Jalan Tun Tan Cheng Lock, which has just as many historic sites but is much less crowded than the more popular street of Jalan Hang Jebat.
Jalan Tun Tan Cheng Lock is often referred to by its original name of Heeren Street, and is known to some as Millionaire's Row due to several stately residences and the large number of Chinese immigrants who attained rags to riches fame to become very wealthy residents of their new home and country.
SEEKING SOMETHING BETTER
Melaka has always been a trading port, and the Chinese immigrants were attracted by the prospects of a new life and the possibility of making lots of money. The Chinese movement to Melaka was very much a case of push-pull migration, as many were seeking to escape the harshness of the Manchu rule in China. This migration was dominated by Chinese males, who often ended up marrying local Malay women, and their descendants became known as the Peranakans. The men were known as Babas while the women were Nyonya (or Nonyas).
The Peranakans were also known as Straits-born Chinese, as Melaka was part of the British territory known as the Straits Settlements along with Penang and Singapore. Characteristics of both Chinese and Malay cultures were adopted, but English was normally spoken and Christianity practised. This enabled the Peranakans to become an important link between the colonialists and the locals and, as such, many became influential and wealthy middlemen.
MALAYSIAN STATESMAN
Tun Tan Cheng Lock – the man behind the road name – was a successful Chinese businessman and subsequent political figure who helped form the Malayan Chinese Association (MCA) in 1949 prior to Malaysian independence. He was a key Malayan public figure who devoted much of his life to fighting for the rights and social welfare of the Malaysian Chinese. Tun Tan was a fifth-generation Peranakan who was born at number 111 of what was then Heeren Street, but has now been renamed in his honour.
GRAND HOMES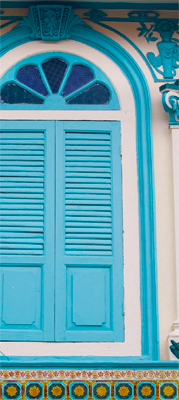 Many buildings along Jalan Tun Tan Cheng Lock are deceptive from the street. They may look small, but they extend well beyond the street and open up to large, spacious areas inside. Most have an open courtyard that serves several purposes: providing ventilation, allowing the entry of light, and allowing the capture of rainwater. While some were solely used as homes, other buildings had dual functions, housing a shop at street level with a family residence on the second floor.
Number 8, Jalan Tun Tan Cheng Lock was renovated by Badan Barisan (Malaysia's National Trust) with a grant from the United States Embassy. This building was originally a Dutch-era shophouse built in the 1700s, and the narrow frontage was due to house owners having to pay tax on the width of the building rather than total area. No doubt the narrow houses in Amsterdam and Delft in Holland were built for the same reason.
Many Chinese buildings, especially along this street, were constructed from imported materials such as colourful tiles and used feng shui or the principles of Chinese geomancy to inform the structure and layout. Being a wealthy part of town, the decorations on some houses were (and remain) very ornate, often with intricate porcelain shard work known as chien nien.
A five-foot walkway is typical of some of the buildings along the street, and while it is cumbersome to walk along these now, they once provided uniform protection from the heat and helped keep the shop lots cool. These walkways were a result of a directive by Sir Stamford Raffles in 1822, specifying that all new buildings in the Straits Settlement should incorporate a five-foot verandah to address the extremes of heat and rain in the tropics. The roof of the second floor of these buildings extended over the ground floor, and it wasn't long before traders realised the advantages of such an area and began displaying their goods here. While not much displaying of goods happens along Jalan Tun Tan Cheng Lock these days, the tradition still continues in other parts of Melaka and in some historic areas of Penang and Singapore.
Inside the building, an open courtyard was incorporated into the design; a practice quite common in China, especially in the less-densely populated areas in the north of the country. Windows of various shapes allowed some light in and, more importantly, allowed fresh air to circulate.
NYONYA HERITAGE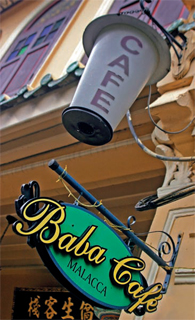 The best place to appreciate the heritage of the Peranakans is the Baba-Nyonya Museum (06.283 1273) situated at 48-50 Jalan Tun Tan Cheng Lock. This private museum, operated by local Peranakans, is full of traditional clothes, utensils, bead footwear, antiques, and ornately decorated furniture. The building "only" dates back to 1898, but is typical of others built in this era. The museum opens daily from 10.00am to 12.30pm and 2.00pm to 4.30pm, and there is a small admission charge.
MELAKA ASSOCIATIONS
Associations and clan houses were the buildings constructed by the Chinese initially to support newly arrived migrants, and help them to get oriented and established in their new country.
The Eng Choon Association, at 122 Jalan Tun Tan Cheng Lock, has a very ornate entrance of carved wooden columns that aren't easy to miss. This is a clan association house for Chinese migrants from the Eng Choon District in Fujian Province. One of the most successful clan members was Tan Kim Seng, whose ancestral home is now the Hotel Puri (see below).
Tan Kim Seng made his initial fortune in Melaka before heading to Singapore to amass more wealth. He went on to build the Kim Seng Bridge across the Singapore River, and contributed generously to a fund to establish the first Chinese school in Singapore. The school was situated on Ayer Street and the building still exists, and is located next to Singapore's oldest temple, Thian Hock Keng. Tan Kim Seng also contributed to Melaka's Kim Seng Bridge and the Kim Seng Clocktower, the latter of which is located in front of Christ Church in the Dutch Square.
NYONYA CUISINE
One of the greatest legacies of the intermarriage of Chinese and Malays is Nyonya (or Peranakan) cuisine. This food style is unique to the region and dates back several centuries, originating from these early Peranakans blending Chinese and local cooking styles.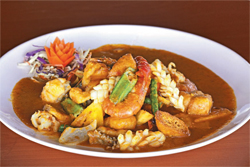 Nyonya dishes to sample include otakotak (minced fish barbecued in a banana leaf), ayam pongteh (chicken, potatoes, and mushrooms) as well as lots of colourful kuih (cakes). Being a port, seafood from the Straits of Malacca is an important ingredient in many Nyonya dishes in Melaka. An essential condiment in Melaka is chin char lok (fermented prawns), and bottles of the pink substance are sold all over Melaka town and keenly sought after by local visitors. It is very salty and often served on the side of dishes with cut chilli and lime.
Melaka is also home to many Nyonya restaurants such as Baba Café in the boutique Baba House Hotel at 121127 Jalan Tun Tan Cheng Lock, where authentic Nyonya cuisine can be enjoyed.
ANCESTRAL HOMES
Visitors to Melaka have many hotels from which to choose, and there are two heritage hotels Tun Tan Cheng Lock: Hotel Puri (06.282 5588, www.hotelpuri.com) and Heeren House (06.281 4241, www.heerenhouse.com).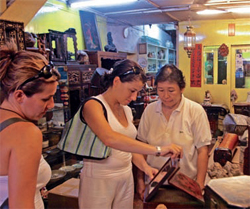 The building housing the Hotel Puri dates back to 1876 and now operates as a 50-room boutique hotel. This Peranakan house, the former ancestral home of successful rubber plantation owner and philanthropist Tan Kim Seng, has been faithfully restored. While the three-storey building doesn't look overly grand from the outside, it extends back some 100m from the kerb and there are large, open, landscaped areas beyond the front entrance.
Heeren House, at the top of the street at number 1, has just six rooms, all of which have en-suites and the all important air-conditioner. All rooms are furnished with colonial or period furniture and offer river views. The two-storey building was once a warehouse, then a Chinese coffee shop and home, before it was converted into a boutique hotel some years ago.
This article was written by David Bowden for Senses of Malaysia.
Source: Senses of Malaysia July-Augt 2012
Register on ExpatGoMalaysia and be updated with the latest news, articles, and events.
---
"ExpatGo welcomes and encourages comments, input, and divergent opinions. However, we kindly request that you use suitable language in your comments, and refrain from any sort of personal attack, hate speech, or disparaging rhetoric. Comments not in line with this are subject to removal from the site. "
Comments