IT MAY BE A DIRTY BACKSTREET BY DAY, BUT AT NIGHT, JALAN ALOR TURNS INTO A PRANDIAL PARADISE. DAVID BOWDEN TAKES A STROLL TO ENJOY THE FOOD DELIGHTS AVAILABLE ON THIS LEGENDARY STREET.
One of the most important words any visitor or expatriate learns in Malaysia is makan: to eat. The question, sudah makan – have you eaten? – is one asked frequently and an easy way for foreigners to endear themselves to Malaysians. The question opens up a plethora of responses, a range of topics, and discussions that can last hours, and all to do with eating.
There are many opportunities for eating in Malaysia, from sophisticated five-star dining to affordable hawker food offered in stalls and food courts across the country. Being the multicultural country that it is, the main food served in Malaysia are Malay, Chinese and Indian, but within each of these overall categories there is a myriad of possibilities. Add to this the indigenous food of East Malaysia and you could eat a different dish on every night of the year, and still take years to work your way through Malaysian dishes.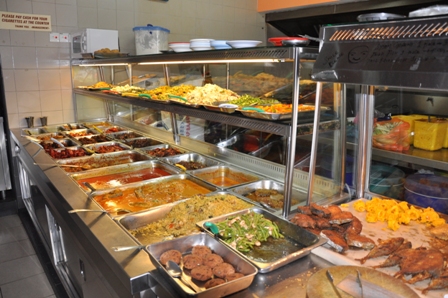 A STREET LIKE NO OTHER
Food is available everywhere and anytime, and the most famous food street in the whole of Malaysia is Jalan Alor, in the centre of Kuala Lumpur (just off and parallel to Jalan Bukit Bintang in the city's Golden Triangle). The nearest public transport access is via the Bukit Bintang Monorail station, but every taxi driver knows Jalan Alor, and can probably impartially recommend several places to eat here too. You know the food is good when diners are mostly local, although a sprinkling of foreigners suggests the recommendations in all the guidebooks to Malaysia are being adhered to.
Some years back the city's administrators, in their wisdom (or rather, lack of it) changed the name to Jalan Kejora (meaning Venus Street and bearing no relationship to anything) without any consultation and for no logical reason. The signposts appeared and were quickly defaced, and a huge outcry was heard throughout the city; it was the equivalent to changing the names of Wall Street, the Avenue des Champs-Élysées, or Orchard Road without any good reason. Within weeks, the name Jalan Kejora was projected into outer space where it belonged and sanity prevailed; the Jalan Alor signs were re-erected.
FOOD HERITAGE
Street food and hawker food are integral parts of the Malaysian experience. Diners can also be assured the food is fresh, as much of it is cooked on the spot from ingredients that have been mostly sourced from the markets on that day.
Historically, a lot of this food was served from pushcarts or rattan baskets strung across bamboo poles by hawkers who traversed the local community selling one or just a handful of dishes. For some hawkers, the practice developed out of necessity, as recently arrived immigrants from China and India had to support themselves by any means possible. Each hawker had a special call or sound to indicate that they were on the street. In some parts of Malaysia, hawkers still peddle their wares on the streets today, but they mostly use motorcycles rather than walking with their carts. Many carts in hawker stalls have wheels, and they are often pushed off the street at the end of the night to be stored, ready to be wheeled out the next day.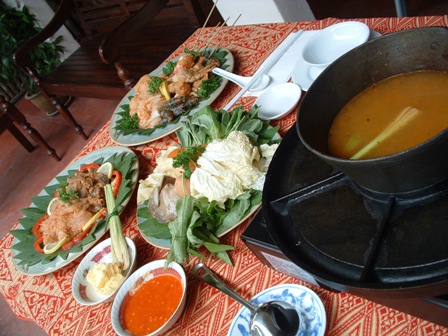 NOCTURNAL NOURISHMENT
Jalan Alor is a street of layers and levels, with established restaurants in the darker recesses off the main street front that extend over several levels above the street, while mostly only the curbside stalls are visible. During the day, the restaurants in the back remain open, but in the evening the curbside hawker stalls set up and dominate the diners, taking centre stage along the busy street.
Jalan Bukit Bintang has always been in or near the commercial hub of Kuala Lumpur, and the city's first international-standard, five-star accommodation (the Federal Hotel) opened here to accommodate the signatories who attended the Malaysian independence celebrations in 1957. The streets around it, including Jalan Alor, were once home to lively cabarets, movie theatres, and other entertainment outlets, while now the roads are lined with eateries and shops. Glance above the street level of Jalan Alor to see a variety of budget hotels accomodating both long-term and short-term guests; the street has it all, from good food to a good time.
At lunchtime, these restaurants on Jalan Alor are reasonably active, but arrive mid-afternoon or even early evening and you may wonder why so much fuss is made about the street. Things swing into action as the sun recedes behind the city's steeled and mirrored-glass skyscrapers; restaurant workers busily cut up ingredients, gut fish, de-vein prawns, and set up their plastic tables and stools as close to the pavement as possible. Car parks become occupied with the sea of temporary dining outlets, fruit vendors, and the occasional retailer offering sunglasses, DVDs, and clothing (the latter are rare; food stalls dominate here).
CULINARY JOURNEY
Chinese stalls are the most numerous along the street, although Thai food, Malay, and some Indian dishes are offered. There's even a Ramly Burger stall offering Malaysia's own unique burger but, interestingly, no fast food concepts have ventured onto the 500m-long street yet.
Things are very "local" here, and this is the great appeal. The only concept outlet along here is the homegrown coffeeshop, Old Town White Coffee, serving Ipoh white coffee and toast with kaya (coconut, egg and sugar jam) and butter. Other specialty offerings here include various coffee and tea combinations as well as eggs and noodles. Using replica-marble tops on wooden tables and wooden floors, Old Town recreates the famous Malaysian coffeeshops of yesteryear. (The typical coffee shops, or kopitiams, were initially established by Hainanese migrants in the 20th century.)
Fresh fruit stalls are popular along the street, with several offering fresh fruit for takeaway or cut fruit for dining in situ. Local fruit is seasonal, while imported fruit such as oranges and apples are available throughout the year. Adventurous diners will discover durian, rambutan, pomelo, dragon fruit, papaya, pineapples, watermelons, water apple (jambu air), star fruit, mango, jackfruit, and, sometimes, fresh strawberries from the Cameron Highlands.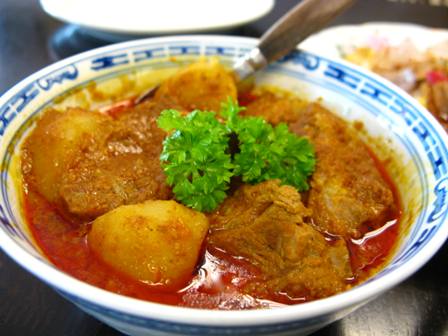 VARIETY GALORE
There's very little that isn't served along Jalan Alor, so it really becomes a matter of what strikes your fancy. While some places may look as if the health inspector hasn't dropped by for sometime, no one appears to care too much about such matters as hygiene. If variety is the measure of a famous food street, Jalan Alor wins all the prizes. From chicken feet to frog's legs, established to exotic, noodles to rice, fried to steamed, or halal to non-halal, it's all here.
Some of the outlets specialise where others, such as Charn Kee Tasty Corner, have several different stalls within the one complex. Each one of the stalls specialises in one or just a few dishes, and some have been in operation for multiple generations as businesses are often handed down through the family. Some are "famous" and, for locals in the know, the only place to enjoy this particular dish. Regulars come to Charn Kee for the seafood noodles brimming with fish balls and prawns which are, like most dishes along the street, prepared à la minute and served piping hot.
The good thing about outlets like Charn Kee is that, once you have a table (often difficult to locate anywhere along the street as the evening progresses), you can select specialist dishes from the several stalls here. Nyonya curry mee and minced meat noodles are other popular dishes, and at just a few dollars a dish, diners can try new and exciting dishes without worrying about not liking it. The Chinese restaurants along here also serve ice cold beer to jolly the evening along.
LOOK OUT FOR…
Just across the road at number 36 Jalan Alor (things are not easily identifiable, but this is on the right hand side coming down from Jalan Changkat Bukit Bintang and the Baptist Church at the top of the street) is the "famous" frog porridge stall. If you want to throw yourself in the deep end of the Malaysian hawker dining experience, there is no better place to start. While not for those more accustomed to sweet and sour chicken, regulars love to leap into this exotic dish.
Rice porridge spiced up with spring onions, ginger, and generous lashes of sesame oil provides a thick savory accompaniment to the tender frog legs, which are slightly sweet and prepared using Chinese rice wine. True gourmands should drop by the restaurant in the early evening to experience the total frog's legs journey, as staff de-skin the plump legs in preparation for cooking later in the evening.
Food from neighboring Thailand is also served at a few restaurants at the bottom of the street near Nova Hotel. Two adjoining shops exhibit a very Asian custom of mimicking success: one is called the New World Food Court while the other is New Would Food Court (having a similar name is one way of convincing potential customers that they are as good as the other one).
Everyone strives to be successful along Jalan Alor because success is measured by the numbers of happy diners filling a restaurant. Take a stroll down the street, grab the first table you see, and tuck in!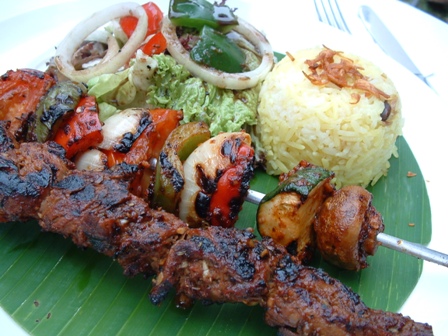 ———————————————————————————————————
This article was written by David Bowden for Senses of Malaysia.
Source: Senses of Malaysia Sept-Oct 2012
Read more:
---
"ExpatGo welcomes and encourages comments, input, and divergent opinions. However, we kindly request that you use suitable language in your comments, and refrain from any sort of personal attack, hate speech, or disparaging rhetoric. Comments not in line with this are subject to removal from the site. "
Comments