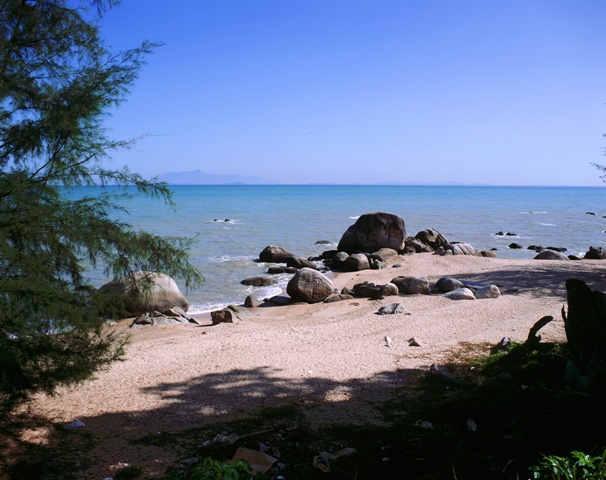 You've been posted to Penang, and are planning to look for a place to live.  Tropical island life, how big can an island be, anyway?  Not too big, you'll soon find out, but big enough that there are several areas to consider for your housing needs.  I sent a survey out to some Penang Mommas stationed all over the island asking why they selected their area, the pros and cons and recommendations for life there.  Some great news is almost everyone is madly in love with their location, so you can't go wrong.  Thank you so much to the responders for your input!
We are circumnavigating the island clock-wise, starting in Batu Ferringhi (10 o'clock) and heading right down to 5 o'clock in Bayan Lepas:
Batu Ferringhi
Condos and villas across the main road from the beach, folks select Batu Ferringhi primarily for being close to work.  Hotels, Uplands School and tourist industry jobs are found up this way.  It is not a great spot to commute around the island from due to the 2-lane Batu Ferringhi curves that go on for a few kilometers until you reach Tanjung Bungah.  The major pro about this location is the feel: relaxed, as though you are on holiday, true "island" feel.  Close to beaches, restaurants, and the national park, Batu Ferringhi is a good location for a nature enthusiast.  On the downside, Batu Ferringhi is lacking any major grocery store or other basic amenities, so frequent trips into town are guaranteed.  Trekking into Georgetown can feel far, and you may not find yourself keen to do so, especially when traffic is heavy on weekends and holidays.  Also, being in a tourist town has the downside that it often feels like a tourist town.  Consensus is great place to live, but certainly not for everyone.
Tanjung Bungah (Seaside)
Apartments and super-condos right on the beach, people polled from this part of town selected it due to housing options and proximity to school (Dalat American School is located right along this stretch).  Besides the school, there are few places where expats are employed, so most commute into the high tech area or down around that way.  Commute time can be from 45 minutes to up to 1.5 hours half-way around the island, depending on traffic.  Kids going to Dalat may be able to walk to/from school, and the beach is typically just stepping out front of your apartment.  Lots of expat families in this part of town, so socializing will not be a problem.  Tanjung Bungah also has most amenities right there, convenience store, wet market, restaurants, with the supermarket (Tesco & Cold Storage) being a short drive into Tanjung Tokong.  Downsides include a long drive into Georgetown and commute to Bayan Lepas.
Tanjung Bungah (Hillside)
Landed homes, townhouses and few condos up on the hill.  This area of Penang feels the most like a suburban neighborhood: quiet streets, little yards and the need to drive everywhere.  Tenby International School is located here, and the neighborhoods are a good mix of locals and expats.  It is quiet here, but still close to the Batu Feringghi and Gurney action.  Good spot for families, not great if you're looking for urban bustle.
Straits Quay/Tanjong Tokong
This area of Penang is really taking off in terms of development.  Many apartments and landed properties have popped up between Tesco to the west and Island Plaza to the east.  The Straits Quay shopping center lies right in the middle and offers western-style dining and bar options right on a marina.  People in this area love the location and ease of walking and transport, with perhaps a cheaper price tag to Gurney Drive.  On the downside, there is a lot of construction and noise currently in this area due to development.  Living right at Straits Quay may also have night noise due to bars.
Gurney Drive
Gurney is located just west of Georgetown, and has a long pedestrian walk on the seaside.  Expats enjoy this location for both access to amenities and environment: Gurney Plaza and Paragon shopping centers are at one end, and there are many eateries along the road, almost every unit on Gurney has a fantastic sea view.  Gurney is a walkable place, which is uncommon in Penang, and less than half hour commute to Bayan Lepas without traffic.  The major downside of Gurney is traffic.  Evenings, weekends and public holidays see Gurney packed, and making your way from one end to the other can take up to half an hour at peak time.  Be sure to consider which end of Gurney you choose – it can make a major difference in your commute time.
Pulau Tikus/Jesselton
Close to SCIPS school, these neighborhoods have mostly landed properties so it's a place to consider if you have a large dog or prefer a yard.  Residents site a peaceful environment (sometimes too quiet?) and proximity to parks (Youth Park, Botanical Garden) as benefits to the area.  The residential streets provide good space for walking, bike riding or even running with a stroller (my input).  The living area is quite mixed, most likely neighbors will be locals, so it's nice to get that perspective.  On the downside, you pretty much must drive everywhere, and living in a landed property does not provide the same security as being in an apartment block.
Georgetown
Being frank, I don't know any expats with kids currently living in town.  But one mom who has recently bought a shophouse to renovate and eventually occupy with her family offered some feedback.  They are looking forward to the unique opportunity life in UNESCO World Heritage Georgetown has to offer.  Access to fantastic food and cafes, temples, with local daily life going on all around will provide a fascinating perspective and experience.  Not sure about downsides yet, but perhaps lack of parking and green space…  But what an opportunity!
Queensbay
The obvious benefit of living further down the island is commute time for people working in the Free Trade Zone and avoiding Penang's famous horrible traffic.  It can also be quite walkable (even to work in FTZ) with Queensbay Mall and surrounding facilities.  The major downside to a stay at home spouse is the separation from most expat community activities.  If you do have children and stay at home, you may find yourself in the car a lot to drive to schools and play groups.
Bayan Lepas
With close proximity to the FTZ, airport, bridge to mainland, living in Bayan Lepas can be convenient. Rentals in this area are also much cheaper than Gurney or north on the island. There are also two international schools on the south part of the island.  However, there are not many expats in this area.  Most activities will require a 40+ minute drive to the north of the island.
Read more:
---
"ExpatGo welcomes and encourages comments, input, and divergent opinions. However, we kindly request that you use suitable language in your comments, and refrain from any sort of personal attack, hate speech, or disparaging rhetoric. Comments not in line with this are subject to removal from the site. "
Comments