Mahdi Moammer, more popularly known as Mahdi Moudini, is the Southern Hemisphere's answer to David Copperfield. A third generation Master Magician and illusionist, Mahdi was born and raised in the city of Tehran in Iran. Beginning his love affair with this mystical trade at the young age of five, Mahdi built up an impressive repertoire over 29 years while travelling the globe and showing off his skills. Now calling Kuala Lumpur home, this multitalented showman's performances include everything from intimate close-up magic to dazzling stage illusions.
Since arriving in Malaysia, Mahdi has taken the country by storm and his talents have ensured a steadfast rise in reputation, jumping to the front of people's minds whenever the word "magician" is mentioned. Hailing from a family of renowned magicians, it is no wonder that Mahdi is renowned as a world class illusionist, and he can boast the glory of being a two-time Merlin Award winner – the most prestigious title given in the world of magic. Despite being in the same league as Sigfried and Roy and Criss Angel, Mahdi has received the "Best Iranian Stage Magician 2012" and the "Most Extreme Magician Worldwide 2013" awards from the International Magicians Society (IMS), and he also holds a Doctor of Magic Degree.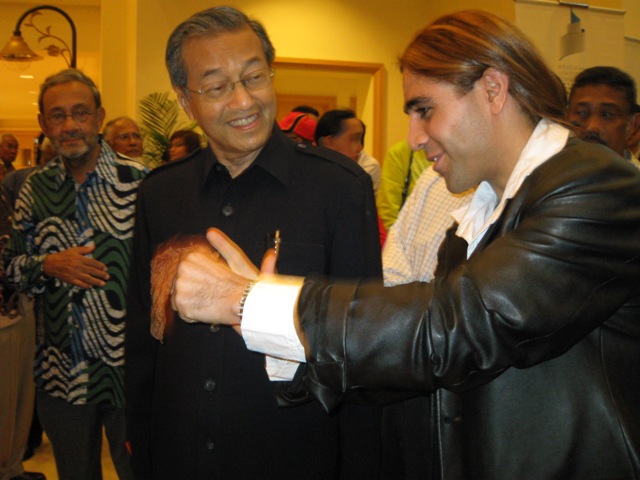 With almost three decades of performing experience behind him, Mahdi has performed all around the world to audiences of all ages and backgrounds. Enthralling his spectators with his quick hands and skillful moves, Mahdi has shown his skills to a host of prominent figures including the Malaysian Prime Minister, Dato Sri Najib Tun Razak; former Malaysian Prime Minister, Tun Dr Mahathir Mohamad; Deputy Prime Minister Tan Sri Muhyddin Yassin, as well as many international dignitaries.
Anyone who has seen him perform can see why Mahdi is in high demand: he executes illusions shows, stage magic, and close up mental magic with great ease. Flawlessly adept, his hands move swiftly and "dance" as they perform amazing tricks with coins, tissues, flowers, strings, and ropes. No wonder this talented magician's hands are insured for a hefty sum!
Mahdi's immersion in the world of magic was surely inevitable considering that his grandfather, Ibrahim Moammer, and father, Esmaeil Moammer, were both well-known magicians in Iran, while his younger sister, Parastu, is currently the only female professional magician in Iran (she also performs in Dubai).
To preserve the family legacy, Mahdi has already started training his own children — Marchelin, five, and Prince Maddix, three – in the tricks of the trade. His daughter is showing great promise already: "She is only five years old and can already perform 15 types of tricks," he says proudly. Mahdi's signature magic feats include the Guillotine Head, Back To Life, Floating Table, .e Hand Chopper and .e Escape (handcuffed or tied up). Besides being adept with fire, knives, and levitation, Mahdi is also particularly skilled with ropes and can easily escape from all sorts of knots. Following the unspoken code of magicians, Mahdi never reveals his magic to the everyday man: "You have to keep the secret to preserve the mystery of the profession. If you reveal the secret, the magic is 'killed' and there is no fun," he admits.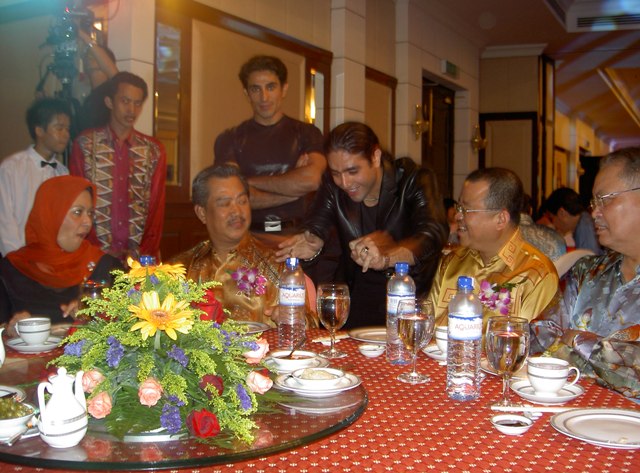 According to Mahdi, it is important for a magician to be well versed in his trade, and to own a particular style that is distinct to his or her personality: "To excel, a magician has to practice a lot. Some of the invaluable tricks and ideas might be simple but they can be applied in many other ways. A really good magician has to put in at least 18 hours of practice a day and exercise regularly," says Mahdi.
To add another feather to his cap, Mahdi has become a TV personality as well. Newly-established television production house, 108 Media Holdings Sdn Bhd, launched a debut television series called .e Magical Moudini recently, which follows Mahdi's adventures as an illusionist.
Much like David Blaine's Street Magic, the one-hour magic show will run for 13 episodes and involves a mixture of street magic and complex illusions. Designed by Mahdi Moudini himself, the series is scheduled to air on a local network soon, and will be available online at a later date.
As true master of illusions, an evening with Mahdi is sure to be a magical one and guaranteed to leave you gasping in wonder at the sheer skill of this talented magician.
———————————————————————————————————
Source: The Expat May 2013
Read more:
What are your thoughts on this article? Let us know by commenting below.No registration needed.
Comments