Since Spotify's debut in Malaysia in mid April of 2013, it has received a warm welcome and continues to spread through word of mouth.
We've compiled some tips below to help make your experience with Spotify even more enjoyable in Malaysia.
Listen to Music without the Internet
If you subscribe to the Premium version of Spotify, you can listen to the music you love offline. You may travel to places in Malaysia where the internet connection is not all that good. For situations like these, Spotify has an option to listen to music offline. You simple save music to a playlist, access the playlist, and click on Available Offline to enjoy this feature. The music will then quickly download the music inside the Spotify app. You still need to use the Spotify app to play the downloaded music, but you won't need Internet access.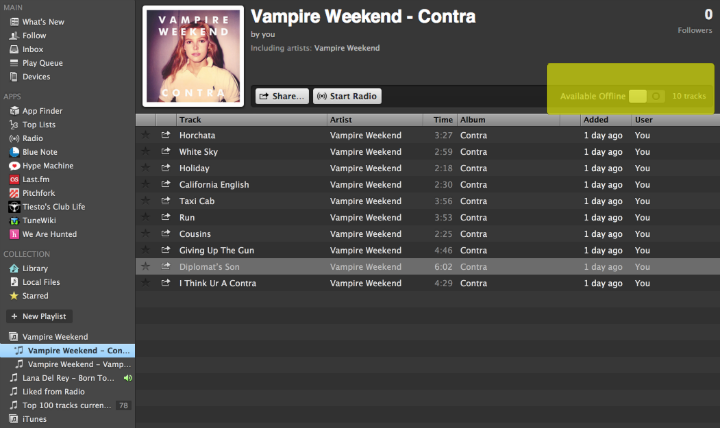 Discover New Music with Spotify's Neat Built-in Functions
Spotify provides some useful tools to continue finding new music. First, you can check out the What's New tab on every Tuesday of the week for new music releases.
Second, if you already like a particular band, you could discover similar music by checking out Related Artists on the band's artist pages.
Third, there is also an awesome radio function. If you like an artist, visit their page in the Spotify app, and press the "Start Radio" button. This will create playlist of songs similar to the artist. Furthermore, you can help Spotify tailor the playlist to your taste by pressing the dislike and like buttons for specific songs in the playlist.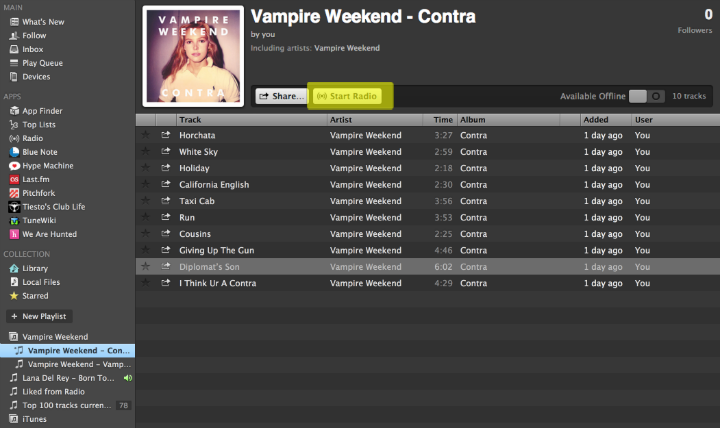 Discover New Music with Free Apps in Spotify
For people who are not just satisfied with listening to the music they are already familiar with, Spotify gives a huge range of options to discover new music. You could try the different apps meant for music discovery such as
Blue Note: Use this app to discover over seventy years of Jazz music. Select the year, and you can then choose albums and songs released then.
Hype Machine: You can use this app to discover music through a large, diverse community of music bloggers.
Pitchfork: You can use this app to discover independent music, it's a resource for indie rock, hip-hop, electronic, pop, metal, and experimental music.
We Are Hunted: This tracks the most popular 99 songs emerging in real time.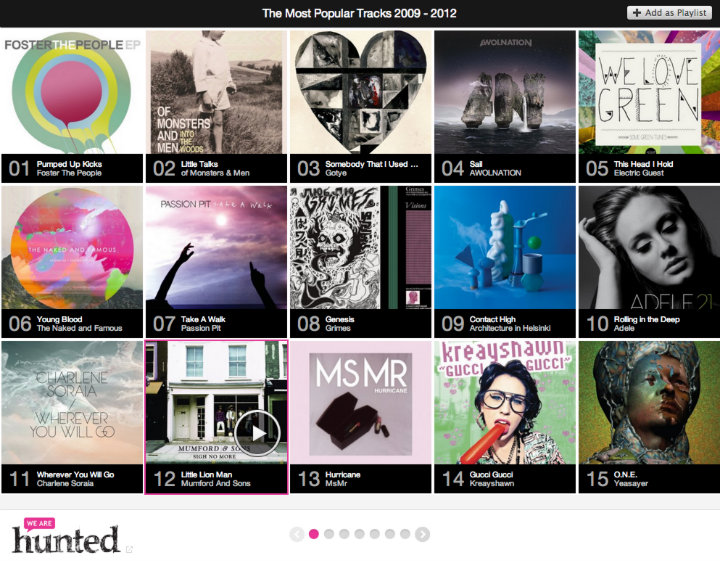 Show the Lyrics
With Spotify, you do not have to scout the internet for lyrics. The TuneWiki app gives you lyrics of the songs within Spotify as you listen to them. You can find TuneWiki in the App Finder and just click on Add to enjoy this feature. Anytime you play song, just click the app, and you'll see highlighted lyrics stream down the page
Use Advanced Search Modifiers
You use some advanced search modifiers and operators to find very specific music in the Spotify's music universe. The search option functions just like Google. You can choose to categorize your music by options like genre:electronic and you would get all the music that falls under this category. You can also search through other parameters like a time bracket, for instance year:2005-2008 for all the music released during this time. Other operators include:
Search for an artist – artist:"vampire weekend"
Search for a track – track:"sunday bloody sunday"
Combine operators, suc as searching for artist who released a song in a specific year – artist:radiohead year:1995
You can discover more search operators on this the About Website here.

Make Playlists Collaborative!
Through the collaborative playlist, you can share songs on Spotify with your friends and anyone can add to it. To enable this, all you need to do is go to the playlist, right click on it, and select collaborative playlist.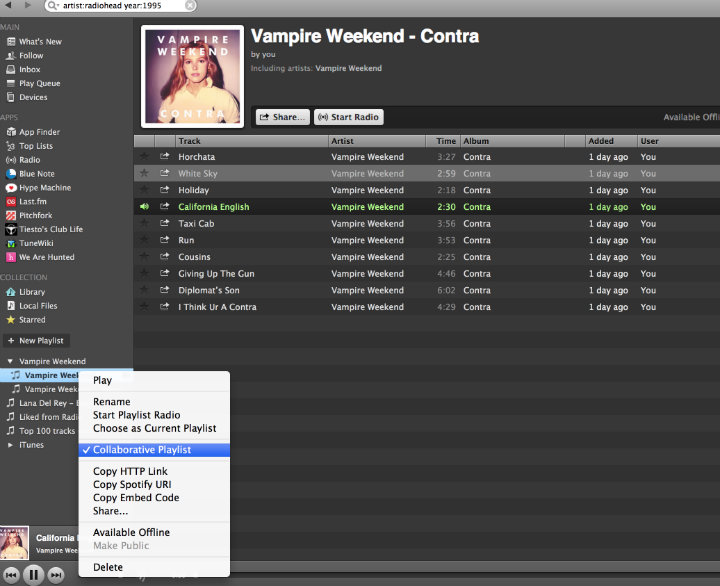 Organize Your Playlists into Folders
If you have several playlists and the tool bar is looking too crowded, Spotify has a perfect solution for it. You can organize your music by putting the playlists in separate folders. All you need to do is click on the File tab at the top of the screen, and then press New Playlist Folder. You can rename the folder, and drag and drop playlists into the folder.

Review What Songs You've Been Listening to
If you want to check the history of the songs you have been playing, just select Play Queue, which is located at the left-hand side of the toolbar. Once you do that, toggle to History at the top.

Embed Songs in Your Blog or Website
If you want songs shared on your blog or website, the process is pretty simple. The only thing you need to do is right click on the number, and select Copy Embed Code.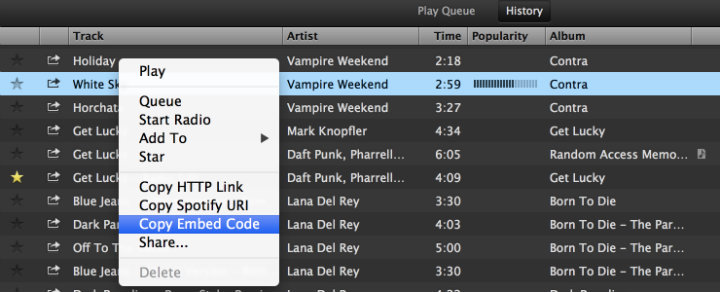 Import MP3s into Spotify from Your Computer
Even though Spotify has an extensive collection of songs, you might not always find what you are looking for. To tackle this, you can import music your iTunes library into Spotify. For this, you need to go to press the File tab at the top of the screen, then press Import Playlists, and then follow the directions given there. The time required to import depends on the number of songs.

Share a Song from a Specific Starting Point
If you do not want to share the entire song and just want to share it after a particular point, Spotify allows you to do that. All you need to do is right click on the song and click on Copy HTTP Link. You will now have to affix the time at which you want the song to start on the URL. For example, in the image below, you'll see a url ending with #0:45. This indicates the song will play starting at the 45 second mark. Use this number model at the end of the HTTP link to indicate at which point you want the song to play.
Prevent Spotify From Showing Your Played Songs in Facebook
Since your Spotify might be linked to your Facebook account, you might not want others to know what you are listening to, especially if you are a secret admirer of a song which can lead to ridicule among your friends. You might be currently keeping it private by entering a private session every time you listen to songs on Spotify. To make it permanently private, just go to Preferences, Activity Settings, and uncheck the two share settings below "Privacy."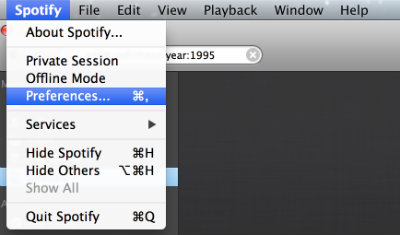 Do you have any additional tips? Post a comment below! Also, stay in touch with us, Leaping Post, by registering for our free e-newsletter here.
---
"ExpatGo welcomes and encourages comments, input, and divergent opinions. However, we kindly request that you use suitable language in your comments, and refrain from any sort of personal attack, hate speech, or disparaging rhetoric. Comments not in line with this are subject to removal from the site. "
Comments