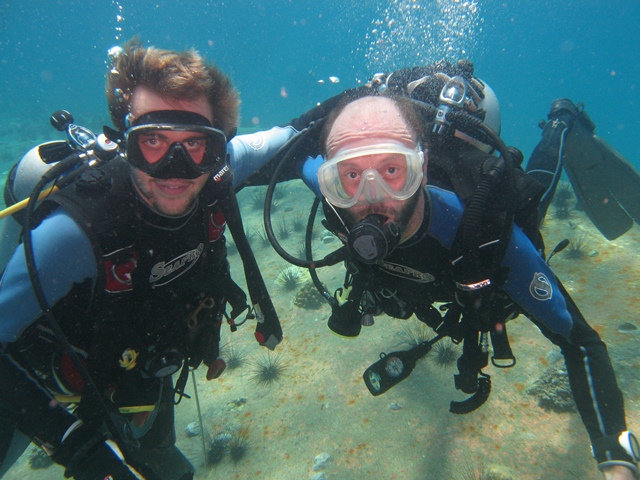 Avid diver Gordon Reid has visited almost every dive spot worth visiting in Malaysia and shares here his picks for the best of the best, whether you are wanting to learn to dive or find the best places for seeing the most prized underwater marine life.
Thinking of taking up diving? Or are you an existing diver who wants a quick weekend dive trip? Or to find that ideal location that will keep both you and your non-diving family happy? Or are you looking to see "big stuff" like sharks and turtles – or tiny weird creatures? Malaysia has an array of dive sites to tempt beginners and experts alike, so if you want to know more about where, when, how, and why to go diving in Malaysia, read on!
1. Where is the best place to learn to dive?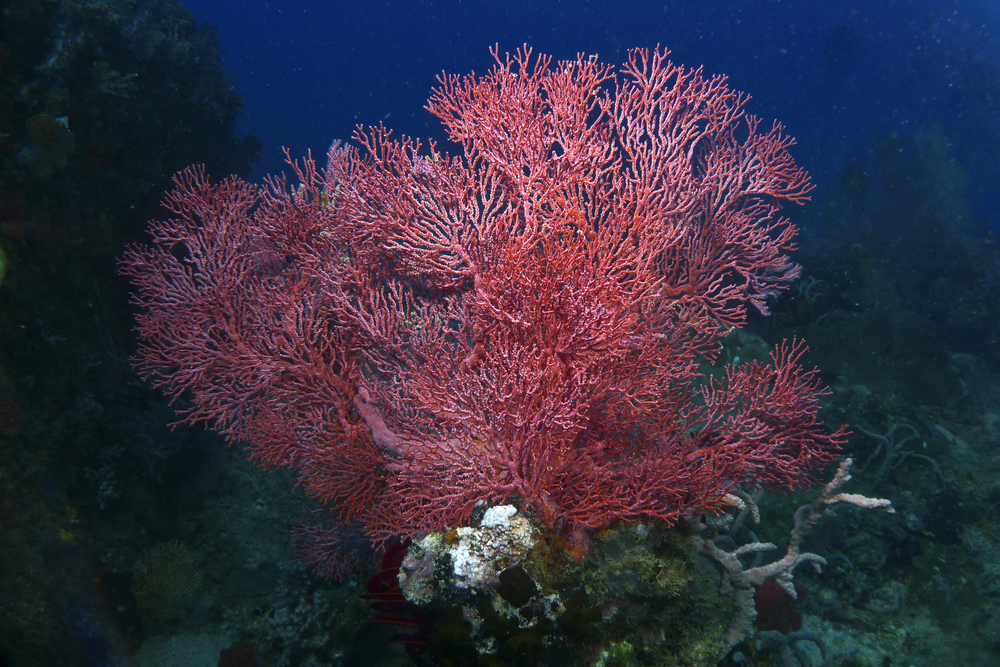 If you have never dived before, but want to learn, or just to try it out, to make sure you like it; and then get your diving licence (a good idea, incidentally, if you are unsure about how you will feel under the water), your best bets are the islands off the East Coast of Peninsular Malaysia.
The three main ones are Tioman, Redang and Perhentian. Tioman is the nearest and easiest to get to by road (and boat) from either Singapore or Kuala Lumpur. Redang and Perhentian are a bit further away to the north. You can also fly to all three – including directly (without boat transfers) to Tioman and Redang.
Apart from their accessibility, these are good places to start your diving career for two main reasons:
Affordable
First, they are relatively cheap, with a good range of accommodation and dive centres at generally lower prices than in more glamorous dive destinations. My advice is to save the likes of Sipadan, which is (justifiably) pricier, until you have a bit more experience as a diver. You'll enjoy it more, and get better value out of it.
Gentle sloping sands and shallow bottoms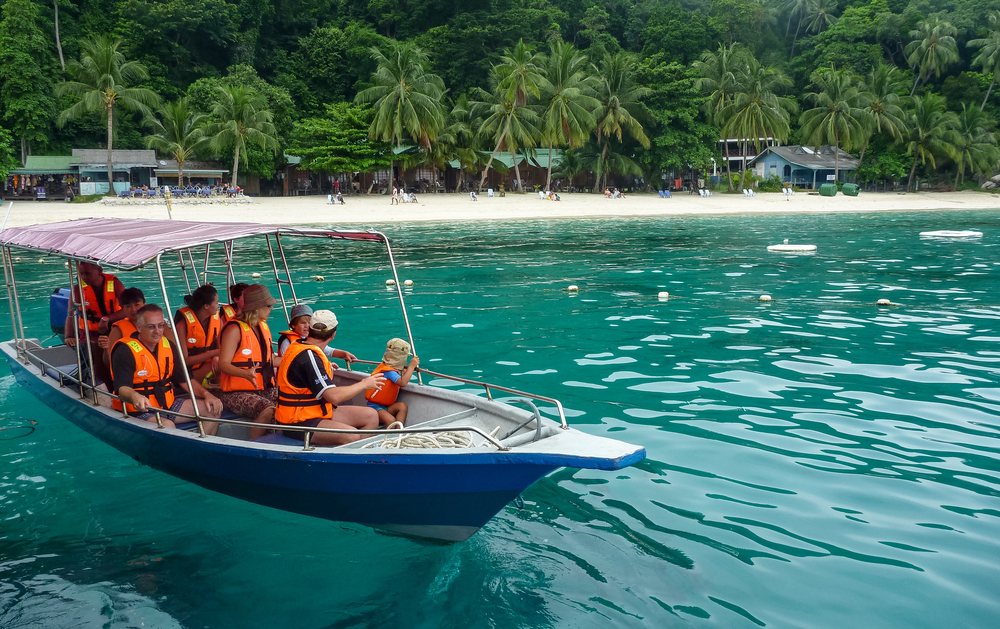 The second reason is that all three islands have a good number of gently sloping sandy beaches leading to dive sites with relatively shallow, flat sandy bottoms. These are perfect for beginners, who initially spend a lot of time sitting on the bottom while they are learning the skills. At the same time, the small coral reefs (bommies) that stud these areas offer more than enough marine life to keep a new diver interested and excited. And if you leave yourself some extra time after your course for some pure fun diving (which I recommend you do if possible), you can then venture out to the larger and deeper reefs.
Discover Scuba course
The introductory "Discover Scuba" course takes only two to three hours. Doing the basic PADI or similar Open Water course will take you a minimum of three days. If you are really short of time, you can reduce this to two days on the island by doing the first half of the course – the classroom theory and confined water exercises – at a city-based dive centre with swimming pool.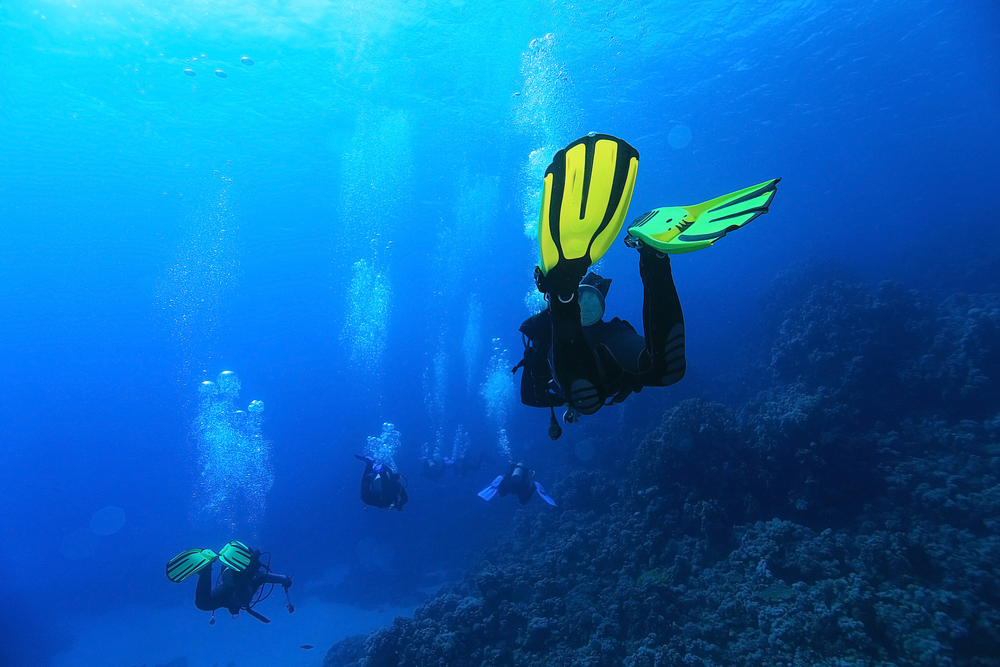 Some urban dive centres also offer pool sessions which allow absolute beginners to try out using scuba gear underwater. My own recommendation however is that you should, if possible, find the time to do the whole Open Water course away on an island. You will feel more relaxed, and be more likely to enjoy the experience.
Finally, a serious warning: Beware of going too cheap (this applies everywhere) when learning to dive. Recreational scuba is generally safe when properly practised, but there is of course an inherent risk. Some dive operators and instructors may try to cut prices, and with them corners, to a point that can compromise safety. The recent deaths of a Singaporean student and instructor in Malaysian waters, in which students ran out of air after being given only one tank for two dives (instead of the regulation one tank per dive), is a tragic case in point.
2. Where is the best place for a weekend diving trip?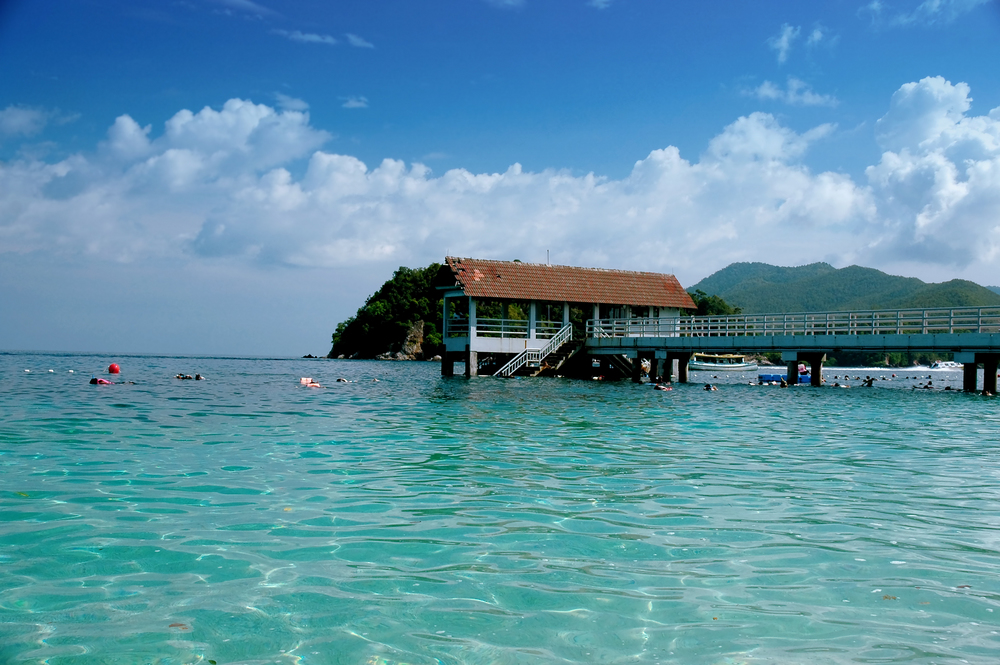 The answer to this is basically the same as for the previous question: the islands off the East Coast of Peninsular Malaysia! Tioman comes out top for a short break because of its closeness. Mersing, the main point of embarkation, is less than three hours' drive from Singapore (a little longer by bus) and just over four hours from KL – you do however have to add one and a half hours or so for the ferry trip the island. If you are really keen and willing to compromise on sleep (as I used to be!), you can fit in six dives on Tioman between leaving work on Friday and getting home on Sunday evening!
As mentioned earlier, you can also fly direct to Tioman or Redang. But although this cuts travel time, it is not a good option for a very short dive trip.Why? Because you need to allow at least 18 hours between your last dive and flying, which means no diving on your second day. So you lose more on the swings than you gain on the roundabouts.
The smaller Johor islands of Pulau Aur/Pulau Dayang, also reached via Mersing, offer another option for a quick weekend's diving. You do though need to be a bit of a die-hard, since the boat trip to the island is rather lengthier (around four hours) and less comfortable than the one to Tioman; and accommodation on the island is quite basic.
3. Where is the best place to see big stuff?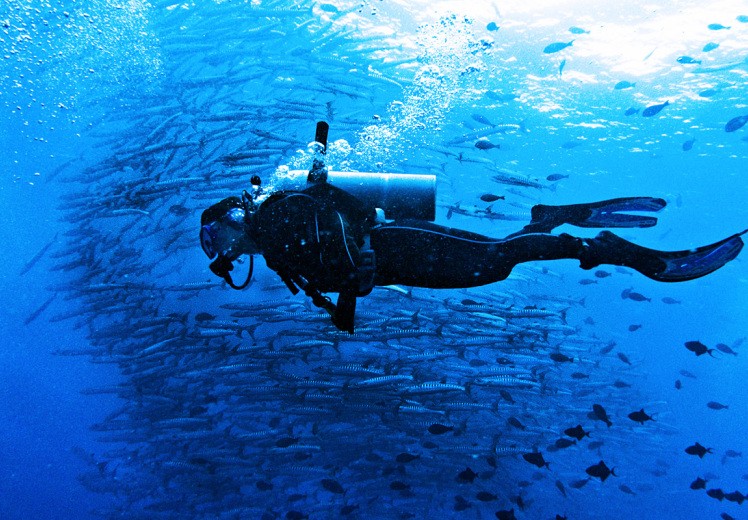 This one is no contest. While you have a good chance of seeing some excitingly large marine creatures – sharks, turtles, barracuda, bumphead parrotfish and so on – at virtually all of the dive locations off Malaysia, there is only one location that more or less guarantees that you will see them, and often in large numbers. That is of course the jewel in the Malaysian diving crown: Sipadan. My last trip there produced two dives at Barracuda Point that were probably the best I have ever done, anywhere. There were so many sharks, turtles, bumphead parrotfish, schooling jacks, and barracuda that I lost count!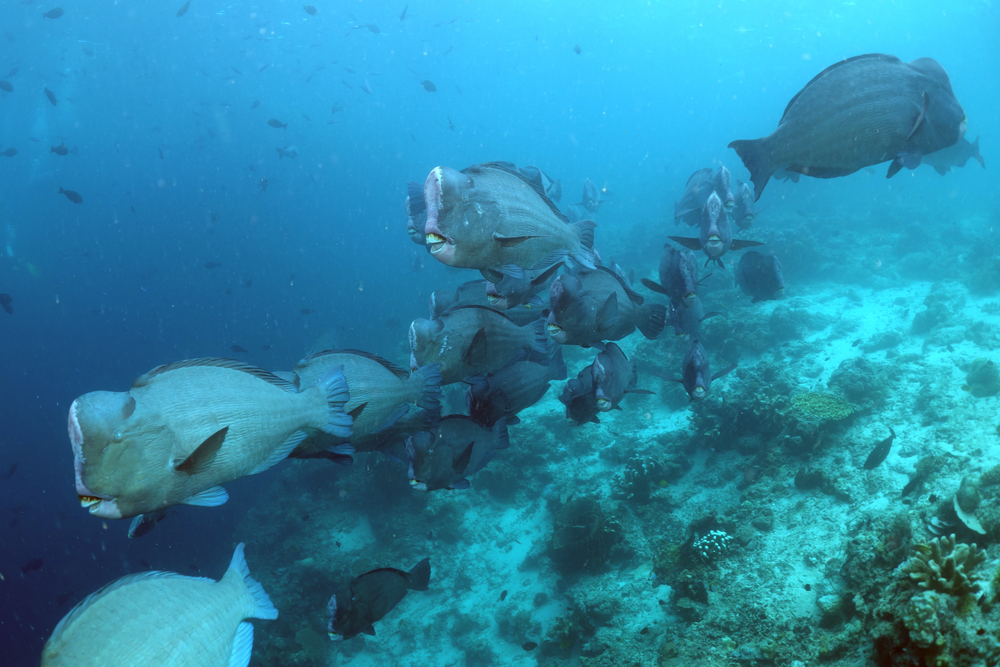 To dive Sipadan, you fly into Tawau Airport, then transfer via Semporna to the island of Mabul, which offers a range of resorts, from five-star to basic. For sound environmental reasons, you cannot stay on Sipadan itself. For similar reasons, the number of divers allowed to the island each day is limited by permits.
The upshot is that you will not be able to dive at Sipadan every day. If you go during peak periods, expect one day in three at Sipadan at most. In low periods, on the other hand, you may be able to get as much as two days in three. Also, check with your resort how many daily permits they have allocated to them; some have proportionally more than others.
4. Where is the best place to see small, strange creatures?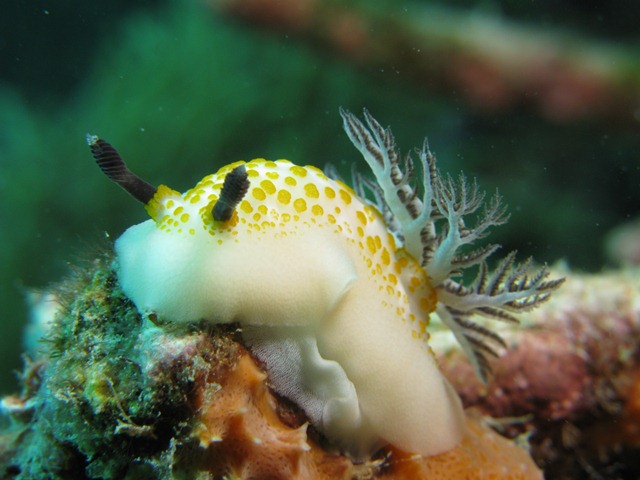 In this sense, we're referring to very small creatures such as crustaceans, strangely named and shaped fish like frogfish, crocodile fish, pipefish, seahorses and many others. Many divers love to spot – and even more so to photograph – these often weird and wonderful looking beings.
As with big stuff, you can find good "macro" of one kind or another at most dive spots in Malaysia. But if you really want to see a concentration of weird and often rare creatures, the place to go is Sabah, in East Malaysia. I have already mentioned two good locations: Mabul, which divers usually combine with trips to Sipadan; and Mataking.
Let me add one more. Lankayan is, like Mataking, a single-resort island, but is even smaller and more remote. To get there, you fly to Sandakan on the east coast of Borneo, from where you take a speedboat for a further one and a half hours out into the Sulu Sea, almost to the maritime border with the Philippines. At the end of this trip you are rewarded by the sight of a tiny jewel of an island, surrounded by a much larger fringing reef, all sitting in glorious isolation.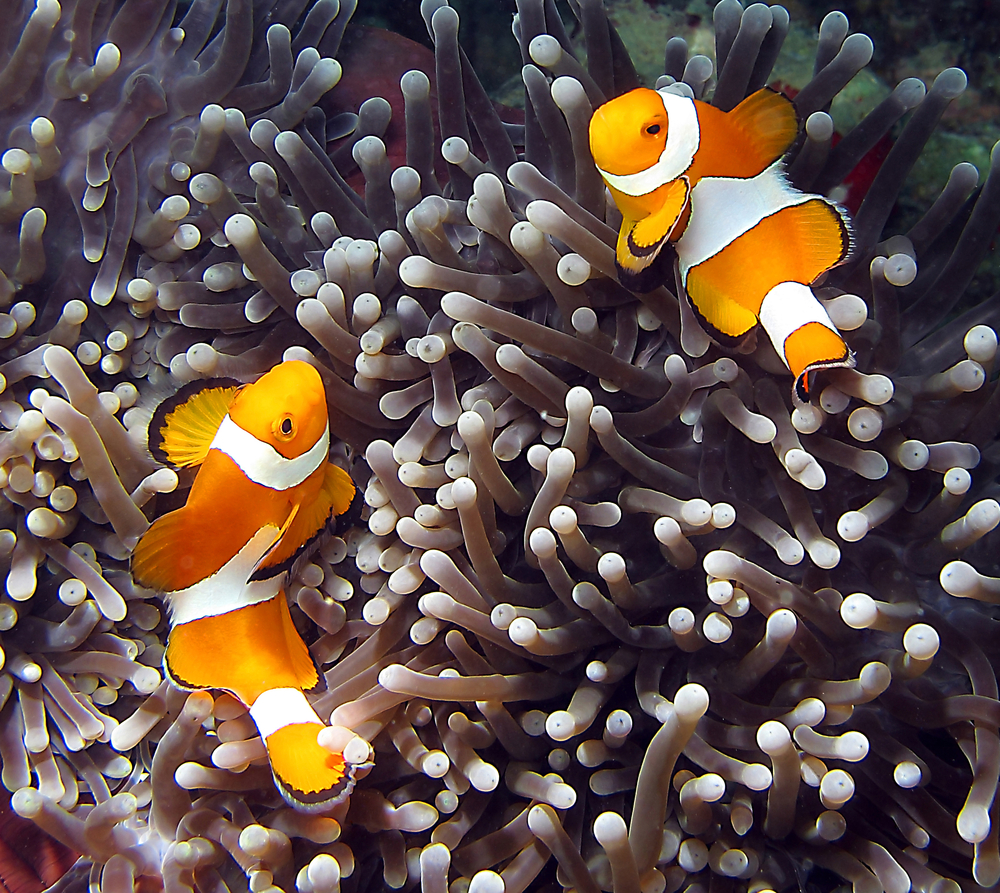 On Lankayan, not only is the island all yours; the surrounding seas, with over thirty dive sites, are too! In addition to excellent macro, you also have a good chance of seeing leopard sharks, turtles, and giant grouper. And if you are very lucky, you may be rewarded by the sight of a huge green turtle hauling herself ashore at night to lay her eggs, only metres from your beach side accommodation. Given all these attractions, including excellent snorkelling, Lankayan is also an option for non-divers willing to make the lengthy trip.
5. Where is the best place to see shipwrecks?
Divers like me love wrecks because they tend to attract a greater concentration of marine life than even natural reefs. They are also often interesting to explore in their own right. I recommend two places in particular to try out wreck-diving in Malaysia.
Tioman
The first is, again, Tioman. Tekek Bay in the middle of the island harbours two good wrecks: the recently sunk metal-hulled SS Sipadan (an appropriate name!) and the older wooden Sawadee.
The first of these has a very clean, intact superstructure, which makes it a good place to try out wreck-diving. The second is smaller but, being mature, teems with marine life on and around it.
Note that both of these wrecks sit quite deep, and visibility around them is often limited, so they are not for beginner divers. There are also a few smaller, shallower and easier wrecks further up the coast of Tioman, off the Marine Park and at the top end of Salang Beach respectively.
Perhentian
My second recommendation is Perhentian, which has two excellent wrecks. The Vietnamese Wreck is an upside down landing craft which brought Vietnamese boat people to Malaysia in the 1970s. Although quite small, it has an impressive abundance of marine life in, on and around it. It too sits quite deep in the water, and is often exposed to strong currents, making it an exhilarating dive – but not one for novices.
The Sugar Wreck is a much larger cargo ship, lying on her side about 20 minutes by boat from Perhentian. Exploring her heavily encrusted carcass and huge cargo holds, with abundant schooling fish swirling around, is a brilliant dive when visibility is good (which is, sadly, the exception rather than the rule). The inside decks of Sugar Wreck also offer good wreck penetration opportunities for suitably qualified divers.
Labuan
Which brings me to my last recommendation. If you are really serious about wreck diving,my advice is to go and dive the much larger Labuan Wrecks off the north coast of Borneo. Currently, there are no dive operators working out of Malaysian Labuan, but fortunately, you can dive the wrecks equally well from nearby Brunei.
6. Where is the best place to dive during the east monsoon season?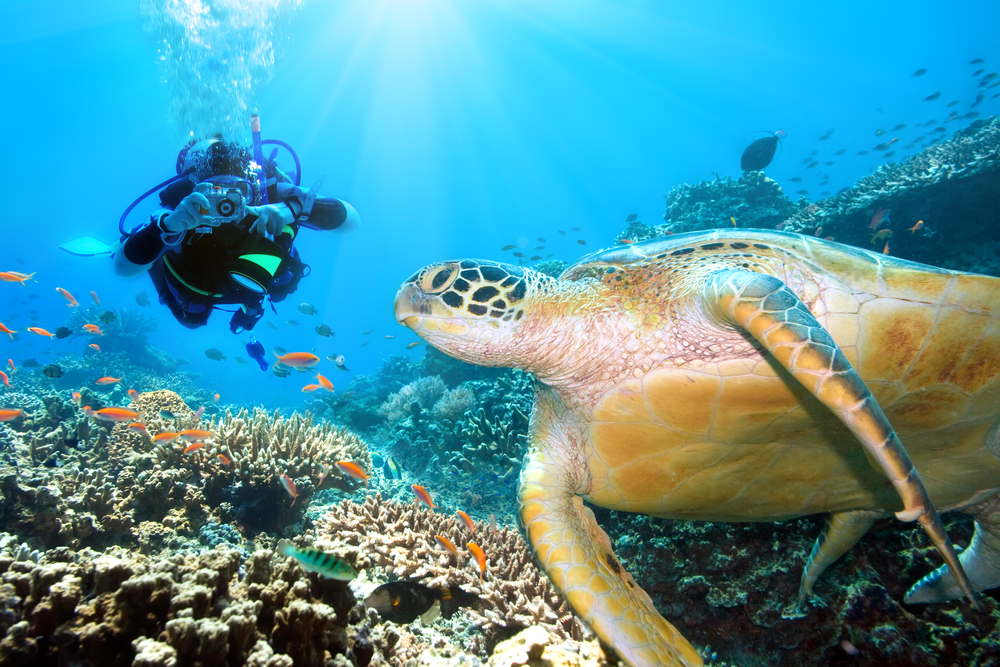 This is another easy one to answer. Sabah, of course! Known as "the land below the wind", Sabah does not receive any monsoon winds or rains, so you can dive all year round. And you have a rich choice of where exactly to go: Mabul/Sipadan, Mataking, Lankayan.
But what if you do not have the time or money to go as far as Sabah? Well, there is an option on the West Coast of Peninsular Malaysia: Pulau Jarak and the Sembilan Islands (not to be confused with the much bigger, and more distant, Similan Islands off Thailand). These are all located off the coast of Lumut/Pangkor Island, about three hours by car north of KL. The diving is decent, with good macro in particular (including seahorses).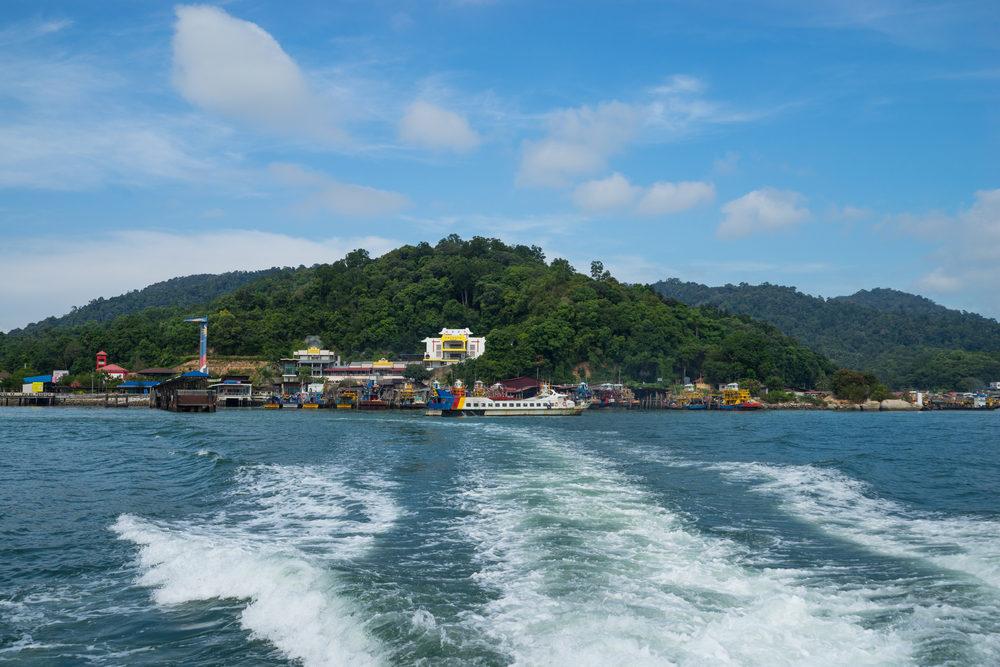 At present, I know of only one regular dive operator out of Lumut, Quiver. There is also a Malaysian boat called Kaleebso that does weekend live-aboard trips to these West Coast islands every year, but sadly it has suspended these for the end of this year. Check out the Internet for further details of both.
Should you have any questions or require additional details on the information presented here, please contact the author at [email protected].
This article was originally published in Senses of Malaysia November/December 2013.
This article was updated in March 2016.
Read more:
What are your thoughts on this article? Let us know by commenting below.
---
"ExpatGo welcomes and encourages comments, input, and divergent opinions. However, we kindly request that you use suitable language in your comments, and refrain from any sort of personal attack, hate speech, or disparaging rhetoric. Comments not in line with this are subject to removal from the site. "
Comments