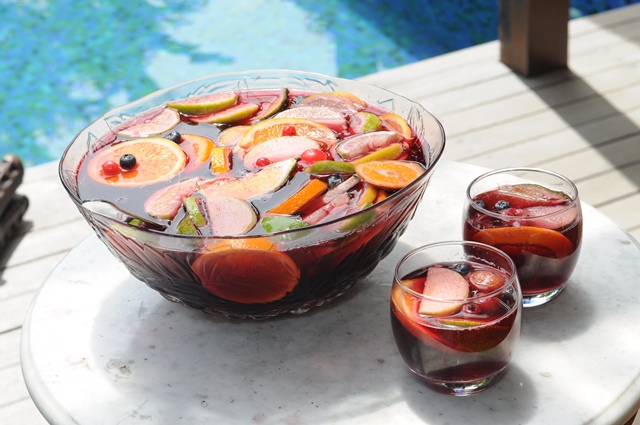 Working one's way through one cocktail after another… it might just be the most interesting way to learn about a place. In the new book Borneo Spirits & Tuak Tales, readers are treated to a procession of narrative stories about people, places, and events in Borneo, the vast island that includes the sprawling Malaysian states of Sabah and Sarawak, Indonesia's expansive Kalimantan, and tiny Brunei. Each narrative is inspired by a cocktail, such as the "Harrisson's Heartbreak", an attractive red cocktail named for British adventurer Tom Harrisson who served in Borneo during WWII and led efforts afterward to save the orangutan, green sea turtle, and other endangered species on the island.
Ultimately, Harrisson apparently offended enough people to get himself permanently exiled from Sarawak, the land that he loved, and thus, the heartbreak referenced by this cocktail's name.
At the base of this collection of libations is tuak, the traditional Sarawakian rice wine. After a most educational pair of introductory forewords, there is a fascinating primer on rice wine, including a detailed recipe for making the tuak and its required rice wine yeast, as well as a beautifully photographed spread highlighting the various iterations of rice wine that can be made. After that, the parade of enticing cocktail recipes begins in earnest.
Written by Nikki Lugun with mixologist extraordinaire, Diego Michelato, Borneo Spirits & Tuak Tales is a quality 135-page hardback book, each recipe in it allotted a full page to list the ingredients, preparation and service methods, and tell the story behind the name. Every cocktail is also beautifully presented and photographed with such colour and clarity, you could be forgiven for wanting to sip directly from the page.
With many drinks distinctly tropical (particularly in the "Borneo Fusion" section of the book), you'll find recipes calling for plenty of local fruits and flavours. Pineapple, mangosteen, passion fruit, lemongrass, ginger, starfruit, mango, lime, melon, watermelon, pink guava, and dragonfruit… they all play their part. Some libations are simple and straightforward, some demanding and complex, but most fall comfortably in between, like the "Jambu Jungle Juice", a refreshing and approachable blend of red tuak, pink guava juice, triple sec, dry vermouth, and grenadine syrup, with a slice of jambu air fruit (water apple) and an unexpected twist of coarsely ground pepper as a garnish.
From sparkling tall drinks ("Kuching Kickstart" and "Merigong Gorge") to bracing shots ("Sarawak Slammer" and "Tuak Fireball") to libations that sound frankly dangerous ("Mike's Mind Melt" – a mixer-free cocktail of aged tuak, gin, and vermouth), Borneo Spirits & Tuak Tales is a book of pure pleasure, both to read and to use as a guide at your home bar! The stories are often as fun as the drinks they accompany. From the aforementioned "Sarawak Slammer" page: …a less debilitating variation on the much-loved langkau pop, where home-distilled (and highly suspect) langkau is mixed in a tumbler with the locally popular F&N Ice Cream Soda, covered with a beer coaster, slammed vigorously onto the nearest hard surface, and swallowed in a single gulp. A few briskly administered langkau pops often reduce grown men to gibbering wrecks within minutes, but have little apparent effect on the native women who consume them with great relish.
The book is divided into four recipe sections: Chill Out, Borneo Fusion, Party Times, and After Party, with each section featuring a variety of enticing drinks. In fact, the book comprises over 100 outstanding cocktails, each made with tuak and each alluring enough to inspire readers to get in touch with their inner bartenders!
However, it's the enlightening and entertaining stories that accompany each beverage that make this a book that deserves a space on every expat's shelf. If you've been in Malaysia long enough, you've surely heard the term mat salleh, a term of (varying degrees of) endearment used to refer to white folks here in the country. But did you know the term was derived from "mad sailors" – as it was common in the 19th century to see Western sailors carousing drunkenly in ports and pubs in Southeast Asia? It's one of just many tidbits found in Borneo Spirits
& Tuak Tales.
Inventive cocktails, beautifully presented with a side of fascinating culture and history? I'll drink to that!
A book well worth seeking out, Borneo Spirits & Tuak Tales can be found at Silverfish Books in Bangsar, and should be available at major bookstore chains.
Source: The Expat Magazine April 2014
Read More Book Reviews:
What are your thoughts on this article? Let us know by commenting below.No registration needed.
---
"ExpatGo welcomes and encourages comments, input, and divergent opinions. However, we kindly request that you use suitable language in your comments, and refrain from any sort of personal attack, hate speech, or disparaging rhetoric. Comments not in line with this are subject to removal from the site. "
Comments