It is a fact that Malaysia has some of the most delicious food, but it is also a fact that these foods are not exactly on the healthy side. But, if you are only in Malaysia for a short time, we do recommend you try these 10 yummy foods below, in moderation, of course.
1. Roti Canai
One of the all-time Malaysian favourite is the roti canai, which is delicious when served with curry or dhal (lentils). One serving of roti canai with dhal is roughly about 300-350 calories. It's quite scary for a piece of bread, right?
2. Nasi Lemak
Another common Malaysian dish is nasi lemak, which is usually eaten for breakfast. The perfect combination of rice with crispy ikan bilis (anchovies), hard-boiled egg and a generous serving of spicy sambal is more than enough calorie intake for you in the morning. This delectable dish contains about 644 calories, which is equivalent to 3 bowls of rice. Not such a healthy breakfast anymore?
3. Teh Tarik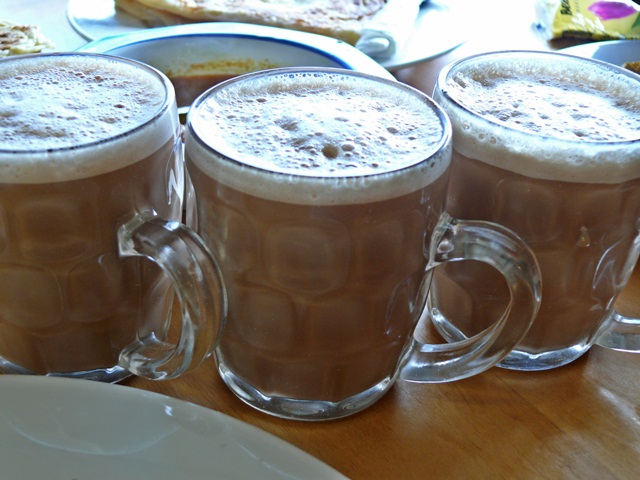 Not exactly a dish, but still a favorite Malaysian must-try. Teh tarik, or pulled tea (direct translation), was named because of the techniques used to make this creamy, sweet beverage. However, this drink has the ability to push in as many calories as it can, in just one cup. This beverage exceeds more than 80 calories in one cup, which is surprising as it's only served in a small cup.
4. Char Kway Teow
One of the most notable stir-fried dishes in Malaysia! The best char kway teow is usually found in Penang, but you can get delicious ones in almost anywhere else in Malaysia. The blend of flat rice noodles, eggs, seafood and soy sauce sprinkled with bean sprouts on top makes this dish so delicious! Yes, it is served with a generous helping of calories as well, about 740 calories in one serving!
5. Satay
Chargrilled marinated chicken, beef or lamb served on a stick (skewer) with a dollop of peanut gravy, and onions, cucumbers and rice cake on the side. One stick is definitely not enough. A person can usually consume up to 5 sticks minimum, or go up to 10 and 20 sticks! A serving of 10 sticks is about 365 calories. Blame it on the peanut gravy.
6. Dry Wantan Mee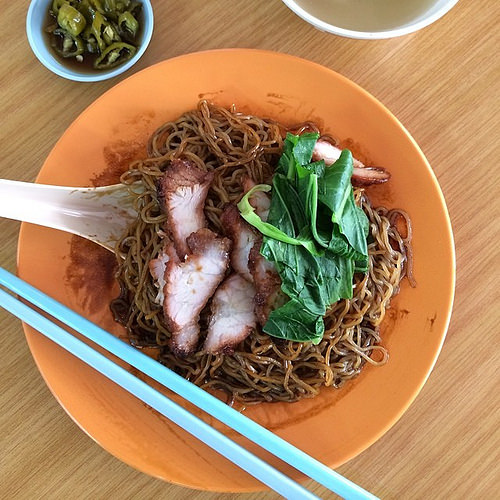 Photo credit: boo_licious / Foter / Creative Commons Attribution-NonCommercial 2.0 Generic (CC BY-NC 2.0)
A common but not so popular noodle dish, the dry wantan mee is usually served in a soy sauce dressing, with either a couple of dumplings on the side, or honey-glazed, barbecued chicken on top. This dish has about 409 calories in one serving, which isn't so bad.
7. Mee Goreng Mamak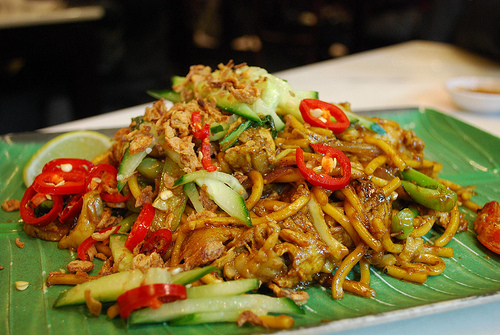 Photo credit: avlxyz / Foter / Creative Commons Attribution-ShareAlike 2.0 Generic (CC BY-SA 2.0)
A typical dish found at mamak stalls is the mee goreng (fried noodles). This stir-fried noodle dish consists of noodles (obviously), eggs, seafood, chicken, spring onions, fried tofu, and so on. How many calories? A whopping 660!
8. Penang Laksa
This hot and sour soup is a famous dish in Penang, but you can find it in other parts of Malaysia as well. We can't guarantee it will taste as good though. To create this rich, savoury soup, a lot of ingredients are used, so it's not surprising the calories in this dish will be high too. For one bowl of laksa, there's about 440 calories!
9. Claypot Chicken Rice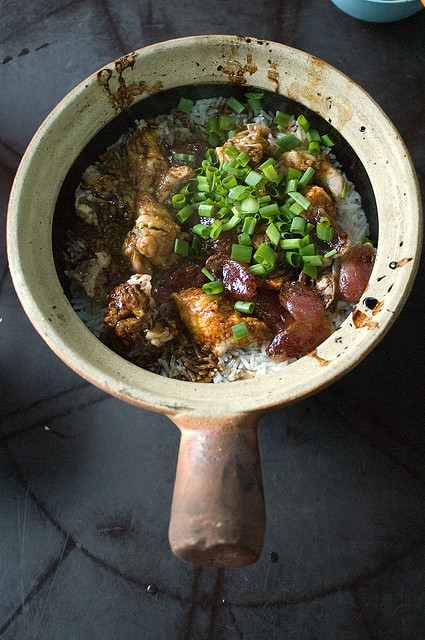 Photo credit: jonolist / Foter / Creative Commons Attribution-ShareAlike 2.0 Generic (CC BY-SA 2.0)
Another comfort food for the Malaysians is claypot chicken rice. This dish consist of rice cooked in a claypot, until the bottom is burnt, and mixed in with other condiments such as Chinese sausages, anchovies, chicken and egg. You would be forced to share the bowl around as one serving is about 900 calories!
10. Curry Puff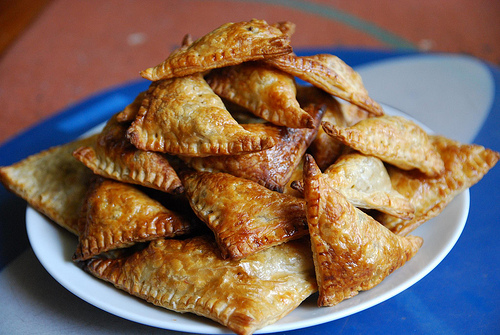 Photo credit: avlxyz / Foter / Creative Commons Attribution-NonCommercial-ShareAlike 2.0 Generic (CC BY-NC-SA 2.0)
A delightful snack to get us through the day, but one tiny little puff is brimmed with fat, as it is stuffed with heavy filling of potatoes, chicken, egg or sardines, and deep fried in oil. How many calories? Well, a small sized curry puff has about 128 calories. How many will you eat now?
Although the foods mentioned above are laden with unhealthy calories, it shouldn't be a problem if you eat them in moderation. So, refrain from having a nasi lemak and teh tarik for breakfast every day!
Homepage Highlight Photo credit: Hollud / Foter / Creative Commons Attribution-NonCommercial-ShareAlike 2.0 Generic (CC BY-NC-SA 2.0)
Read More Food Articles:



" ExpatGo welcomes and encourages comments, input, and divergent opinions. However, we kindly request that you use suitable language in your comments, and refrain from any sort of personal attack, hate speech, or disparaging rhetoric. Comments not in line with this are subject to removal from the site. "



Comments