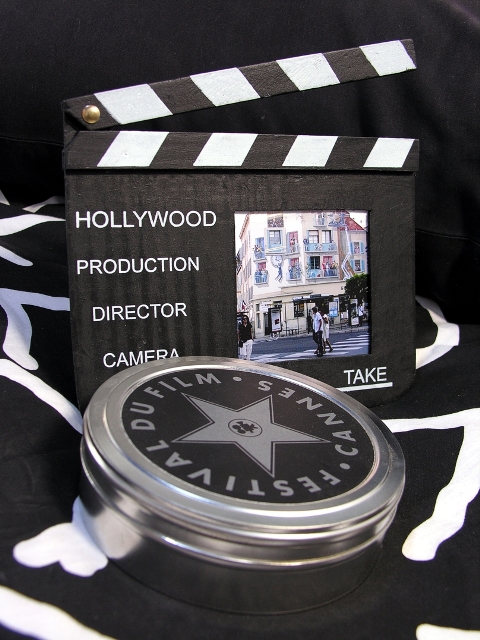 In Malaysia, most cinema chains offer the standard theatre hall that essentially comes with a big screen, and rows and rows of connected seats placed at different elevated levels. Pretty average.
See Also: Hollywood Movie Guide for Malaysia
However, the movie-going experience these days is on a whole new level thanks to the introduction of more facilities and services which has enhanced the quality of one's movie experience. Now, when buying a movie ticket, the selection has expanded from a normal standard seat to Gold Class tickets (luxury), Premiere Class tickets (average), Platinum Class tickets, and so on.
Different cinema chains have their own class categories. To help you put things in perspective, we've categorized the different types of seats or class, under three popular cinema chains in Malaysia; Golden Screen Cinemas, Tanjong Golden Village and Cathay Cineplexes.
Golden Screen Cinemas (GSC)
Golden Screen Cinemas is one of the most popular cinema chains in Malaysia. It basically offers three movie classes as follows:
1. Standard Class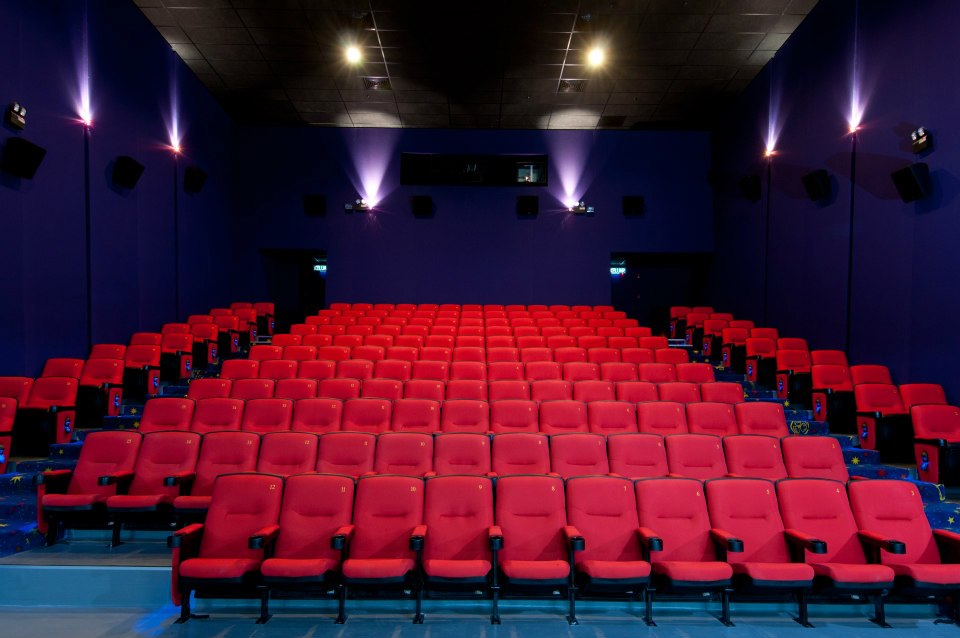 Photo Credit: GSC, Facebook
This movie class is for the standard theatre halls that accommodate connected seats. Ticket prices usually range from RM8 to RM15. The pricing is usually slightly higher during weekends and public holidays. Wednesday is a special day for GSC patrons as ticket prices are slightly cheaper than other days at most GSC chains. Standard Class tickets are available at most GSC branches.
2. Premiere Class
Photo Credit: GSC
By purchasing the Premiere Class tickets, you get a more spacious and comfortable seat to enjoy your movie. The seats are positioned in pairs and are properly spaced out so you would not be disturbed by other patrons. Each seat comes with an attached tray on the side so that patrons can place their snacks and drinks there and be comfortable. Apart from these perks, you also get to enjoy better sound system and the comfort of more leg space. The Premiere Class auditorium has an attached lounge and toilets that patrons can use before the movie screening.
Tickets are priced from RM13 to RM20 and are only available at GSC Signature at The Gardens Mall, GSC Berjaya Times Square and GSC Gurney Plaza.
3. Gold Class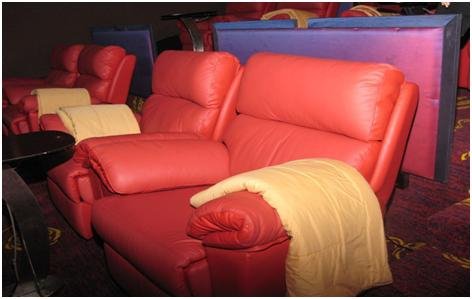 Photo Credit: GSC, Facebook
Unlike Premiere Class seats, Gold Class seats can be reclined and are in the form of highly comfortable and spacious armchairs. The seats are also properly spaced out, like the Premiere Class seats, but they come with a small table, instead of a tray. One table is attached to every two seats. This means that the seats are also positioned in pairs. The seats also provide extra leg space.
Each patron is provided with a complimentary blanket and pillow for extra comfort. In addition, you also get a complimentary drink, which is delivered right to your seat (choice of soft drink or water). A service call button is located on the table so that you can ring for the butler service every time you want to order extra food and drinks, which you have to pay for, of course.
Apart from these advantages, the hall also occupies limited seats so you are guaranteed more privacy, and you get to enjoy a better sound system than the Standard theatre halls. Gold Class cinemas also have a lounge area connected to the cinema halls for the exclusive usage of Gold Class patrons. The lounge area is equipped with sofas, a bar selling drinks and tidbits, free WIFI and a restroom. It is opened for usage 30 minutes before show time.
Gold Class tickets are priced from RM 50 to RM 75. The tickets can only be purchased at GSC Signature at The Gardens Mall, GSC Mid Valley, GSC Pavilion KL and GSC 1 Utama (New Wing).
4. GSC Maxx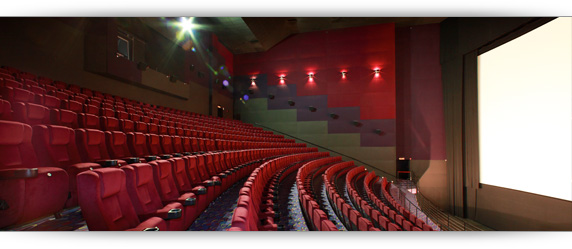 Photo Credit: GSC
GSC Maxx located at Berjaya Times Square is the first IMAX theatre in Malaysia. The IMAX auditorium's extra advantage, when compared to the standard theatre, does not lie in the seating, but in the audiovisual aspect of your movie experience. The seats are the usual standard seats, but the theatre screen is huge, spanning floor-to-ceiling, and wall-to-wall.
IMAX theatres also give you the advantage of higher quality pictures that are brighter and sharper when compared to the standard theatres. Apart from a better 3D movie experience, they also offer the more advanced 4D movie experience. These theatres also boast a more accurate digital surround system. GSC claims that its IMAX theatre is the largest 2D and 3D digital hall in Malaysia. The theatre mostly showcases educational titles and selected Hollywood blockbusters. Tickets are priced reasonably (considering the huge screen and excellent sound system) at around RM17 for adults and RM10 for children. GSC Maxx can only be found in Berjaya Times Square.
Tanjung Golden Village (TGV)
Tanjung Golden Village (TGV) is another popular cinema chain in Malaysia. Unlike GSC, TGV cinema chains have their own set of movie classes as follows:
Standard Class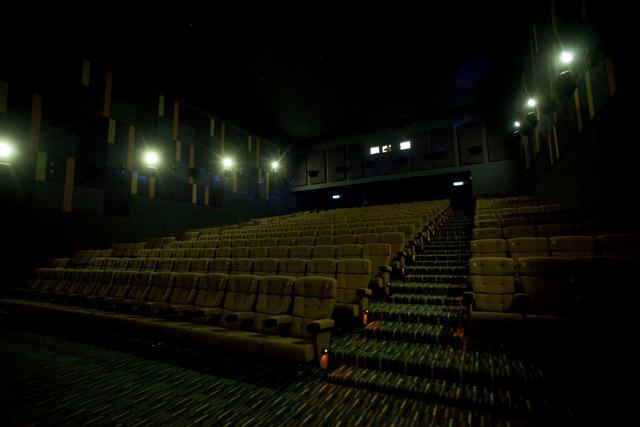 Photo Credit: TGV, Facebook
Standard Class tickets are typically the same for all cinema chains, giving you the access to standard auditoriums with joined seats. These tickets are available at all TGV branches. The price of a standard ticket is normally at an average of RM10. The price is higher during weekends.
5. IMAX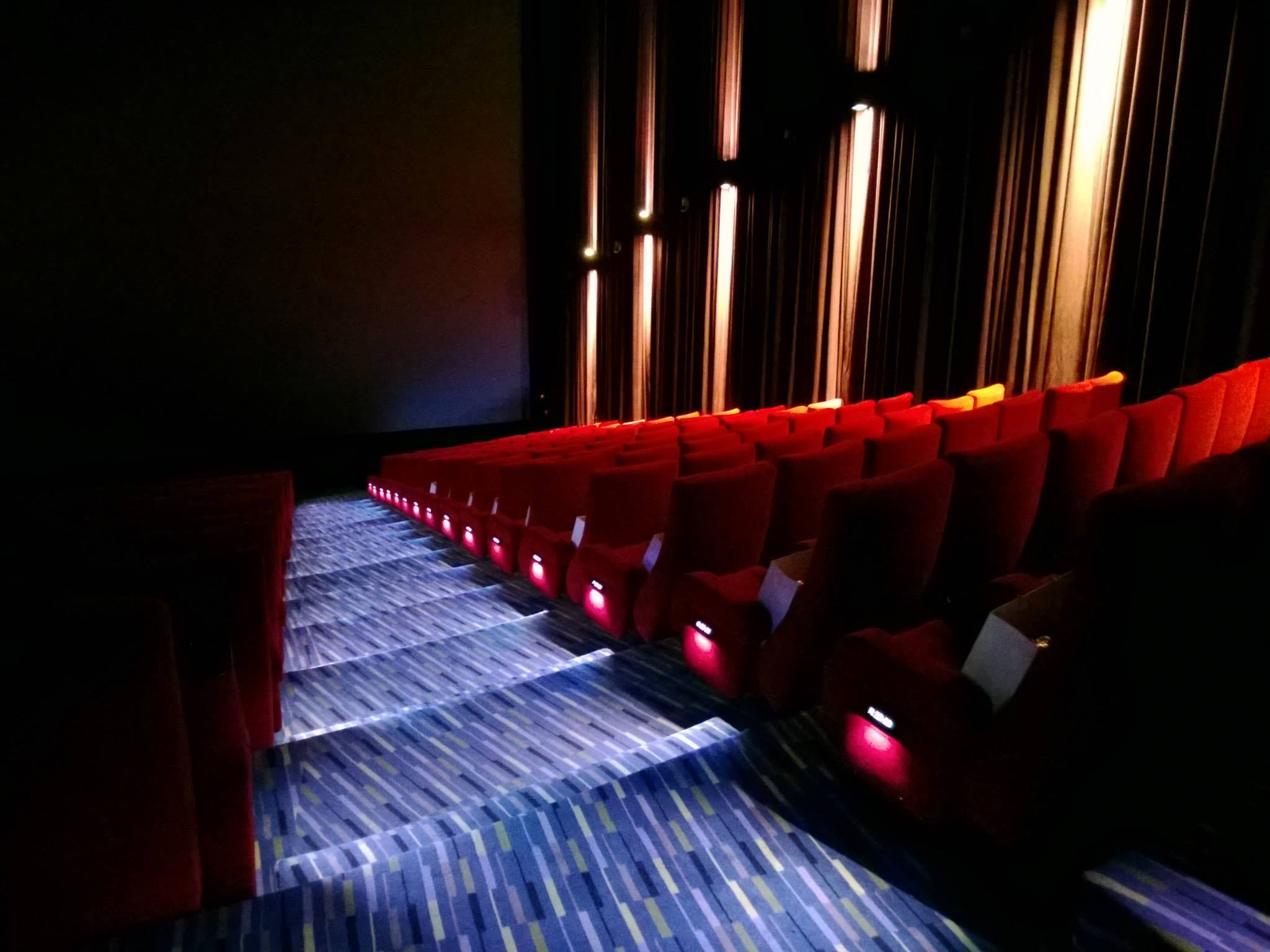 Photo Credit: TGV, Facebook
TGV also has IMAX studios available at its branches in Sunway Pyramid, 1 Utama and Aeon Tebrau (Johor Bahru). Its features are typically the same as GSC Maxx, with giant screens that offer higher resolution images and standard seating throughout the cinema hall. However, TGV's IMAX tickets are priced slightly higher at around RM22.
6. Beanie
Photo Credit: TGV, Facebook
TGV's Beanie Class is named after the highly comfortable and spacious bean bag seats that you get to sit on at the TGV Beanie auditoriums. Like GSC's luxury movie classes (Premiere and Gold), the seats are also positioned in pairs making it ideal for couples. The seating also provides a wide leg space of 2.0m, so that cinema patrons can be at full recline when watching a movie. TGV's introduction of bean bags to the cinema scene has indeed revolutionized the movie-going experience in Malaysia.
Beanie auditoriums are available at TGV 1st Avenue (Penang),TGV 1 Utama, TGV Sunway Pyramid, TGV Tebrau City (JB) and TGV Bukit Indah (JB). Tickets are priced at around RM22.
7. Luxe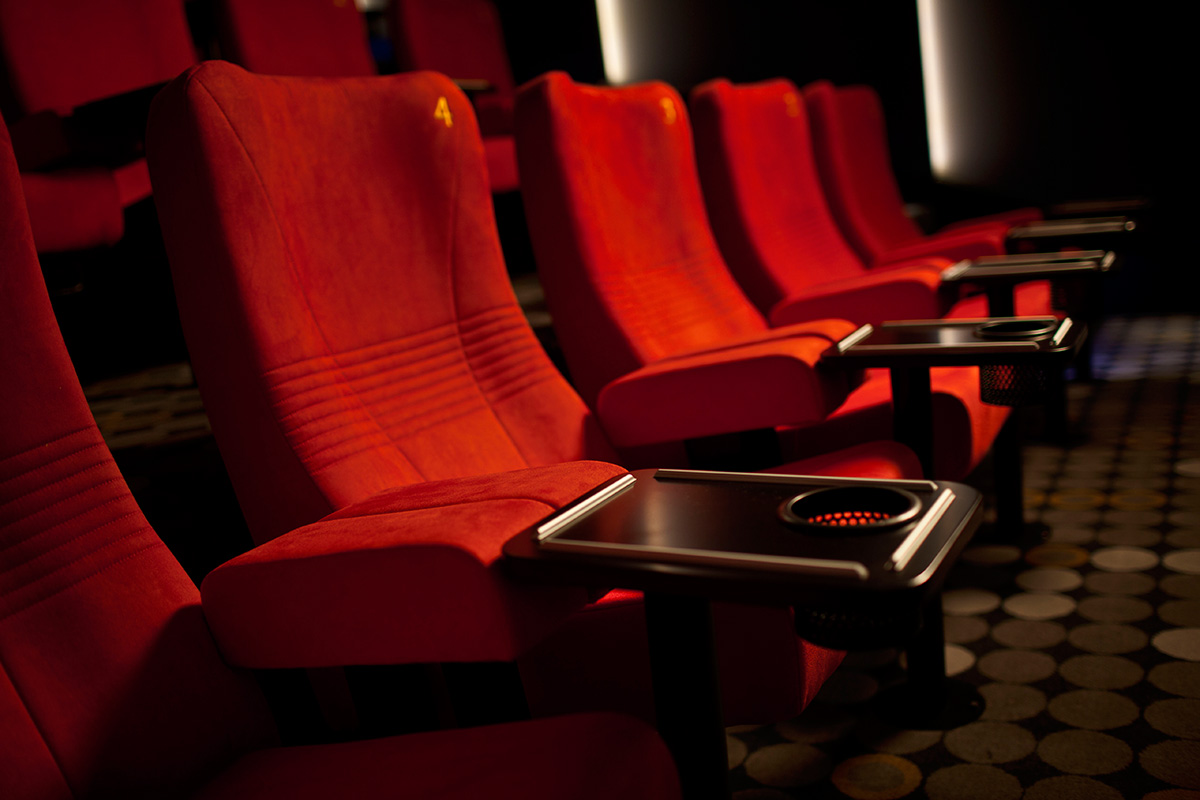 Photo Credit: TGV
TGV Luxe tickets are the chain's highest class tickets. You are given the option to either choose from the Luxe theatre's individual seats or twin seats. Like GSC's Gold Class seats, the seats here are more spacious and offer extra leg space. However, they are not the more comfortable leather, arm chair seats. They are just the roomier version of the standard seats. And, instead of having an attached table, the seats here only have small trays attached to the side of the seats, just like GSC's Premiere Class. Furthermore, the Luxe cinema hall features connected seats unlike the properly spaced out seats at GSC Gold and Premiere theatres. Only the twin seats which make up the upper portion of the cinema hall is separated from each other.
Like GSC Gold, your purchased food and drinks will also be served to you at the Luxe cinema hall. You are just required to order the food from the cinema lounge before entering the hall. Chillax is the name of TGV's stylish cinema lounge that serves all kinds of food and drinks including burgers, fries, bruschetta and milkshakes.
Unlike the exclusivity of the Gold Class and Premiere Class cinema lounge, the 1 Utama Luxe theatre lounge is not exclusive for LUXE patrons. Instead, it is for the common usage of all TGV cinema patrons (which includes standard, beanie, luxe and IMAX patrons). However, it is very spacious and comfortably equipped with beanie bags, sofas, a bar and a seating area near the bar. The Chillax lounge provides an excellent, casual atmosphere for movie-goers to relax, eat and hang out while waiting for the movie to start.
If you prefer a more exclusive Luxe experience, head on over to the TGV branch at Sunway Pyramid. Over there, the Luxe theatre has its own entrance, a big waiting room/lounge and a nearby toilet for only 2 Luxe cinema halls, so the exclusivity factor is definitely there.
Luxe movie theatres are only located at TGV 1Utama, TGV Sunway Pyramid and TGV Bukit Indah. Tickets are priced cheaper (compared to Gold Class tickets) at RM16 per person for individual seats and RM18 per person for the twin seats.
Cathay Cineplex
Cathay Cineplex cinemas are not as widespread as GSC and TGV. This cinema brand only has two branches in the whole of Malaysia (e@Curve at Mutiara Damansara and City Square at Johor Bahru). However, this cinema chain is still worth visiting as it offers a luxurious movie-going experience for a fairly reasonable price. Cathay Cineplexes only offer two movie classes as follows:
Standard Class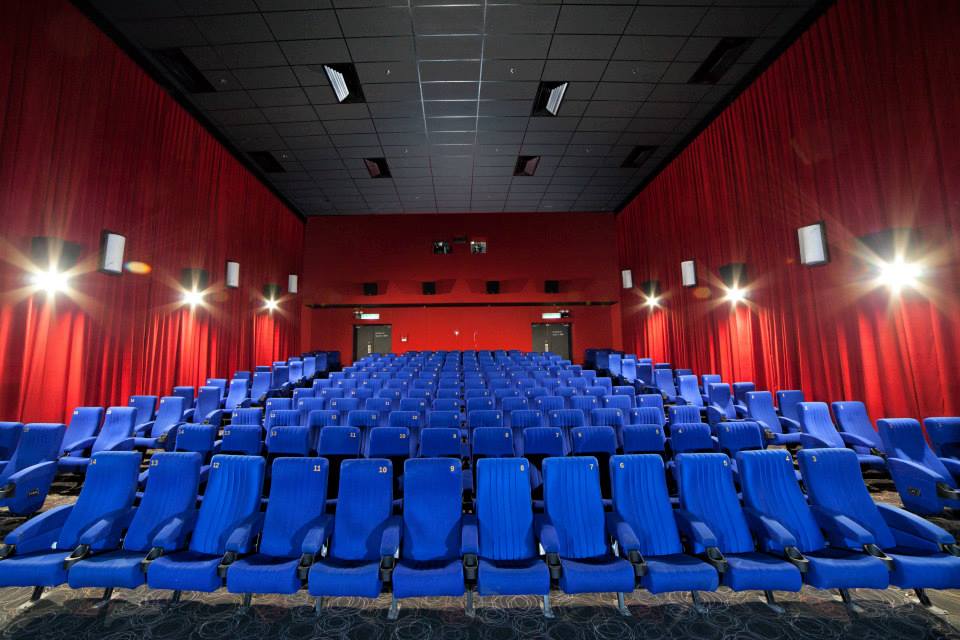 Photo Credit: Cathay Cineplex, Facebook
Standard Class tickets here entail the same benefits as Standard Class tickets at TGV and GSC cinemas. They cost around RM14.
8. Platinum Movie Suites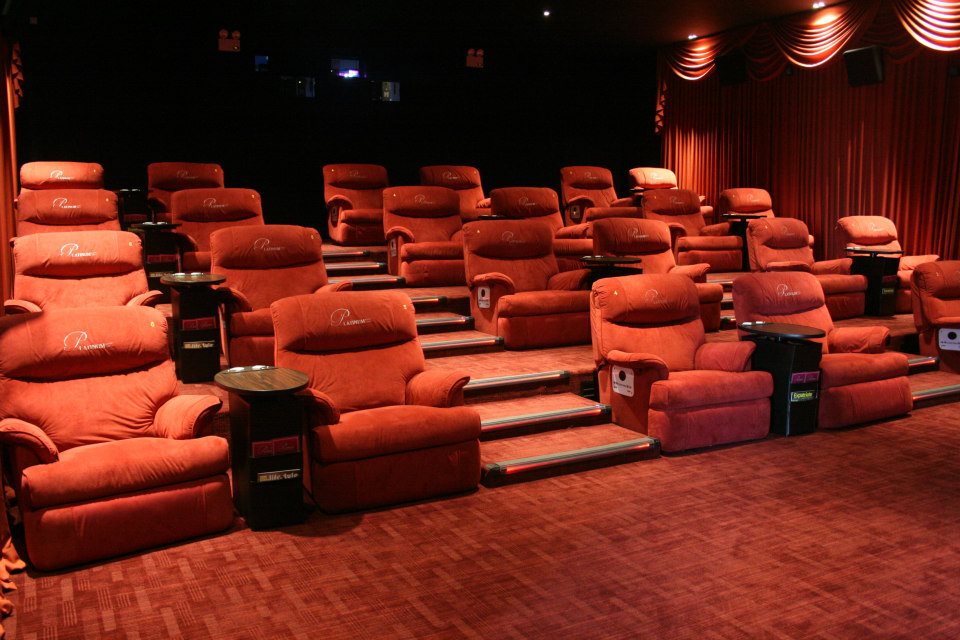 Photo Credit: Cathay Cineplex, Facebook
The Platinum Movie Suites at Cathay Cineplex chains were designed to offer a first class way of watching a movie. In terms of seating, the Platinum Movie Suites share some similarities with GSC's Gold Class theatres. The seats are positioned in pairs, resemble large and comfortable armchairs and can be reclined. The seats also offer extra leg space and come with a table attached to every two seats. However, the Platinum suites seem to cater to more privacy and exclusivity because apart from housing ample of space between seats, there are only a minimum of 16 to 30 seats per cinema hall. GSC's Gold Class halls have a higher seating capacity of 38 to 40 seats per hall.
Gold Class and Platinum Movie Suites also share similarities in terms of providing a personalized butler service. You just need to push a service call button located on your seat whenever you want to order food or drinks, and a staff will be there to attend to you in a few minutes.
Platinum Movie Suites also have an attached lounge for the exclusive usage of Platinum Suite patrons. However, in addition to the facilities provided at Gold Class lounges, Platinum Movie lounges have extra facilities such as massage chairs, an Xbox gaming station, and a magazine corner for the complimentary usage of Platinum Movie Suites patrons. Furthermore, patrons also get to enjoy a free flow of soft drinks from the minibar while they are at the lounge. The most exciting fact about the Platinum movie lounge is that you are not restricted to using the lounge 30 minutes before your movie, as practiced at Gold Class cinemas. Instead, patrons are given the flexibility to use the lounge area as long as they have a movie ticket. For instance, if your movie starts at 8pm, you are allowed to use the lounge area from noon right up to 8pm, as long as the show you booked for has not started yet.
However, unlike Gold Class theatres, Platinum Movie Suites does not provide free blankets and pillows for their patrons. These items have to be rented for RM5 per person.  However, since Platinum tickets are priced cheaper than GSC's Gold Class tickets (RM25 during non-peak periods and RM40 during peak periods), this is not an issue for most Platinum Suite patrons. Platinum Movie Suites are only available at e@Curve, Mutiara Damansara.
Read more: 
---
"ExpatGo welcomes and encourages comments, input, and divergent opinions. However, we kindly request that you use suitable language in your comments, and refrain from any sort of personal attack, hate speech, or disparaging rhetoric. Comments not in line with this are subject to removal from the site. "
Comments