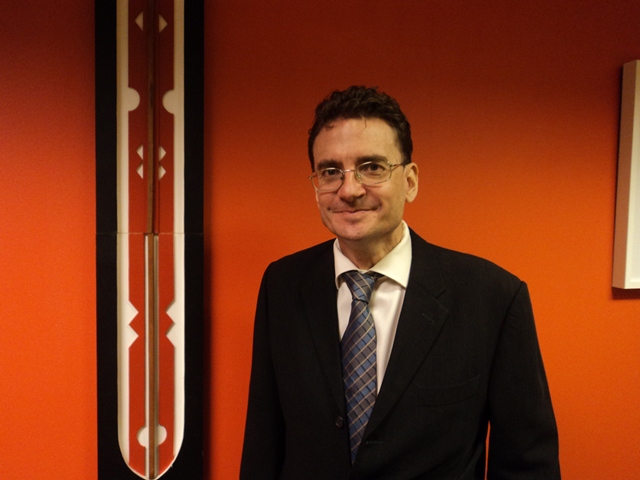 It's not often you come across a diplomat who spent the early years of his life as a rock star. "Well, I wasn't a rock star… and that was the problem really!" quips His Excellency David Pine. "I played in a rock band until I was 27. We put a few albums out and toured Europe, but couldn't really make a living, so we decided to pursue different paths."
Rock music's loss is diplomacy's gain. Soon after his group disbanded, the future New Zealand High Commissioner enrolled in university to pursue Law and Politics, with a focus in International Relations that sparked his interest in the consular world. "I don't think I went into diplomacy with clear, well-defined expectations," he says. "It was a learning experience from the start. I went in with an open mind and figured it out as I went along."
This 'winging it' attitude has come in handy throughout all of Pine's postings thus far. "I'm sure some diplomats would agree with me when I say that you are constantly learning and that the learning curve on your first posting is probably the steepest of all," he states matter-of-factly. His own pioneering foray into the international scene was to neighbouring Canberra, a post he believes showcased the close relationship, yet contrasting diplomatic styles of long-time allies New Zealand and Australia.
"As a diplomat, I was actually very excited to go to Canberra, even though all my Australian friends laughed at me!" he says. "There's not an awful lot that we do as a government that doesn't involve the Australians one way or another, so you get a good view of what's important from the other side of the fence."
"People don't often think it, but Australia and New Zealand are very different places with different people. Our economies and histories are also quite different," Pine explains. "The range of interests that Australia has to take into account is a lot broader than that of New Zealand, while our indigenous communities make up a larger proportion of the population in New Zealand. We also aren't as large as Australia is, so I suppose New Zealanders don't grow up with illusions about the kind of role we play in the world, and so use our influence in other ways."
Similarly, Malaysia's own history with Pine's native country invoked another "same same but different" post for the High Commissioner. "We have had a presence here dating back to the days of the (Malayan) Emergency. Besides the Commonwealth linkage, we have also enjoyed education links with Malaysia and still maintain a strong presence here through the wonderful alumni who studied under the Colombo Plan (in the 1950s and '60s)," he explains. "It does make being a diplomat easy, but there are always things to learn about in a new country. Having to find out how it operates and what makes it tick is always a challenge, but it's all part and parcel of the job."
Having been posted to the Philippines and Malaysia, Pine reflects on the differences between the two Asian countries in which he has served. "I was first in Malaysia from 2002 to 2005, then I went to the Philippines before returning to serve as High Commissioner here," he states. "What I found rather interesting was that the Filipinos are as focused on America, just as they are in Asia. I was surprised when I was asked rather basic questions about Malaysia during my time there; I wondered why, as these two places have been neighbours their whole lives!"
Recounting his time in the region, Pine recalls some of the many interesting experiences that have come his way. "I love that you get to see what your countrymen are up to. It can range from watching a company like BCS work on the baggage handling system in KLIA2 to meeting a nun working with desperately poor children in the Philippines," he says. "I'm also quite excited that a Māori carving exhibition, Tuku Iho, will run throughout the upcoming George Town Festival [in Penang in August], and that our New Zealand Week initiatives – highlighting links between New Zealand and Malaysia – will continue into the next year with a focus on food."
Although his time as High Commissioner comes to an end this year, Pine is optimistic about returning and reuniting with the friends he has made, in what he refers to as his 'Malaysia My Second Posting' stint: "It's only a matter of time before you start popping back in to see your old friends – it's not the last time I'll be here that's for sure. The visa-free agreement between our nations definitely helps!"
Source: The Expat Magazine June 2014
Read more:
What are your thoughts on this article? Let us know by commenting below.No registration needed.
---
"ExpatGo welcomes and encourages comments, input, and divergent opinions. However, we kindly request that you use suitable language in your comments, and refrain from any sort of personal attack, hate speech, or disparaging rhetoric. Comments not in line with this are subject to removal from the site. "
Comments