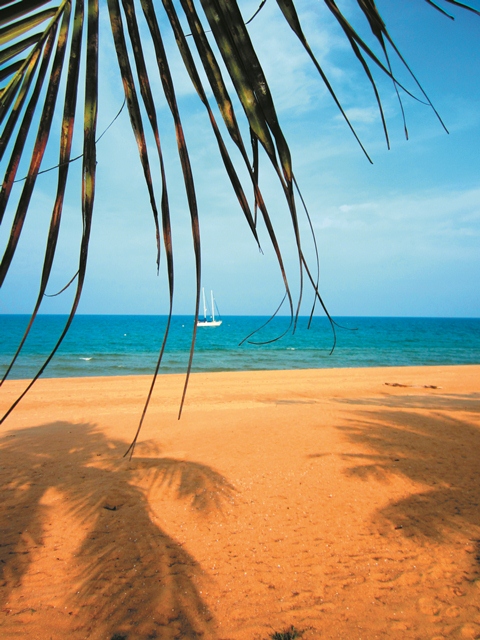 Malaysia's coast has drawn numerous visitors over the years, eagerly soaking up its laid-back vibe and relaxing pace. Paula Tan shows us around Malaysia's gateway to the east coast, and discovers a town filled with scenic wonders.
On the salt-tinged breeze, the sound of a child's laughter carries as she watches her father fly his kite. Sitting with my feet buried in the sugary white sand, all I see is endless blue and white, and high above me, the kite tugging as if to escape the string that tethers it to reality. For us, the earthbound, however, this is one of the planet's most liberating destinations, an escape into the wind and the rolling South China Sea. I am in Kuantan, the flag-off point to a near-inexhaustible list of nature's most fantastic adventures.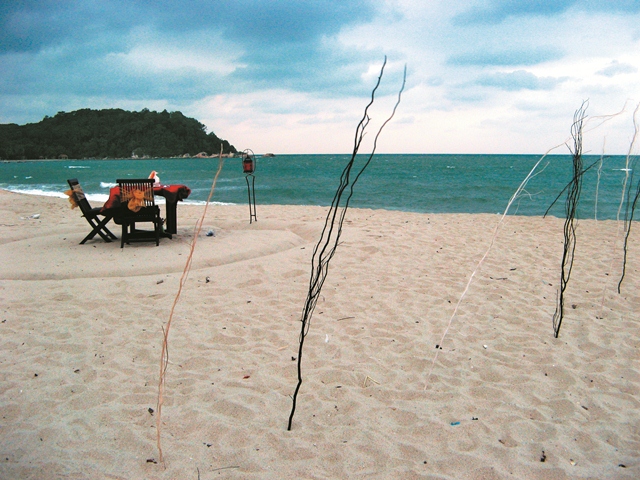 Only two and a half hours by road, or a fortyminute flight from Kuala Lumpur, Kuantan is a mid-sized town that retains an air of serenity. As you drive into its city centre, your cares fall away as you pass its city square, graced by a picturesque state mosque in shades of white and blue mosaic, echoing its ocean hues. Kuantan is the largest city on the East Coast and is a perfect getaway for those who yearn to return to basics, because here, life moves at a slower pace. Kuantan's white sandy beaches are undoubtedly beautiful, but its greatest asset is that it also makes a great starting point for other coastal journeys.
With its unique list of attractions, Kuantan is the typical Malaysian town where centuries of different cultures blend to form a cultural medley. The city's streets often produce small surprises, from a roadside vendor peddling tasty nasi dagang to a pasar malam, or night market, packed with local produce and handicrafts. Lively and colourful, Kuantan's markets are the place to go for local families seeking budget buys, and those of us who are keen on seeing its true colours. Its largest and most popular pasar malam is held on Saturday nights at Jalan Gambut, located in the middle of the city. Make an evening of it by arriving around 6 pm, and prepare to jostle your way through the crowd with a camera in hand as this is where the most exciting photo ops await.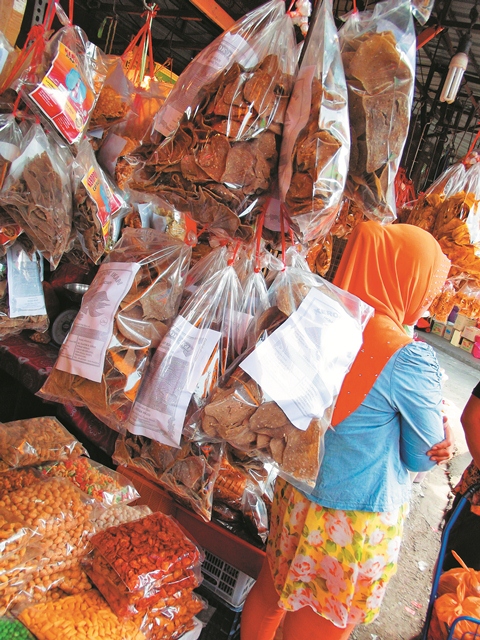 Between frames, make it a point to taste a few of the eye-popping array of Malay dishes from the stalls, from nasi ulam wrapped in banana leaves, the famous, sausage-shaped keropok lekor, and desserts the colour of morning glories. Pick a pretty souvenir for a special lady from the broad selection of beaded scarves and traditional outfits made of batik and songket fabrics. For a truly Malaysian toy, look out for a traditional sepak takraw ball,made of rattan. If making your way into town on a Saturday night seems too much trouble, you can also enjoy a similar experience at the pasar malam at Sungai Isap and Bukit Rangin – and if you miss out on the weekend, the Beserah night market takes the blue out of Monday nights. On Sunday mornings, Kuantan's Pasar Tani, or farmers' market, is an enjoyable spot to potter around. Setting up shop under bright red umbrellas at Stadium Darul Makmur, the city's football stadium, vendors deal in farm produce, sea and river fish, and fresh local fruit like duku and jackfruit. It goes without saying that, when visiting, one should always haggle.
For most, a sojourn in Kuantan includes its essential Teluk Cempedak, or Cempedak Bay. This is where the coastline curves like a crescent moon, and in the first half of the year, the waters are clear, calm and knee-deep for as far as one can wade.Visitors arriving between August to December will find the local banana boat operators swapping their crowd favourite for surf classes, a more daring option, though well worth trying. Located a mere five kilometers from Kuantan's city centre, Teluk Cempedak sits just around the corner from the dignified Royal Pahang Golf Club and near the fishing villages of Tanjung Api and Beserah. Devote a day to visiting fishermen, and observe how they haul in their catch while their families prepare other seafood-based products like the pungent, shrimp-infused cincalok and belacan. Teluk Cempedak features a selection of beachfront fast food chains yet, local food remains a favourite and locals throng there during the weekends to picnic on the sands.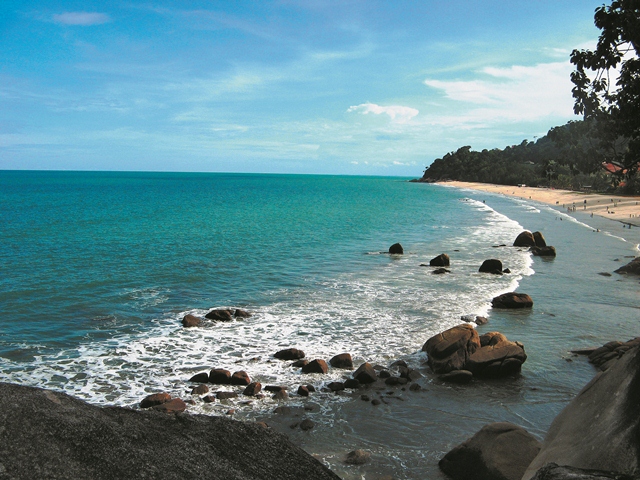 Despite its commercialism and the fact that it is home to the luxurious Hyatt Regency, the beach somehow maintains its mystique, thanks to its impressive length and hidden nooks – a wonderful hideaway for the adventurous and those in love. Meet the friendly macaques that sit along the wooden walkway which stretches all the way to the adjacent beach around the cove. At many points along this route, beginning a jungle trek into the hills is possible, and it is not uncommon for the local wildlife, from large iguanas to squirrels and birds, to pop out to gape at you curiously. Nature lovers can also take a firefly boat tour after dark for the hundreds of tiny lights that hover on trees, blinking in the darkness like Christmas decorations. However, if relaxation is your top priority, request a traditional Malay masseur who will efficiently knead away your cares. You may also like a candlelit dinner on the beach at dusk, or dining out at a Kuantan institution – the Sherwood Restaurant, that serves an excellent wiener schnitzel. The younger set will enjoy Crocodile Rock, a revamped bungalow that has become a favourite for its pasta and pizza menu, and even features delivery. After an indulgent meal, work off the calories with a leisurely stroll on the beach, as the faraway twinkle of oil lamps on fishing boats begins to dot the darkness across the waves.
Seven kilometers away, Beserah Beach features a village that has made a name for itself through its bounty from the sea – fresh fish available daily at wholesale prices. Salted fish, another well-known local product, is an interesting item sold at Beserah that you may like to try. A little further down is the tranquil retreat of Balok Beach, where you can camp and learn to windsurf all year round, although this activity would be best pursued between December and March. Located 13 kilometers north of Kuantan, Balok is a popular option and here, the Malay design-inspired Swiss Garden Resort provides a delicate taste of traditional hospitality. For natural wonders and enigmatic photos, make time for Batu Hitam, an unusual and beguiling stretch of shoreline filled with dark, mysterious stones.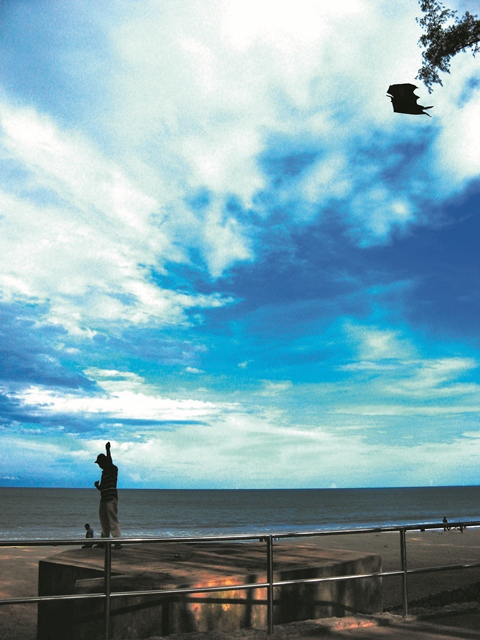 The beach of Teluk Cempedak stretches northward along the coast into Cherating, a small East Coast fishing village that is popular among backpackers. Situated just off the main East Coast trunk road between Kuantan and Kuala Terengganu, Cherating is dotted with homestays, chalets and the homes of fisherfolk along its stretch of pristine white shores. Driving along the sundrenched coastline past small villages and swaying palms is, in itself, a celebration of sky and sea, and the thirty-odd kilometer drive from Kuantan to Cherating Turtle Sanctuary is a highly enjoyable one. Visit during the nesting season (between April and August), and you may get to watch turtles lay their eggs on the beach in the moonlight, or help baby hatchlings flip their way to the water's edge. The sanctuary is situated next to the entrance to Club Med, a charming getaway that pays tribute to local culture with its eco-friendly surroundings, Malay-style buildings and rambling grounds.Waking up early comes with the gift of a breathtaking golden sunrise, which makes setting your alarm for dawn worthwhile. Rested and refreshed, you are equipped to continue the 180 kilometer drive towards Kuala Terengganu where Malay culture remains at its most refined, and a myriad of beautiful islands in azure waters glisten off the coast, home to a dazzling array of marine life.
In the breeze, the pages of the book on my lap flip, revealing the scribbled quote by Mark Twain, "Twenty years from now, you will be more disappointed by the things that you didn't do than by the ones you did do. So, throw off the bowlines. Sail away from the safe harbour. Catch the tradewinds in your sails. Explore. Dream. Discover." In the shimmer of the setting sun, Kuantan persuades me that right where I am might just be a good place to start.
Source: Senses of Malaysia September/October 2014
Read more:
What are your thoughts on this article? Let us know by commenting below. No registration needed.
---
"ExpatGo welcomes and encourages comments, input, and divergent opinions. However, we kindly request that you use suitable language in your comments, and refrain from any sort of personal attack, hate speech, or disparaging rhetoric. Comments not in line with this are subject to removal from the site. "
Comments