Travel
Discover Indonesia's Tana Toraja, the Land of Heavenly Kings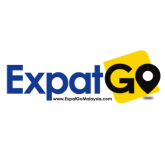 This is part of a series on ASEAN countries.
Though not as firmly set on the tourist trail as the islands of Bali and Java, Sulawesi remains one of Indonesia's most fascinating destinations. Petra O'Neill pays a visit and explores Sulawesi's wild frontier.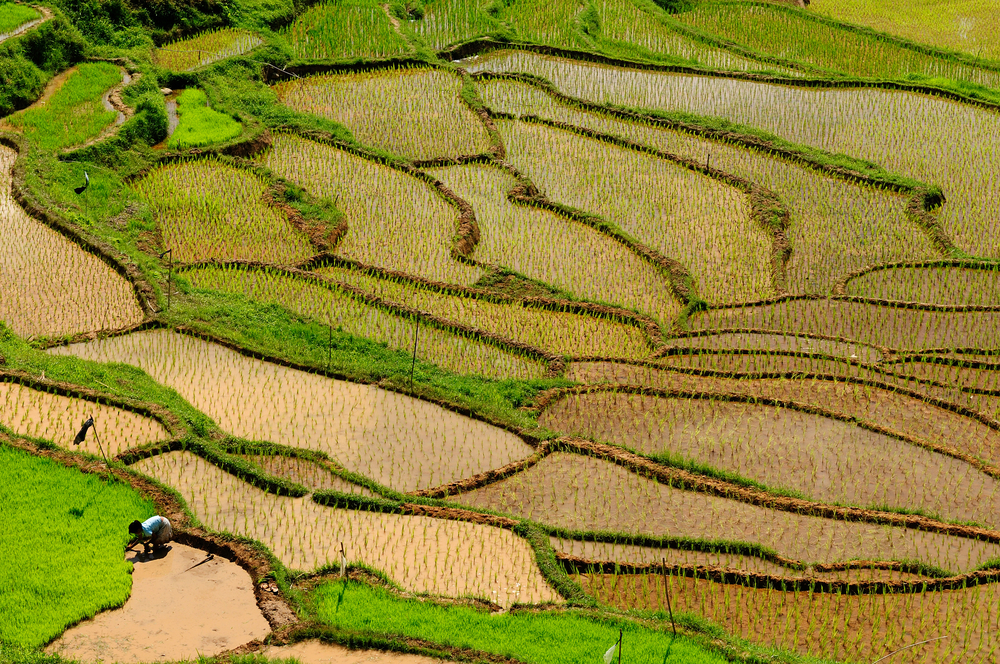 From the sprawling port city of Makassar, it's a full day's journey to Tana Toraja following the coastline to Pare Pare past the emerald green paddy fields of the lowlands and brightly painted timber houses of the Buginese before turning inland towards the rugged mountains and limestone cliffs of central Sulawesi, an area so remote it remained isolated until recently.
After arriving in the ramshackle market town of Rantepao, at Café Aris, I asked around for a guide. John, with a booming voice, ex-British Navy who's been sailing solo around the world since 2009, suggested I join him and his guide Luther the next day.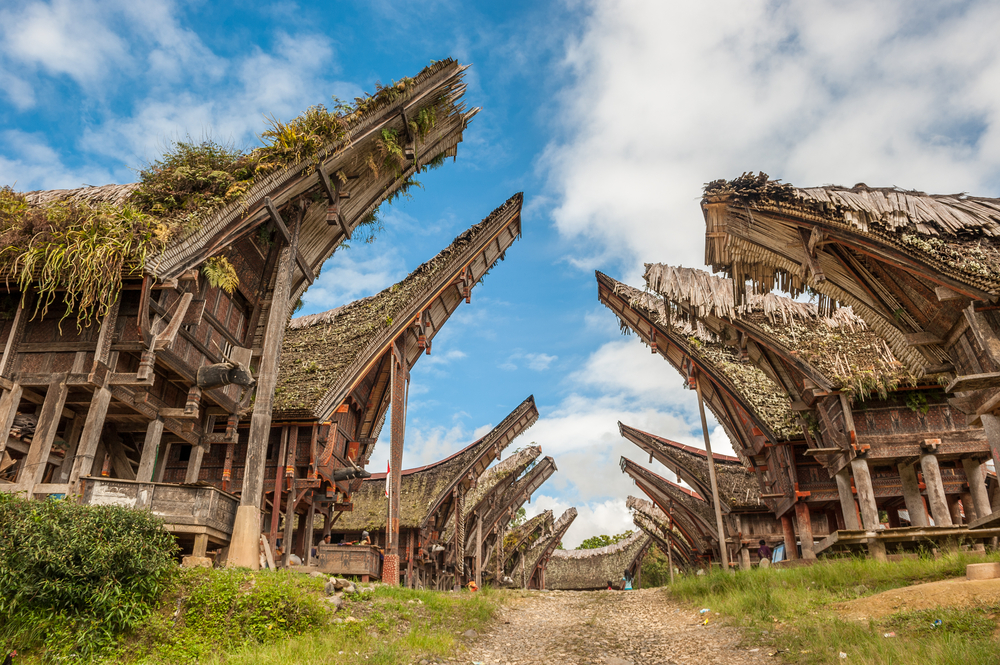 According to Torajan legend, their ancestors came by boat and moved inland after the arrival of other ethnic groups including the Buginese. The Torajan's impressive ancestral homes, known as tongkonan, are elaborately carved with towering bamboo roofs curved upwards at either end representing an upturned boat. Buffalo horns and jaws accumulated over generations decorate the tongkonan; the more of them, the higher the family's status.
Riding pillion on the motorbike, with John riding a second bike, Luther took us to Balik, a family compound belonging to a royal family where the tongkonan were quite stunning. To enter each of the compounds we visited, Luther had sought permission to bring in visitors. Women were threshing rice and children in neat uniforms were marching off to school. Sensing my apprehension at walking through their compound, two elderly women approached and escorted me to their home up a long bamboo ladder.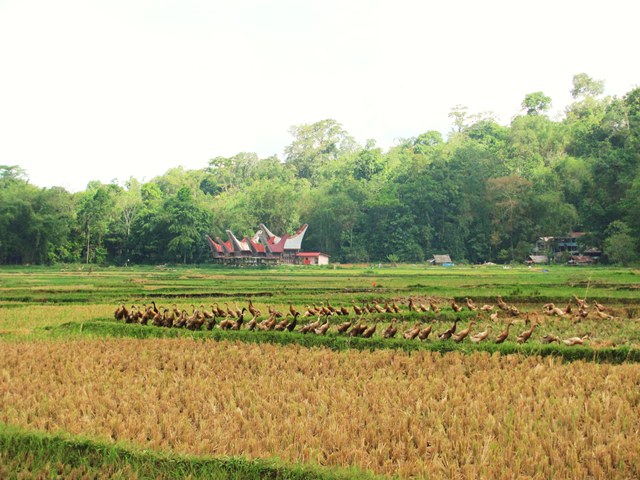 Pigs and chickens roamed nearby and water buffalo wallowed lazily in water holes. On the terraced paddy fields, men and women were planting rice. Touring by motorbike across wooden bridges along tracks made from compacted boulders, following hairpin bends and at times staggering descents through lush mountain terrain, was exhilarating – and required considerable skill.
We stopped at village markets selling the freshly roasted coffee for which the area is renowned, and also for produce – fresh and bountiful due to the rich volcanic soil – and finally visited the pig and water buffalo market. At Palawa, the best group of traditional tongkonan are found and the village of Sa'dan is famous for hand-woven textiles.
While many Torajans are now Christians or Muslims, they have proudly held onto their unique cultural heritage based on animist beliefs. Intrinsic to their culture are their funerals, which are characterised by animal sacrifice.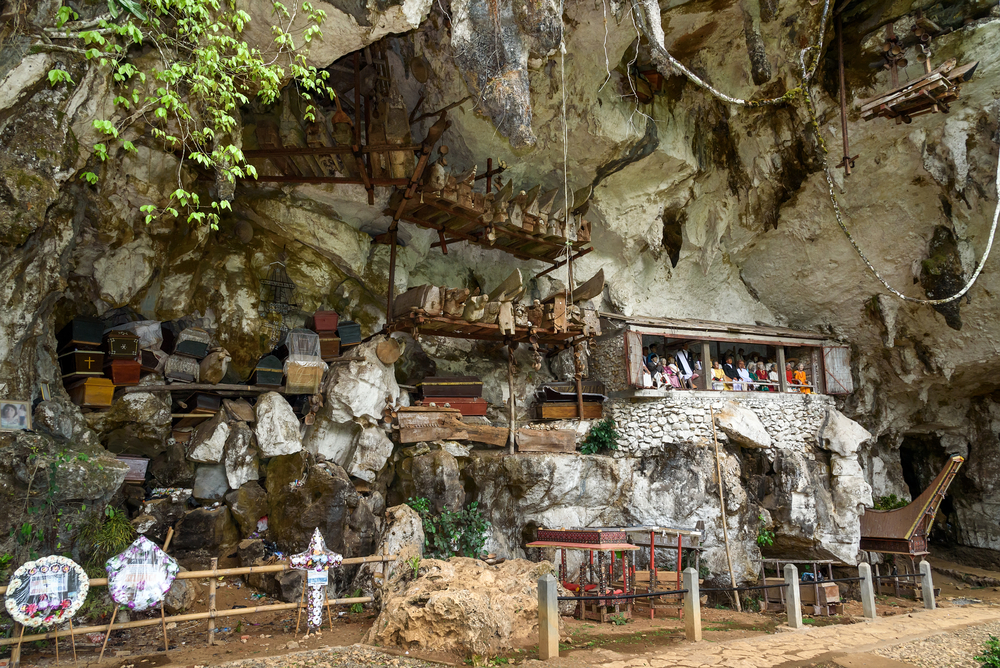 There are two funeral ceremonies, one immediately after death and a second elaborate ceremony called Rambo Solok when temporary bamboo houses are erected around an open field and often hundreds of guests stay. The Toraja believe that the spirits of animals convey the soul to paradise. Rambo Solok can extend over several days, culminating in animal sacrifice.
A symbol of wealth and status, Luther calculated that for those with "middle" wealth, eight water buffalo and 50 pigs are required, while the nobility may require up to 100 water buffalo and hundreds of pigs. The highly prized pale pink and black piebalds unique to Torajaland can change hands for US$25,000.
Afterwards, the coffin is taken to the burial cliffs and carried up bamboo ladders to a tomb carved out of limestone. A life-sized wooden effigy of the deceased called a tau tau is then mounted on a balcony flanking the entrance to the tombs, as if watching over the world below such as those found at Lemo. On the cliff face behind the village of Londa there is a burial cave where bones and skulls protrude from the intricately carved wooden caskets used to store them now crumbling with age.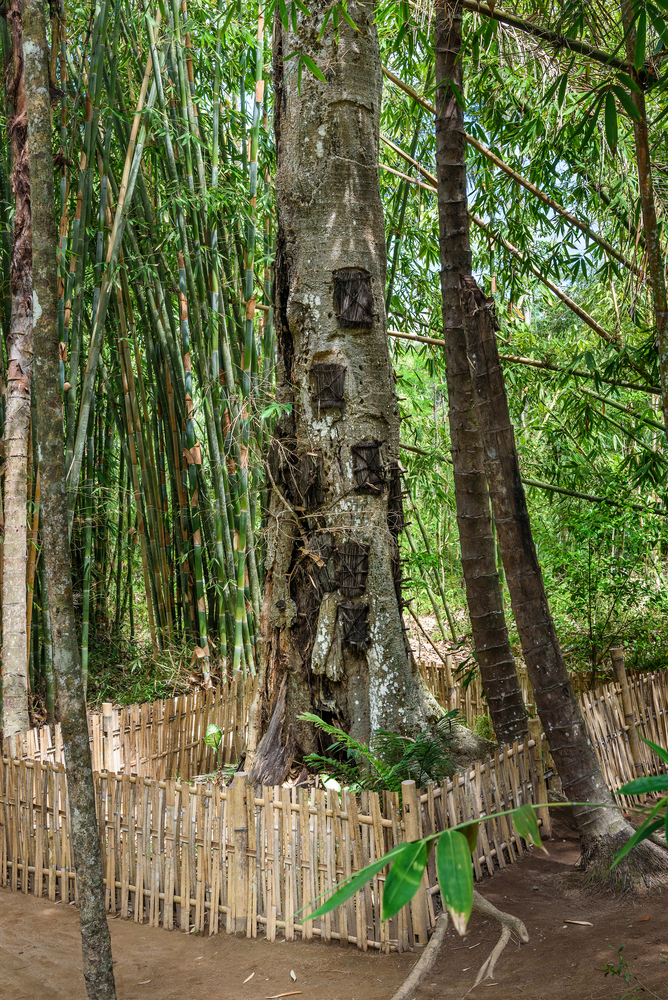 But the most haunting site was at Kambira. Torajans traditionally wrapped deceased babies in bark and placed them in a hollowed out part of the Tara tree with the belief that their spirits would continue to be nurtured by the white sap of the tree.
That evening at Café Aris, a young Frenchman in a heightened state of excitement was recounting how he had witnessed the slaughter of 25 water buffalo and over 100 pigs.
The next day John departed to rejoin his boat. Word had spread that there was a large funeral ceremony underway at a village nearby.
Luther said to attend was a mark of respect. I began walking along the pathway towards the ceremony then saw a row of pigs, their legs bound to bamboo poles awaiting their fate.
For a vegetarian who can't swat a mosquito, it was too distressing and confronting for me: I handed my camera to Luther to take a photo and fled. He returned soon after, still eating the roasted pig that is distributed to guests.
Water buffalo here are bred and lovingly tended purely for ritual sacrifice. In the fields, they do little work beyond trampling the soil before the planting of rice, and the pigs roam freely around the compounds.
They enjoy a blessed life. But in an act of ultimate betrayal, the pigs are pierced in the neck by those who reared them, and the buffaloes receive a machete blow to the jugular. I struggled to make sense of it.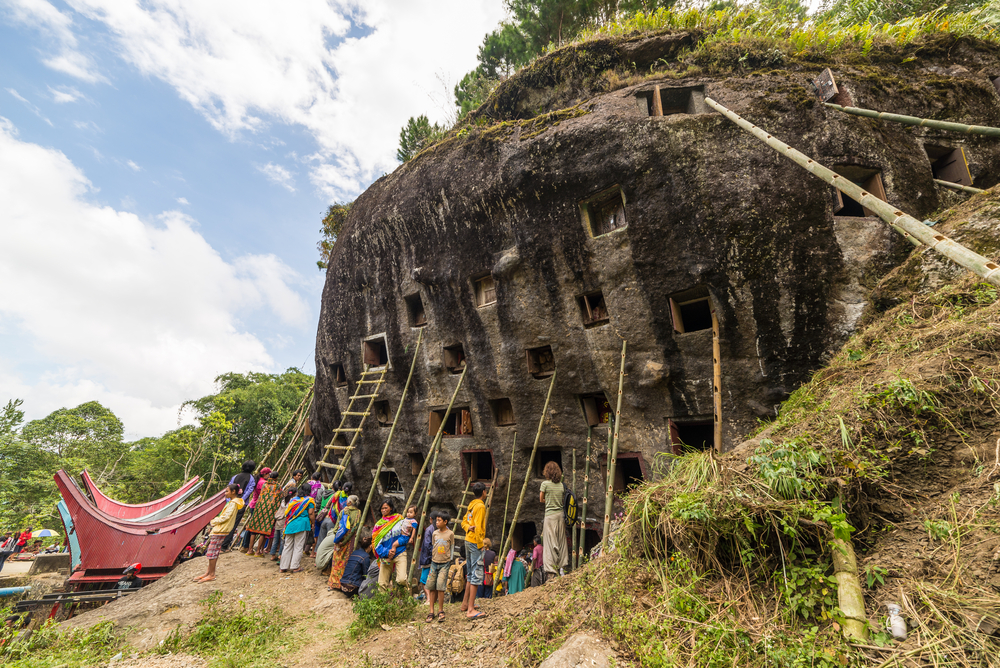 After returning to Rantepao, after a diet of tombs, processions and funerals, I entered the Tirta salon and spa with a feeling of relief and sat down for a shampoo and haircut. Tana Toraja is a destination of exceptional beauty with a landscape and a rich and resilient culture unlike any other.
Luther had said that at Tampangallo are the graves of chiefs who claimed to be descendants of the mythical divine who introduced death rituals into Torajan society and are said to have descended on a staircase from heaven.
Tana Toraja fact file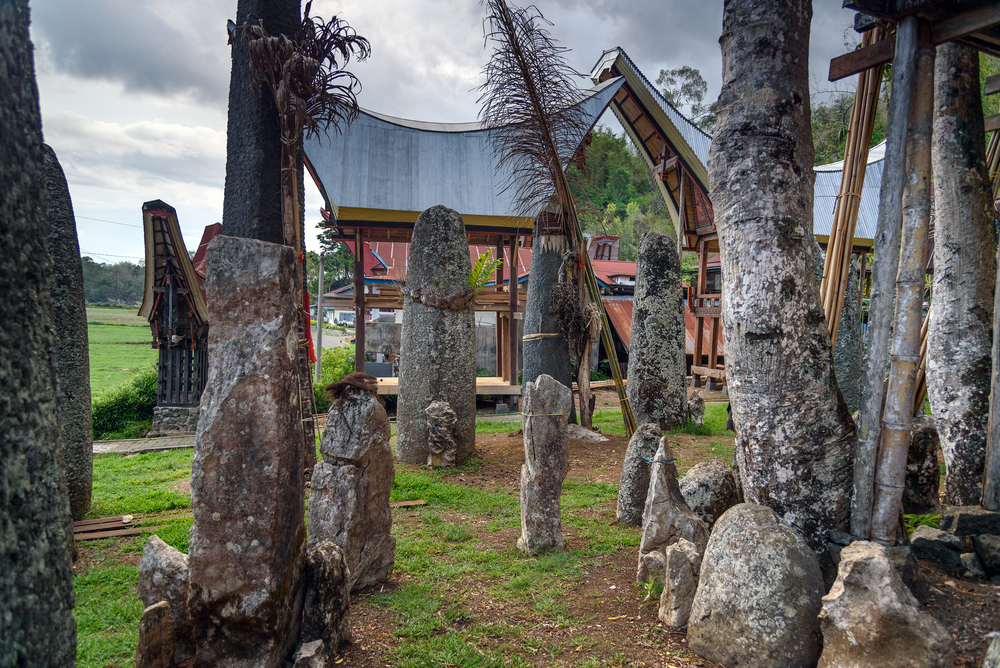 Getting there
AirAsia flies to Makassar from Kuala Lumpur and Bali. Silk Air flies from Singapore. To reach Rantepao, 325 kms away, the only way is overland. Bintang Prima has comfortable coaches departing by day and night for the 8- to 11-hour journey, depending on traffic.
Entry requirements
A visa is required on entry (US$25) for passport holders from the USA, UK, Australia, and New Zealand. There is no charge for those with a passport from Malaysia or Singapore.
Where to stay
If a pre- or post-stay is required in Makassar, the Mutiara Hotel is midway between Makassar and the airport/Daya bus terminal. Traffic gridlock occurs during peak hour. Arrange to be met at the airport or catch the Damri Bus, bypassing the taxi touts. In Rantepao the Luta Resort Toraja is centrally located and comfortable. Superior rooms are recommended with balconies overlooking the lush garden below. Book well in advance.
A good budget option is Panorama Homestay. Email: [email protected].
Getting around
In Rantepao, a guide is essential with transportation by car or for better access, motorbike to navigate the often potholed and bumpy roads off the beaten track and to enter family compounds. The main sights can be seen in two days, the first making a northerly circuit from Rantepao, the next heading south. While there are English-speaking guides in Rantepao, recommended is Luther who provided an itinerary that he modified to accommodate our requests and who is a highly skilled driver.
Luther.
Email: [email protected]. Tel: 62-081 342463828
Dining
Café Aras is where travellers meet to share stories. The staff are friendly and the food is good.
Shopping
Woodcarving and weaving are the main crafts, though quality ikat is rare. Todi Weaving Shop, Jalan Pembangunan No 19 Rantepao has jewellery, textiles and woodcarving.
When to go
April to December. Most funeral ceremonies occur during the driest months of July and August.
Insider tips
Take care of your valuables when travelling by bus and carry new US currency in pristine condition. Several of the more visited sites charge a local government levy.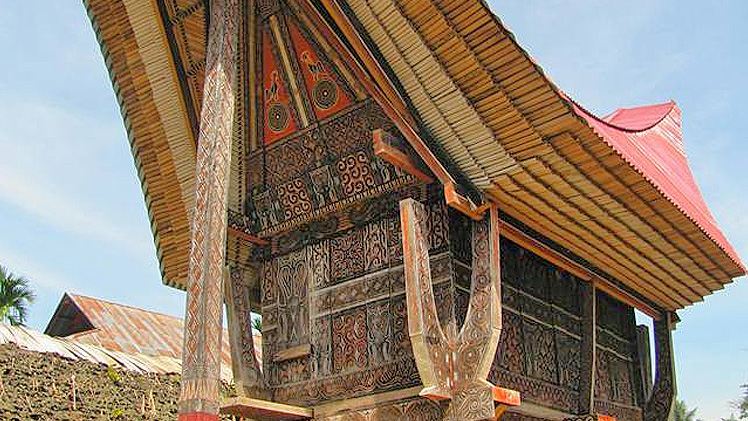 Homepage Highlight Photo credit: monkeysabroad / Foter / CC BY-NC-SA
Read more:
What are your thoughts on this article? Let us know by commenting below..
This article was originally published in The Expat magazine (October 2014) which is available online or in print via a free subscription.
This article was updated in April 2016.
---
"ExpatGo welcomes and encourages comments, input, and divergent opinions. However, we kindly request that you use suitable language in your comments, and refrain from any sort of personal attack, hate speech, or disparaging rhetoric. Comments not in line with this are subject to removal from the site. "
Comments