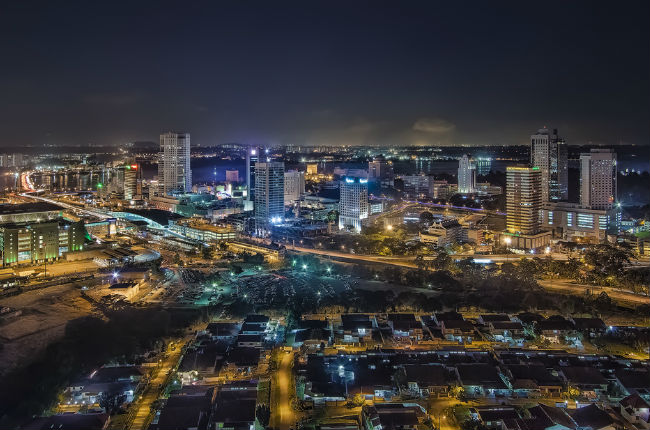 Photo credit: Sarmu / iWoman / CC BY-NC-SA
Wonder what life is like in the booming state of Johor with all the new projects coming online? Resident writer Felicia Chin De Smet looks at it all and presents her roundup here.
Singapore is as life-giving as the sun. Living in the ultra-cosmopolitan red dot left us with no complaints. At least before I was dealt with the sudden news that my husband's promotion would land us in Singapore's notorious crime-ridden sister city, Johor Bahru (JB). Oh joy!
Disseminating the "good news" to my social circle was a blast too. I received reactions ranging from looks of pity to sheer horror. "Oh dear, you must be careful there! There is so much crime everywhere." You bet it was comforting when I Googled [crime+Johor] and discovered that Johor is the fourth-most dangerous city in the world, based on Numbeo.com research. I brushed it off as unreliable usercontributed data (perhaps submitted by my paranoid Singaporean pals).
Pack… move… unpack… settle in… explore… discover… (REPEAT). We ran through the usual drill most expats are used to without a grumble. Let's just say, when you don't have lofty expectations you might be pleasantly surprised. Johor is not as horrifying as some people make it out to be. After all, why would Singaporeans clog up the checkpoints on weekends, pouring into JB to shop, if it were really that dangerous and uninhabitable?
In Singapore, weekends consisted of mall-hopping and savouring international cuisine. Well, seeing that there is a construction site at every corner here, instead of a shopping mall, we had to revise our end of week activities. Now, we coast the highways of Johor popping into every property showroom we spot. Hey, at least I can get inspired by nifty interior design ideas, aside from learning about the different areas. Along with property comes a smorgasbord of commercial buildings, malls, hotels that are already in the works. The masterplan to transform Johor into a world-class destination is impressive. With resort-style residences, luxurious condos, massive malls, fun for- the-family attractions, accredited international schools, eateries for every appetite – we wonder what is still missing? Speed, maybe? Can all this be ready by tomorrow, please?
According to news reports, in 2013, Johor's manufacturing sector garnered a whopping RM14.4 billion in investments. This year, the Johor government is positive in attracting an investment figure worth RM20 billion, with RM18.7 billion already in pocket within the first seven months. The manufacturing sector is supposedly a driving force for economic growth that will most likely spearhead progress in upcoming years.
Let's face it, we have certain expectations and we are not happy settling. The good news is, we are certainly seeing positive developments and within the next few years, Johor might be the next big thing. The bad news is, not all of us have that kind of patience. So we must make the most of what we have now. So what's the scene like in Johor these days? Well, the selection of decent restaurants isn't overwhelming, but there is no shortage of them, either. I share a serious and steady passion for good food with my husband. Looking for a place to hang out and relax? Trendy cafés are a-sprouting everywhere. Missing that Western flavour amidst all the Asian fare? Fret not, there are restaurants that will cater to that craving. For the adventurous foodie who loves to taste the local delights, well, you have come to the right place.
One thing that's certain in Johor, the kiddos will never be bored! There are a slew of theme parks that can provide hours of entertainment for the whole family. Legoland, Sanrio Hello Kitty Town, The Little Big Club, Angry Birds Activity Park, and more on tap. For gentlemen who'd like to escape to the lush rolling greens, there are several premier golf courses with picturesque manicured gardens and sprawling hills. Ladies can also get their recreation time at the Johor Premium Outlet by nabbing the best designer brand bargains.
Those who love to nurse that afterburn because they cannot resist the sun, sand, and sea can feel included. Nature blessed this part of the country with an abundance of beaches and idyllic islands to appease the beach bum in every one of us. Depending on what suits your travel style, you'll likely find charming rustic chalets and contemporary resorts. But if you're intending to lap up luxury with unabashed displays of exorbitance, you might have find a different destination or wait a few more years.
We recently found out that there is a healthy population of expats after attending the long-anticipated soirée organized by The Expat Group. Expats, know that you are not alone out here!
In this state of dynamic reshaping and development, don't expect Johor to be a grim landscape of mere construction sites. See beyond that, and be excited to be a part of what Johor will become in a few years… Malaysia's next hotspot.
Read more:
What are your thoughts on this article? Let us know by commenting below. No registration needed.
Source: The Expat Magazine December 2014



" ExpatGo welcomes and encourages comments, input, and divergent opinions. However, we kindly request that you use suitable language in your comments, and refrain from any sort of personal attack, hate speech, or disparaging rhetoric. Comments not in line with this are subject to removal from the site. "



Comments