This post is brought to you by Qatar Airways.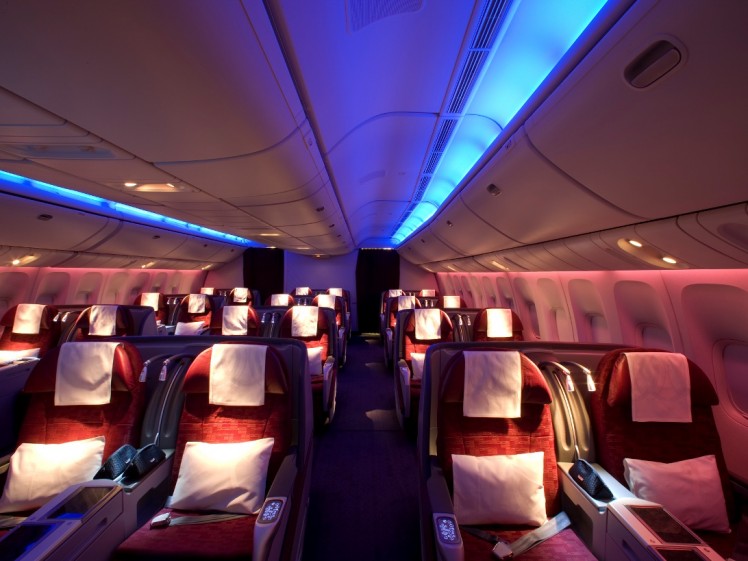 Photo Credit: Qatar Airways Business Class
Kuala Lumpur is a hub for international travel. Whether you're flying for business or leisure, long haul flights can be tiring and exhausting. Here are a few tips to make the best of your next long haul flight from Malaysia.
Don't be afraid to ask for an upgrade
If you are flying long haul, try to upgrade to business or first class. Airlines often offer upgrades at special rates on the day of the flight. Of course, these options aren't always available but it never hurts to ask.
Choose the right seat
On long haul flights,  choose your seat carefully. Try to avoid a seat near the restroom or a seat with compromised leg space. Ask for an exit row or bulkhead seat for more space. The bulkhead is the partition that divides the plane, and if you have seat in this area, then you don't need to worry about someone reclining into your space. You can find valuable insights about seat options on specific planes at SeatGuru.com.
Also, selecting a seat in the middle of the airplane is a good choice. An airplane is a bit like a sea-saw, which means the region in the middle moves the least during turbulence.
Stay comfortable
Staying comfortable is crucial for long haul flights. Bring an eye mask, neck pillow, and ear plugs for a better sleep.
Remember that an airplane's cabins can get quite chilly during a long haul flight. Bring a sweater or a long sleeve shirt for an extra layer of clothing to stay warm. Furthermore, wear comfortable clothes. Wearing the right shoes and pants can go a long way to make you feel comfortable when you're walking in terminals and sitting for many hours on the airplane.
Bring entertainment
When you're sitting on an airplane for a large number of hours, you'll appreciate having a few sources of entertainment: music, movies, shows, books or magazines. Fortunately, many long haul flights offer in-flight entertainment, but it's wise to not solely depend on that. You never know when you might get a faulty system or fail to find something you like. Today's electronic devices allow you to store an incredible amount of entertainment, so load your smartphone, tablet, e-reader, or laptop with your preferred content.
It's also a good idea to bring entertainment that is not electronic-based, like a book or magazine. You'll appreciate this during take-off and landing, and you won't need to worry about any battery issues.
Board the plane rested
Remember that a long haul flight is not a good place to catch up on sleep, especially in economy class (business class is much better suited for that). There is only so much sleep you can get in a half reclined position. So, make sure you're relatively rested before boarding the flight.
Stay hydrated
When you're on a long haul flight, it's easy to consume caffeinated drinks or alcohol. These drinks combined with the pressurised cabin can dehydrate you, which will make you feel terrible. To avoid this, make sure to drink plenty of water. Try to get in the habit of drinking a glass of water every now and then throughout the flight. Also, lip balm is a good way to help stop your lips from drying out.
Try a sleep aid
If you have a particularly difficult time sleeping on planes, you might want to consider a sleep aid. Definitely make sure you've experienced the sleep aid prior to flying, so you don't experience any unexpected negative reactions while in the air. If you have not used a prescription sleep aid before, it is better to take something like Benadryl, Tylenol PM, or Melatonin. Small quantities of alcohol can also help you relax, but don't take too much, as the pressurized cabin will amplify its dehydration effect.
Bonus: Fly with Qatar Airways
There are some airlines that provide a better long haul flight experience than others, and Qatar Airways is a world renowned international airline that you should consider.
In January 2015, Quartz magazine, a leading digital global news outlet, ranked Qatar Airways number one for "Best Economy Long-Haul Experience". This ranking is based upon Quartz researching and evaluating various airlines for the the best overall economy class experience from point-to-point.
If you're willing to pay extra for a more luxurious flying experience, consider flying business class with Qatar Airways. Skytrax, an independent global aviation monitoring agency, awarded Qatar Airways the Best Business Class in the World in  2014 and in 2013 .
You can learn more about Qatar Airways here.
---
"ExpatGo welcomes and encourages comments, input, and divergent opinions. However, we kindly request that you use suitable language in your comments, and refrain from any sort of personal attack, hate speech, or disparaging rhetoric. Comments not in line with this are subject to removal from the site. "
Comments