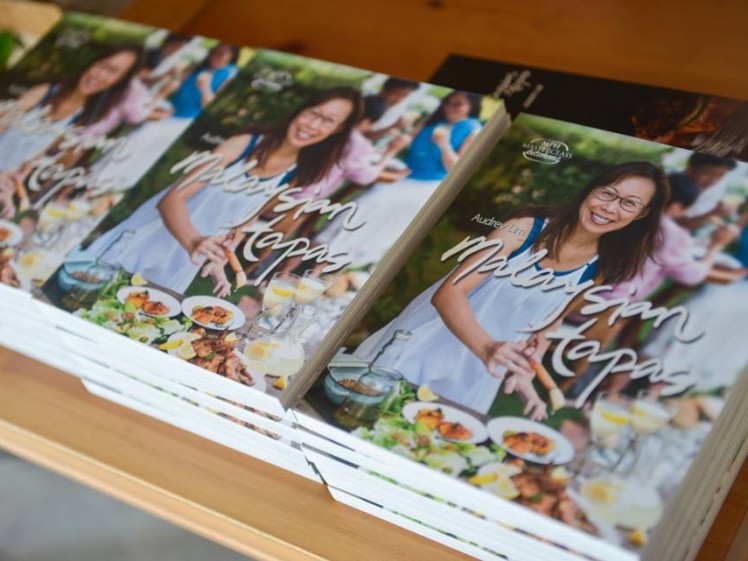 Photo Credit: Audreycooks, Facebook
Editor Chad Merchant reviews a recipe book that beautifully brings together the artfulness of tapas-style eating and the variety and tastiness of Malaysian cuisine, Audrey Lim's Malaysian Tapas, the latest entry in the MPH Masterclass Kitchen series.
Like many home cooks, Audrey Lim deftly balances her enduring culinary interests with the more practical matters of caring for her family, raising her children,maintaining her active and beautifully photographed food blog, and much more.With over 20 years of cooking experience well-grounded in the cuisines of Malaysia, along with a self-taught knack for styling and photographing food so it looks as good as it tastes, Audrey was a natural choice for the newest title in the MPH Masterclass Kitchens series. But there was no unifying theme. As the book's editor, Oon Yeoh, notes, "She cooks all kinds of stuff. But we can't just feature a mishmash of recipes!" A theme was needed, and Audrey encountered a bit of difficulty in coming up with a unifying theme to tie all her varied recipes together. Finally, it struck her. "Malaysian tapas!" she said. The editor agreed without hesitation and the result is a lovely new 185-page book, brimming over with delectable recipes and photos to match.
The book's first section contains the introduction, Audrey's personal story and her journey from wife and mother to food blogger to cookbook author, and a few "kitchen essentials" for the Malaysian tapas cook. Following this primer, the book launches into the recipes. First up are the meat tapas, featuring eight recipes for snack-sized dishes,most comprising chicken or beef. One notable feature of the book is that each tapas recipe is paired with a beverage, some fairly standard, many quite creative. For example, the Chicken Satay dish is accompanied by Sparkling Pineapple Juice with Chia Seeds. Each recipe features ingredients, the step-by-step preparation method, and full-colour photographs. Oftentimes, special notes are included too, to ensure a better end result. One particular standout in this section is the Lettuce Bowls with Chicken Filling, which not only have a deliciously balanced flavour – thank the garlic, oyster sauce, fish sauce, soya sauce, and sugar for that – but look beautiful, too. The chosen drink paired with this dish is a warm Sea Coconut Brew. Another must-try is the Chicken and Prawn Wontons, which might seem a bit labour-intensive, but ready-made wonton skins help shorten the prep time.
The next section in the book highlights seafood tapas. From Thai-influenced Crab Cakes to a creative Spicy Cuttlefish with Lotus Roots and Braised Peanuts, there are some curious culinary adventures found here,many of which look delicious. Drawing on the ubiquitous fish paste that's in no short supply anywhere in Asia, there's a recipe for Golden Fish Paste Coins, paired with a lovely Maple Cinnamon Tea, as well as Stuffed Peppers with Spanish Mackerel fish paste.
Following the nine different seafood recipes, Malaysian Tapas wraps up with a section comprising a host of miscellaneous dishes, tapas that didn't fit neatly into either the meat or seafood category. Some of the most mouthwatering dishes appear here. If you're a sucker for good bread, you'll likely want to try the Chinese Canai Pancakes, pan-fried little discs of flaky dough with spring onion and dried shrimp. Another sure-fire winner is the Spicy Crusty Red Potatoes, which are pan-fried in grape-seed oil and finished with an array of chillies spices and served with a distinctly Asian dipping sauce.
If it were just the 25 recipes for tapas, this would still be a worthwhile addition to any home cook's library. But with each and every recipe featuring an accompanying beverage recipe – some of them quite remarkable on their own merits, too, mind you – it adds a new and welcome dimension to a tapas-style cookbook with an unquestionably Malaysian twist.
Malaysian Tapas is published by MPH Group Publishing and is available at major bookstores throughout Malaysia.
You can also follow Audrey's cooking adventures by following her Facebook page here.
Source: The Expat Magazine February 2015



" ExpatGo welcomes and encourages comments, input, and divergent opinions. However, we kindly request that you use suitable language in your comments, and refrain from any sort of personal attack, hate speech, or disparaging rhetoric. Comments not in line with this are subject to removal from the site. "



Comments