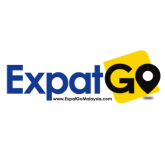 Written by K.C.Lau and Dr. Ong Kian Leong.
In the World Bank's latest report, "Doing Business 2016", Malaysia still ranks first out of the emerging economies in East Asia and ranks fourth out of all the countries in Asia (after Singapore, South Korea, and Hong Kong).
Although Malaysia's ease of doing business ranking has dropped one position over last year, moving down from a revised 17th to 18th place (20th place in 2014), the essential indicator of DTF (Distance to Frontier) score of the country improved by 0.05% point.
One of the main reasons for the climb in the country's score is that the authorities have made paying taxes easier and less costly for companies by both making electronic filing mandatory and reducing the property tax rate. At the same time, it also increased the capital gains tax. Malaysia is continuously on its track of economy transformation to provide a better place of investment welcoming foreigners.
The transformation has become a gravitational force that attracts more and more expatriates consider investing in Malaysian properties. The points in this article are mainly focused on foreign individual investors, rather than corporate investment by foreigners.
Growth in house prices
In terms of property market, Malaysia property prices are still among the cheapest in Asia with good growth amidst a resilient economy. Regional property markets like Hong Kong and Singapore have actually risen too much in the past few years and are now taking a breather, as shown by the Regional 1- and 5-year House Price Changes below. This has deterred the appetite of foreign investors in the two popular Asian cities.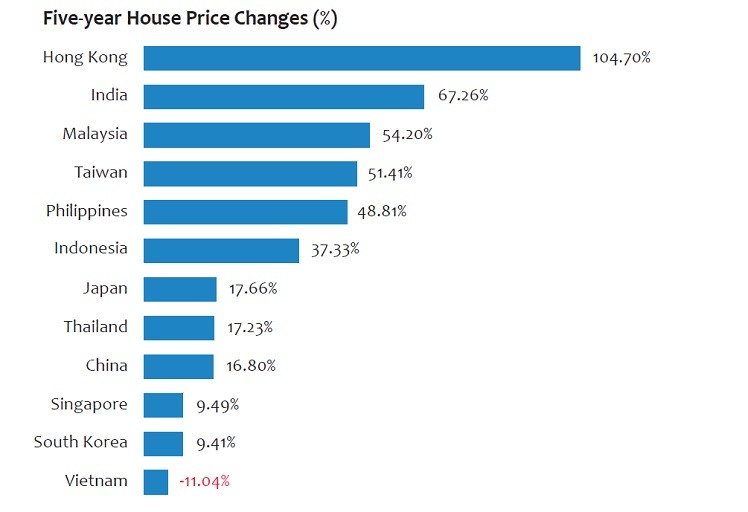 Source of date: www.globalpropertyguide.com
On the other hand, Malaysian property offers stable rental yield between 4% to 5% per annum for the last 2 years. On average, Malaysian rental return takes only 16 years, which is one of the better returns as compared to other countries in the region.
The local demand for property by Malaysians is huge with up-graders and young families getting richer. The fundamentals driving the property market's growth in recent years have not changed where the younger population is still leading to new household formation, a rising middle-income group and stable employment in Malaysia. The majority of 93% of the total properties investment in Malaysia are still by the local Malaysians, and only 3% are from the foreigners. Thus, Malaysia's property price index has been steady over the years despite constant hiccups of world crisis due to steadily increasing demand for properties. The local demand fuels the wealth and prosperity growth over the years in Malaysia.
Attractive socio-economic advantages of Malaysia
1. A.T. Kearney has ranked Malaysia in the third place after India and China in the 2014 Global Services Location Index (GSLI) for off shoring destination of choice.
2. Malaysia maintains low unemployment rate of less than 3.5% yearly with the inflation rate at average 2.5%. Living cost is relatively low in the region.
3. Malaysia experiences increasing visitor arrivals for 2013 – Top 10th Tourist Destination in the World.
4. A place of peaceful living free from major natural disasters such as volcanoes, floods, tsunami and earthquakes.
5. Harmonious multicultural society.
6. English language is widely used thus it is easy to communicate with locals.
7. Malaysia is ranked 3rd Best Place to Retire by International Living Inc. in 2014 for its retirement residency program – Malaysia My Second Home program (MM2H).
8. Easy and affordable connectivity to other countries with well developed infrastructure of airports, highways and seaports.
9. Private hospitals and health care system attracting foreigners for quality services with world-class healthcare facilities.
Things to be aware of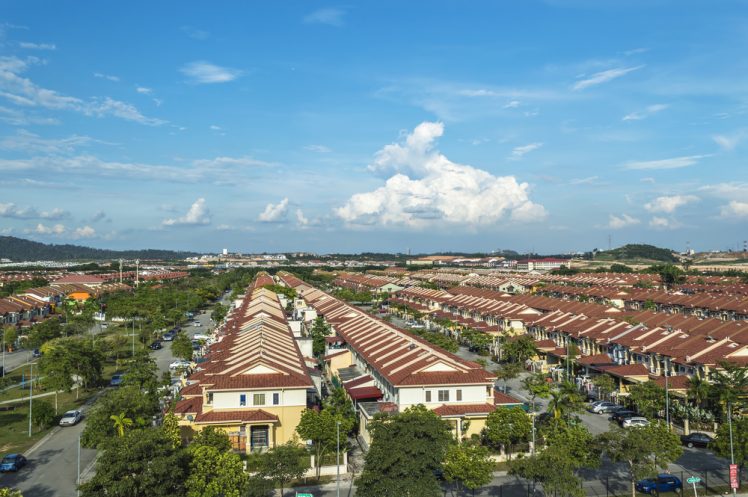 Location
Choosing the right location might seem daunting at first, but, as it is generally accepted that foreigners are happier if they settle in an area that offers the safety net of an expat community. This narrows down the choice of location considerably.
There are two large expat communities in Malaysia: one is in the capital, Kuala Lumpur (KL), and the other is in Penang. While the expat community in KL is considerably larger than the community in Penang, the majority of the expat community in KL are here in Malaysia on a work permit, while the majority of expats in Penang are here as retirees under MM2H. It seems logical for a retiree (who is not working) to retire to a non-capital city, where prices are lower, traffic congestion less, and the pace of life more in tune with retirement.
However, the usual advice to retirees, given by those who have lived here for several years, is not to buy at first, but to rent, and then only to buy when they are absolutely happy about the chosen area.
Landed property vs. condominium
Landed property is noticeably more expensive to buy, though cheaper to rent, than condominium apartments of equal size. In the long term, in spite of the vagaries of the economic cycle, landed property has continued to appreciate, while the value of certain ranges of apartment fluctuates according to supply and demand.
Other than amenities, another advantage of a condominium unit is that there is good security and that an owner or tenant can just lock the door and then take off, travelling either around Asia or even back to the homeland to visit family and friends with no worries about the property.
Security of a house can be a problem, which is normally overcome by fitting security alarms and leaving a maid living in the property while the owners or tenants are away. Another solution to the security problem of landed property is to choose gated and guarded (G&G) residence – a cluster of houses where entry is restricted by "gates" (boom gates, chains or locks) across the roadways, resulting in the creation of an enclave and secure private community.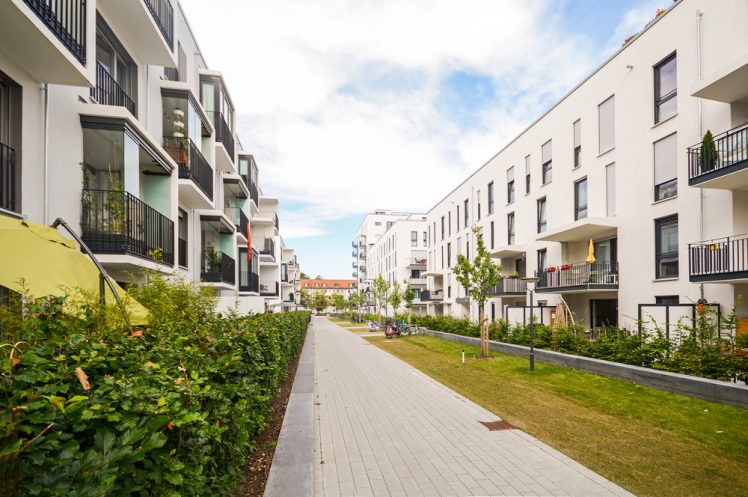 Condominiums are easy to maintain and clean, and can be run without the services of a full-time maid. Houses with gardens seem great, but, unless a gardener is employed, gardening can be very tiring in the heat of the day. Due also to the high temperature and high rainfall, the outer fabric of a house needs constant attention, whereas in a condominium the outer fabric of the building and the gardens are maintained by the management. The cost of maintenance is covered by the monthly management fee, which is typically paid by the owner of the condominium unit, not the tenant.
New property
Be cautious when buying new property in unfinished condominium projects. Buyers may not be fully protected against default, an issue vigorously raised by the Malaysian House Buyers' Association, which has pointed to flaws in The Housing Development (Control & Licensing) Act 2002, and the Strata Titles Act.
Those buying unfinished property from developers should ensure that the developer has a valid Developer's License and a valid Sales and Advertising permit. Malaysia property market favours investors, not flippers
Malaysian property is not good for house flippers who are looking for fast and high resale gains. It is better for landlords because of historically high rental yields in areas like Kuala Lumpur, Penang, and Johor Bahru.
If you expect it to be like overseas properties in the West, where you can buy at low cost, do it up, and sell it high the next year, you may be heading to the wrong battlefield. One reason is more than 90% of the demand is from Malaysians. Another reason is because of the highest-ever Real Property Gains Tax now in force in Malaysia.
Dealing with real estate agents
It is prudent to always agree upon the terms and conditions first before you engage any real estate agent in Malaysia. For example, while it is the seller who should be paying the commission for a successful sale transaction, the amount to be paid is dependent on the quantum of the transaction.
Similarly, for lease agreements, the landlord pays a month's rent for the transaction of a successful tenancy term (anything from one year and above) but negotiations are required if the lease term is less than a year. Such details should be ironed out and agreed upon before work proceeds to avoid any misunderstandings.
Higher Home Loan Interest
In Malaysia, the average interest rate of mortgage loan is between 4% and 5% for the past 10 years. It may be one of the lowest rate countries among other developing countries in the region, but it is still considered high as compared to most of the developed countries. For this reason, some foreigners prefer to take up a loan from their original country with a lower rate, instead of borrowing from banks in Malaysia.
Safety Issues
According to the Global Peace Index (GPI) 2014 released by independent research house Institute for Economics and Peace (IEP), Malaysia was among the 30 countries in which levels of peace deteriorated. However, Malaysia was still ranked sixth in the whole of Asia-Pacific, behind New Zealand, Japan, Australia, Singapore, and Taiwan.
On the other hand, the advice given by some expats living here for years is to be vigilant on the roads and in public places against snatch thieves. Also, foreigners who drive in Malaysia have to be more alert and careful because the traffic system here is yet to be as safe as compared to developed countries.
K.C. Lau, having worked in the financial industry since 2003, is a personal financial adviser and has authored several books and runs a number of online financial courses. You may visit his personal finance site at www.kclau.com or follow him on Facebook at www.facebook.com/kclaumoney.
Dr. Ong Kian Leong is the creator of GoFinanceTM, an investment evaluation tool, and the man behind the popular Real Estate Investment Blog at www.REIJB.com.

Source: The Expat Property Guide 2015
---
"ExpatGo welcomes and encourages comments, input, and divergent opinions. However, we kindly request that you use suitable language in your comments, and refrain from any sort of personal attack, hate speech, or disparaging rhetoric. Comments not in line with this are subject to removal from the site. "