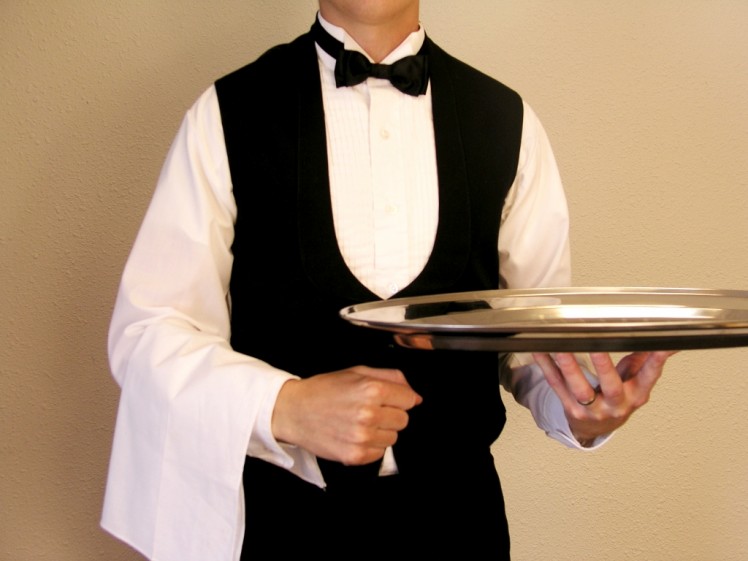 Tipping isn't customary in Malaysia, but in some restaurants, a rather questionable service charge sure seems to be. Editor Chad Merchant takes a closer look at this practice and wonders just who's really getting served.
The bill seemed a bit higher than expected, so I glanced at the itemization and found the offending entry. Service charge 10% – RM16.50. I've lived here awhile now, so I'm quite accustomed to this nefarious addition. But some places charge it, some don't, some charge 5%, and there seems to be no rhyme nor reason to what prompts its inclusion.
See also:
I must point out that, as an American, I'm well used to tipping 15 to 20% back home, a customary practice that is actually coming under increasing pressure as more diners question why they're expected to effectively pay the incomes of servers who are woefully underpaid by their employers. (Restaurants typically pay an embarrassingly paltry $2.13 per hour to tipped employees and expect that they will earn the rest of their income from tips.) The state of affairs in my home country notwithstanding, suffice it to say that, because of my familiarity with rather higher rates of tipping, I'm not opposed to paying a 10% service charge – if I ever got some actual service to go along with it!
But I say here, as Shakespeare's Hamlet expertly put it, Aye, there's the rub.
So did we get RM16.50 worth of service for our meal? Indeed not. In actual fact, it was really a self-serve buffet of sorts. We had barely any interaction at all with the staff apart from telling someone what we wanted, then flagging them down later for a bill. No one checked on us to ask how everything was, nothing beyond the initial plates were brought to us, and I even had to get up and go track someone down to ask for salt and pepper since no one ever came to the table.
When we talk with expats and read the results of surveys we conduct, driving here tops the list of complaints every time. But the consistent runner-up is the lack of service standards, even in what are ostensibly five-star establishments. And despite this, there's that mandatory 10% service charge… whether the service is good, bad, indifferent, or non-existent.
So why do only certain restaurants tack this charge onto their bills? I get as much service at the dry cleaner or the hardware store or even at my auto mechanic's garage, but they don't tack on an extra 10% to their stated prices. Even among Malaysians, there is growing dissent regarding these mandatory service charges. The Ministry of Finance have actually been petitioned to disallow businesses this practice, but they have said that since the service charge is not a government tax, they have no authority to prohibit it, adding that the service charge is a negotiable cost between the company and the customer. In line with that, some have questioned it, and some have refused to pay it, particularly when the service has been poor.
For me, it's not an issue of cost, but rather of integrity. If the service charges being collected were distributed to the service staff (and if I received even decent service), I'd have no problem with this charge. But here, more often than not, service staff are neither knowledgeable nor empowered, seldom are well-trained, and the level of service is correspondingly poor. Beyond that, wait staff in Malaysian restaurants often comprises foreign workers who are scandalously underpaid to begin with, and when the restaurant forces a service charge on its customers and then keeps that money for itself, well… I have a real problem with that.
There is plenty of anecdotal evidence that, in at least some cases, the servers do not get the service charge. Apart from what I've found by researching the subject online, I've asked numerous servers in restaurants that levy the charge whether or not they receive any of this extra income. The answer is always the same: no. To me, this is outright theft – from the wait staff and from the customer. It's dishonest to tack on a service charge and then not distribute it to those who are providing the service. That's no longer a service charge, it's simply an spurious extra profit charge for the business, and it disguises the true cost of the food and drink you're ordering.
So readers, have you ever questioned or refused to pay a service charge in a restaurant, either because the service was lousy or because you found that the money went only into the business's coffers? I'd be interested to hear about it, if so. With the upcoming GST rollout, people will be scrutinizing everything, so I wouldn't be surprised to see more being written about this easily abused service charge levied by so many restaurants. In the meantime, eat well, drink well, and take your 10% lumps when you feel they're appropriate!
Source: The Expat Magazine March 2015
---
"ExpatGo welcomes and encourages comments, input, and divergent opinions. However, we kindly request that you use suitable language in your comments, and refrain from any sort of personal attack, hate speech, or disparaging rhetoric. Comments not in line with this are subject to removal from the site. "
Comments