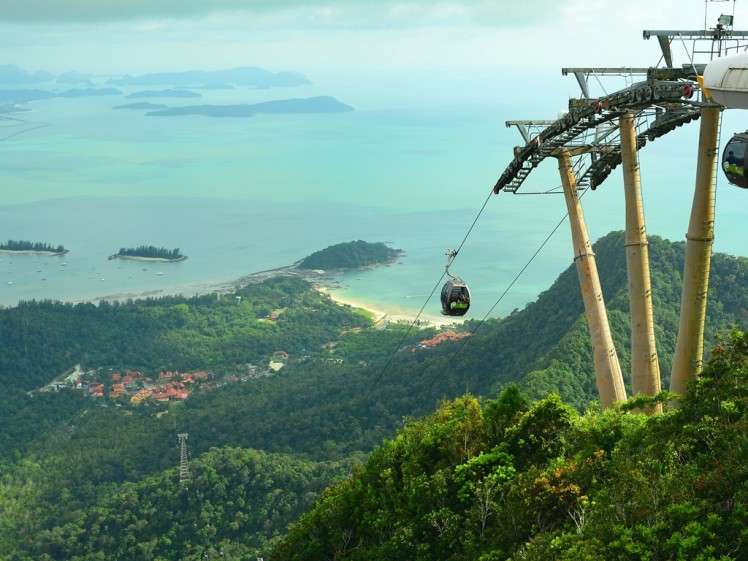 Beautiful Beaches, tourist attractions to spare, and some of Malaysia's finest accommodations make Langkawi an incredibly attractive holiday destination. Editor Chad Merchant discovers that, from the charming Sunset Valley holiday houses to the luxurious Four Seasons resort, it's all here on Malaysia's island of legends.
Langkawi is something of an enigma. Flying largely under the radar compared to more popular Asian island destinations, Langkawi nevertheless has attracted its share of attention, and some of finest accommodations found anywhere in Malaysia are sited on this laid-back island. And why not? When compared with regional hotspots like Phuket and Bali, Langkawi has a lot to offer. Though not nearly as developed for tourists as these islands (or some may say overdeveloped), Langkawi nevertheless has a fine infrastructure, a number of lovely beaches, plenty to see and do, and with a broad range of accommodations from modest to decadent, delivers as fine an island getaway as you could want.
It's safe to say that Langkawi will never match Bali's appeal for surfers, nor Phuket's for unbridled hedonism and raucous nightlife, but each of those islands boasts another side, too – the quieter,more refined vacation – and it's here that Langkawi competes most favourably. Plus, as a UNESCO Geopark destination some 550 million years in the making, Langkawi offers a natural escape that, when taken in joint consideration with the island's solid – but not rampant – development and its wealth of high-end accommodation, is a largely unrivaled vacation destination in Asia.
Luxury with Cost Benefits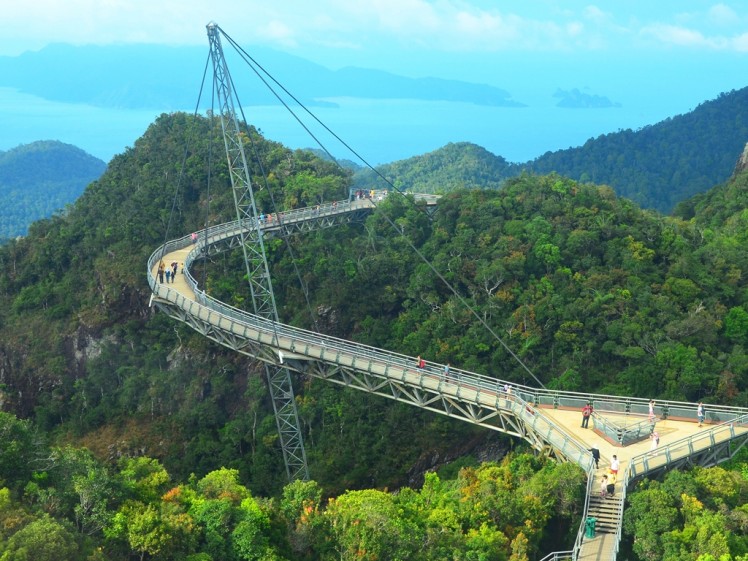 The fact that Langkawi is a duty-free island certainly doesn't hurt, either. Though revered throughout Malaysia as a place for cheap chocolates, alcoholic beverages, and other imported goods, that duty-free status in fact applies to everything from fast food meals to luxurious lodging. Additionally, Malaysia is also visa-free for virtually all visitors and collects no outsized departure taxes, either, so for a family staying in a five-star resort, this can all result in significant savings.
To see just how significant, consider a family of four staying at a luxury resort or villa with a rate of $700 (U.S.) per night, an all-too-easy rate to find in Bali these days. For a seven-night stay in Bali, once you add on the whopping $35 per person visa fee, and the 11% tax and 10% service charge, as well as the IDR200,000 per person departure fee – that's currently about $16, the lodging and fees total comes to $6,133. In Langkawi, you'll likely find equivalent luxury accommodation costing considerably less, but even if you use the same $700 figure, the total only comes to $5,390, as you've only the 10% service charge to pay. That's a nearly $750 savings, and in Langkawi, nearly everything else will be less expensive, too – activities, meals, and definitely drinks.
Moreover, self-driving in Langkawi is a breeze compared with Bali or Phuket. Roads are well-developed and in good condition, and except during peak times, cars can be rented for as little as about RM60-75 (US$18-20) per day. Langkawi's international airport is incredibly easy to get in and out of, too, a big plus point when compared with the near unrestrained chaos of Bali's airport.
World-Class Resorts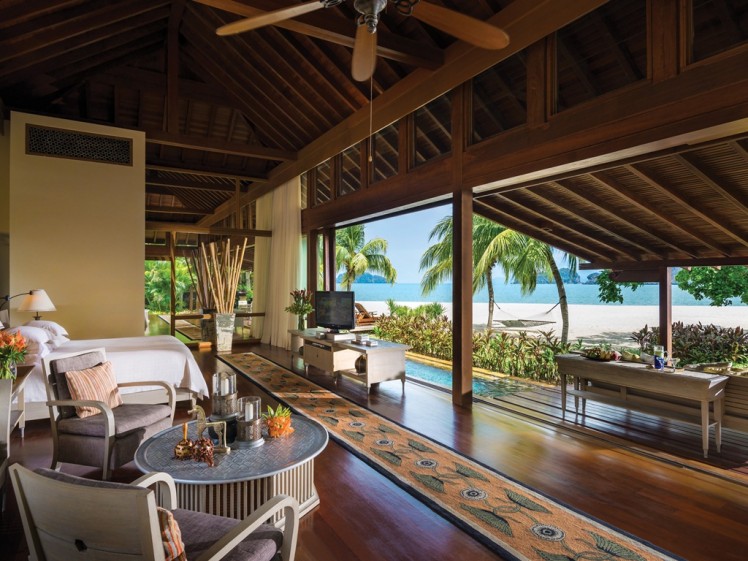 Four Seasons Beach Villa
But once you've arrived, what about the hotels and resorts? Obviously, Langkawi doesn't have nearly the number and sheer breadth of accommodations of either Phuket or Bali, but there's something for every budget, and some truly world-class luxury resorts are present here, too. Perhaps the island's crown jewel for the last decade is the gorgeous Four Seasons Langkawi, located on what is arguably the island's finest stretch of light golden sand beaches, Tanjung Rhu. The Four Seasons hospitality and service standards are globally recognized and revered, and the sprawling Langkawi property, which opened in 2005, certainly carries that reputation, too. Though there are over 90 stunningly appointed pavilion rooms and beach villas on the resort's property, located on Langkawi's northern coast, guests never feel crowded and indeed often feel a keen sense of privacy and, of course, exclusivity.
The Four Seasons is also an excellent choice for water sports enthusiasts, as few places in Langkawi can top its extensive menu of water sports activities, including paddle boarding, water skiing, windsurfing, speed boating, catamaran sailing, jet skiing, and more. For those guests who prefer a more land-based itinerary, there's archery, rock climbing and abseiling, tennis, beach volleyball, and the recently introduced horseback riding. A well-fitted gym and luxurious spa that's second to none round out the resort's list of things to do. Of course, lazing around by the gorgeous pool or right on the stunning beach, looking northward across the azure Andaman Sea to the islands of neighbouring Thailand, are sure to be favourites of any guest fortunate enough to be staying at the Four Seasons.
Branching Out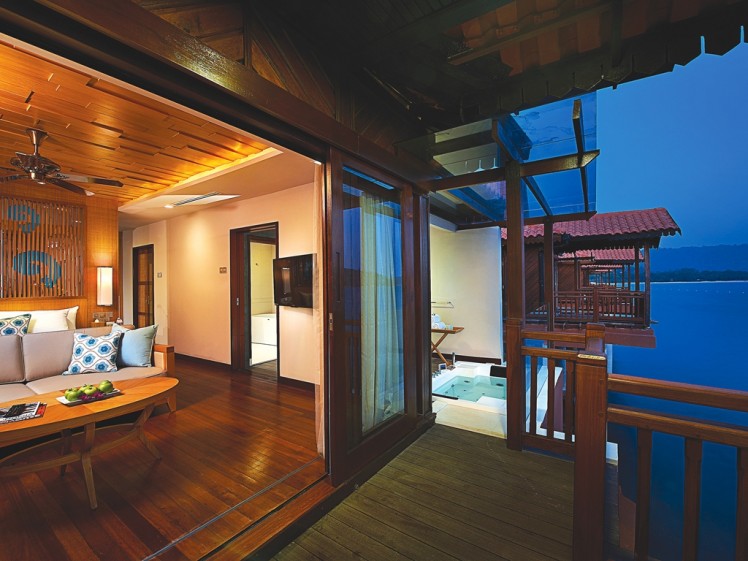 Berjaya Langkawi Resort
A number of resorts are embracing Langkawi's unique UNESCO Geopark status and Four Seasons is among them, offering terrific guided tours into the Kilim Karst Geoforest Park, and having opened its informative Geopark Discovery Centre just last year. The opulent Geo Spa at the resort, too, focuses on connecting guests to Langkawi's natural environment and providing a holistic approach to wellness.
Apart from the standard-setting Four Seasons, other five-star resorts on the island include the nearby Tanjung Rhu Resort, the popular and luxurious Danna hotel, The Westin Langkawi – a lovely property on the southeast coast not far from Kuah, the island's only large town – and The Andaman, a classic five star property on Datai Bay (along with the eponymously named Datai resort), perhaps the only other beach to really contend with the Tanjung Rhu stretch for the title of Langkawi's best beach. Both St. Regis and Ritz-Carlton are expected to be opening their own new five-star resorts on the island in the next year or so, too, with the former on the southeast coast, and the latter, the southwest.
Another popular property that offers some high-end accommodations is the Berjaya Langkawi Resort. Though most properties on the island have a fairly limited number of rooms, Berjaya's sprawling 70-acre resort is not one of them. With hundreds of individual chalets set amid the rainforest and on stilts over the sea, there's an eclectic range of accommodation classes available here. For a truly luxurious stay, however, opt for the newly refurbished Premier Suite on Water (left), a lovely 65-sq metre chalet with a signature semi-outdoor lounge and Jacuzzi for two. Continuing the indulgence, the resort's posh Taaras Spa is superb, and should not be overlooked.
Just nearby Berjaya's resort is the amazing Langkawi Cable Car, a true wonder that must feature on any visitor's to-do list. Among the world's steepest, the exhilarating 20-minute cable car ride takes guests over ancient tropical rainforest while ascending the side of Machinchang Mountain. The 1.7-km journey to the cable car Middle Station sets visitors at 650m above sea level and the views are remarkable. The journey concludes at the Top Station, and from there, a short walk to the engineering marvel Sky Bridge (above) is both an adrenaline rush and a visual stunner. The scenic bridge, recently reopened following a lengthy closure for maintenance and upgrading, is suspended from a single 82m-high pylon and hangs about 100m above the forested landscape, arcing gracefully outward to provide visitors with an absolutely breathtaking panoramic view of the 450 million-year old Machinchang Range draped in dense rainforest and the Andaman Sea beyond.
Beach Resorts, Island Homestays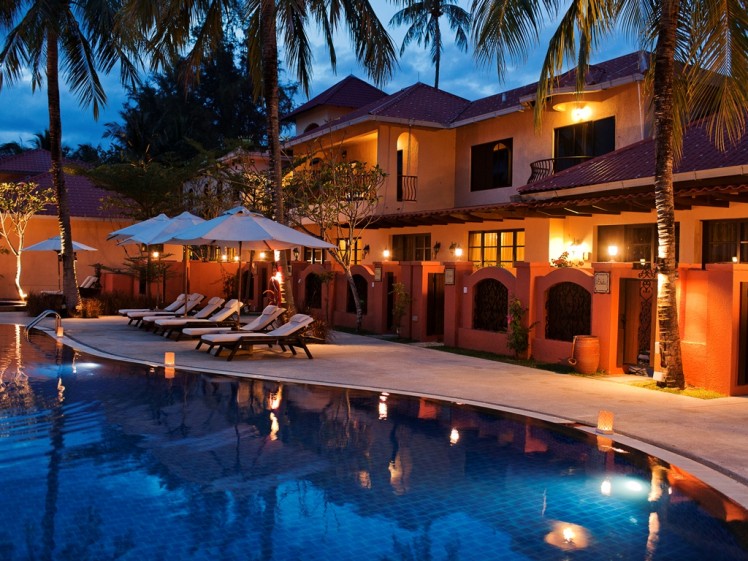 Casa del Mar
Of course, while perhaps arguably not the island's best, Cenang Beach is still a very fine beach, and is unquestionably Langkawi's most popular. There, holidaymakers will find the entire range of accommodations on offer, with perhaps the Casa del Mar and Meritus Pelangi topping the luxe list, the former being called one of Malaysia's most romantic getaways. The stylish 34-room boutique property, set right on the beach, is a consistently popular choice for couples.
For visitors who want an experience that's refined, yet a bit more authentically Malaysian, there are some lovely homestay-type accommodations that will surely satisfy. For a near-the-beach experience, there's Bon Ton Resort, with just a handful of antique, individually designed private Malay villas, which have all been refurbished and modernized and set in a century-old coconut plantation about five minutes from Cenang Beach.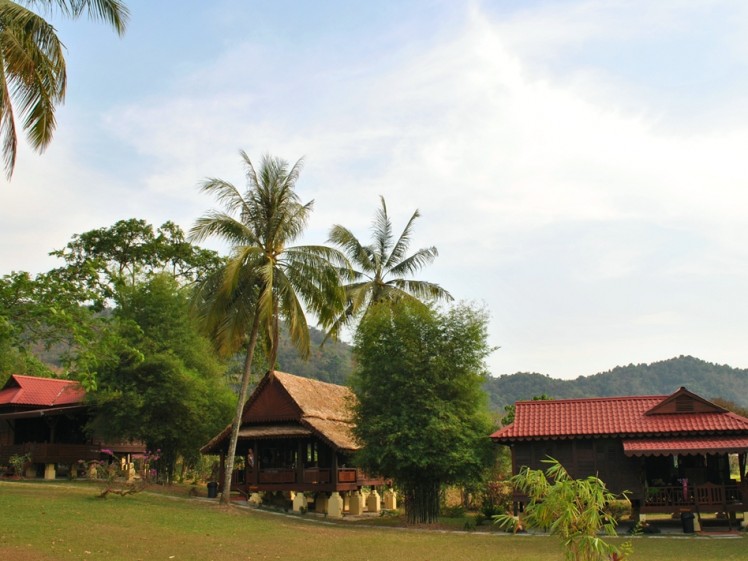 Sunset Valley Holiday Houses
Another winning choice is the charming Sunset Valley Holiday Houses, a lovely and serene property in the centre of the island. Sunset Valley features six authentic Malay houses ranging in age from 70 to 180 years. Each traditional house has been purchased from its owners, removed from its original site, and carefully rebuilt at Sunset Valley by skilled craftsmen. The houses, sited around a sparkling pool overlooking nearby rice paddy fields, have been updated with modern kitchens and bathrooms, and offer a comfortable and relaxing place to call home whilst in Langkawi, all with a very personal touch.
An all-too-often overlooked island destination, it's clear that Langkawi offers a great deal to holidaymakers. World class accommodations, terrific beaches fronting warm tropical seas, a modern infrastructure that makes it an ease and a joy to self-drive, plenty to see and do, and duty-free status across the island ensure that a Langkawi vacation will leave its visitors wanting for nothing.
Source: Senses of Malaysia March-April 2015



" ExpatGo welcomes and encourages comments, input, and divergent opinions. However, we kindly request that you use suitable language in your comments, and refrain from any sort of personal attack, hate speech, or disparaging rhetoric. Comments not in line with this are subject to removal from the site. "



Comments