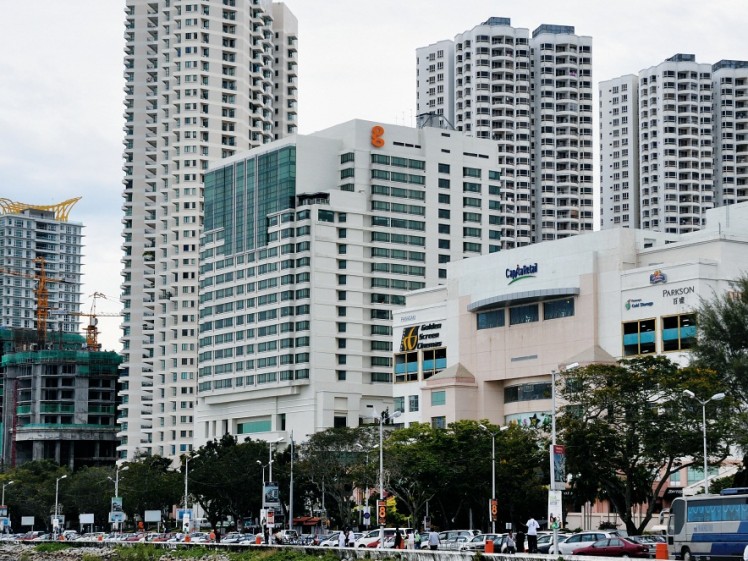 Malaysia's most populous island, Penang, enjoys a favoured reputation among resident expats and locals alike. Quality of life, friendly people, modern infrastructure, and some of the best food in the region make Penang a perennial top choice. However, for those considering the island as a place to live rather than visit, a look at the property market is especially warranted as Penang has some special considerations. We offer an in-depth analysis here.
Penang has many great things to offer, from street food to exotic heritage. Points of attractions include beaches, hills, temples, museums, and a vibrant arts scene. A unique not-to-be-missed event is the annual George Town festival, a month-long celebration of arts, music, culture, heritage, and community. This festival transforms the city into a global stage, showcasing world class performances from international and local artists.
Penang has the oldest and longest established port in Malaysia and serves as a gateway for shippers in the northern states of Malaysia as well as in the southern provinces of Thailand. It is a place for the cruise ships and yachts to berth, thus making it a strategic advantage in tourism.
Mobility around Penang has further improved with the introduction of hop-on-hop-off buses and the Central Area Transit (CAT) free shuttle buses. Another to be launched EZ-hopper vans will be an-other option for tourists to tour the George Town heritage site. Bicycles are also popular now for tourists and locals to move around Penang.
Penang is also a food paradise for locals and foreigners. From street food to international cuisine, Penang offers great varieties of food with origins of Chinese, Malay, Indian, Thai and Arabian influences.
With all the uniqueness about Penang, once again in October 2015, Lonely Planet named George Town, Penang as one of the Top 10 Cities in the World to Travel to in 2016. This is the latest amongst the many accolades awarded to Penang in recent years.
Penang's Key Economic Indicators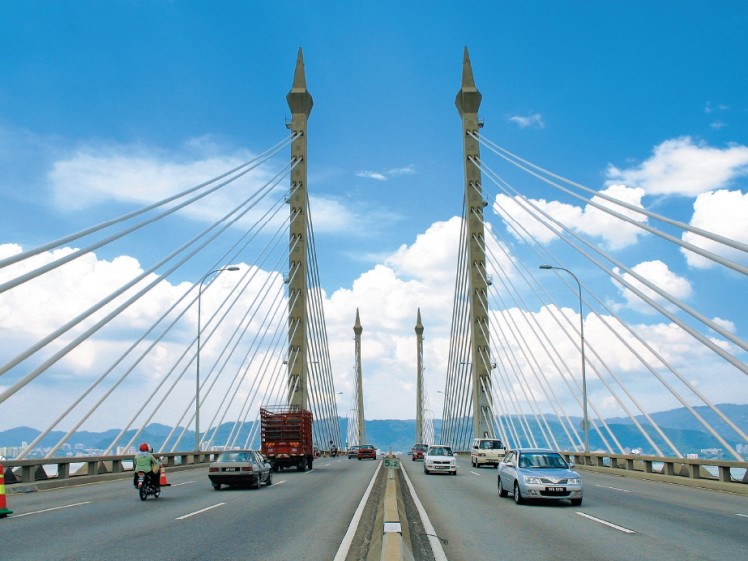 Penang's economy registered at 4.9% as of H1 2015 (H2 2014 was 7.9%) and is expected to grow by 5 plus per cent by the end of 2015. Though growth is not what it was in 2014, the economy still performed reasonably well in 2015. Being an export-oriented economy, Penang's export sector is expected to improve with the recovery of the US economy and the weaker ringgit.
However, on an overall basis, all economic sectors are anticipated to register slower growth. The services sector should surpass the manufacturing sector marginally by less than 1% by 2015 year end. The construction sector may experience a negative growth of a minuscule -0.2% which will not have any adverse impact on the real estate industry.
The unemployment rate stood at 1.2% as at Q3 2015 (Q4 2015 : 1.6%). The job market is still stable with new job openings of 13,199 as of H1 2015.
Penang's tourism sector is on an upward trend due to the increase in the number of international tourists arrival. The total number of international arrivals at Penang International Airport has grown by about 7% annually. The influx of international tourists arrival is mainly due to the various festivals held in Penang such as George Town Festival, Food Festivals, and many more. The largest number of tourists growth comes from China and is expected to expand with the promotion of group visa exemption for the Chinese from 1 October 2015 to 31 March 2016.
Planning for the future, the RM27 billion Public Transport Master Plan project in Penang, which involves developing a comprehensive public transport system, will further boost Penang's tourism with the move towards a "metropolitan" city.
Penang Property Market Overview
The total value for the H1 2015 saw a drop from 6,417 million compared to 8,656 million in H1 2014, while the volume of transactions registered lower at 11,200 in H1 2015 compared to 12,522 in H1 2014. Both value and volume decreased, about 26% and 10% respectively.
Despite the slowing down of the property market, it is still expected to stay resilient mainly due to the demand from Penangites working abroad who are either purchasing homes for their families or planning to return and settle down back in their hometown. The weaker ringgit has attracted Penangites working abroad and foreign buyers to consider purchasing properties in Penang.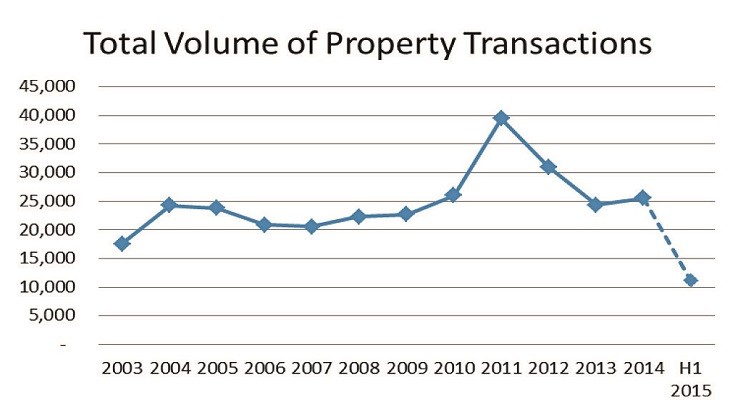 Source: HB Research/ JPPH
The residential sub-sector remained the most active, at 49% of the total value of property transactions as of H1 2015. This figure increased slightly from 43% in H1 2014. In terms of volume, there was only a slight drop of 1% from 70% in H1 2014 compared to 69% in H1 2015.
The commercial sub-sector recorded 20% of the total value in H1 2015, a drop from 25% when compared to the corresponding period last year. There was an increase of 11% in total volume as against 9% as of H1 2014. Other subsectors such as agricultural, industrial and development showed only marginal differences.
Penang Residential Market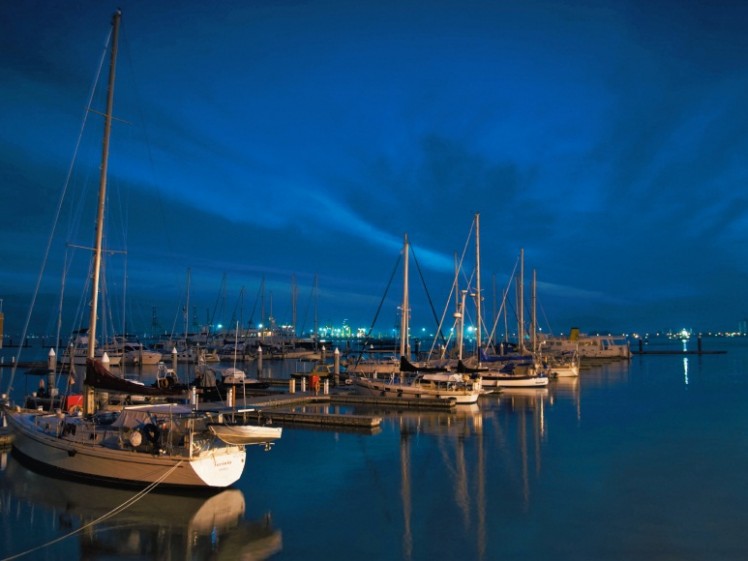 H1 2015 saw a drop of both volume and value for the residential market, with 7,743 units transacted compared to 8,808 units as at H1 2014. In terms of value, H1 2015 recorded at 3.142 million compared to 3.768 million in H1 2014.
Penang property prices are generally still stable, depending on the type and location of the property. The most popular are terrace houses, which have proven to be the best type of property investment with compound annual growth rate (CAGR) of almost 13% at prime locations, while semi-detached and bungalows recorded between 1% to 13%. As expected, the CAGR differs with location. Generally apartments and condominiums perform better than landed homes, with CAGRs recorded between 6% to 12% across the board.
There will be more landed homes built at the Southwest District with future supply of almost to 4,000 units, while about 1,200 units will be built in the Northeast District. For condos, a total of 15,000 units will be built with future supply of about 5,100 units in the Northeast District while Southwest District will see new supply of about 8,900 units.
Despite the fact that Penang's property market showed a slowdown in 2015, most investors are still nevertheless optimistic that the demand for property will remain constant.
Pre-War Heritage Property Market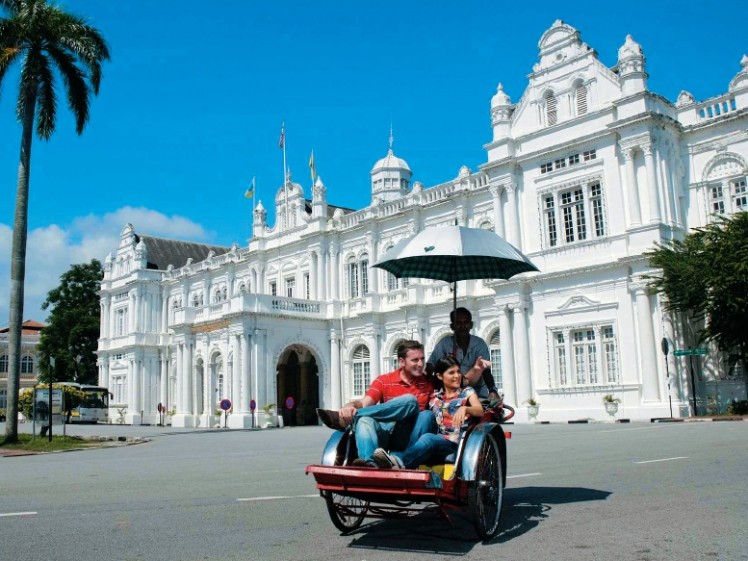 In Penang, many investors have taken advantage of the repeal of the Rent Act and George Town's status as the UNESCO World Heritage Site in 2008 to invest in the inner city of George Town's old pre-war heritage properties. Initial interest abounded, though with many risks and uncertainties. Local banks were not keen to provide financing, and only one or two international financial institutions were prepared to take a wellcalculated position.
Despite the initial wariness, investors who came in early have found their pot of gold today. With less than 5,000 buildings built on 260 hectares, the supply of available opportunities is indeed scarce.
Prior to investing in pre-war heritage properties, the usual factors that an investor will take into consideration include location, architectural style and historical value, social value, historical ambience and business potential. Transaction for pre-war heritage properties started to pick up in 1999 and since then the number of transactions and prices have grown impressively over the years.
The year 2015 saw a huge jump in price appreciation, from RM1,800 in 2014 to RM2,300 per sq ft attributed mainly by the limited and scarce supply of pre-war heritage properties in George Town. A total of 128 units were transacted as at Q3 2015, with a recent transaction recorded at RM2,950 per sq ft.
Pre-war properties located in the main tourist attraction areas usually fetch higher prices of between RM1,800 to RM2,950 per sq ft. Properties located on the secondary roads are priced between RM1,000 to RM1,500 per sq ft, depending on the condition of the properties.
Outlook for Penang's Real Estate Market in 2016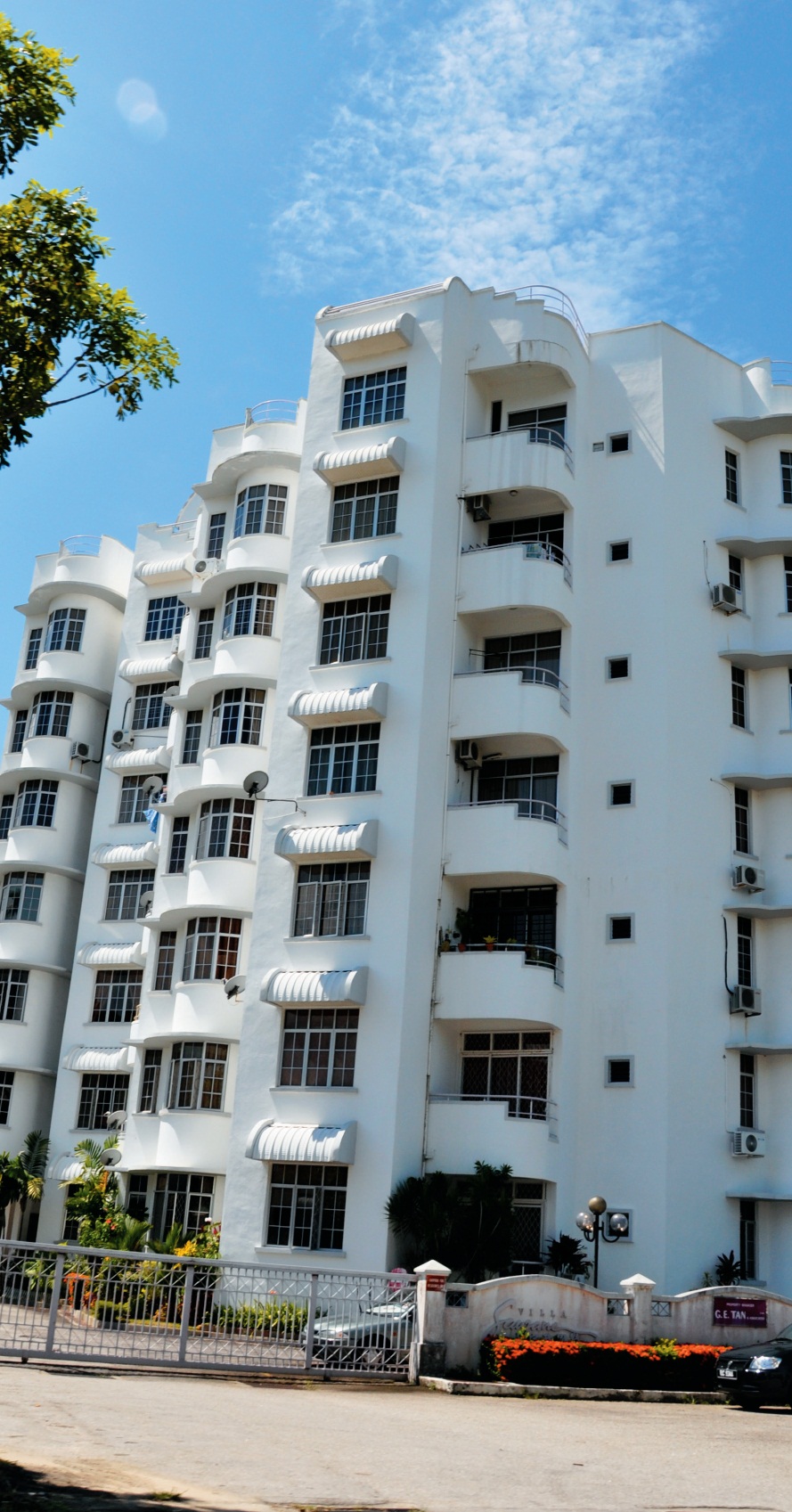 Penang is a liveable place. It has attracted local and international tourists and continues to draw new residents to live, work, and play. Efforts by the state government, private institutions, and non-government organizations have promoted George Town successfully as a place for art, culture, heritage, and food.
Desirable property continues to be limited in supply. Property investors are adopting a wait-and-see approach, although property prices are generally quite stable. Some investors are of the opinion that the tighter lending rules and cooling measures taken in the past are now working well and will further reduce property prices. The cooling measures taken included the cessation of the Developer-Interest-Bearing-Scheme (DIBS) and an increase of Real Property Gains Tax from 15% to 30%.
Affordable homes are now actively being promoted and developed in Penang. Half of the launches are below RM400,000, while properties priced at RM200,000 are on the rise. Bank Negara Malaysia's strict lending guidelines have had an adverse impact on the lower income group and it was reported that loan rejection rate was as high as 50%.
Generally, Penang's property market is expected to stay resilient in the coming years. Demand is expected to remain stable due to a number of factors such as a sustainable environment, lower property prices with the affordable housing scheme now being introduced, more job opportunities, availability of good schools, and first-class medical hospitals.
————————————————————————————————————————————–
Henry Butcher Malaysia Penang is an International firm of Property Consultants based in Penang, Malaysia, providing advice on asset valuation, property management, disposal, acquisition, urban planning, research, and feasibility study. The above information is only a guide and you are advised to seek independent advice prior to making any investment decision. Please contact : Marketing – +6016 412 5582. Asset Valuation : +6012 477 0499
Source: The Expat Property Guide 2016
---
"ExpatGo welcomes and encourages comments, input, and divergent opinions. However, we kindly request that you use suitable language in your comments, and refrain from any sort of personal attack, hate speech, or disparaging rhetoric. Comments not in line with this are subject to removal from the site. "
Comments