Property
A Company That Transforms Conventional Houses in KL into Top-Spec Homes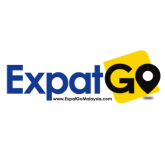 This is part of an ExpatGo editorial series featuring creative architecture in Malaysia and around Southeast Asia. 
This article originally appeared on Property Lifestyle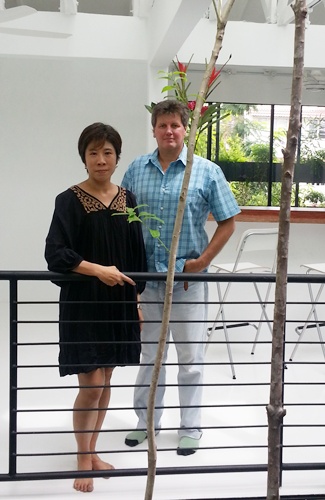 Lim (left) and Heneberry.
Business partners Jessica Lim and Tony Heneberry make up the partnership, 2's Company. Their business is transforming the conventional double-storey terrace houses that occupy some of the Klang Valley's most desirable addresses into top-spec homes befitting their locations.
For many of the Klang Valley's housing estates, the conventional housing unit–the double storey terrace house–dates back to the 1970s, 80s or 90s. Stepping into many, they are dark and cramped, bearing no resemblance to swish new developments coming out from today's "lifestyle" developers.
Yet, many of these are located in some of the Klang Valley's most desirable and dynamically-priced neighbourhoods, such as Bangsar, Damansara Heights, Taman Tun Dr Ismail, Sri Hartamas as well as Section 5 and 12, Petaling Jaya.
Is it a surprise then that more and more of these homes, originally purchased by those born in the 1940s and 50s, are being bought by the following generation and done up to be modern, bright and stylish?
Not only are the younger generation fixing up these properties themselves, enterprising couple Lim and Heneberry are transforming them as a business, buying them up before selling them for a tidy profit.
"I knock them up and she knocks them out," says Heneberry cheekily as I try to get any possible innuendo. Heneberry deals with most of the design and construction aspects of their projects, while Lim markets the properties.
"I'm actually trained as an accountant," shares Lim. "I was in the corporate world for close to 20 years and then went into real estate brokering for a few years, before getting into this business. I'm dealing more on the commercial side of it, sourcing, selling, looking for tenants."

A house in Bangsar, before renovation (left), and after.
Heneberry, who betrays something of an Irish brogue, is a qualified marine engineer, but is more of an artist by sensitivities, he says. Which is probably what drew him to this; buildings seem a perfect fusion between engineering and art.
The two met some years back when they lived in the same condominium, and their kids used to play together. Together with another partner, Lim and Heneberry formed JTJ Designs. "But one of the Js has gone overseas, so we changed our name to 2's Company."
Throughout, the two have worked on nine properties. "We transformed some houses in the Terasek area in Bangsar, and we are currently working on a few units in Sri Hartamas and Bukit Gasing, PJ. Some of these houses belong to us while others are commissioned work, as in homes we renovate for owners."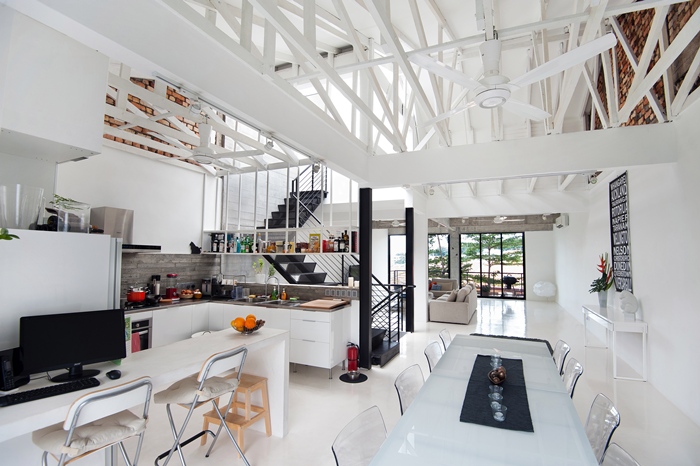 Open house
I first get to know their work at an open house for a commission project on Jalan Sri Hartamas 2. Located in the genteel Sri Hartamas neighbourhood that counts Backyard pub as a local favourite and is a stone's throw from the King's new palace, the street is occupied by townhouses on one side, and double storey terrace houses on the other.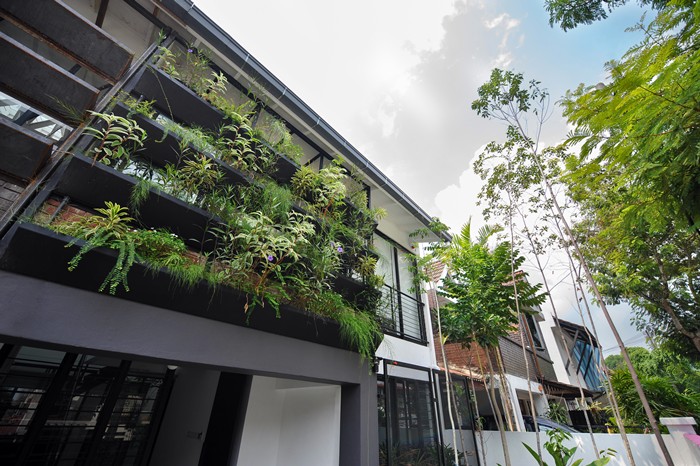 The house on Jalan Sri Hartamas 2.
Next door is another house Heneberry and Lim have bought outright, and are in the midst of doing up. The owner of the first house has graciously agreed for their house to be a showcase for the house next door.
Entering the house, you are confronted by a luxuriously spare lobby with a low bench, and view onto a slim planted courtyard. A perforated steel staircase, which seems quite the trend, leads upstairs, from which the roar of the party filters through. "The perforated steel stairs are a little more expensive, but they increase the light flow through the house and are easy to shape because the material is versatile," says Heneberry.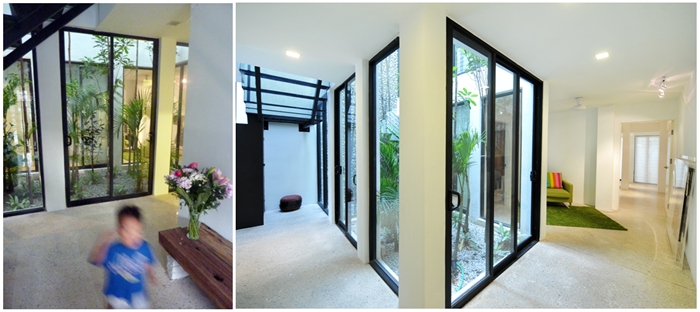 Meandering along the ground floor's polished concrete corridor brings the visitor to the bedrooms, with luxuriously generous bathrooms. "We stand out because of our inverted layouts," says Lim. "In the typical house you get your living and dining downstairs but that's usually where it's the darkest. If you want to entertain, it makes a lot of sense to do it where it's lightest so we've put the living room and kitchen on the first floor."
Indeed, coming upstairs, you are confronted first by the kitchen which is screened on one side by something of a green wall, which also makes up the top facade of the front of the house.
Sliding glass doors open onto the courtyard which acts as a ventilation tunnel. Skirting along, you come to a generous entertaining space, the entire back wall of which is open with a balcony.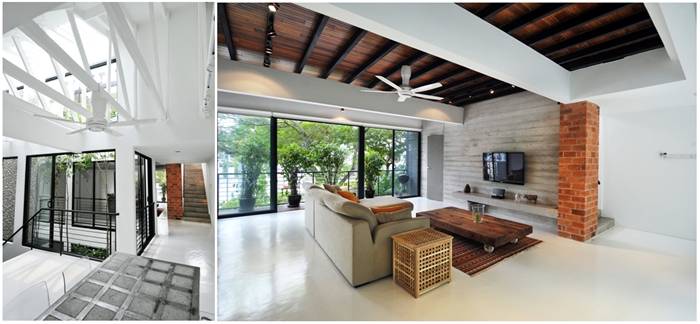 How about possible intrusions and mosquitoes though? "There are motion sensors and alarms throughout the house and the ground floor is sealed with a folding mesh screen. It is therefore quite difficult to get to the first floor," says Heneberry.
"Mosquitoes, meanwhile, are not as big an issue as most Malaysians believe it to be. The most important thing is maintaining a clean compound and drains, and good ventilation."
Overall, the palette is an elegant balance between white epoxy painted flooring and white walls, with matte black steel balustrades, window and door frames, together with spatters of raw brick and concrete walls.
Another set of stairs lead you to an extra half-storey added by 2's Company which it coins the "loft". It is a generous space with two sides fringed by balcony, one looking onto the courtyard.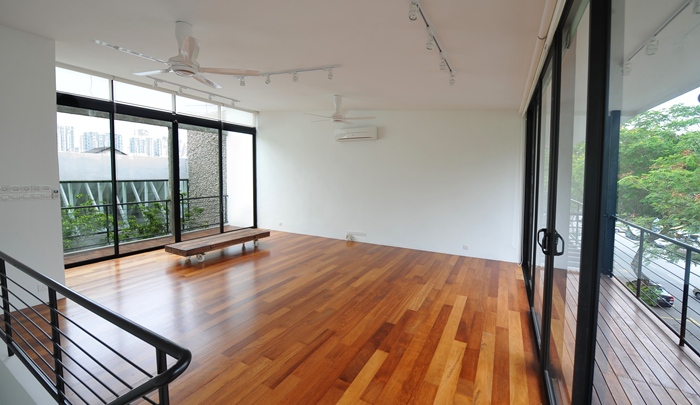 "The owners will use it as a second living room or a TV or recreational space," says Heneberry, "With a sofa bed, it can be also an optional guest bedroom."
Was it difficult to get planning permission for an extra half storey? "For this area, they allow 2 1/2 so we extend it to the limit." The result is an increase in square footage on the 22 ' x 85' plot from 2,400 sq ft to about 3,000 sq ft. Renovations, which included gutting out the entire house, took about six to seven months.
Planning approval took only about six weeks, says Heneberry. "We've done quite a few of this, and we use an agent who's very experienced. He advises us on what will get approved and we submit a design which we know can get accepted. We almost never get an application turned down."
Show me the money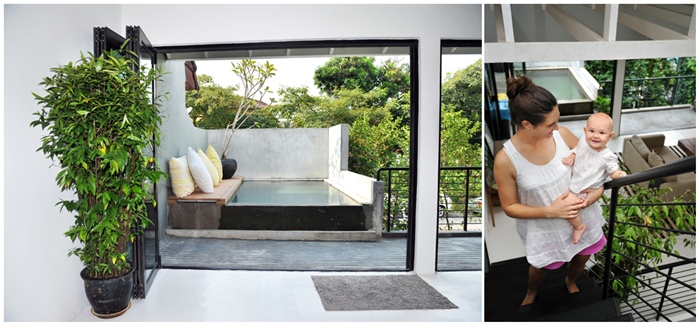 There's just so much polite conversation one can have before I can't help broaching the subject of cost and value-add.
Luckily, Heneberry is candid with his costs. "The ballpark figure would be about RM600K-plus, including renovation costs, fittings and furnishings," says Heneberry. For the base house, similar properties in a basic condition would cost about RM1.15mil to RM1.2mil, although prices can also rise up to RM1.4mil.
While normally renovated houses would sell for about RM1.9mil, the two can sell the homes they have renovated at about RM2.4mil. They in fact sold one house in Jalan Terasek, Bangsar, for such a price.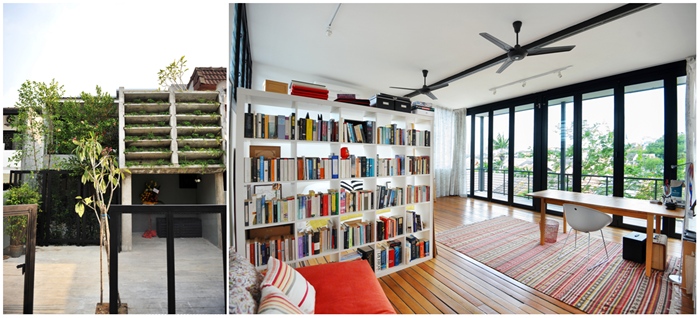 "Unrenovated, rental for such houses would be about RM2,000 per month," adds Heneberry. "If you do a normal renovation, you get about RM3,500 per month. With our renovation, you can get RM8,000 per month! The teamwork of design and market access brings a premium of more than 20% to the properties and about 100% increase in rental."
When I mention the word "flipping", Heneberry quickly objects to it. "We don't 'flip' the houses. Flipping generally implies short term ownership where you buy low and sell on a rising market with minimal invested in the property.
"We are 'value adders' as we invest substantial amounts into the property and can typically hold them for almost two years… Six to eight months to complete a transformation and we usually rent for over a year after that. We tend to exit our properties at the highest value on the street. So to prove that value, we tend to have the rent established for about a year."
Expats, who would pay such rentals, are perceived to prefer cocooned gated and guarded condos or developments however, right?
"Condo and gated facilities can be excellent but can also be bland," suggests Heneberry. "Some gated developments are incredibly expensive or detached from the local community. Couples who have already had some experience living in Asia or which are a partnership of Asian and expat, tend to like the upscale design but tucked into a community setting. The new age of younger expats also like to be more integrated into the community, and to be walking distance from cafes and shops."
And how about the current market that many consider to be slowing down these days? Is it still a good time for for this business? "For 'flippers' I think it is probably not a great time to buy as the future is a little unpredictable," reckons Heneberry. "For long term investors and 'value adders' (such as us) there is still value in the market as the prime locations will only get more scarce and therefore more expensive in due course."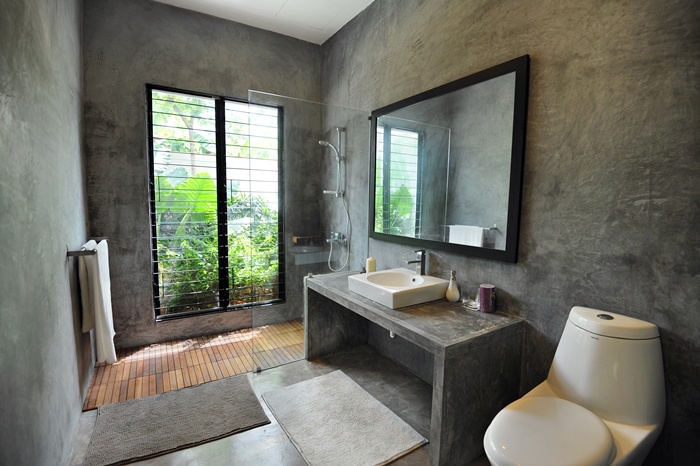 Follow us on Facebook or register for our weekly e-newsletter to keep updated.
Source and Written by: Property Lifestyle
---
"ExpatGo welcomes and encourages comments, input, and divergent opinions. However, we kindly request that you use suitable language in your comments, and refrain from any sort of personal attack, hate speech, or disparaging rhetoric. Comments not in line with this are subject to removal from the site. "
Comments