The creative process takes many forms, and to some, it just comes naturally. Vatsala Devi met an award-winning Malaysian photographer whose talent for capturing people in his photos is a natural extension of his own humble personality and people skills. Here are eight photographs from Nick Ng.
1.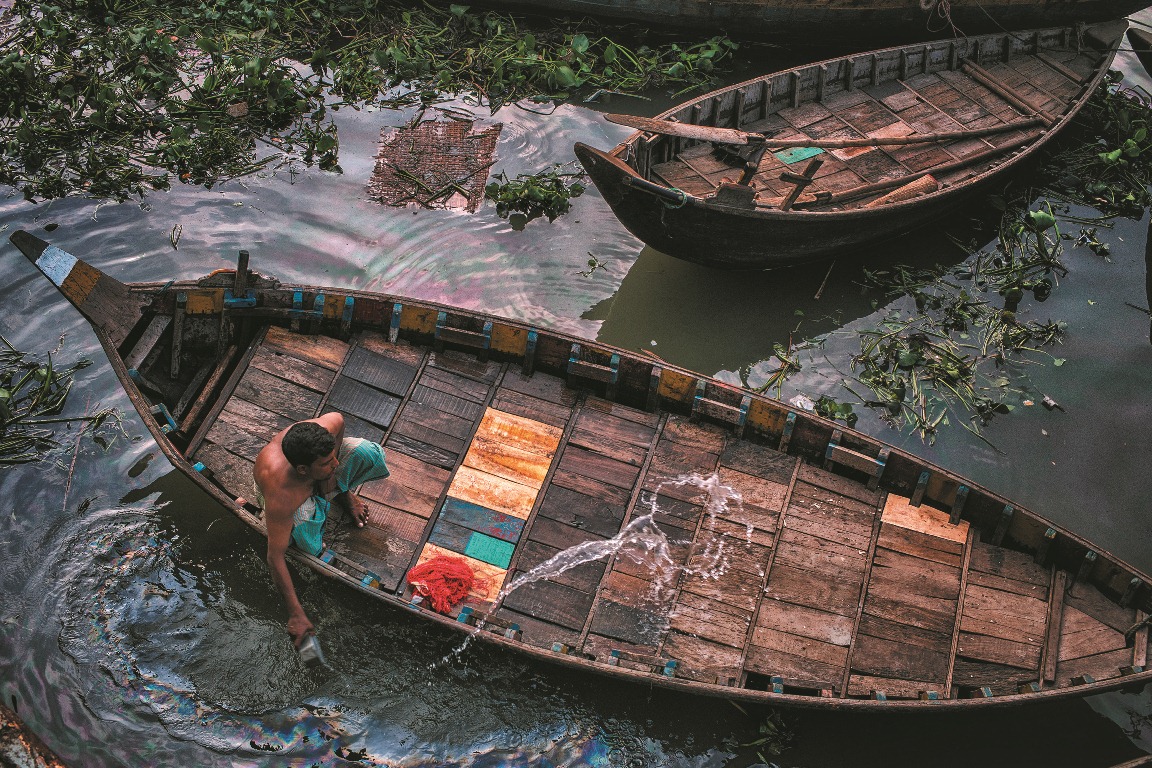 2. Forgotten Faces
3. Forgotten Faces
4. Joy
5. The Saree Man
6.
7. Early Dawn
8. Thaipusam
About the Photographer
Taking great photos of people is not always an easy task. But for some photographers, it seems to come more naturally than it does for others. That's definitely the case with photographer Nick Ng Yeow Kee, a talented man who has a string of awards to his name, none greater than a worldwide honour he received just this year. Those accolades alone easily could have been a reason for me to anticipate the interview, but I was also keen to meet Nick after arranging the interview over the phone. He's an award-winning photographer, sure, but he's also one who won me over with his modesty, politeness, and respect for a person whom he had never met before. I personally thought these self-effacing qualities may have contributed to his great ability to photograph people, and in turn to his winning the Sony World Photography Awards. As the interview progressed, I became sure of it.
Nick Ng Yeow Kee, 46, is one of the two Malaysian photographers named as category winners in the 2015 Sony World Photography Awards (WPA), the world's biggest photography competition. Being crowned the champion in the Low Light category under the Open Competition was an extraordinary accomplishment indeed: Nick's winning image was selected from over 86,000 entries from around the world. And yet, despite this – as well as serving as the Chapter Organizer of The Malaysia Chapter of The Royal Photographic Society of Great Britain – he is not even a professional photographer. An oral implantologist by day, Nick's passion for photography took shape largely by chance.
"I got swept up by the fascinating world of photography by accident nine years ago," he explained, "after coming from a dental implantology course in Boston, USA. I needed a camera for work, so I sought my friend's help to get me a suitable camera. You must remember that this was back in 2006, when digital cameras were still in their infancy in Malaysia. I got the Canon 20D which set me back by RM5,000 and after a good year or two of collecting dust, I finally decided to put the camera to good use. That is how my passion for Nick Ng photography was kindled."
Childhood Memories
Having a conversation with Nick and getting him to open up about his younger days and his then-new found passion in photography was effortless, as he has a gregarious disposition that put me right at ease. Having grown up along the famous Macalister Road in Penang, Nick recalled his younger days with such zeal that before long, I was totally drawn into his tale and what an enchanting past it was.
"My grandparents were from China and they migrated to Malaya when they were married and made Penang their home," Nick recounted. "My grandfather, a goldsmith, came to Penang first and plied his trade for a while before my grandmother joined him. My grandparents had 11 children, and although they weren't rich, they made the best of what was available to them and that was fulfilling to them."Turning a little pensive, Nick explained that his parents' divorce when he was very young resulted in him being raised by his grandparents, uncles, and aunties. "Looking back, it wasn't an easy decision for my mother to make at that time, but fresh from the divorce, and as a single mum, she needed a fresh start and to make a living, so she decided to head to KL and I was left in my grandparents' care."
Nick went on, "I attended the Pykett Primary School – a school named after Methodist missionary G.F. Pykett, who was highly instrumental in the growth of education in Penang – and went on to complete my secondary education at the Methodist Boys' School." After growing up in Penang, Nick travelled to Kuala Lumpur in 1989, having been offered a place in University of Malaya to pursue a course in dentistry. Following his graduation, now armed with a bachelor's degree in dental surgery, Nick served in a government hospital before going off to start his own practice in Kuala Lumpur in 1995.
A Chance Beginning
After over a decade of working as an oral implantologist, Nick bought that first camera in 2006 to record his implant cases. And while he may have bought his camera solely for the purpose of his dental centre, fate seemed to have other ideas. However, Nick's talents as a photographer were slow to be revealed, and it would take him two years before putting the camera to any creative use. But once he did, the appeal – as well as his nascent abilities – became clear to him.
"I know and have heard of many photographers who admit to being intrigued to photography from a very young age and that was what led them to pursue photography as a career," he told me. "But for me, I cannot identify that 'light bulb moment' or any specific instance where I felt the calling. My interest in photography was probably ignited when I returned from a trip to Mongolia. My friends and I set off with cameras in hand and funnily enough, I came back with nothing to show but one meager image," Nick said with a laugh. "During that trip, I didn't know what to shoot or how to take a photo that would grab the attention of my audience, so I came back from that trip almost emptyhanded, yet intrigued. And rather than feeling dejected, I was inspired to learn what photography had to offer."
Nick, a self-taught photographer, credits the Internet for helping him learn the tricks of the trade. "I took almost a year to learn the necessary skills, such as lighting and composition, and also learned just by looking at the tremendous number of images that are readily available at the click of a mouse," he explained. "I drew inspiration from the many great photographs that were available out there and tried to replicate them in my own style. At the end of the day, I strongly believe that to become good in something, the old adage 'practice makes perfect' applies.The technical aspects of a camera can be mastered, but the art of taking pictures is really the attribute that sets one photographer apart from another."
Nurturing a Talent
Motivated by his research and armed with his trusted camera, Nick set off on a journey where he discovered the depth and ability of photographs to convey more than just pretty images. "The great thing about photography is that the beauty lies in the eyes of the beholder, and we are each entitled to our own interpretation of what we see. For me, a powerful image is one that shows the emotional attachment between the photographer and the people being photographed," explained Nick. While speaking about powerful images, I took the opportunity to ask Nick about the winning image (above) responsible for bringing him to the attention of both local and international audiences.
"The Sony WPA is the biggest contemporary photography competition, and it allows everyone – professional, amateur, and youth alike – to participate. The golden rule of the Sony WPA is that the images submitted must be taken within the year of the competition, and I believe that augurs well, as it sort of forces you to get a new portfolio of photographs. I entered in 2014, and was shortlisted in the Smile Category. That spurred me to have another go this year," Nick explained.
A Pivotal Moment
"So in October 2014, I decided to explore Dhaka on a solo sojourn, and after five days there, Kolkata seemed the next obvious choice, as it is only an hour away by flight," Nick told me. "The winning image was shot on a morning walkabout in Old Kolkata. Seeing some locals going into an abandoned shop house stirred my curiosity, and I knew I had to go in. Once inside, this amazing sight of the locals getting ready for the day, washing themselves and their clothes, greeted me. After mingling for a few minutes, they got used to my presence, and that was when I captured the shot."
The only source of light, according to Nick, was from the opening of the courtyard above, and although people washing up is a daily occurrence, scenes like this are not normally what are seen. "I found out later from my guide that these people are actually local migrants from the outskirts of India, and abandoned shophouses like these are sometimes converted into a public wash place. It just reminds me, and hopefully others, how lucky we are, without even realizing it," Nick reflected. "I guess for my part, I was lucky that within three to five shots, the action and composition was exactly as I had imagined, and even at that moment, I knew this would be the picture I would be submitting for the Sony WPA."
Citing people photography as his forte, Nick explained how his photography gives him a glimpse of his subjects' lives. "Photography to me is an extension of my inner childhood," he said. "Memories of my old grandfather who worked as a goldsmith in a dimly lit area are what inspired me to explore the hidden gems during my travels. My passion lies in the people I meet and their surrounding environment that moulds their cultures and traditions be it in modern cities or remote villages."
Winning the Low Light category in the Sony WPA competition using his favourite subject – people – has only encouraged Nick to travel to other parts of the world and capture them in their element. "I don't mean it arrogantly, but I don't find it difficult to take pictures of people, as I feel the key tounlocking a person is simple: respect them as fellow human beings, instead of treating them merely as subjects for my lens. I treat them as real people first and foremost," he said in the most humbling manner. "The photographs just follow naturally."
Source: Senses of Malaysia May-June 2015



" ExpatGo welcomes and encourages comments, input, and divergent opinions. However, we kindly request that you use suitable language in your comments, and refrain from any sort of personal attack, hate speech, or disparaging rhetoric. Comments not in line with this are subject to removal from the site. "



Comments