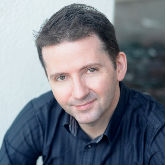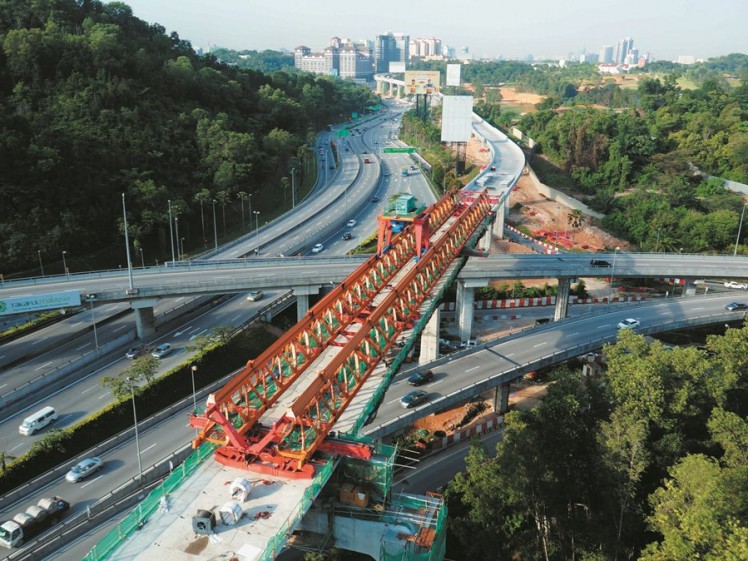 MRT construction at the Kiara Interchange
Making major improvements to the Malaysian capital's public transportation systems is a key component of the government's various transformation plans. Editor Chad Merchant takes an in-depth look at some of the impressive initiatives being undertaken in Greater Kuala Lumpur to make residents' daily commute less of a headache.
In Malaysia, Kuala Lumpur is an unrivalled heavyweight. The sprawling metropolitan area of the capital is home to roughly 25% of the country's entire population and contributes nearly half of Malaysia's gross national income. To put this in perspective, if New York – America's largest city – had numbers of similar proportions, it would have a population of nearly 80 million and contribute over eight trillion dollars to the American GNI. Truly, Greater KL is the economic engine of Malaysia, and supports a significant percentage of its population.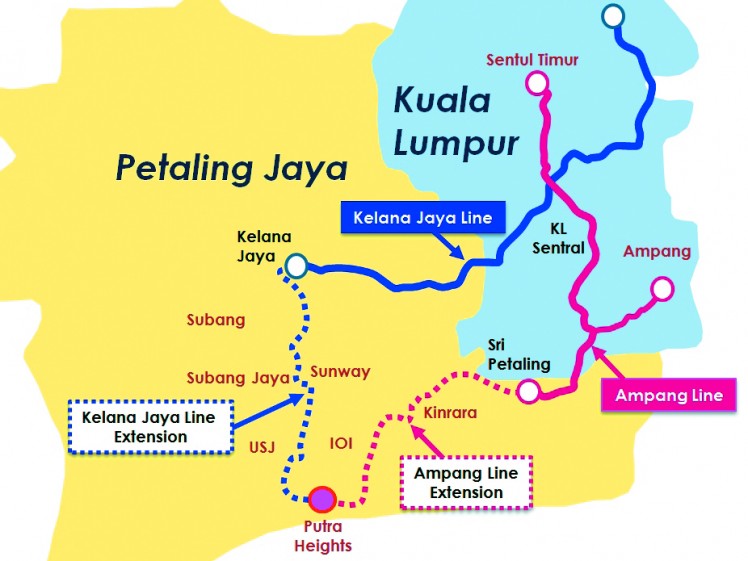 New LRT Line Extensions
Of course, with so many people conducting so much business, getting from Point A to Point B is a crucial consideration, and transportation in Greater KL has long been a consistent sore spot for locals and resident expats alike. A baffling network of roads and highways and a public transportation system that has struggled to keep pace with the demands of a growing population have contributed mightily to a high degree of frustration in moving around the city, particularly at peak times.
A Necessary Improvement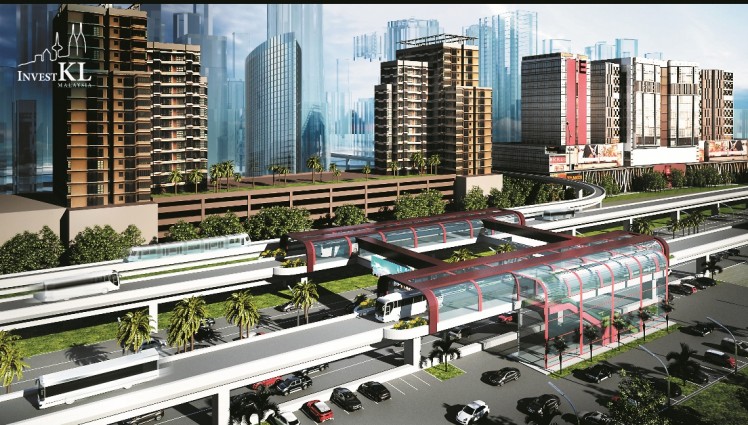 A contemporary, re-imagined KL
Fortunately, a number of ambitious initiatives are currently underway to address and even alleviate some of these issues. Improving urban public transport (UPT) is one of the seven critical National Key Results Areas (NKRA) under the Government Transformation Programme (GTP). Additionally, Greater KL/Klang Valley – owing to its disproportionally crucial importance to the Malaysian economy – is also one of the 12 National Key Economic Areas (NKEA), indeed its only geographic one; the others are all important industries within Malaysia. Under the UPT NKRA, building an efficient, effective public transportation system is its main priority, and is currently being carried out through a number of highly visible initiatives to enhance connectivity and accessibility for the people of Greater KL.
We recently talked with UPT NKRA and Greater KL/Klang Valley NKEA Director Mohd Azharuddin Mat Sah on some of the points of interest surrounding this mammoth effort to improve transportation infrastructure and encourage greater use of public transit.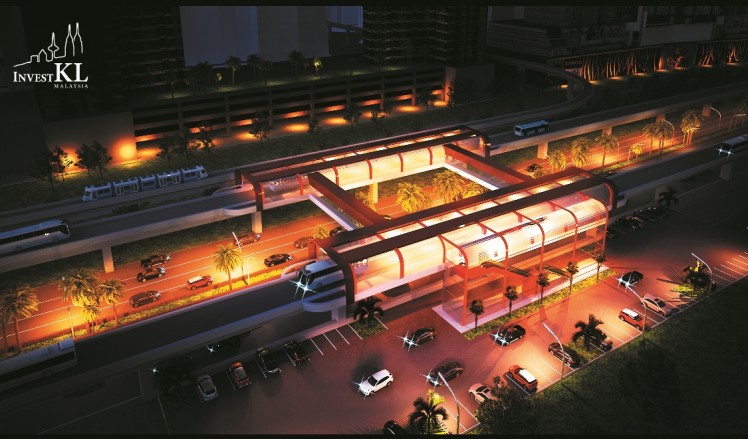 A modern city's transformation starts with a vision
Building a better system is a means to an end, that end being to increase confidence in and, in tandem, significantly increasing the use of public transportation by Greater KL residents. Azharuddin mentioned that the total modal share of the use of public transport – which includes bus service and rail services such as LRT and KTM Komuter – was only 12% in 2010, but had increased to 21% by the end of 2013, a near-100% increase. But that's still not nearly good enough, he explained.
"The ridership numbers are encouraging and besides the MRT and LRT extension, there are measures [being] taken to increase ridership via other modes of transportation and measures to help support the system," Azharuddin said.
He went on to add that by 2020, the government plans to achieve some 40% ridership on public transport. He said Greater KL is aiming to emulate cities with large public transport ridership, such as Hong Kong (70%), London (over 50%), and Singapore (60%).
Riding the Rails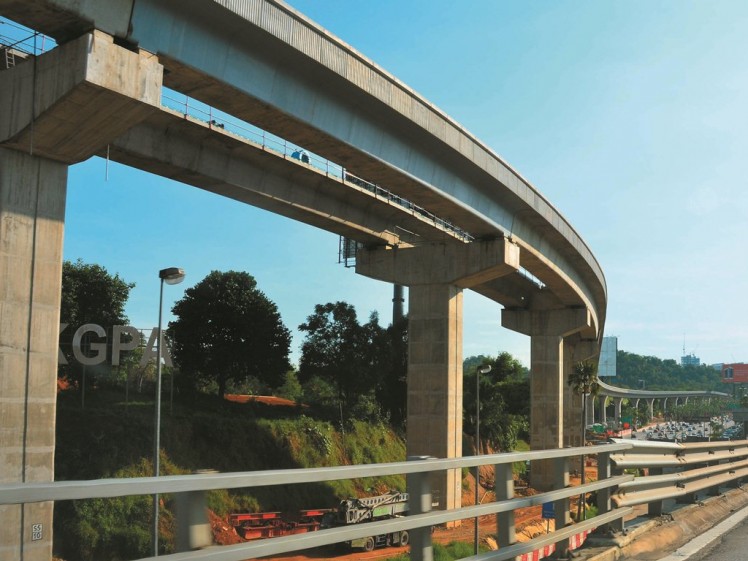 Elevated MRT track near Section 16
Rail service in Greater KL is currently handled by two KTM Komuter lines, a pair of light rail transit (LRT) lines (Ampang and Kelana Jaya), and the KL Monorail. The first new mass rapid transit (MRT) line is under construction and a second is in the planning stages; these new lines will further bolster the rail system.
Improvements have been made for all of these rail components, and the refinements will continue. For the KTM Komuter trains, as of 2015, waiting times have been reduced from 30-45 minutes to 15 minutes during peak morning times. Comfort has been improved on the trains, and facilities have been upgraded with lifts, CCTV, improved accessibility for the mobility-impaired, additional parking bays, and more.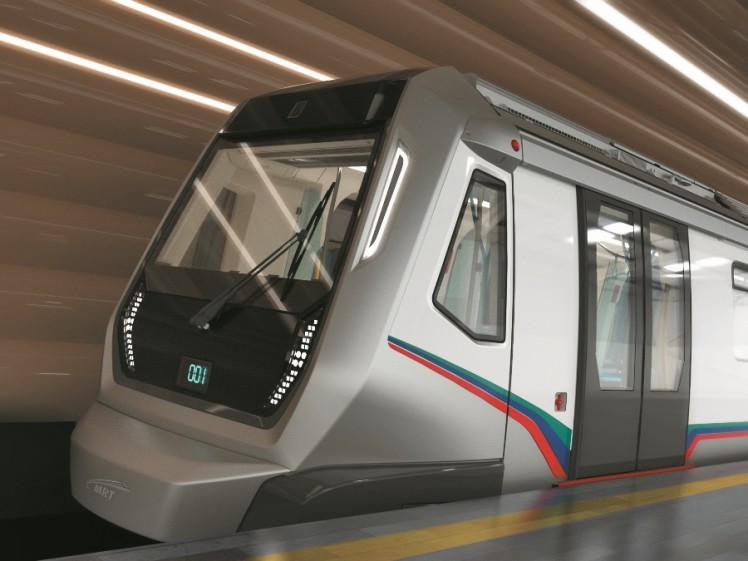 The new MRT train exterior
On the popular, but seriously strained KL Monorail line, the full integration of the KL Sentral hub is now complete and in 2015, the line's rolling stock received a major upgrade and expansion. Upgrades in 2015 saw two-car trains replaced with shiny new four-car trains, which doubled the capacity and daily ridership from 72,000 to a projected 140,000.
This aimed to reduce the waiting time for trains to only five minutes during peak hours and 7-10 minutes during off-peak times. Monorail stations are also recieved a facelift, with new displays, improved boarding platforms, and updated signage.
The construction of the new MRT line between Sungai Buloh and Kajang plus two major extensions of existing LRT lines are due for July 2016. On the Ampang LRT Line, 17.7km of new elevated track is being constructed, with 12 stations, and a 13th which will be integrated with the Kelana Jaya LRT Line at Putra Heights.
This extension will serve the densely populated areas in and around Sri Petaling, Bandar Kinrara, Puchong, and Putra Heights. Seven new multi-storey Park n Ride facilities will be constructed as part of the extension project, as well. The project aims to deliver a daily ridership of 247,000.
Over on the Kelana Jaya LRT Line extension, which will aim to bring LRT transit to the traffic plagued Subang Jaya and USJ areas, the 17km of new track will add 12 more stations to the line, and join up with the Ampang Line in Putra Heights. Five multi-storey carparks will be added, as well, with total daily ridership projected to be 292,000.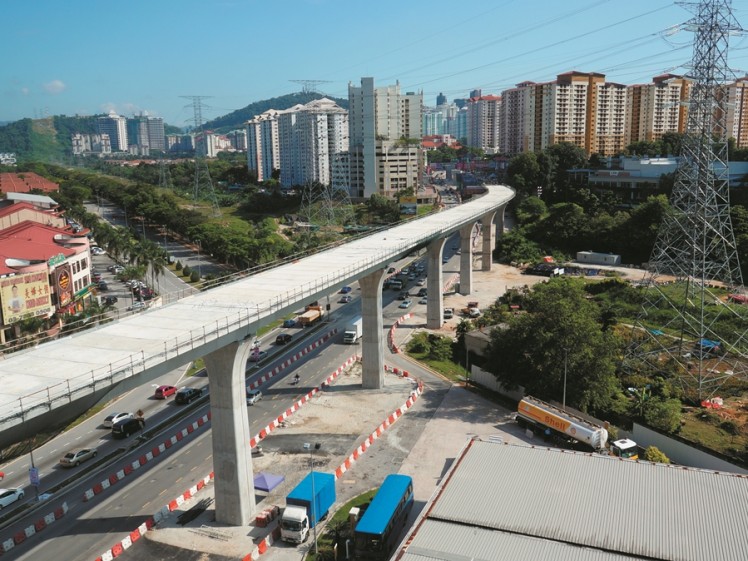 MRT construction at Persiaran Surian
In addition to these two LRT line extensions, the construction of an entirely new line, the 51-km Sungai Buloh-Kajang (SBK) MRT Line, will bring 31 new stations online and deliver much-needed mass transit to critically under served high-population areas such as Kota Damansara, PJ Section 16, Cheras, and Kajang.
The new line will boast 24 elevated stations (41.5km of the line's length), along with seven underground stations along 9.5km of track through the congested city centre area, while 15 new Park n Ride facilities will be strategically positioned at some of the line's key stations.
This new MRT line will be a welcome addition to the city's transportation system, and we spoke with En Mahmood Abdul Razak, the Director of Strategic Communications and Public Relations at MRT Corp, the company responsible for overseeing the massive project, about their views on the progress of the construction.
"The progress is moving along well, and according to schedule," he said. "We are pleased with the pace and the progress, and our hope is that this momentum can be maintained."
En Mahmood also shared the latest data with us, noting that to date, 80 of 86 contracts have been awarded on the project. As of the end of February, the overall progress stands at 60.63% – how's that for precise? – with the elevated construction at 51.43% and the underground construction at 75.35%.
On the point of underground efforts, the tunnelling works at Bukit Bintang were completed in October 2014, and this was a milestone for the project owing to the complexity and difficulty of excavation in this area, the effort made more challenging by the presence of the Kuala Lumpur Limestone Formation.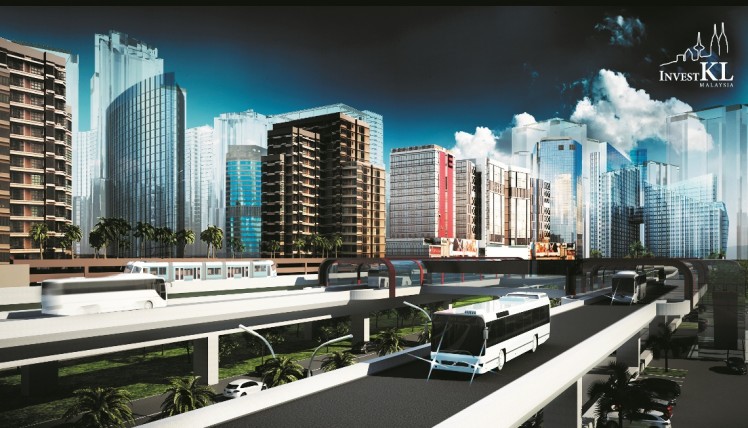 En Mahmood told us that, given the progress to date, MRT Corp remains confident that Phase 1 of the SBK line's service – from Sungai Buloh Station to Semantan Station (near Damansara Heights) – will commence by December 2016, and that the entire line will be fully in service by July 2017.
A second entirely new MRT line, which will run from Sungai Buloh to Kepong, Sentul, the KLCC area, and Serdang, then on to Putrajaya, is the next major project for MRT Corp. The alignment of this line is expected to be proposed to the public in the second quarter of this year. Once finalised, the length of the alignment can be determined and the tender process can subsequently begin.
Building a Better Bus System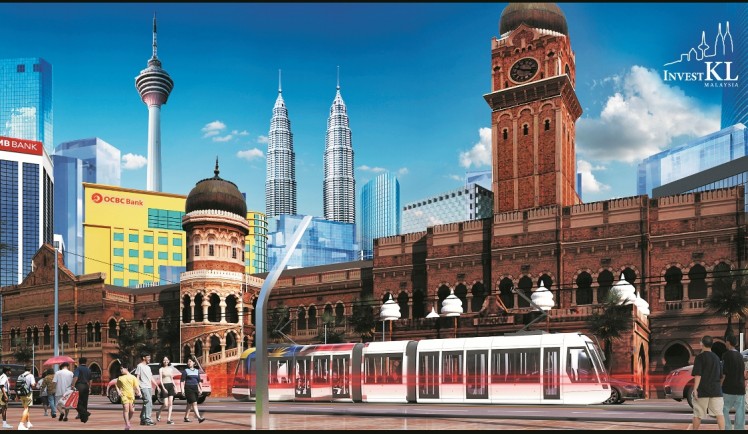 The push for increased usage of public transportation doesn't end with the rails, however. Much is being done for Greater KL's fleet of buses, too. Since 2010, an astonishing 1,544 bus stops have either been refurbished or built new. Dedicated bus lanes are in the works, as well, with a 34-km Bus Rapid Transit (BRT) route planned from Pasar Seni in KL to Klang (and return). The BRT route would boast 25 stops and bring high-volume public transit to a much-needed route, with a projected daily ridership of some 600,000.
"Cars can't enter this BRT lane," Azharuddin explained. "This route has a high travel demand, and we want to ease the congestion on the Federal Highway. There will still be three car lanes on both the highway sides, but [the BRT lanes] will take the median of the road and maybe we can narrow some of the existing lanes."
He continued, "We need rail and we also need buses, as they are a much cheaper form of public transportation. Buses, when they are convenient and safe, the public will commute on them." Azharuddin went on to cite similar bus projects launched with successful results in congested cities such as Guangzhou, China, and Bogotá, Colombia.
Taxi Developments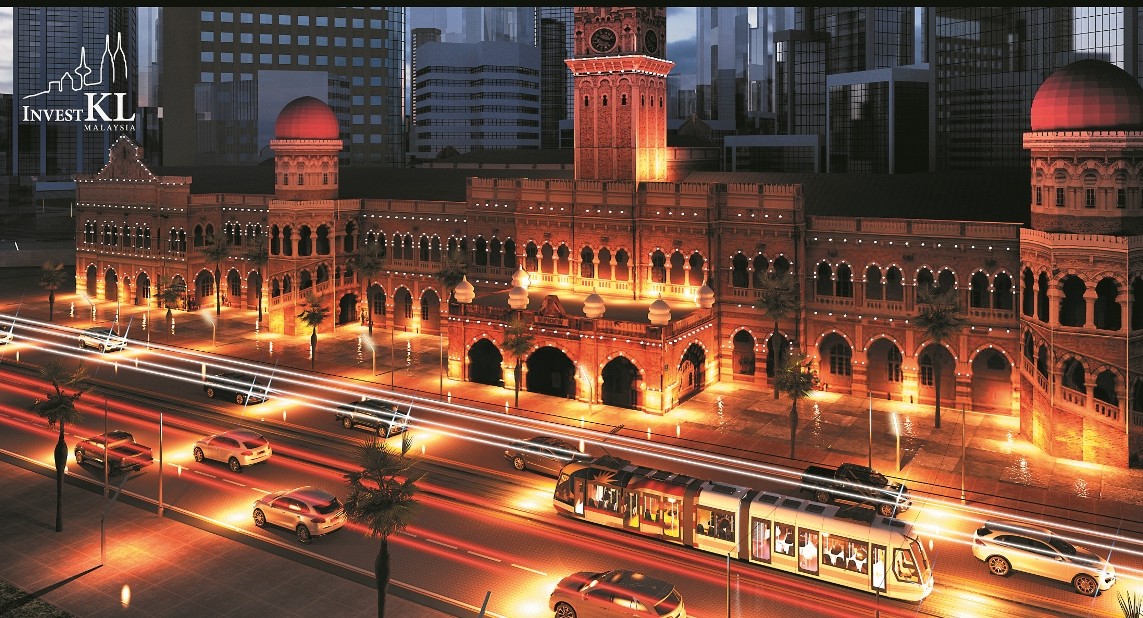 With the efforts of the government to improve taxi service, along with the rise of taxi-hailing apps such as MyTeksi, it's safe to say the taxi experience in KL has improved in the last year or two. (Some, of course, might argue that it had nowhere to go but up.) Deficiencies in the system – including a lack of performance monitoring, a lack of enforcement and penalties when required, and a poor mechanism for public feedback – have been identified and steps have been taken to address and correct them.
A Centralised Taxi Service System initiative is ongoing to enhance enforcement via an onboard unit in taxis for performance management and tracking, as well as the establishment of an integrated central call centre to optimize driver deployment. About two years ago, the Teksi 1Malaysia programme (TEKS1M) was launched – a new initiative setting improved criteria for better taxi service – including vehicle standards (and age limits), driver training, measurement of passenger satisfaction, enhanced regulation of fares and service standards, and increased enforcement. These efforts, along with the benefits the new range of taxi-hailing apps bring to the table, are hopefully making Malaysia's dreadful taxi reputation a thing of the past.
A Daunting Task, A Mammoth Effort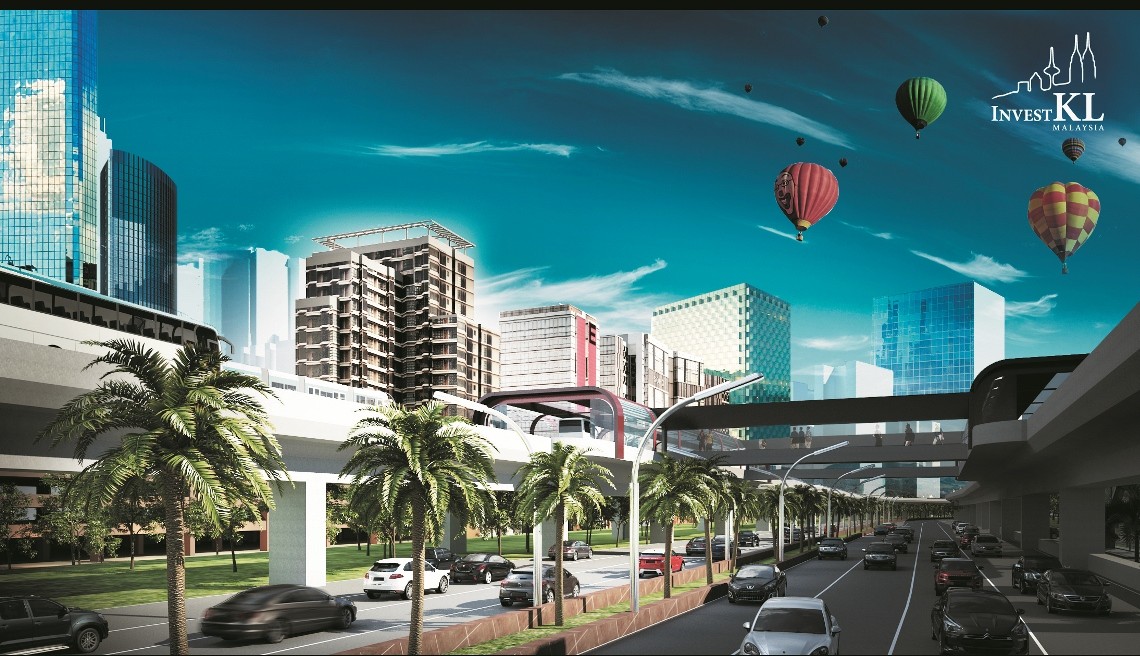 Not all of these initiatives will directly affect expats, of course, or indeed even all local residents. It's safe to say, for example, that many expats probably don't utilise the bus service in KL, though some almost certainly ride the rails. However, the broader aim of these projects under the UPT NKRA is to increase confidence in and overall usage of public transit and, subsequently, ease traffic congestion on the city's roads. In that regard, even people who don't ride the trains, take the buses, or use taxis will be positively affected. If these new expansions and extensions of the rail and bus network are as effective as anticipated, residents of Greater KL – both those who regularly use public transit and those who don't – will experience a welcome transformation.
The last handful of years have already seen a significant improvement in Greater KL's public transportation systems, all catalysed by the GTP and the UPT NKRA.
For those who utilise the system regularly, these improvements are already making an impact. The roll-out of improvements that will come in the next two years, however, are likely to be nothing short of game-changing. Some may say these projects would have been better started a decade ago (and it's hard to argue), but KL's dramatic growth and ascent over the last generation has been breathtaking, and transportation systems have simply struggled to keep up with the city's breakneck pace.
Now, however, residents have real reasons to applaud, and those reasons are taking shape right before our eyes. The collective effort of so many people, and the sheer will of the Malaysian government to push this through and make it happen, has made the dream of a comprehensive, effective, and multi-modal public transportation system a tantalisingly close reality for those of us living in and around Greater Kuala Lumpur.
We would like to extend sincere thanks to our friends at PEMANDU, InvestKL, MRT Corp, Prasarana, and DBKL for their invaluable assistance with this month's KL-focused articles.
Read This: The River Of Life Project in Kuala Lumpur
---
"ExpatGo welcomes and encourages comments, input, and divergent opinions. However, we kindly request that you use suitable language in your comments, and refrain from any sort of personal attack, hate speech, or disparaging rhetoric. Comments not in line with this are subject to removal from the site. "
Comments