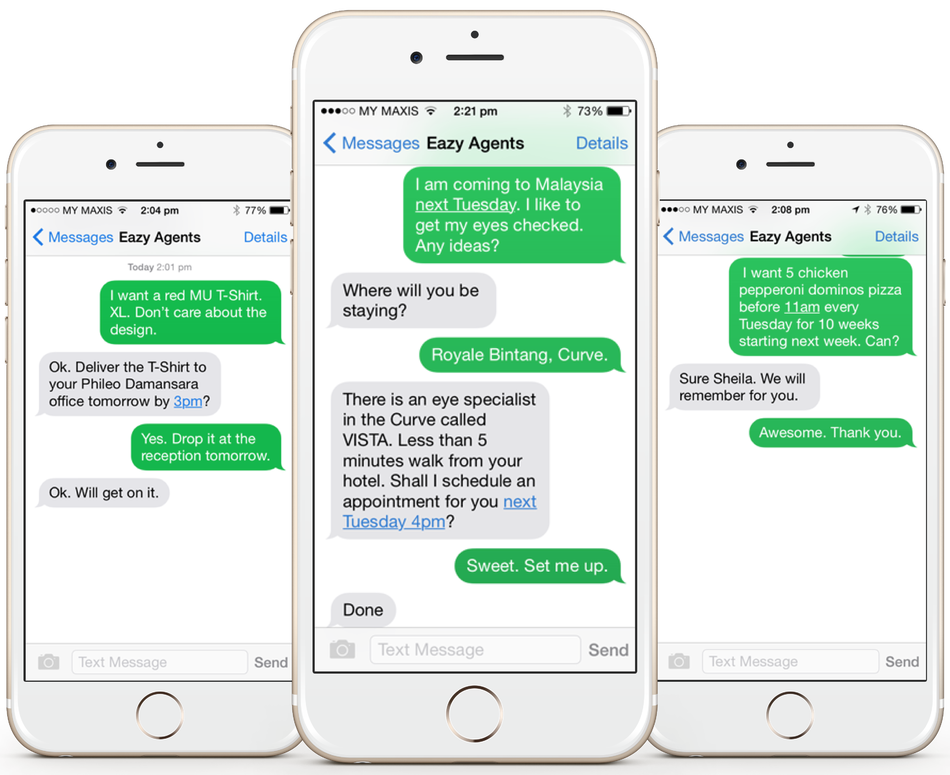 This post is brought to you by Eazy Agents.
Do you ever run out of time and energy only to realise there's something you absolutely need? But the thought of hiking across town to get it or calling a dozen suppliers only to be told they don't have it in stock is just too much hassle. Sometimes it's even more difficult as you're not entirely sure where to go for a specific product or service.
Now there's a company in KL addressing this problem, and it's called Eazy Agents. They take the stress out of sourcing and delivering those things that you really need but haven't the time to search or get. They have professional agents on standby to handle all your questions. Each request is handled with a personal touch, like you're chatting with a dependable friend. Furthermore, you won't be charged anything, unless you've specifically agreed to it in advance.
Here are 8 ways this SMS service can help you in KL.
1. A Virtual Guide for KL
You can take comfort in knowing that you now have access to a virtual guide in KL. If you need information, suggestions, insights or help purchasing a product or service, just send Eazy Agents an SMS. If you have a question about local customs or popular foods, just ask. If you need a car and driver for visiting friends and family, it can happen. Where to go, what to do, and how to do it. It's all just an SMS away.
2. A Virtual Assistant for Your Guests in KL
When you have friends or family visiting, give them the Eazy Agents' number. Many times your guests won't have internet access, so Eazy Agents is a great resource to help them maximize their experience and give you peace of mind. For example, Eazy Agents could arrange for a guide to show them the city, give suggestions for temple hopping, or recommend a place to buy a souvenir. There's no reason for your guests to get lost or to struggle finding that restaurant where you're meeting for dinner. Fuss free and convenient.
3. Suggesting and Delivering Food
There's such a wonderful and diverse selection of food in Malaysia, why not ask for a suggestion? Discover something new or find a cuisine of your choice. If you like the sound of what they recommend, they can arrange delivery of the food directly to your home or make a reservation at the restaurant on your behalf.
4. Helping with Fun Get-Togethers
Everyone enjoys a party. Whether it's big or small, it's nice to have a helping hand. Perhaps you need drinks, food, chairs, utensils, glasses, music…or just someone to clean up the mess the following day. Don't stress out when organizing get-togethers. Just focus on having fun and SMS Eazy Agents to get what you need.
5. Suggesting and Coordinating Activities
Many of us love to get out of the house. You should make the most of this, and do something fun. Organize an activity with your friends or family; be it a concert, the theatre, movies, or sports, to name a few. Just SMS Easy Agents to find out what's happening this weekend and discuss what'd you like to plan. They can make suggestions, make reservations, and even purchase the tickets on your behalf. If you're waiting for tickets to be released, just let them know and they'll get it sorted when the time comes.
Even better, make a full night of it. Have Eazy Agents help organize everything from picking you up to a making restaurant reservations to buying tickets for a show and making sure you all get safely home.
6. Remembering and Delivering Your Favourite Things
You can depend on Eazy Agents like a reliable friend. There's likely a few things you particularly enjoy. For example, maybe you have a favourite author or TV series, Eazy Agents can let you know once the next book is released or the next season starts. If you have a favourite pizza to enjoy with that show or book, you can count on Eazy Agents to remember it and arrange delivery. Just send an SMS.
7. Reminding You of Special Dates Throughout the Year
Don't disappoint your family and friends by forgetting those special dates. Tell Eazy Agents about the important dates in your calender, and they'll send you a reminder. If you want, they could even suggest an activity or gift. It might be your anniversary for example. Eazy Agents will not only remind you about the upcoming day but could recommend and book a memorable activity for you. Never forget the birthdays, anniversaries, and special dates in your life again.
8. Whatever You Want!
In fact, you can ask Eazy Agents to get anything you want (as long as it's reasonable and legal). If it's not available in KL yet, they can even keep an eye (or an ear) out for you and let you know when it is. It's particularly useful if you need something delivered on a regular basis but don't want to have to remember to order it every week or every day.
In a way, the service offers the convenience of having your own personal butler or concierge on call. So whether you're a business, or a visitor, or an expat, or even someone who's lived in KL all your life, give Eazy Agents a try. Just SMS +6012 436 3031.

Contact Eazy Agents: Just SMS +6012 436 3031
Eazy Agents is the twenty-first century version of a butler. One of their agents will get back to you with the cost and the time it will take to get it to you, and you take it from there. It's free to chat to agents. Any charges (for goods and services) are agreed in advance between you and the agent, so you know exactly where you stand.
If you have any questions, feel free to post in the comments below.



" ExpatGo welcomes and encourages comments, input, and divergent opinions. However, we kindly request that you use suitable language in your comments, and refrain from any sort of personal attack, hate speech, or disparaging rhetoric. Comments not in line with this are subject to removal from the site. "



Comments