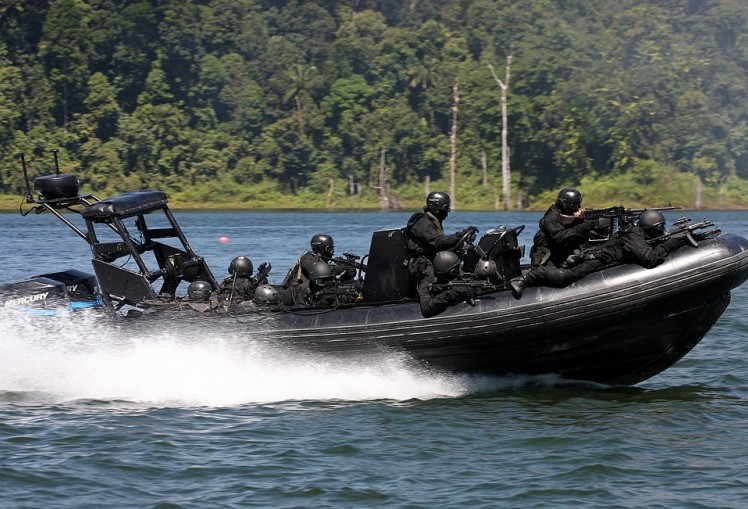 Photo credit: Azrizainul / Foter / CC BY-SA
Other than wild predatory animals, ever wondered what danger may or used to lurk in the Malaysian jungle?
Well, communist threat used to be one. This was during the Communist Insurgency War from 1968 to 1989, when the Malayan Communist Party (MCP) and the Malaysian Army were at war in the Malaysian jungle.
The MCP army was feared for its guerilla-style combat. Their eventual retreat to the Malaysia-Thailand border towards the end of the war catapulted one of the Malaysian Armies Special Forces, Grup Gerak Khas or GGK, to gain worldwide recognition. Till this day, GGK is highly regarded for its expertise in jungle warfare.
World-Renowned Jungle Warfare
Directly translated as the 'Special Service Group', the GGK is a regiment that is part of the Malaysian Army. The group is in charge of conducting special operation missions, including direct action, unconventional warfare, sabotage, counter-terrorism, and intelligence gathering.
Established in 1965 by the Ministry of Defense while Malaysia was under the rule of the late Tunku Abdul Rahman (Malaysia' first Prime Minister), the elite unit was formed as a preparation for defense against Indonesia's 'Crush Malaysia' campaign.
Since then, GGK has participated in many high-stake, regional and international missions involving guerilla warfare, escape and evasion, subversion, asymmetric warfare, and, of course, jungle warfare.
GGK's Selection and Training Process
GGK commandos are highly effective in jungle combat, thanks to the unit's highly selective training process. Commandos of GGK train with foreign military units such as Special Air Service (SAS) from the U.K. and Australia, Kopassus from Indonesia, the Special Service Group from Pakistan, and the U.S.A.'s Delta Force.
During the year GGK was established, volunteers from the Malaysian Army and Navy were 'challenged' to tackle the arduous selection process to become GGK commandos. Out of the initial 1,600 army men who applied, only 300 were selected for further assessment, 50 underwent the selection camp, and only 12 men were finally chosen as GGK's pioneering commandos. The selection was harsh. Rightfully so.
A Documentary on the GGK
Broadcasted on the History Channel, "Special Forces: Malaysia GGK" is a documentary that exposes GGK's selection process. The narrator described the selection as "13 weeks of hell." The documentary also describes a warning sign hung at the training camp's entrance gate that cautions unsuspecting volunteers: "Datangmu tidak diundang, jika ragu diharap pulang.": "You have arrived uninvited, if in doubt, go home."
The earlier phases of the selection sendS a clear message: physical incompetence will not be tolerated. The selection process begins with 36 hours of non-stop physical torture that includes a seven-mile run while carrying a 40 lbs load at midday, and a three-day continuous march that covers a distance of 125 miles. That's five back-to-back marathons, without any rest in between. This starts the weeding out process. Some quit, and those who have to be hospitalized and those not performing up to the standard set are sent home.
It is the next phase, however, that transforms common army men into effective jungle fighters. The aspiring commandos are abandoned deep into the Malaysian jungle and swampland, deemed to be the harshest place imaginable. While facing threats of starvation, tropical diseases, and predatory animals, they are left to survive for two weeks in a place that is as uninhabitable as it gets.
Surviving means hunting for their own food, such as snails and monitor lizards. Although such proteins are not to be consumed according to Islamic teaching, they are allowed to in this state of emergency. With scarcely sufficient calories and under extreme fatigue, they need to construct elevated structures to escape the swamp's rising tide.
The selection process goes on for two more phases before it is over. Those who made it through will undergo further training and specialize in airborne, land, and amphibious operations. Rumor has it that some parts of the selection process are not allowed to be documented as they are perceived to be too sadistic to be accepted by the general public. Still, those who endure know what they are fighting for: that coveted Green Beret, signifying its wearer as an esteemed commando of the Malaysian Army. So they persevere.
International Deployments and Missions
GGK commandos' training in jungle warfare also serves as a strong foundation in preparing them for urban combat. To date, GGK commandos have been part of many international deployments and missions.
In 1993, GGK commandos were deployed alongside the elites of the Pakistani Army to rescue trapped U.S. Rangers and Delta Force in Mogadishu, Somalia. The unit lost one of its commandos, but the rescue mission was a success.
In 2006, the unit assisted the Australian Army in Operation Astute, a mission to calm the troubles in Timor Leste.
In 2007, GGK was a part of the UNIFIL's (United Nation Interim Force in Lebanon) peacekeeping mission to pacify hostilities between Israel and Lebanon. To date, GGK has played active roles in many UN peacekeeping and humanitarian aid missions.
In 2013, war hit closer to home. Threat from the Sulu terrorist group forced the GGK to mobilize in Lahad Datu, Sabah, to defend the locals. The unit played a major role in hunting down the terrorist group.
Many GGK commandos have been awarded with titles signifying bravery and gallantry, such as Seri Pahlawan Gagah Perkasa (Grand Knight of Valor) and Panglima Gagah Berani (General of Bravery).
GGK's training camp, also known as 'Home of the Commandos', has moved from Sungai Udang in Malacca to the Iskandar Camp, located 10 miles south of Mersing, Johor. The new camp covers an area of 2,000 acres in which there are 200 buildings, 12.5 mile roads, three bridges, a harbor, landing pads, and parade squares, among other facilities.
Growing stronger as they progress, the GGK commandos shall remain steadfast in their duty to protect not only the Malaysian jungles, but Malaysia and all its residents.
Watch the documentary on the GGK which was aired on the History channel here:
---
"ExpatGo welcomes and encourages comments, input, and divergent opinions. However, we kindly request that you use suitable language in your comments, and refrain from any sort of personal attack, hate speech, or disparaging rhetoric. Comments not in line with this are subject to removal from the site. "
Comments