It takes courage to face what's underneath our layers – emotional layers, that is. Passionate and talented artist Marisa Ng encourages people to see beyond the layers, face their vulnerabilities, and discover their true desires through her latest solo exhibition, 'The Naked Truth.'
1.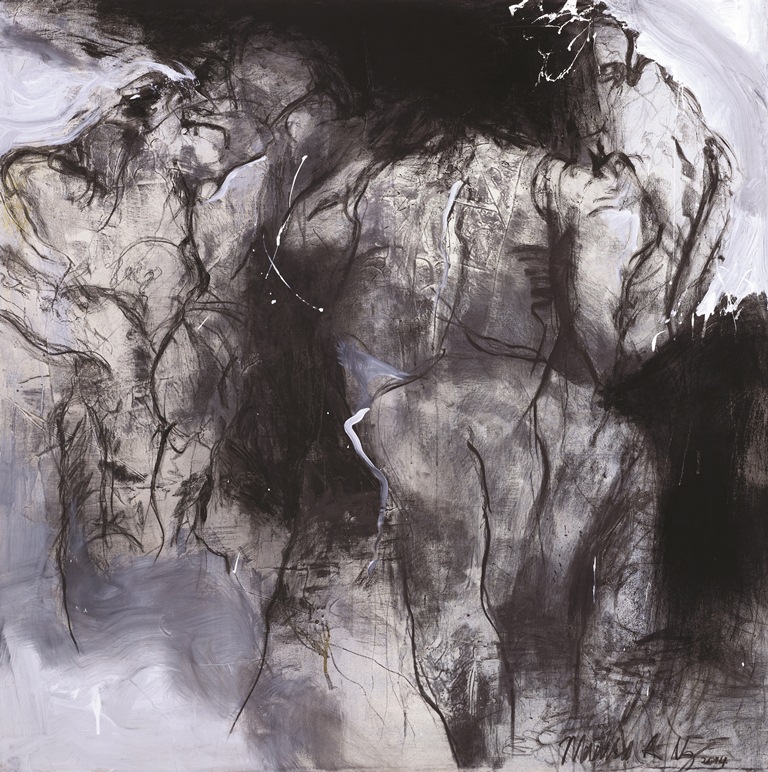 2.
3.
4.
5.
6.
7.
8.
9.
10.
11.
About the Artist
'The Naked Truth' is a collection of 20 paintings, all done using charcoal on acrylic. The paintings, which depict the bare male anatomy, particularly the back, clearly show her expertise in figurative art. Local artist Marisa R. Ng was trained in figurative paintings, and studied art at the National Academy of Arts, Culture & Heritage (ASWARA) in Kuala Lumpur. After a short course on figure drawings, she continued her training in the fine arts under Suzlee Ibrahim and Ismadi Sallehudin, renowned Malaysian abstract artists.
Stripping Away the Layers
I met Marisa at Vineria Italian Restaurant in Bangsar Shopping Centre, where her latest exhibition was being displayed. A soulful and deep person, she came across as someone who is able to see past life's superficialities and is comfortable in her own skin. However, it actually took some soul-searching and time for Marisa to see her own 'naked truth'. Born into a typically staid, follow the- rules sort of family, she was always the odd one out. She never truly conformed to her family's values and tended to chart her own path. However, being the different and dreamy one always made her question and doubt herself. It was a life-changing trip back to a small island off the northeast coast of Peninsular Malaysia called Kapas Island, 15 years after visiting as a teenager, where she finally realized her true calling as an artist. She discovered that the qualities which made her different from mainstream society made her blend in perfectly in the world of art, and she started to embrace that part of herself.
She said, "Here, I have absolute freedom to thrive on those qualities and be true to myself. I found my playground, and in it,myself. Art is advancement as we achieve stages of breakthroughs in our discoveries. After going back to Kapas Island and drawing, I felt I should sharpen my skills, embrace my passion, and make this my career. Previously, I was studying Accountancy. I actually scored top marks, worldwide, on one of my project papers. But I had always felt that art was where my heart truly lay, and that trip opened my eyes and gave me the courage to pursue my dream. Inspired by the very essence of Kapas Island, I found myself starting to paint, and a world of wonders completely unfolded itself to me."
While she has made art her career, it's certainly not all about the money. She wants people to take something from her work. "Powerful art is when a person who is not trained or learned in the arts can view it, and go 'wow'. They can see something, understand it, and 'get it', right away. For 'The Naked Truth', the more people I can reach out to, the better. For example, people who are struggling with their sexuality. Imagine the freedom they would feel if they embrace their naked truth, that they were born this way. I want people to embrace their true selves. The truth may be ugly and painful, but if we don't truly face it, we can't get past that pain. Naturally, people tend to avoid those issues, which is not healthy. By accepting themselves as who they are, instead of trying to mold themselves into what society wants or what their parents want, I believe they will feel more free and content."
Finding the Artist in Herself
Marisa is an independent organiser of her work, choosing to expose her paintings through collaborations and on her own instead of going through a gallery. This helps keep the cost of her artwork at a more affordable price, and also allows her more time and flexibility to spend with her 10-year-old son, since she works from her home studio. Using charcoal, and sometimes bitumen, is a messy business, and when she works she is usually covered in black soot from head to toe, but she loves it.
"When I work with media such as charcoal it reminds me of the tree barks on the island, the bits of debris washed up on the beach of Kapas Island after the storm. I begin a painting by creating the layers of under painting, from those layers you can see accidental patterns and at the same time I construct the forms."
Why the male form, in particular? She explained, "I have always been intrigued with the male form, the strength and muscle of it, especially in the back. I took so many sketches to get it right, to really get the outlines down.You can also see the texture of my work, as there many layers to it, just like how the truth is. Also, another way of relating this series to the truth is that it is stripping the male down of his ego and confronting his true self, by denuding man of his false sophistication and bring him back to a more exposed and natural state. I want people to really look at themselves."
Art is such a creative process, and at times subconscious. It is the need to express those dark facets of her personality that is the backbone of her work. "My artistic journey began unexpectedly at a time when I was at my lowest point. Even for this series, it came from a dark place, and that relates to the colour scheme which is mainly black and white. Whenever I tried to put some colour on the artwork, I would end up going back and painting over it with black or white. I found there were so many shades and expressions in those seemingly simple two colours."
Figurative art takes skill, practice, and extreme attention to detail. Before her venture into the abstract arts, Marisa had done over 1,800 figurative sketches. In her artist's statement, she says, "I was trained in figures because my gurus said that if you can master the figure, only then you will truly master the elements and principles of design in creating art. From there,my style of painting evolved towards abstract expressionist as it emphasises on spontaneous, automatic, or subconscious creation. Abstract to me is the purest form of art; it comes from one's soul or state of mind. There are virtually no limitations on a figurative painting's visual possibilities, it only has to succeed in presenting a universally readable image."
She also acknowledges how important it is to have mentors and gurus that have dedicated their time to lead her to where she is today. "Ismadi, in particular, used to spend the whole evening and night just teaching me the proper way to hold the charcoal. He inspired me, taught me how to be confident in my work, and guided me along this path. I will be forever grateful."
Her Next Chapter
Marisa enjoys imparting her knowledge on art and teaching others, and is considering tutoring children in art. She has also recently found inspiration for her next series and is excited to begin work as it will be something very different and more vibrant than 'The Naked Truth'. For now, she wishes for people to simply appreciate the artwork, and find the courage and determination to find themselves, even though it means being exposed and vulnerable.
Source: Senses of Malaysia July/August 2015
---
"ExpatGo welcomes and encourages comments, input, and divergent opinions. However, we kindly request that you use suitable language in your comments, and refrain from any sort of personal attack, hate speech, or disparaging rhetoric. Comments not in line with this are subject to removal from the site. "
Comments