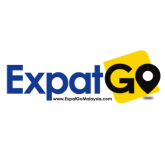 Written by Petra O'Neill
Join Petra O'Neill as she explores Thai's rich history and experiences the ways of rural life today in a unique and memorable way by traveling from Bangkok to the heritage city of Ayutthaya on the Chao Phraya River.
A Short History on Ayutthaya
Roughly 85 kilometres upstream from Bangkok in the lush central plains lies an ancient city, UNESCO World Heritage-listed Ayutthaya. In 1350, King U-Thong chose the site, which is at the confluence of three rivers: the Lopburi, the Pa Sak, and the Chao Phraya to establish a capital city. At its peak during the 17th century, Ayutthaya was one of the largest cities in the world, eclipsing even London. Lavish in scale, the magnificent canal-lined island city had palaces, wide moats, temples, and over 2,000 towering golden spires and statues in gold and marble.
The kingdom was ruled by a succession of 33 Ayutthaya kings, the empire covering a vast area reaching as far as present-day Cambodia, Myanmar, and Malaysia until 1767 when the Burmese invaded the city, razing much of Ayutthaya to the ground.
The second Siamese capital after Sukhothai, this once-important centre of global diplomacy is now an archaeological ruin and one of the great treasures of Asia, easily reached from Bangkok. You can join a day tour, but you will share seeing the ancient sites with busloads of tourists. A more enjoyable way to arrive is aboard a restored rice barge that cruises upstream on the River of Kings, the Chao Phraya River.
Travelling to Ayutthaya
Photo credit: Asian Oasis
I'd checked out of my hotel very early – as eager travellers do – to catch a fast boat along the canal to the meeting point for the river cruiser. There were no vendors cooking street-side delicacies at this hour and, except for a few inquisitive cats, I was the only one waiting. A woman passed by carrying a large bag of laundry. "Canal closed," she told me, though more so with her motions than with words. Certainly odd, but no problem: Bangkok's efficient Sky Train got me to the main pier, Saphan Taksin, in no time. Again, I waited, observing that even here, there was little happening on the river. A woman approached offering to help. "No boats," she advised. There was a rehearsal for the Royal Barges on the Chao Phraya River, but my restored rice barge, the Mekhala, was nowhere in sight.
On the distant outskirts of Bangkok, following a taxi ride at full throttle, I saw four travellers looking much too chilled drinking fruit cocktails and sunbathing on the upper deck as the Mekhala approached the pier. The Captain and crew waved at me. With a glum face, I knew I must be the missing traveller. I hopped on-board, asked for a cocktail with added kick, and waved goodbye to the taxi driver. The river here was busy. Long barges full of freight and fresh produce lumbered by. Fishermen cast their nets. Young Buddhist monks walked along the shoreline on their way to nearby temples. Small children, neatly dressed in their school uniforms with crisp white shirts and matching socks, lined up at jetties along the way, another school day over.
Pathum Thani and Bang Pa-in Summer Palace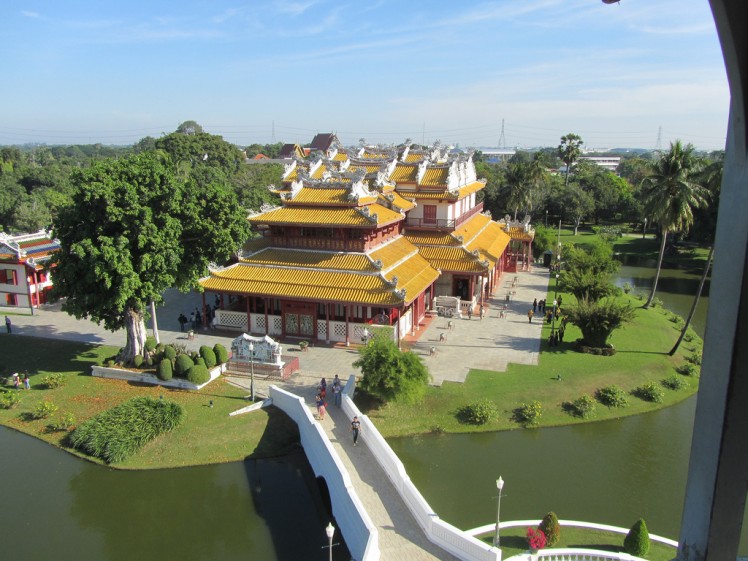 Bang Pa-in Summer Palace. Photo credit: JP Newell / Foter.com / CC BY-NC-ND
When we arrived at our first stop, Pathum Thani, to visit a fresh produce market, the loud thunderclaps overhead and dark, forbidding skies were sufficient warning that a wild storm was close at hand. Paying heed, we continued on, stopping instead at a small rural village with a Buddhist temple further along the river, the storm having passed that area. Wandering the streets provided an insight into village life, with chickens, fruit trees, and neatly tended vegetable gardens laid out beside traditional wooden homes built on stilts, the heady aroma of jasmine and frangipani filling the air.
The day rolled languidly on, and before long, it was time to return for dinner, a delicious Thai meal by candlelight, comprising several fragrant curries and jasmine rice, followed by dessert and ginger tea. The cabins, though compact, were comfortable and when it came time for bed, the peaceful night combined with the boat's gentle rocking to and fro to provide a perfect night's rest.
The next morning, after a breakfast of strong coffee, fresh papaya, banana, pineapple, and toast (with eggs and sausages for those wanting more), I reclined in a comfortable deck chair to observe rural life along the riverbanks with ducks splashing, children fishing from old wooden jetties, and the occasional cement factory belching white dust.
Later that day, we arrived at Bang Pa-in Summer Palace, set in a beautiful manicured garden, a palace that was established as a royal retreat by King Rama IV and his successor, King Rama V. Buildings are scattered around the garden combining European architecture, a Chinese palace and throne room, and a floating Thai pavilion set in an ornamental pond.
Arriving in Ayutthaya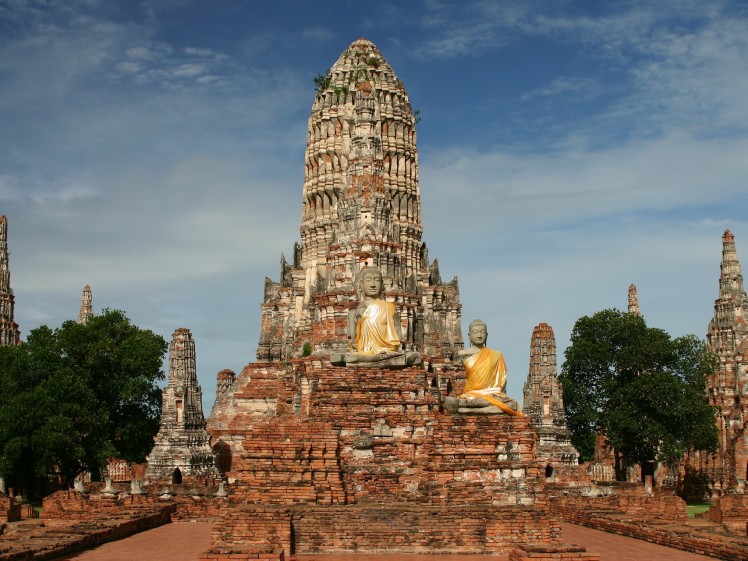 After arriving in Ayutthaya, I explored the ruins that once stood here and several of the many temples. Wat Phanancheong flanks the confluence of the rivers and has a 19-metre-high Buddha statue, busy with people praying and lighting incense. Other temples of note include Wat Na Phramen, which has Buddha images in a regal style;
Luang Phor Lokayasuttha, housing the largest reclining Buddha in Ayutthaya; and the beautiful Wat Chai Wattanaram, which is located on the riverbank and dates back to 1630.
As a bit of a comical epilogue, on my return to Bangkok, a note was waiting for me. Please note that due to a rehearsal for the Royal Barges, our usual meeting point has been changed. By then, I'd quite forgotten about my earlier misadventure and mad dash to find the river cruiser. Despite the missed note and subsequent drama, I'm glad I found the Mekhala and made the trip: It had been a delightful journey to experience not only some fascinating Thai history, but also a bit of rural river living that endures even today.
Getting There
Malaysia Airlines and AirAsia fly direct to Bangkok, among other carriers.
Getting Around
The Mekhala has six recently refurbished compact cabins with en-suite bathrooms. Delicious meals and activities are included. Several touring options are available with the cycling tour of Ayutthaya recommended, an ideal way of getting around as the historic site is flat. www.asian-oasis.com
Where to Stay in Bangkok
The affordable Mercure Bangkok Siam features stylish interiors close to the Sky Train for easy access to major sights. www.accorhotels.com
Architecturally stunning with exemplary service is the centrally located five-star Hansar. www.hansarbangkok.com
Read more:
Source: The Expat magazine September 2015
---
"ExpatGo welcomes and encourages comments, input, and divergent opinions. However, we kindly request that you use suitable language in your comments, and refrain from any sort of personal attack, hate speech, or disparaging rhetoric. Comments not in line with this are subject to removal from the site. "
Comments