Written by Shamin Shaimah.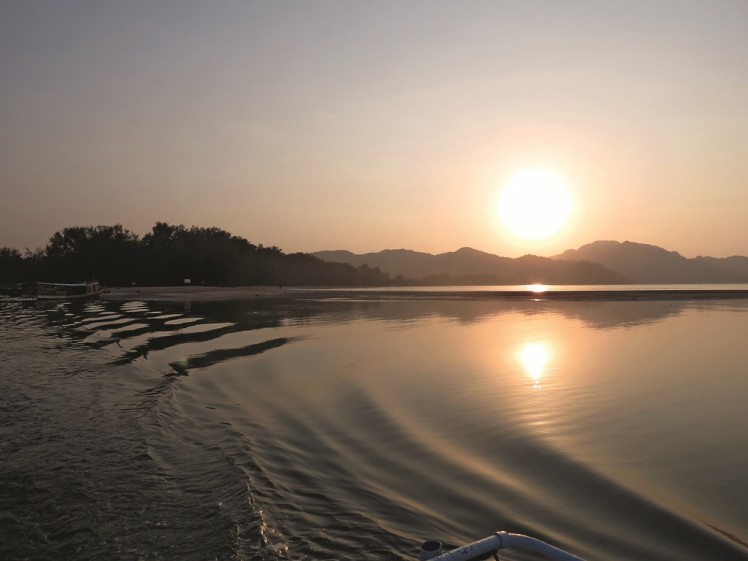 Also known affectionately as 'The Milkfish Lady', Shamin Shaimah went in search of barracuda during one of her fishing expeditions, and took in the gorgeous sights of Krabi along the way, travelling by road from Kuala Lumpur.
Pudu Sentral Kuala Lumpur was filled with travellers taking advantage of the Chinese New Year weekend earlier this year, my husband Naweshad and me included. We had decided on a road trip to Krabi, Thailand at the last minute, oblivious to the fact that all buses to Thailand – and indeed all around Malaysia – were fully booked. Plan B had us hitching a ride with friends to the Butterworth Bus Terminal, hoping to catch the 6am minivan into Hat Yai. Unfortunately, those minivans were all fully booked, too. Wanting to get into Krabi as soon as possible, we found a ride-share option driven by Mr. San to the Hat Yai Bus Station for RM200. Luckily, we met Aidan, a fellow traveller, with whom we could share the cost.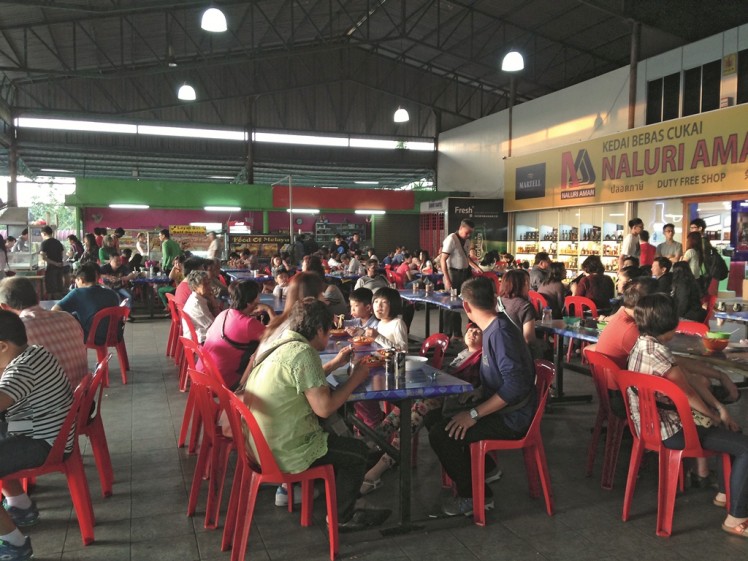 Naluri Aman Duty-Free Pit Stop
Thus began our nine-hour journey on the North-South Expressway, which was soon accompanied by a beautiful sunrise. We stopped at the Naluri Aman Duty Free shop in Changlun, Kedah and received our Thailand arrival cards filled up for RM2, and ready to present at the immigration checkpoint ahead. This last stop before the checkpoint has a money changer, food stalls, and washrooms, not to mention a reality check of how many people actually go into Thailand by road.
Across the Border and on to Krabi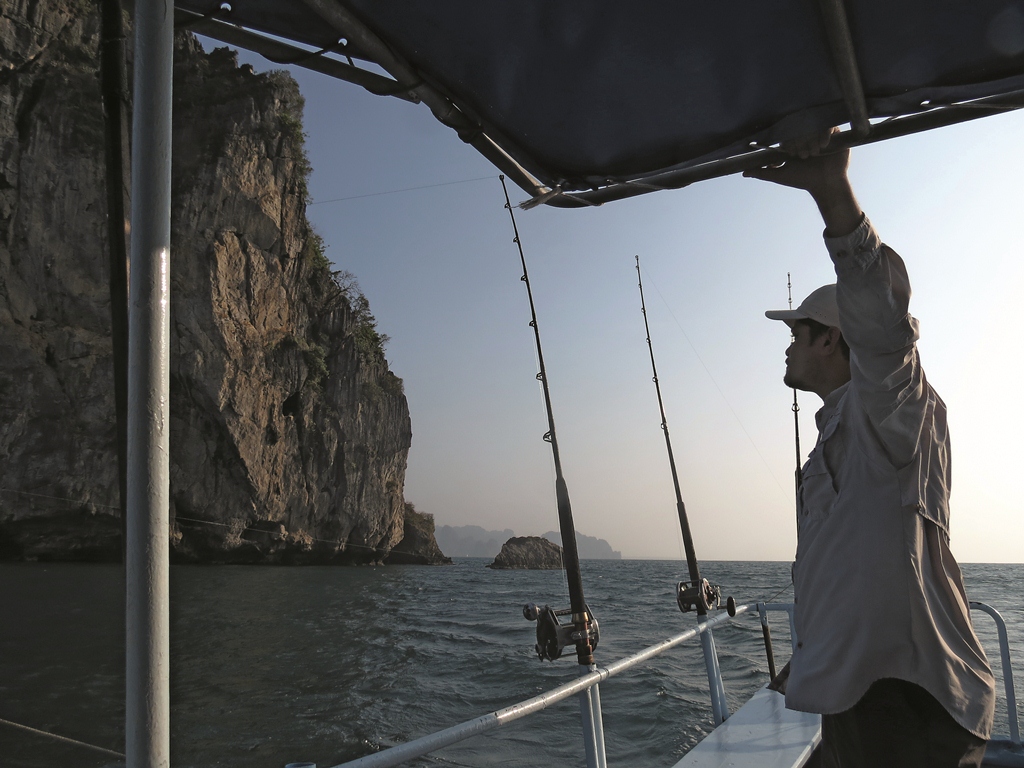 We wasted no time resuming our journey, hoping to beat traffic at immigration. From Sadao Checkpoint, Hat Yai was only 45 minutes away. Mr. San arranged a minivan to Krabi for RM40 each from Hat Yai. The humidity was high in the 12-seater modified minivan, but thankfully there was a 15-minute break in Trang halfway through the journey, with a variety of refreshments available. We were getting more and more excited as the journey continued, knowing that we were getting closer to our destination.
Trang Pit Stop
The minivan took us to Krabi town, where we took a tuk-tuk (a three-wheeled taxi common in Thailand), easily good for four people, into Ao Nang, which was about 30 minutes away. We got off at the L Hotel, our accommodation of choice for the weekend (booked prior to the trip), and parted ways with our new friend Aidan. We resisted the temptation of crashing right into bed and instead took to the bustling streets, where we chose our fishing charter. The kind staff at the L Hotel helped us make the necessary arrangements for our half-day fishing trip with the Krabi Star One fishing tour while we spent the evening recuperating from our travels.
With pick-up from Krabi Star One arriving promptly on time at 7am, we enjoyed the perk of having a breakfast box prepared for our trip, done via our booking with the hotel. There were chicken sandwiches, muffins, brownies, grapes, orange juice, and bottled water. How we wished we could always have the same convenience in all our fishing trips!
Ooh, Barracuda!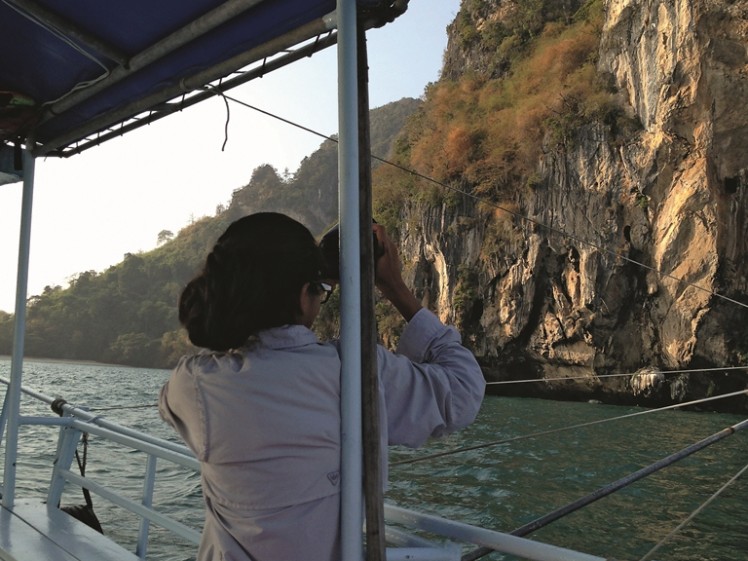 We boarded our boat at the Nopparat Thara Pier and trolled around Krabi's famous four islands. The Big Game Fishing Boat was comfortably equipped, and the half-day trip we selected included a variety of fresh fruits. Our target species for the day was the Great Barracuda. Heading towards Koh Poda, passing Railay Beach on slow trolling speed, we were able to take in the beauty of the islands' white sandy beaches and crystal-clear waters. We soon found ourselves between Koh Poda and Koh Dam Khwan Island where we saw rope ladders hanging from rock structures, evidence of a no doubt amazing rock climbing experience.
As expected, a half-day boat trip was only four hours, so we needed to make the most of our time there to catch fish. We convinced our captain to troll along the Laem Hang Nak Palace towards Khlong Muang Beach and back. Within seconds, the calm on the boat turned into excitement as the PENN Senator reel screamed, indicating a fish was hooked and racing away with the line. The fish leapt into the air with our captain exclaiming, "Barracuda!" as he reeled in all other lines to avoid tangles. After a decent adrenaline-pumping fight, Naweshad landed the very species we were after, the Great Barracuda, with only 10 minutes of the trip left to fish. The level of satisfaction prompted us to book another fishing trip the next day, only this time, on a longtail boat.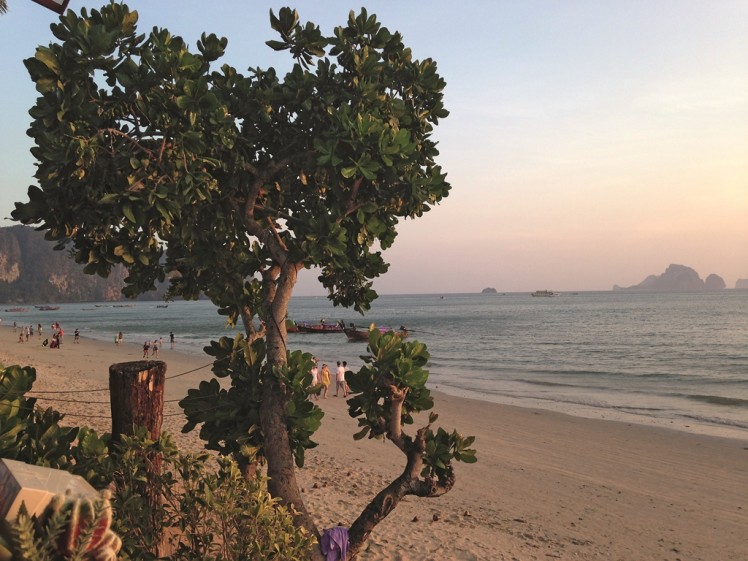 View from Chaba Thai
The half-day fishing trip allowed us sufficient time to enjoy the rest of our day. In Thailand, there is no better way to relax than to indulge in a Thai massage. A simple left turn from the L Hotel found us spoilt for choice, and we quickly selected from one of the many massage options we saw. An hour passed in a flash, and following the massage, we found ourselves walking the Ao Nang Seafood Street for dinner. We chose the Chaba Thai Kitchen and Restaurant for a seat by the beach in time for sunset, overlooking the islands we were trolling around just that morning.
Longtail Fishing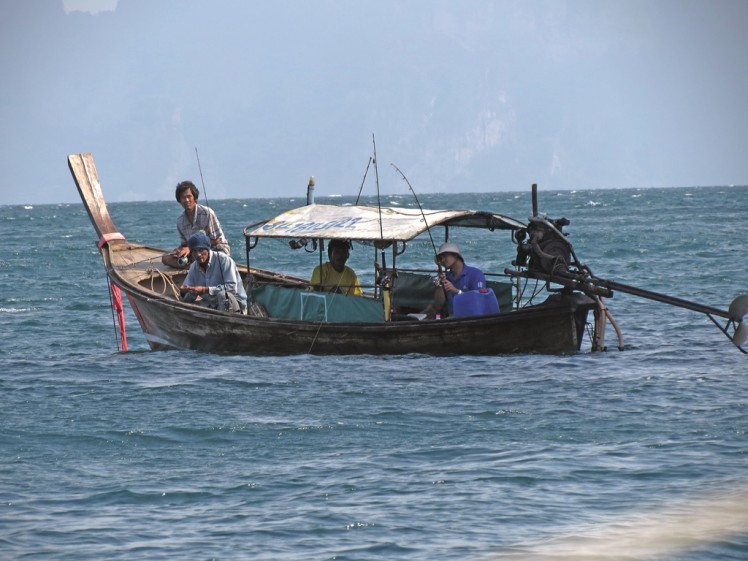 Fishing on the Longtail Boat
Unlike the Big Game Fishing Boat, all that the longtail boat had in terms of comfort was a bit of shelter from the sun. With its original purpose being to cross rivers at high speed, its canoe-like body made balancing on the choppy Andaman Sea a challenge. Within the first hour of trolling, however, both Naweshad and I had each lost a red snapper, interestingly enough on the same route where we caught the barracuda. Without an outrigger, our lines were constantly getting tangled. The only positive was the small size of the boat, which allowed us to get closer to underwater structure and reefs.
Suddenly, I was startled when our young captain took a dive towards one of the rods. Though it seemed like nothing was hooked, he assured us it was a fish and instructed me to reel it in quickly. Failing to find my balance, the captain assisted me in pulling the line, quickly landing my first and only fish for the trip, a small barracuda.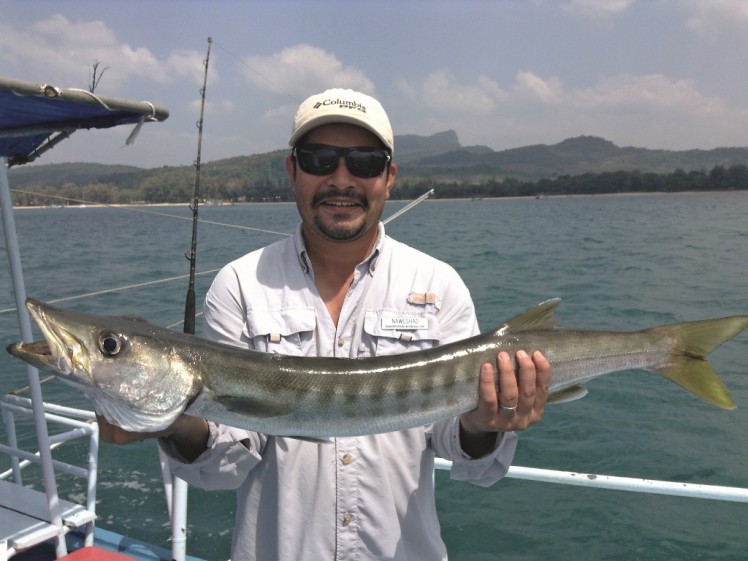 The Great Barracuda
Knowing that we may have found the ideal spot, we did a swift U-turn, and Naweshad found himself on another battle with a fish. He landed another decent-sized barracuda. We tried once more, feeling positive that there was a feeding frenzy of barracudas in the area, when suddenly a strong, ferocious take sent the rod bending mercilessly, the line peeling, and the reel screaming. Our excitement was shattered with the realisation that our lure had caught on to not a fighting fish, but another longtail boat speeding towards the Khlong Muang Beach. Off we went on a chase, and unfortunately, we lost the lure, along with the frenzy of barracudas. By then, our time was up, and we headed back to the pier riding rough waves, feeling accomplished enough.
Later that evening on the streets of Ao Nang, we came across another ride-share option back to Hat Yai. For RM500, Mr. Nong's Toyota Fortuner sits seven comfortably. The cost difference with a minivan is a small price to pay for comfort and convenience on the four-hour journey if it is within your budget. Mr. Nong picked us up at 7:30am, and we managed to squeeze in some last minute shopping before he dropped us off with Mr. San in Hat Yai, who took us to the Nibong Tebal Bus Terminal in Penang Island. The journey was smooth, arriving at the bus terminal where we had prior purchased seats on the Nice Coach (www.nice-coaches.com.my) to Kuala Lumpur, equipped with movies to keep us entertained on the remaining five-hour journey back home.
About the Author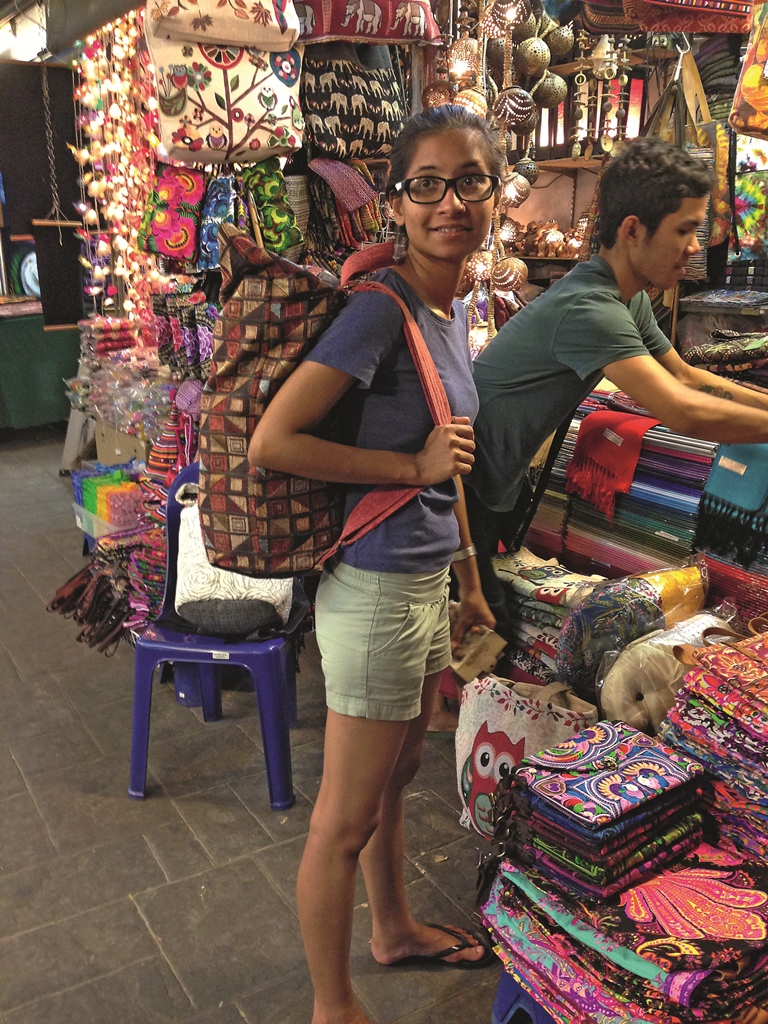 Shamin Shaimah is an advocate of responsible fishing both within and outside of Malaysia. She and her husband Naweshad provide fishing tour services that are family-friendly, providing the knowledge and tools to appreciate and enjoy the sport of fishing the way it should be. For more information, you can either visit her website at www.themilkfishlady.com or contact her at +6012.723 0127.
Read more:
Source: The Expat magazine September 2015
---
"ExpatGo welcomes and encourages comments, input, and divergent opinions. However, we kindly request that you use suitable language in your comments, and refrain from any sort of personal attack, hate speech, or disparaging rhetoric. Comments not in line with this are subject to removal from the site. "
Comments