Written by Ali Zara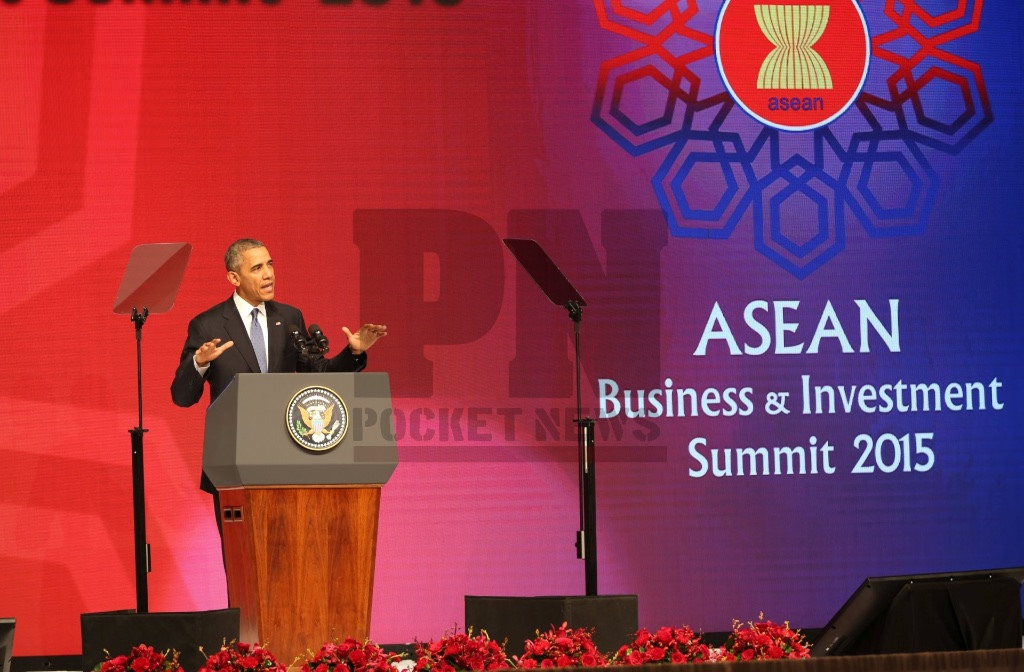 Photo credit: pocketnewsmy / Foter.com / CC BY
Observers say he came, he saw, but he has yet to conquer skeptics of the Trans-Pacific Trade Agreement (TPPA) and other issues of concern.
The highly anticipated 27th Asean Summit and related summits held in Kuala Lumpur have just ended and US President Barack Obama has wrapped up his November 20-22 visit to Malaysia, which was widely covered by the local mainstream media as well as non-mainstream and the foreign press.
At a media conference earlier on Sunday before he left for home, Obama reiterated that the US is committed to fighting Islamic State (IS) and terrorism. He said he has come under fire for his visit to Asia but emphasized that the Asian region is not a distraction and that he has invited all 10 Asean leaders to Washington DC next year to continue to discuss global security and fighting terrorism which were top of the agenda during his just-concluded meetings with leaders in the region.
As a matter of fact, Paris came under a terrorist attack of unprecedented scale from a shooting rampage, explosions and mass hostage taking on November 12, during which more than 100 people were killed. Since IS militants have claimed responsibility for the Paris attacks, security officials around the world, especially in countries such as Singapore in Asia which are hosting thousands offices and production facilities of multinational corporations as well as business hubs, have been on high alert.
A few days later on November 17 and nearer home, Malaysian engineer Bernard Then from Sarawak, who was kidnapped several months ago and taken hostage, was beheaded by the Abu Sayyaf terror group in the Philippines, reportedly just hours after Malaysian Prime Minister Datuk Seri Najib Razak landed in its capital Manila for the two-day Asia Pacific Economic Cooperation (APEC) Summit.
On November 22 when Obama left Malaysia after the Asean Summit, there were also news reports of bomb threats made against a Singapore Airlines flight from San Francisco via Hong Kong and against a Turkish Airlines flight bound for Istanbul from New York. He had, from November 14, traveled to Turkey and then to Manila to attend the APEC meeting before he arrived in Malaysia on November 20 for the Asean Summit.
TPPA From The Horse's Mouth
Meanwhile, Obama said in his speech on the second day of the Asean Summit that the TPPA has the strongest anti-corruption standards compared to any other trade deals and this would lead to more accountable governments among trade partners. The TPPA requires countries to have laws against corruption including the bribing of public officials and it also requires countries to enforce these laws.
He further said that the TPPA has the highest standards compared to any other trade deals of the past as not only will it boost jobs, it will also establish stronger trade rules for Asia Pacific. In addition, the TPPA will have the highest standards for the environment, human rights and labor compared to other trade deals.
On the other hand, some quarters described what Obama said as a strong promotion of TPPA and wondered how the trade pact would tackle corruption. The TPPA is a US-led trade initiative which all the 12 countries involved have agreed to it but individual members have yet to ratify it.
In another development, Obama, responding to questions and acknowledging concerns at the Young South East Asian Leaders Initiative (YSEALI) town hall session, admitted that the prices of medicines are expected to go up once the TPPA has been ratified, saying the nature of such trade deals is for all parties involved to be willing to make sacrifices or else the negotiations would never be concluded.
One of the YSEALI participants asked Obama to explain how the expected increase – that would surely increase burden on Malaysians especially the chronically ill, women and others from lower-income groups – falls in line with the US principles of leadership.
In the meantime, at the anti-TPPA protest in KL near the Asean Summit venue, involving some NGOs and political parties, one of the spokespersons said the TPPA will burden people, such as students can no longer make photocopies of textbooks due to copyright issues. He said if a shop photocopies a textbook that is copyrighted; the government can confiscate the photocopy machine and put the people in jail.
It was also pointed out at the protest that the Malaysian minister of international trade and industry had earlier said prices of medicines would not go up but Obama said they are expected to when the TPPA is ratified.
Malaysia's civil society leaders also met Obama on the sidelines of the Asean Summit and they said he already knew many of their concerns. Former Malaysian Bar president Datuk Ambiga Sreenevasan said Obama had been well briefed and aware of what was going on. Issues discussed include 1Malaysia Development Bhd, the TPPA and charges against civil society and opposition leaders.
Bersih 2.0 steering committee chair Maria Chin Abdullah said at least seven federal and state representatives were facing charges while current Malaysian Bar president Steven Thiru highlighted the "unparalleled diversion of the law". Anti-graft group C4 founder Cynthia Gabriel said Obama addressed their concerns about the TPPA but did not have time to fully discuss the anti-corruption chapter.
An observer noted he does not expect much from Obama because the US president is already well informed about the issues and he has already said things have to be balanced with trade, especially the TPPA which is his top priority. Also, Obama wants to counteract China's influence and rising military and economic powers, the observer added.
Read more:



" ExpatGo welcomes and encourages comments, input, and divergent opinions. However, we kindly request that you use suitable language in your comments, and refrain from any sort of personal attack, hate speech, or disparaging rhetoric. Comments not in line with this are subject to removal from the site. "



Comments