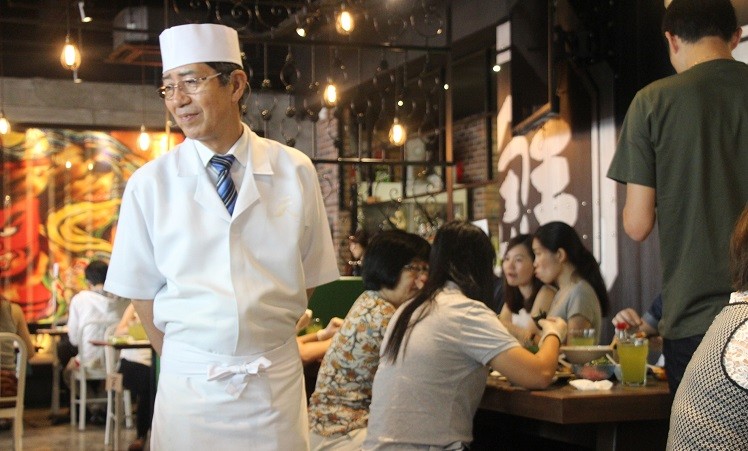 ExpatGo's staff writer Kathleen Fernandez attended the Shokuiku Tour, a hand-rolling sushi workshop, this weekend. Here's her review:
On 16th January 2016, The Ministry of Agriculture, Forestry, and Fisheries (MAFF) of Japan brought their Shokuiku Tour to Senya Sake & Dining Restaurant in Kuala Lumpur. Shokuiku is a food education tour, which promotes Japanese food around the world. KL is the only Asian city chosen to host this tour.
The event was a workshop for hand-rolled sushi, conducted by Japanese Chef Tsunetoshi Tabata and Chef Joji Hasegawa who wanted to show us just how healthy Japanese food is, and how simple it is to prepare at home. They wanted to debunk the myth that Japanese food is so refined and elegant that it can only be made by highly trained chefs at upscale restaurants.
The chefs and their wisdom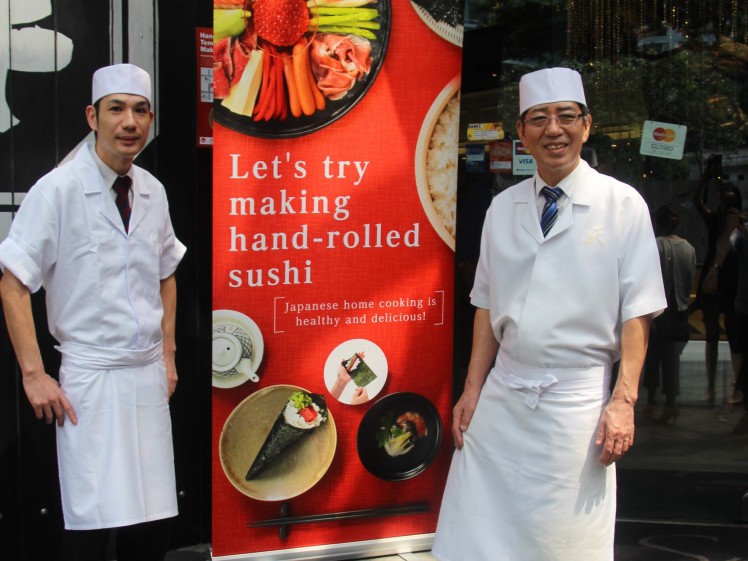 Chef Tsunetoshi Tabata started cooking in Japan over 40 years ago. In 2000, he moved to Malaysia and has worked for various sushi restaurants around Kuala Lumpur, and is currently at Ten Japanese Fine Dining. Chef Tabata is loved by Malaysians and Japanese expats alike for his authentic sushi creations.
Similarly, Chef Joji Hasegawa, who is the chef at Senya Sake & Dining, started his career in Japan in 1999. Throughout his career, he has cooked in Tokyo, Cambodia, and Malaysia, including a Michelin starred restaurant.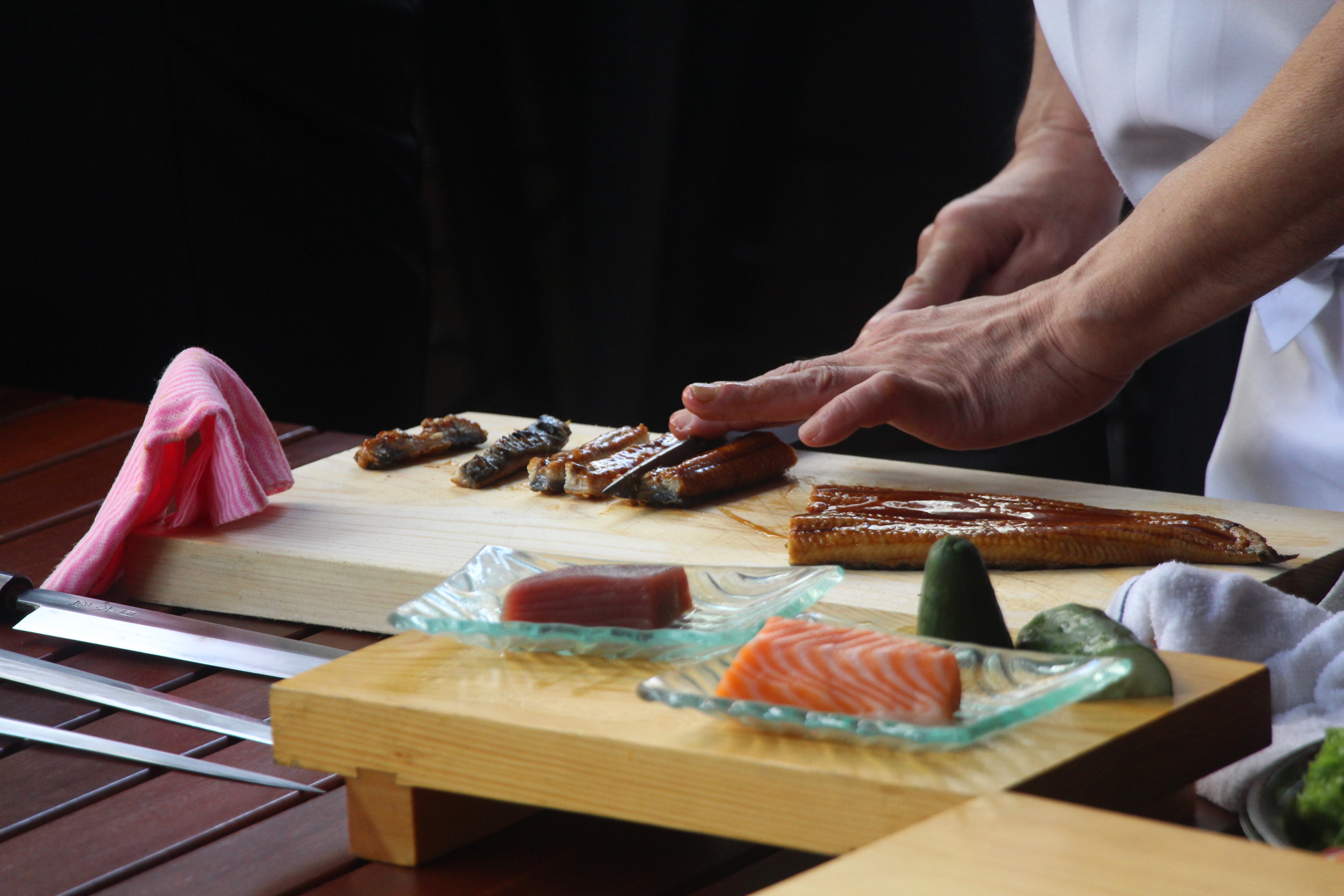 First, we were introduced to the Japanese concept of Washoku, which is a culinary philosophy as well as a guideline for preparing food. 'Wa' means harmony and 'shoku' means food. The concept of Washoku revolves around ensuring that food is prepared in a balanced and harmonious manner to achieve a nutritional and aesthetically pleasing meal.
The basic principles of Washoku are expressed in the wisdom of five. There are five styles of cooking –simmer, raw, grill, steam, and fried; five flavours – sweet, bitter, sour, spicy, and umami; five colours – white, black, green, yellow, and red; as well as five dishes – one soup, and three dishes, and rice. Chefs and even home-cooks who practice Washoku make sure that they have all the five flavours, styles, colours and dishes so that the meal is balanced.
Dashi and miso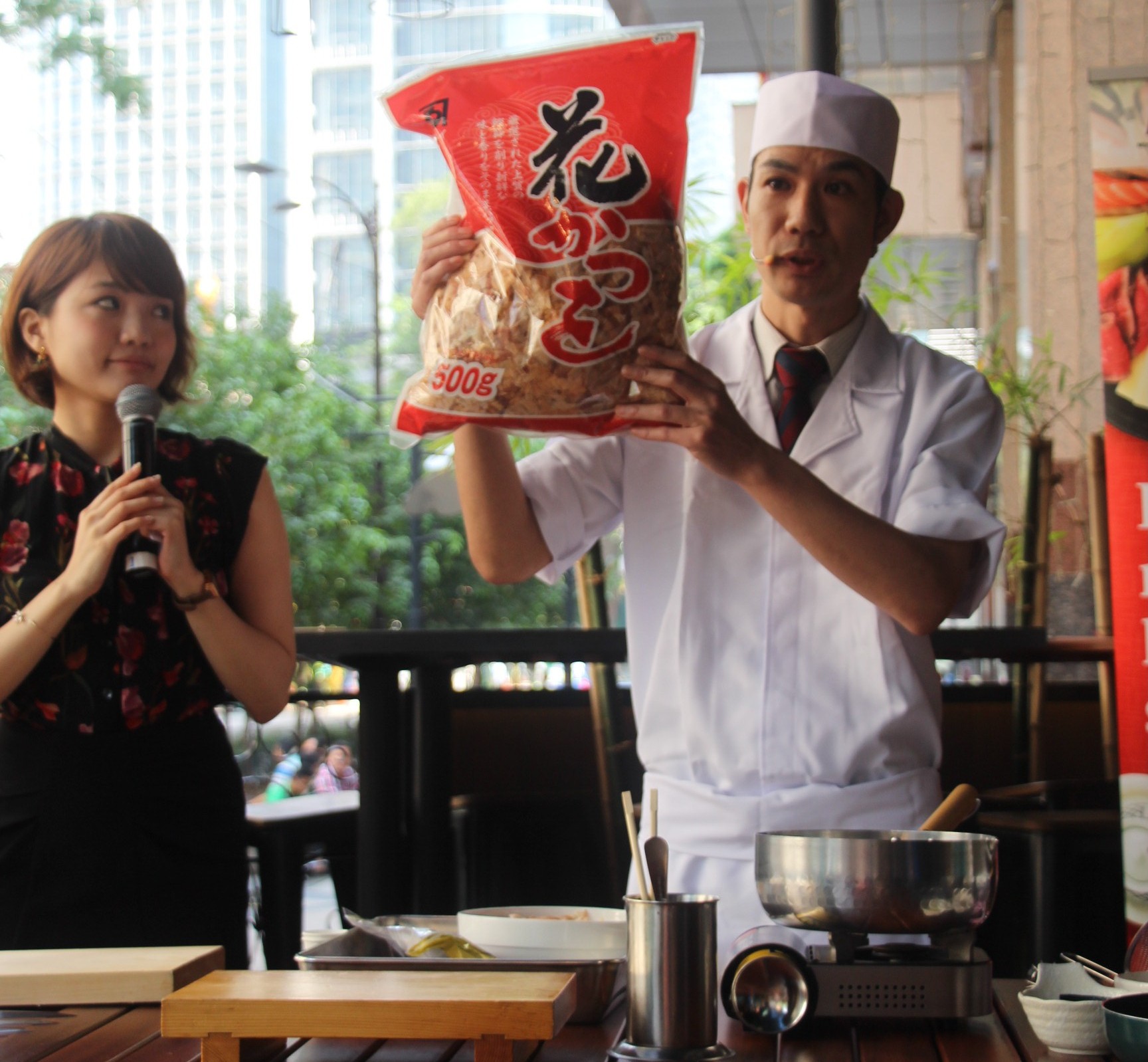 During the workshop, Chef Hasegawa taught us how to make dashi, which is the Japanese equivalent of chicken stock made with kombu (edible kelp) and bonito flakes. This simple stock is packed with two kinds of umami from the kelp and bonito flakes, which makes it a good base for any soup. Dashi stock cubes or powder is also available in supermarkets that stock Japanese products.
Chef Hasegawa used the dashi to make a miso soup which demonstrated quite successfully just how important dashi is in elevating flavours. The miso soup made by dissolving miso paste in hot water, which is what many people think constitutes miso soup, including me. The resulting soup was salty, punchy and not at all pleasant. I realised that the reason I didn't like miso soup was because I had tried a version of this dashi-less miso a long time ago.
After that, we tried miso soup that was made with dashi. It was delicious! The umami from the dashi really added a depth of flavour to the soup. After tasting miso soup made with just water and miso soup made with dashi, there was no question in my mind why dashi is essential. I think I'm ready to order miso soup again on my next trip to a Japanese restaurant.
Keeping sharp and making sushi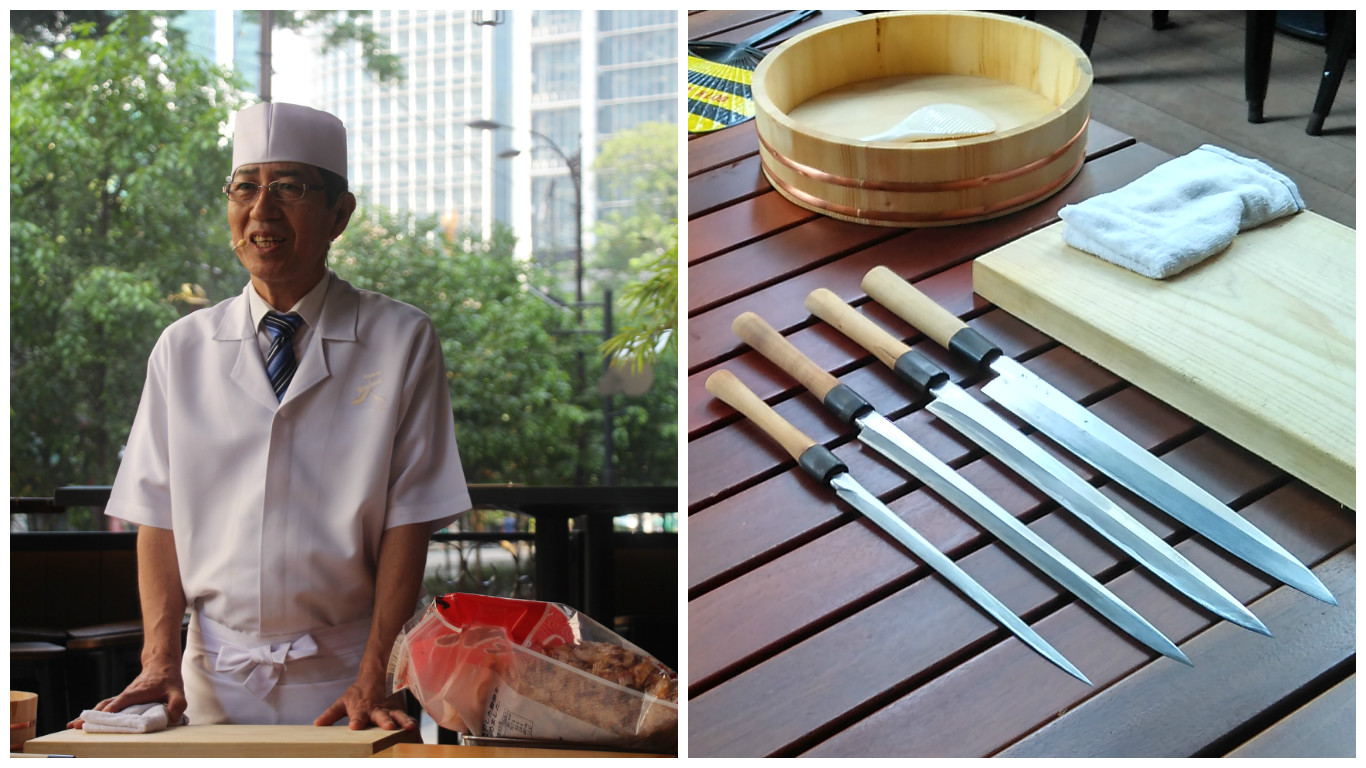 After learning about the nuances of umami, we went on to the highlight of the event, the sushi workshop. Chef Tabata started off by proudly showing us his knife set. He showed us four knives, of different sizes – but he smiled that this hasn't always been the case. The smaller the knife, the older it is, as years of sharpening have eroded the metal – the oldest knife is half of the size of the newest one!
He mentioned that he sharpens the blades every day, which is imperative for getting a nice clean cut, especially when working with raw fish. Chef Tabata also listed a few essential sauces in Japanese cuisine – soy sauce, teriyaki sauce, sesami dressing, and rice vinegar.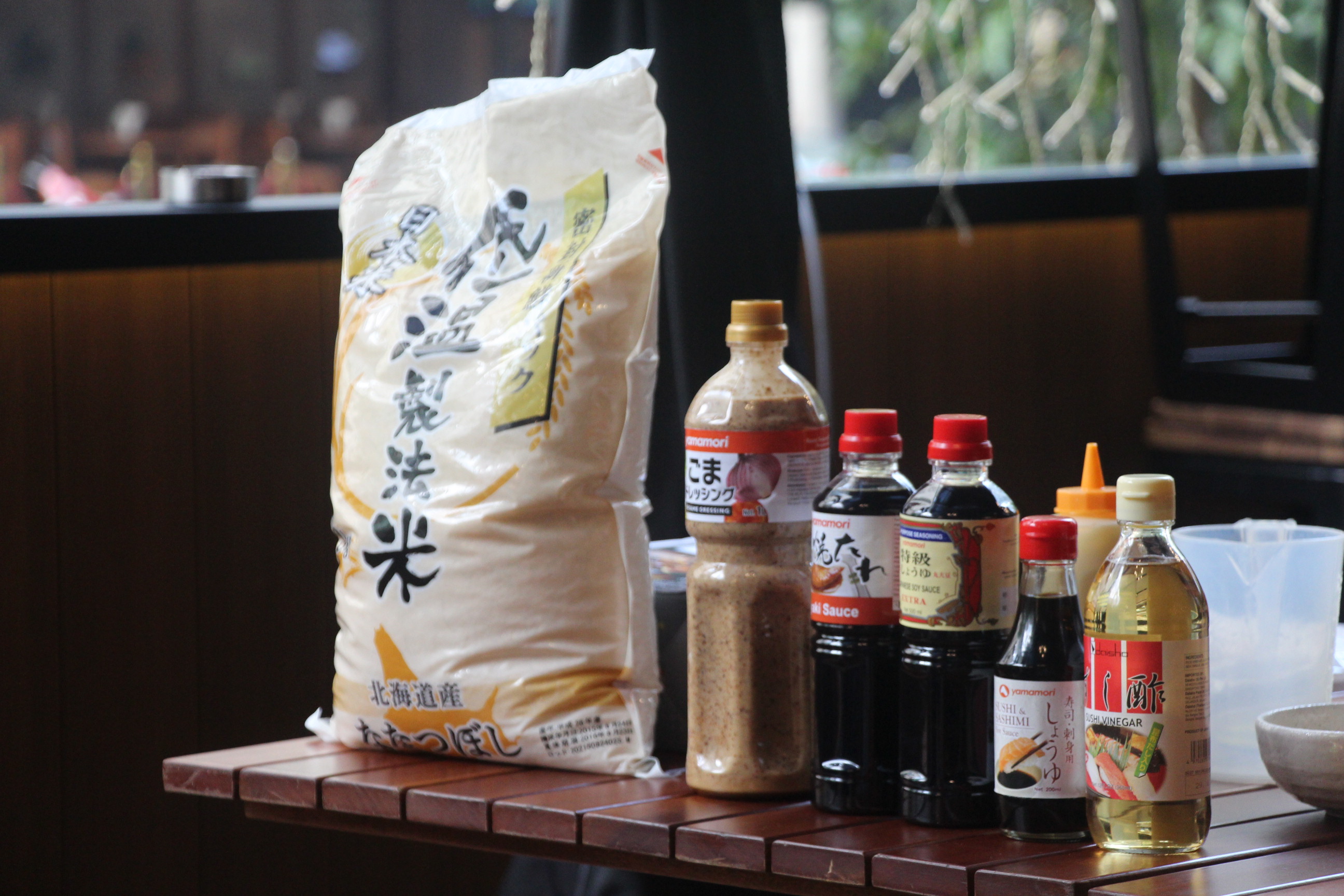 He then showed us the best way to hand-roll temaki sushi. One tip Chef Tabata had was to not overfill the seaweed. Just one flat layer of rice with three or four pieces of filling is enough – like a slice of salmon, avocado, and fish roe to make California temaki sushi.
Temaki sushi is similar to the popular rolled sushi that we see in sushi bars around KL. The only difference is that temaki sushi is cone-shaped and is more of a build-your-own sushi type dish.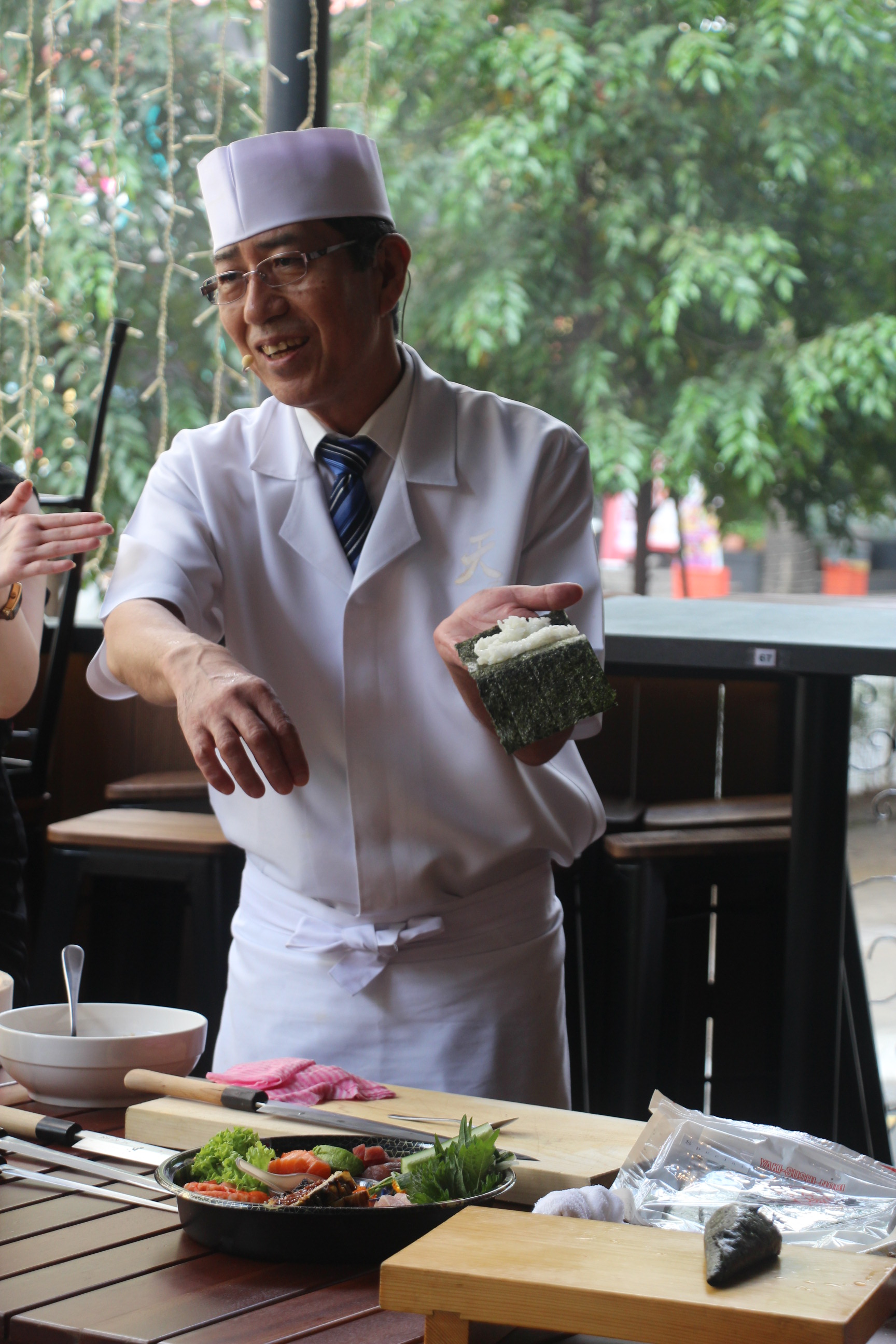 One of the Japanese nationals travelling with the tour said that temaki sushi sets are readily available in stores around Japan, which eliminates the need for home cooks to slave over slicing all the elements that go into the sushi.  The sets usually include pre-sliced raw fish, like tuna and salmon, as well as various vegetables, fish roe and cooked seafood such as octopus and prawns. So people usually just buy these sets and serve them up at parties so that their guests can make their own temaki sushi.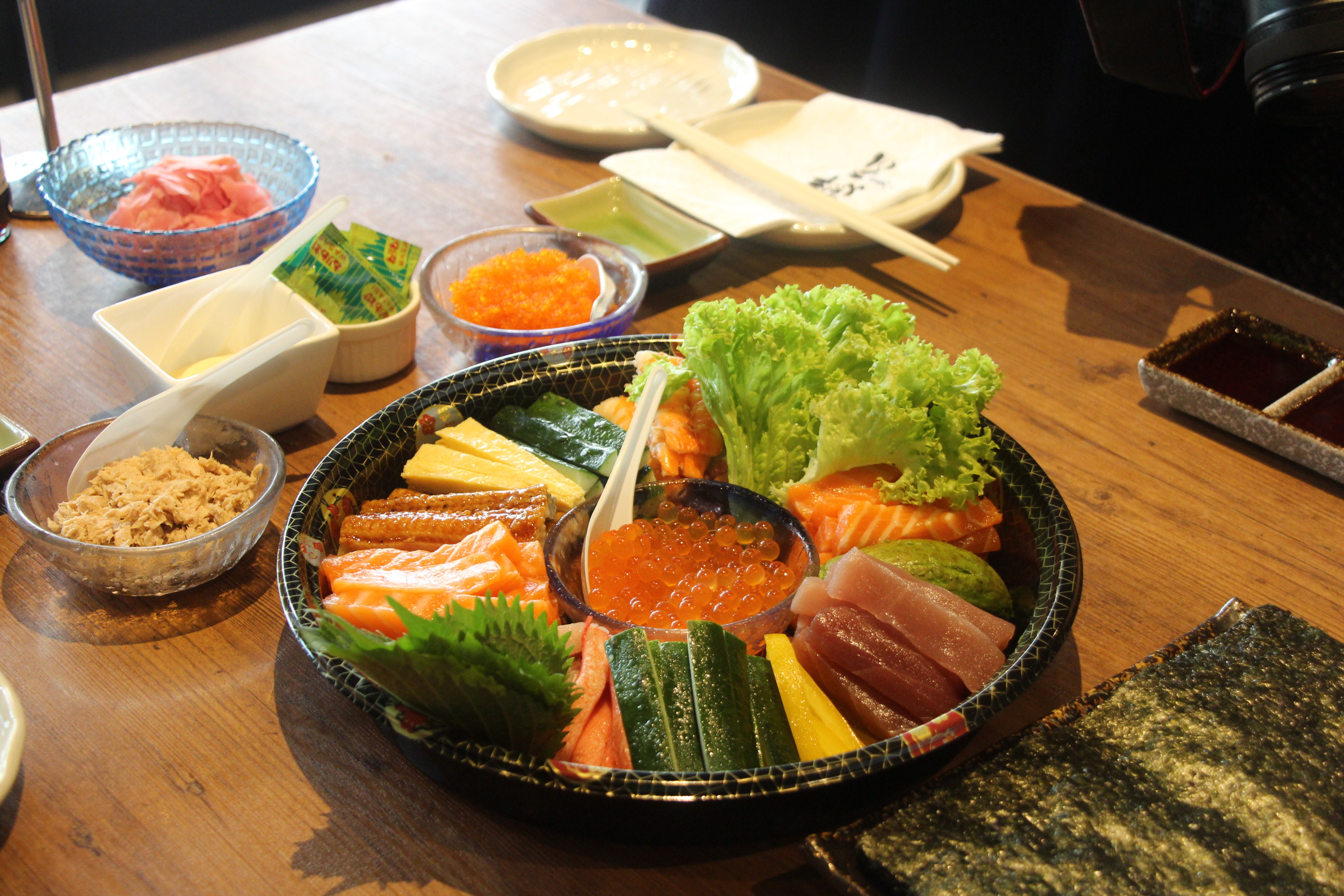 Food that's fun and healthy
After the demonstration, attendees were led to their tables set up with temaki sets so that we could try our hand at rolling our own sushi. It certainly wasn't as simple as Chef Tabata made it look. I thought I started off quite well until I realised that I had used the wrong side of the seaweed! But no matter, I wasn't about to present it to anyone, so I just continued to fill my sushi.
By the time I had finished with my filling, it was way too full to be rolled properly. I wrestled with it for a while before giving up trying to make it look pretty. I moved on to my second temaki sushi, and just in time, a chef from Senya Sake joined us at the table and taught me what I should have already known from Chef Tabata's demonstration. Second try, not too shabby!
My third temaki sushi looked the best, I have to say. By then I was comfortable, I knew just how much rice to add, the right way to hold the seaweed, and I remembered not to overfill my sushi. I was genuinely proud of myself after that third attempt, and I didn't want to come off that cloud just yet, so I decided to stop there and start eating!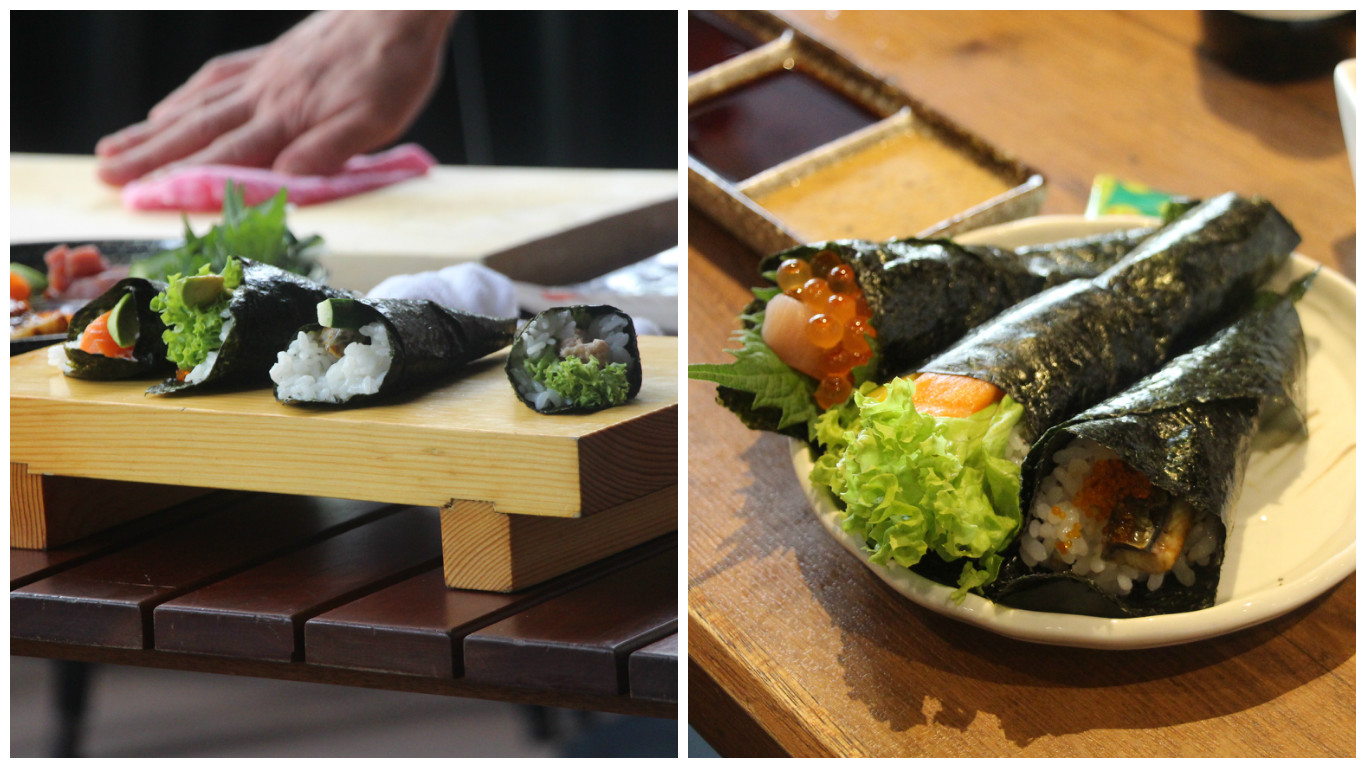 Chef Tabata walked around the restaurant, commenting on our techniques and offering advice to those of us who were struggling. But by the time he arrived at my table, I had already eaten my two ugly temaki sushi. So all he saw, to my relief, was the one really well-rolled sushi I had left on my plate. He complimented me on my technique and that was the highlight of my day!
There was a pleasant hum of excited conversation throughout the restaurant as everyone was deciding on what to put into their sushi, and just how much filling to use to avoid spillage. By the end, we were all stuffed! Sushi can be quite filling; in fact, most people only had about three or four pieces of their DIY temaki sushi. Personally, I had four and then I just snacked on the filling. It was good quality, melt-in-you-mouth sashimi in strips and delicious tuna mayo.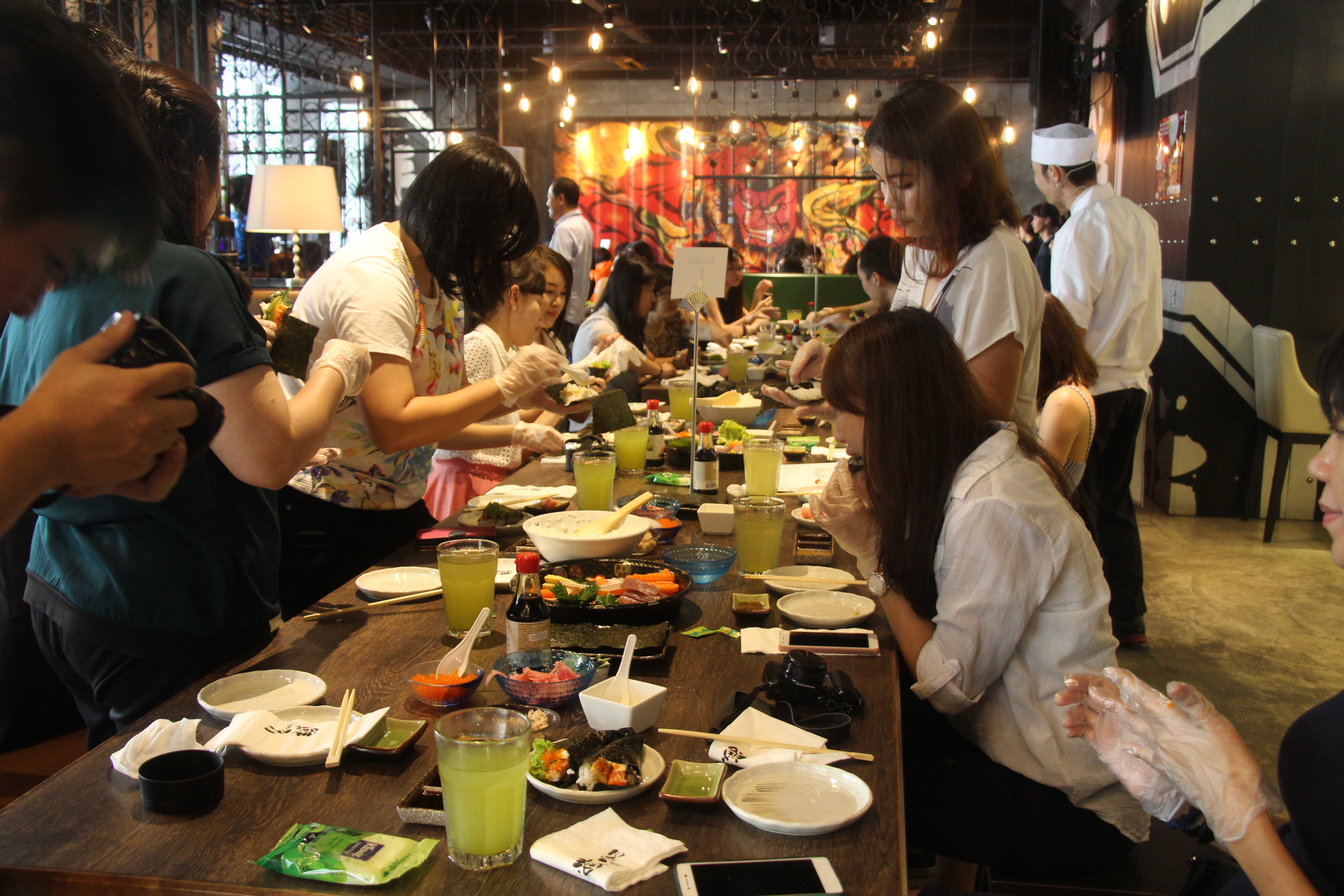 The entire event was both entertaining and educational. I learned a lot about Japanese cuisine and the philosophy behind it. I am now a believer in the simplicity of Japanese cuisine, and I'm sure I'll be cooking up more Japanese meals at home. But first, I'll have to get some kombu and bonito flakes. It's the best excuse for a shopping trip!
I think there will be a few more home-cooked Japanese meals around KL after this. Chefs Tabata and Hasegawa certainly managed to convey the ease of cooking Japanese food at home. Hopefully they bring the tour back for another round;  maybe this time to promote Japanese food to people who have never tried it. I know a few people who need some convincing that Japanese food is tasty.



" ExpatGo welcomes and encourages comments, input, and divergent opinions. However, we kindly request that you use suitable language in your comments, and refrain from any sort of personal attack, hate speech, or disparaging rhetoric. Comments not in line with this are subject to removal from the site. "



Comments