Travel
TEG's ASEAN tour: Exploring Singapore, the Lion City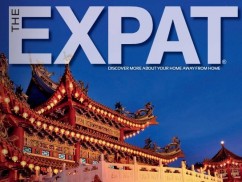 This is part of a series on ASEAN countries.
Malaysia's inextricably linked sibling and southern neighbour, Singapore is a magnet for tourists from around the world, and boasts a fascinating history as well. Here's our guide to ASEAN's powerhouse island, the little red dot of Singapore.

Singapore is an enigma in many ways. Perhaps the world's only sovereign state to have had its independence forced upon it, Singapore is a country that's also a city, and a city that's also an island. It's draped in concrete, steel, mirrored glass, and countless thousands of escalators, yet maintains a startlingly lush canopy of trees and an abundance of flora.
Economically, it punches far, far above its weight class, outpacing every country in the region despite its diminutive size.
Everything seems to run smoothly, and the city-state is legendary for its cleanliness and efficiency, but also routinely derided for its soullessness and artificiality. There's a certain homogeneous nature to Singapore, yet it's every bit as multicultural as Kuala Lumpur or Penang, and unlike some Malaysian cities, does not attempt to banish or abrogate its rich and fascinating colonial heritage.
Officially known as the Republic of Singapore, this Southeast Asian city-state lies off the southern tip of the Malay peninsula, 137 km north of the equator.
The island nation is separated from Malaysia by the Straits of Johor to its north and from Indonesia by the Singapore strait to its south. Despite its small size, Singapore is a highly urbanised area and well-known for its jaw-dropping skyscrapers, flashy shopping malls, beautiful scenery, and delectable and diverse cuisine.
Legend has it that a 14th-century Sumatran prince spotted an animal (most likely a Malayan tiger) upon landing on the island after a thunderstorm, and thus the name Singapore stems from the Malay words singa (meaning lion) and pura (meaning city). Prior to the European settlement, the island was the site of a Malay fishing village and inhabited by several hundred indigenous Orang Laut (literally, "sea people").
From swamp to nation
While it may now be one of the world's most prosperous countries and certainly stands head and shoulders above its Asian counterparts in terms of economy, Singapore took its first steps into the modern world as a British trading colony in 1819.
The then Lieutenant-Governor of Bencoolen (now Bengkulu) in Sumatra, Sir Thomas Stamford Raffles, recognised the immense potential of the swamp covered island and helped negotiate a treaty with the local rulers to establish Singapore as a trading station. Soon, the island's policy of free trade attracted merchants from all over Asia and beyond.
In 1832, Singapore became the centre of government for the Straits Settlements of Penang, Malacca, and Singapore. With the introduction of the telegraph and steamship, Singapore's position as a centre of the expanding trade between the East and West increased tremendously.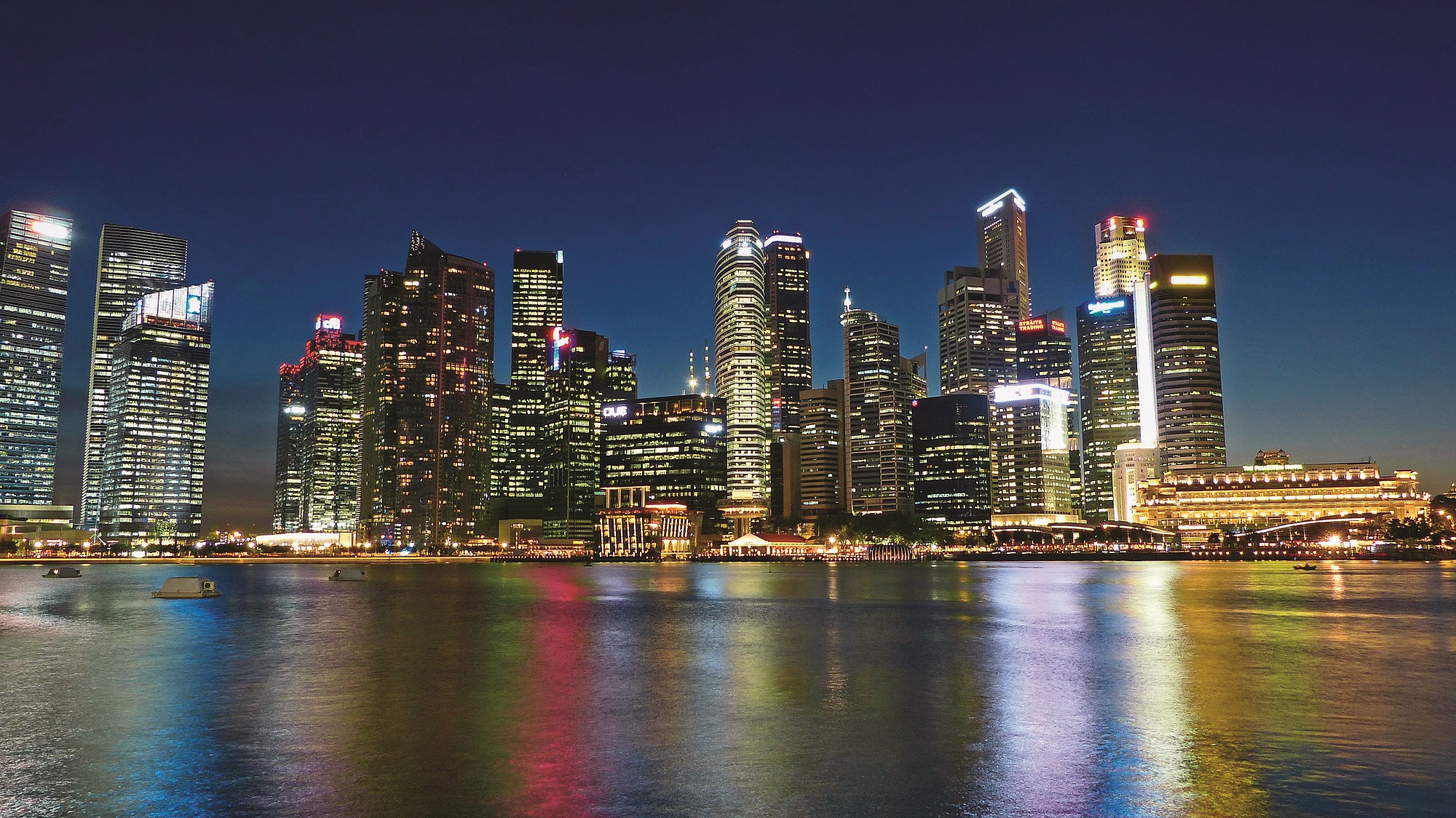 However the peace and prosperity of the country was not to survive unhindered. During World War II, Singapore suffered a huge blow by being attacked by the Japanese. Once regarded as an impenetrable fortress, the city fell under Japanese control in 1942, and remained occupied for the next three and half years – a time marked by great oppression and an immense loss of life.
In 1959, the growth of nationalism led to self-government and the country's first general election. The People's Action Party (PAP) won a majority of 43 seats and Lee Kuan Yew became the first prime minister of Singapore. In 1963, Singapore emerged with the Federation of Malaya, Sarawak, and North Borneo to form Malaysia, but the merger proved untenable, and less than two years later, on 9 August 1965, Singapore was expelled from Malaysia to become an independent and sovereign democratic nation. December of that same year saw Singapore finally becoming an independent republic.
A half century of growth
Since independence, Singapore has seen a massive increase in wealth and has cemented its place in the international arena as a formidable economic development. As one of the world's foremost leading financial centres, its port is one of the five busiest in the world in terms of tonnage handled – a rather impressive achievement for the second-smallest country in Asia.
Boasting a remarkable 92.5% literacy rate, Singapore enjoys a highly developed and successful free-market economy. It is also commended for the remarkably open and corruption-free environment, stable prices, and a per capita GDP higher than that of most developed countries.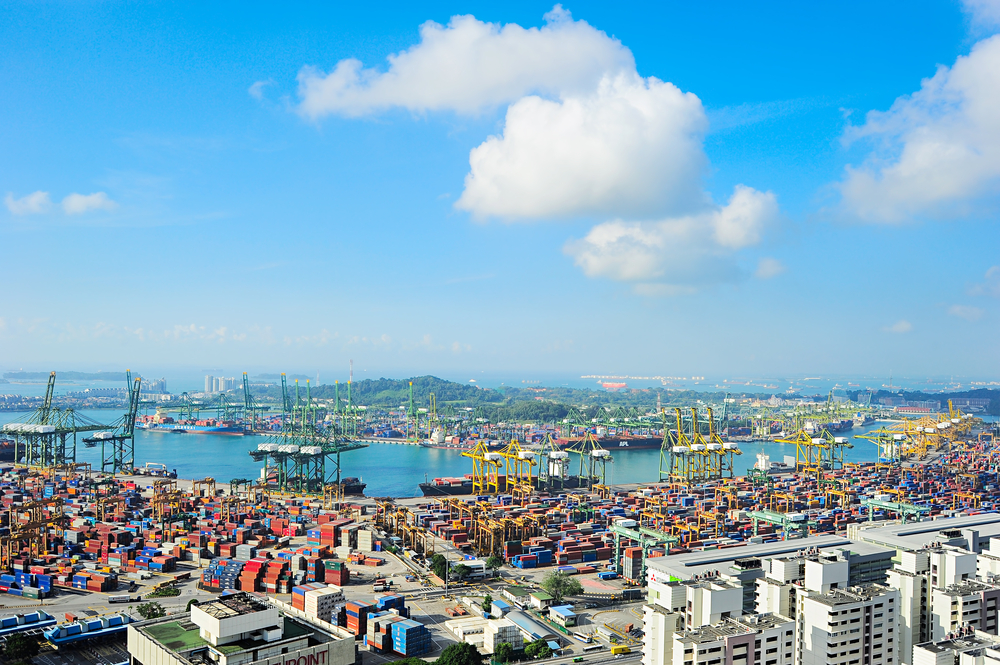 Consequently, Singapore is regarded as one of the world's most prosperous countries, with strong international trading links and a standard of living that is the envy of many Asian nations.
Socially, Singapore has relatively good relations with its neighbours, albeit with a "friendly" rivalry with Malaysia. Cooperation between the two nations has been recently seen in the planning of a high-speed railway that will link Kuala Lumpur and Singapore.
Past and present
Perhaps one of the most charming neighbourhoods in Singapore is made so by its unapologetic throwbacks to the island's Straits Settlements history. The Katong area, certainly a lesser-known gem of the city, is in some ways comparable to Bangsar in KL in that it's an up-scale residential area that's become something of a fashionable expat enclave.
In showcasing its roots, Katong oozes charm and history. In the late 19th and early 20th centuries, Katong was the chosen domain of the Singapore elite, many of whom made their fortunes and built manors and retreats along the seafront east of the city.
A melange of Portuguese, English, French, and Chinese settlers developed parcels of land here, and this rich, blended cultural heritage is what colours Katong's considerable appeal today. Walking along the streets, replete with a wonderful mix of Peranakan, Western, and Malay restaurants and shop lots, it almost feels like a more orderly version of Melaka.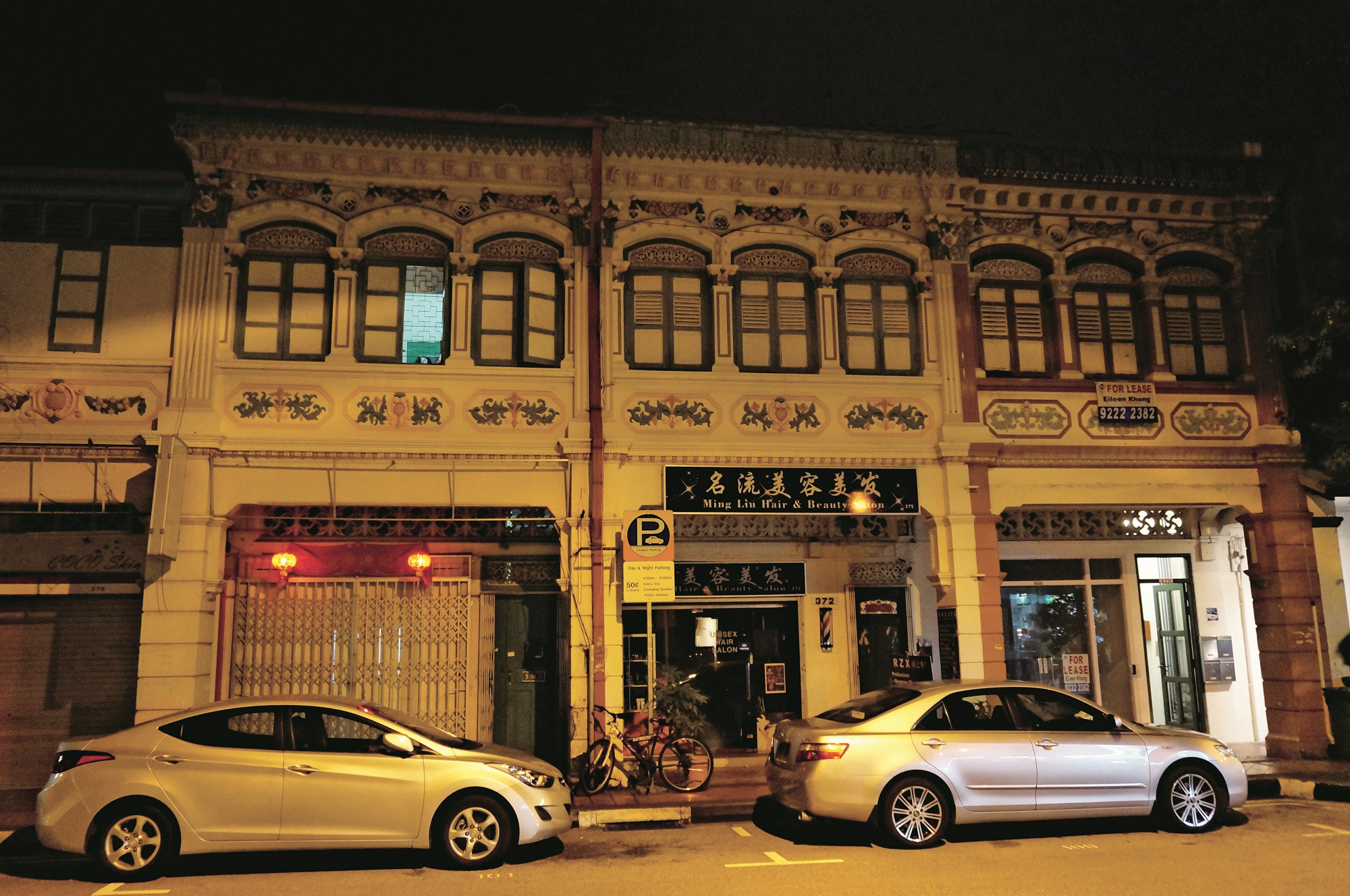 Today, the Joo Chiat area, which is the heart and historical centre of Katong and features a fascinating blend of Singaporean, Chinese, Peranakan, and colonial English architecture, has been designated as a National Heritage Conservation area by the Singaporean government. No MRT station currently reaches Katong, but a handful come close, and in the mornings or relative cool of early evenings, walking is the best way to enjoy this area, anyway.
Jump off the MRT Circle Line at the Dakota station and head east along Dunman Road for a little over a kilometre, which will take you across the Geylang River and right into the Katong area. From Dunman, you can go right on Joo Chiat Road and it's about 400 metres to the East Coast Road (and a welcome Brotzeit German Bier Bar, among several other pubs and cafés).
You can find out more at www.yoursingapore.com
Stay, see, and do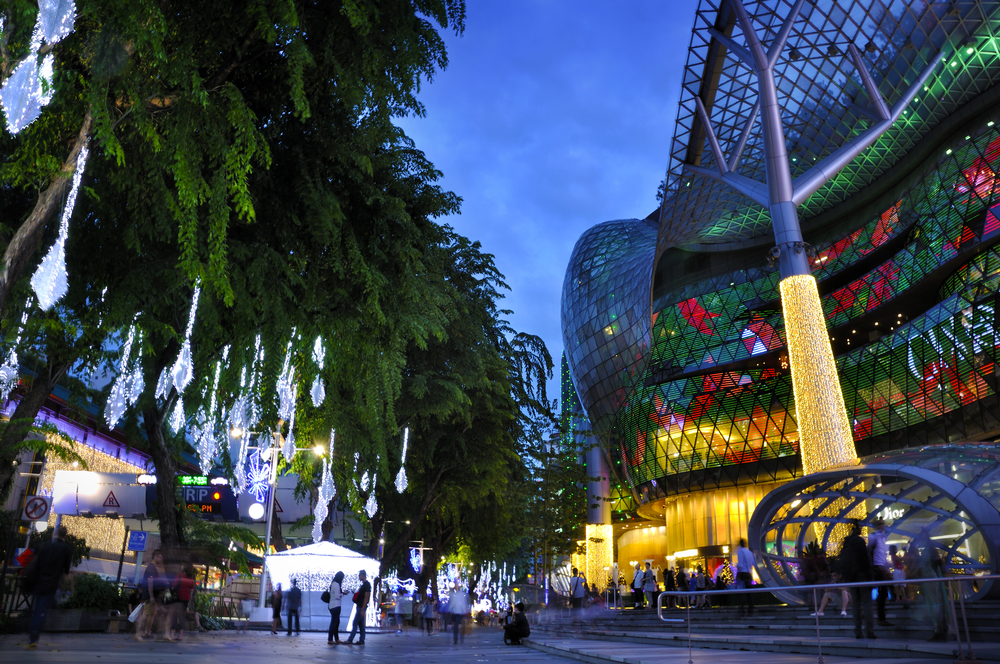 A particularly inviting area in which to stay if you're not keen to immerse yourself in the clamour and glamour of Orchard Road is right in the heart of Downtown Singapore. Easily a top choice for weekday stays or business trips – this area is the city's financial heart and a hive of activity – the district is great for weekend visits, too, as it transforms into a surprisingly peaceful haven.
Just a short stroll from the Downtown MRT station is the still-new Westin Singapore, the city's first integrated hotel located within an office building. The Westin Singapore occupies levels 32 to 46 of the Asia Square Tower 2 commercial development in Marina Bay, the heart of Singapore's bustling financial district.
The hotel enjoys a high-profile status with the highest sky lobby in Singapore, affording guests with sweeping views of the sea and surrounding cityscape. Located on the 32nd floor, the lobby features 11 meter tall floor-to-ceiling windows with plenty of natural light and expansive views of Marina Bay.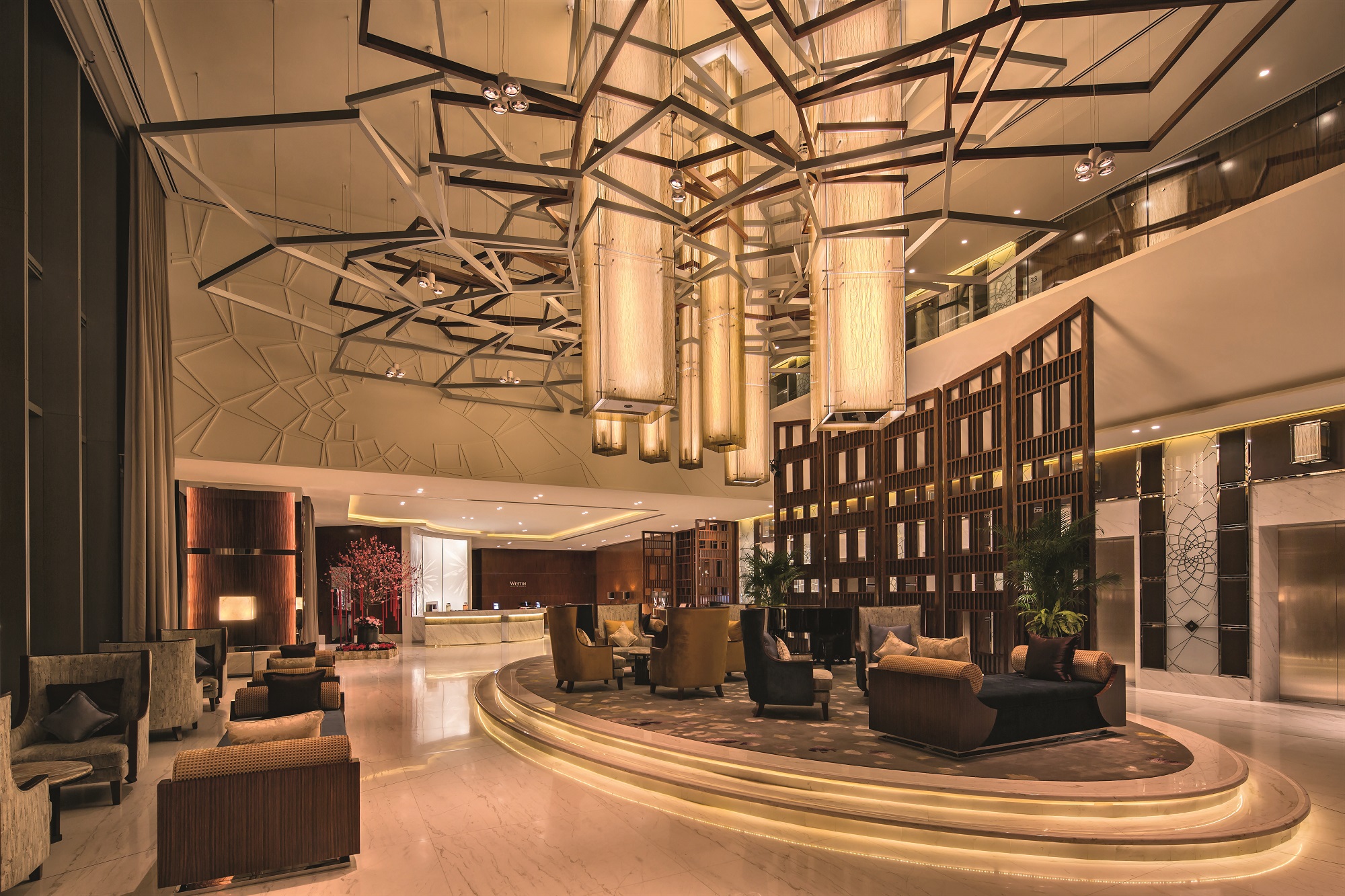 The gorgeous lobby, courtesy of locally based British interior designer Warren Foster-Brown, introduces guests to a palette of rich, nature-inspired colours, streamlined décor, and distinctive pendant lights, and the beautiful design motif is carried out throughout the property, from the sumptuous signature restaurant, Seasonal Tastes, and its 33rd-floor counter part, the up-scale gastro-pub Cook & Brew, right on to the spacious, comfortable guest rooms.
Each of the hotel's 305 well-appointed guest rooms and suites, including Executive Club rooms, Sea View Suites, Harbour View Suites and a Presidential Suite, feature floor-to-ceiling windows, soothing tones and all the expected amenities in a property of this calibre.
Regular Westin guests know that the beds are high point of the rooms, and here, will definitely enjoy the coveted Westin Heavenly Bed, featuring lush sheets, down cushioning, and a patented pillow-top mattress. So comfortable are these beds, the only thing that may prompt an early rise is the promise of the excellent weekend Champagne breakfast in the 35th-floor executive lounge.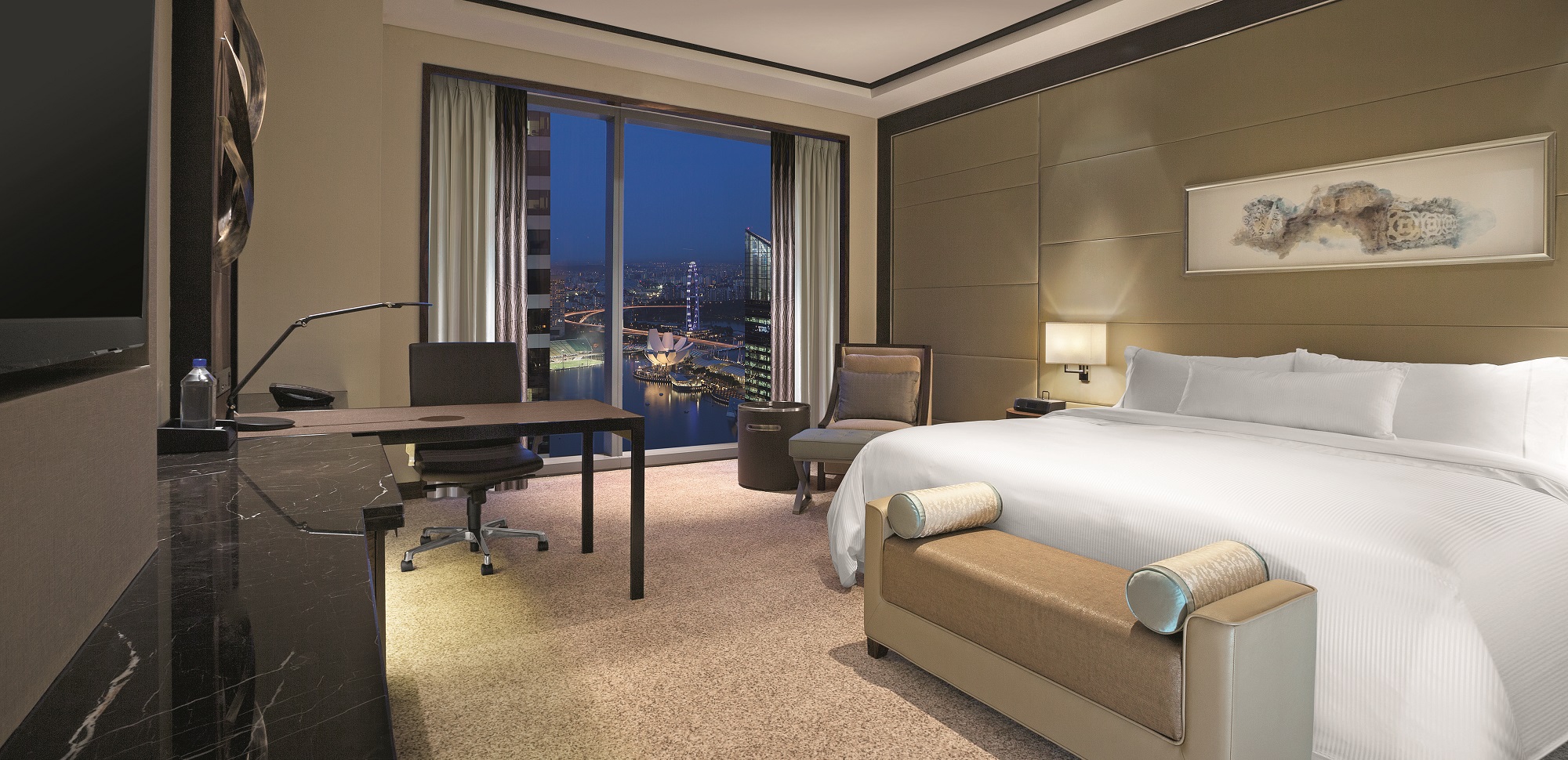 The Westin Singapore offers an infinity pool with views of Singapore's south coast; a fully equipped fitness studio with state-of-the-art equipment and customized workouts for guests to keep up with their fitness routines, as well as the New Balance Gear Lending program which provides guests with athletic shoes and apparel during their stay.
For those so inclined, the hotel also provides maps that feature five- and eight-kilometre jogging/walking routes from the hotel. A full spa, complete with six treatment rooms and a range of treatments and facilities, rounds out the list, making The Westin Singapore both an ideal business hotel, particularly with its favourable location in the financial district of the city, and a great place for a weekend getaway, as the area's streets become sedate and quiet, ideal for a city stroll.
One such stroll well worth taking is to the impressive Gardens by the Bay, a lush 101-hectare park built on reclaimed land and opened in 2012, just an easy 15-minute walk from The Westin (or a single MRT stop if you're so inclined).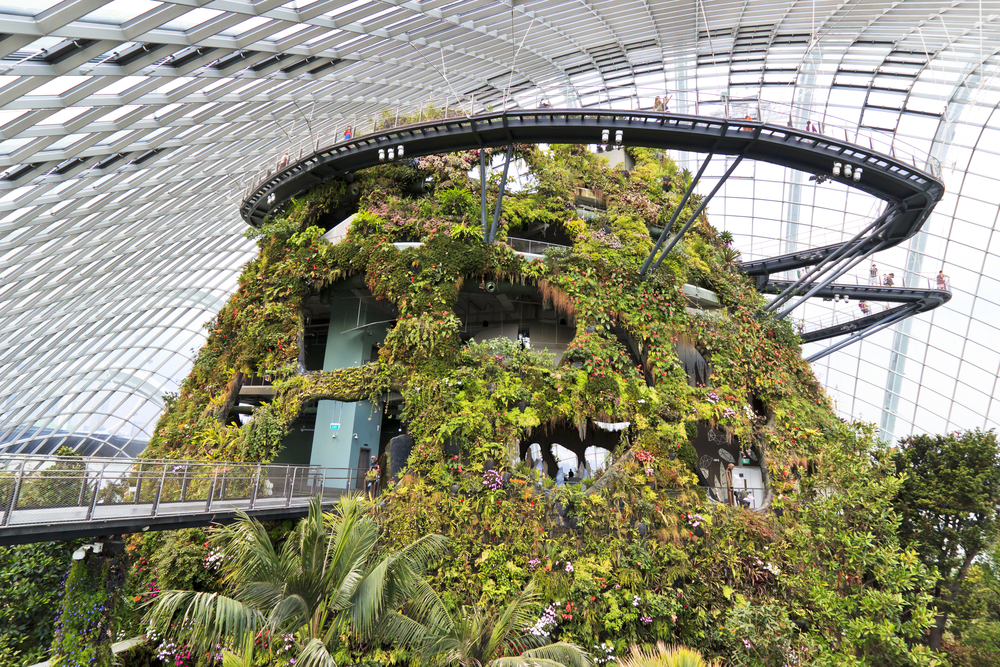 Two sizeable conservatories – Flower Dome and Cloud Forest – are complemented by a sprawling open-air park dotted with various gardens and dominated by the Supertree Grove, a collection of 18 tree-like structures that are both visually arresting and environmentally useful. The supertrees range in height from 25 to 50 metres, comprising a concrete core and steel frame, planting panels, and a wide-arcing "canopy" topping the structure.
The supertrees overlook the entire park and along with the vast domed conservatories are its most iconic elements. The planting panels on the trunks of the supertrees serve as prolific vertical gardens, and these panels are planted with nearly 163,000 plants representing more than 200 species from around the world. Bromeliads, orchids, ferns, creepers, climbers, and tropical flowers are all in attendance here.
Walking among the magnificently landscaped gardens is free of charge, and Gardens by the Bay is accessed by the nearby Bayfront MRT station.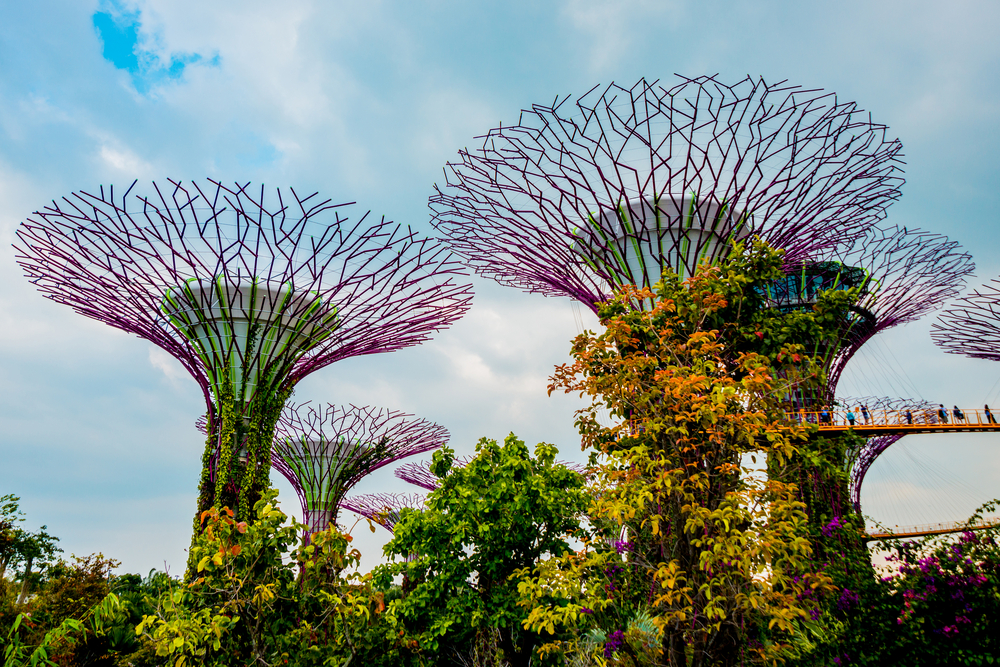 Complimentary attractions and gardens here, enough to easily spend a day exploring, include the Bay East Gardens, the multi-sensory World of Plants, Dragonfly and Kingfisher Lakes (the former boasting a 440-metre boardwalk), Heritage Gardens with its four themed gardens corresponding to Singapore's three main ethnic groups and its colonial history, a Children's Garden with water play features, and the new Sun Pavilion, comprising a collection of over 1,000 desert- and dryland-dwelling plants representing some 100 different species.
As Singapore's showcase park development, a paradoxical man made wonder of nature, Gardens by the Bay offers plenty of free enjoyment for adults and children alike. In what is surely an unintentional nod to the old Joni Mitchell song that says, "They took all the trees and put 'em in a tree museum," admission is indeed charged for entrance to the conservatories, a rather steep S$28 to access both the Cloud Forest and Flower Dome structures, with the under-12 child's fares et at S$15.
A far less wallet-busting choice is the OCBC Skyway, a curving 128-metre aerial walkway that connects two of the supertrees a breathtaking 22 metres above the ground, affording scenic vistas of the Gardens and the awe-inspiring Marina Bay skyline, just adjacent to the park and dominated, of course, by the dramatic triple towers of the US$5.5 billion Marina Bay Sands.
The Skyway is open from 9am to 9pm, and admission is S$5 for adults and S$3 for children.
Looking ahead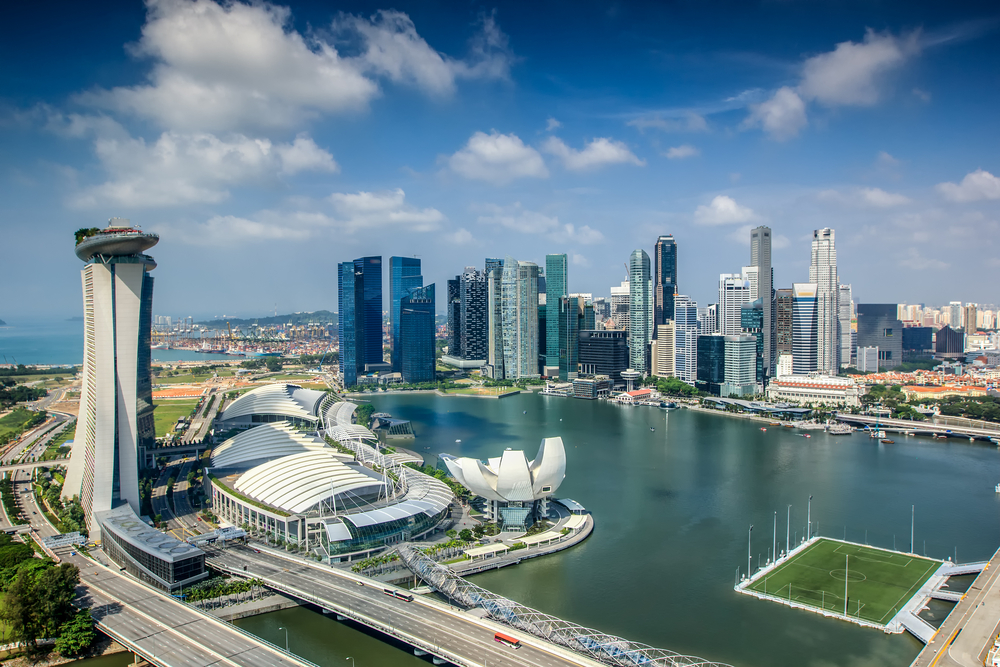 Last year, Singapore celebrated its 50th anniversary since independence, a year-long party that was simultaneously muted and bolstered by the death of the country's first and most prominent Prime Minister, Lee Kuan Yew, who governed the city-state for more than three decades and passed away last March.
Today, Singapore continues to cleverly manoeuvre its way in the world of international trade, business, and entertainment. A significant part of its success is owed to its government's pro-industrialisation policies and excellence-oriented, multi-ethnic people.
It comes as no surprise then the country continues to establish itself as Southeast Asia's financial and high-tech hub, with lifestyle and fashion fast becoming a part of its national repertoire. And apart from the commerce and business sides, Singapore is an excellent – albeit admittedly expensive – leisure travel destination, too. On the whole, it's safe to say that Singapore gets a bad rap at times – and in some ways it's understandable and even perhaps deserved that it's thought of as a somewhat mechanical and sterile city.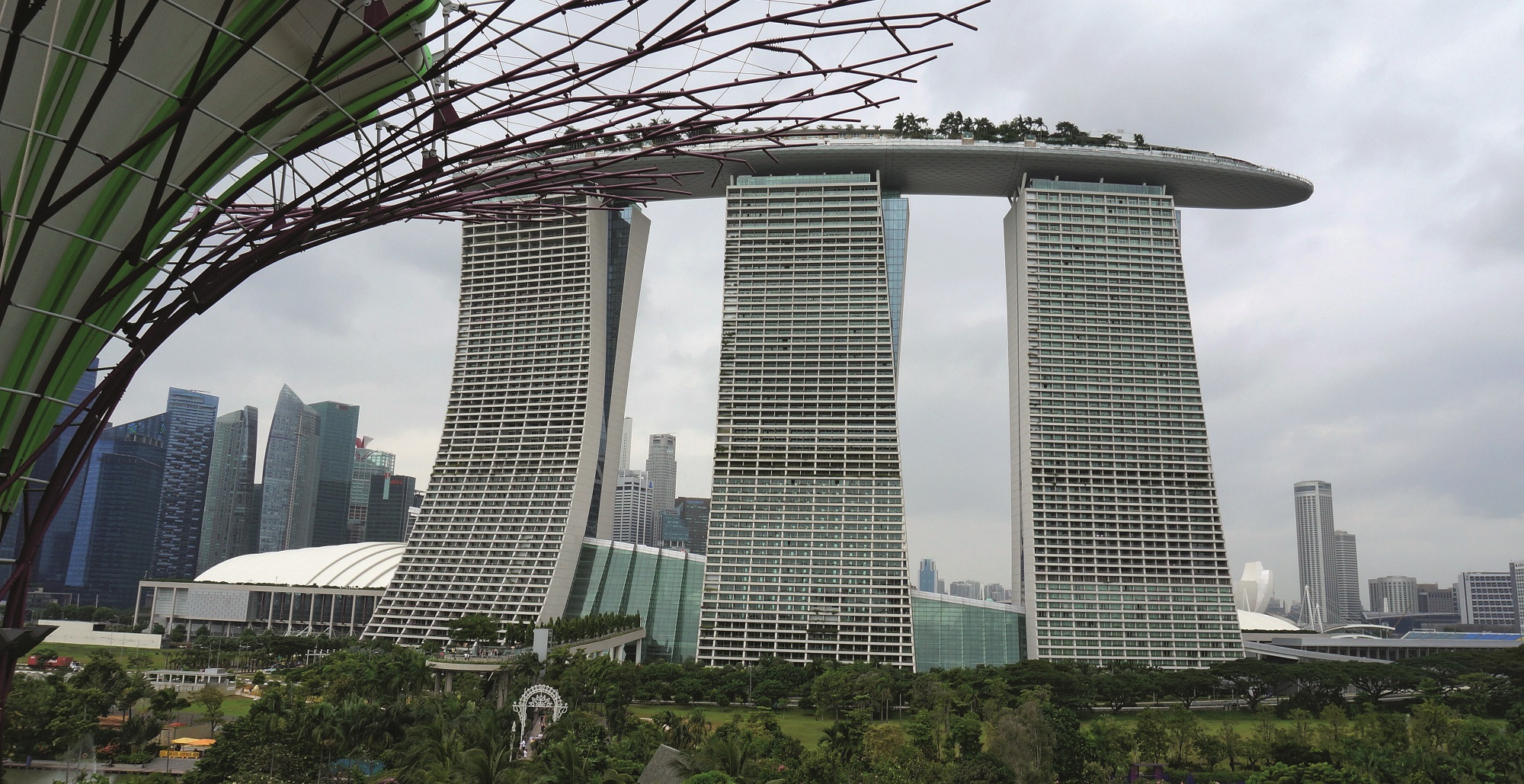 But it still has much to offer for those who wander away from the shiny malls and sparkling lights of the well-known Orchard Road. Explore a bit. Singapore's legendary efficiency and safety means you can do so comfortably and easily, and you may just discover a side of the Lion City you never knew existed.
Just an hour's flight south, Singapore is well-served from KL and Subang airports by Firefly, Malindo, Malaysia Airlines, and AirAsia, among others.
Standard and luxury coaches such as Odyssey, Aeroline, and First Coach also ply the North-South Highway, usually making the trip in about five hours. Self-driving is also an option.
Singapore fact file
Size: 719 km2 (World rank: 190th)
Population: 5.535 million (2015)
Government: Unitary parliamentary constitutional republic
Official languages: English, Chinese, Malay, Tamil
GDP PPP*: $82,762 (World rank: 3rd)
HDI**: 0.912, very high (World rank: 11th)
Currency: Singapore dollar (1SGD =3.06MYR = 0.70USD)
*GDP per capita, purchasing power parity, international dollars
**Human Development Index, a comparative measure of life expectancy, literacy, education, standards of living, and quality of life for 188 countries worldwide in 2015. (For comparison, Malaysia's HDI is 0.779, high, and is ranked 62nd.)

Notable facts:
The country of Singapore consists of 63 islands in total.
Nearly half of Singapore's population is foreign-born.
Singapore's population density, at some 7,700 per sq km, is the third-highest in the world.
With its expulsion from Malaysia in 1965, Singapore is the only nation to have actually had its independence effectively forced upon it.
Because of ongoing reclamation efforts, Singapore's land area has actually increased by over 20% since the 1960s. In fact, almost 10 sq km have been added since we first ran the "Expat Tour of ASEAN" series three years ago!
This article was originally published in The Expat Magazine which is available online or in print via a free subscription.
---
"ExpatGo welcomes and encourages comments, input, and divergent opinions. However, we kindly request that you use suitable language in your comments, and refrain from any sort of personal attack, hate speech, or disparaging rhetoric. Comments not in line with this are subject to removal from the site. "
Comments