This is part of a series on ASEAN countries.
Known for its stunning beaches, shopping bargains, and delicious food, Thailand has long been a popular destination for travellers and adventurers the world over. Our sister product, The Expat magazine, looks at the history of this culturally rich nation and discovers a country that stands proudly today as a unique and fascinating kingdom.
Today governed by a military junta that claimed power in a coup d'état in May 2014, the Kingdom of Thailand claims a magnificently long and rich history. The area has been inhabited since the advent of human civilization in Asia, perhaps as far back as 40,000 years ago, but historically, there have been conflicting opinions about the origin of the Thai people.
It is presumed that about 4,500 years ago, Thais emigrated from the northwestern province of Szechuan in China and later moved further south. However it unfolded, it's notable that throughout its modern history, Thailand can boast the distinction of being the only country in Southeast Asia to have never been colonized. As such, its history can be divided into five major periods – the Nanchao, the Sukhothai, the Ayutthaya, the Thonburi, and the Rattanakosin.
Rise to power
The Tai – not Thai – people founded the Nanchao kingdom in the southern part of China in 650 CE. Believed to be the ancestors of modern-day Thais, the Tai came from the Altai Mountain Range in southern Mongolia and established a territory that served as a buffer for (and later rival to) China. The Tai people later set up small city-states, which rapidly grew into powerful kingdoms, including Lan Na (in Northern Thailand), Sukothai (in Central Thailand), and Lan Xang (in the land of Laos).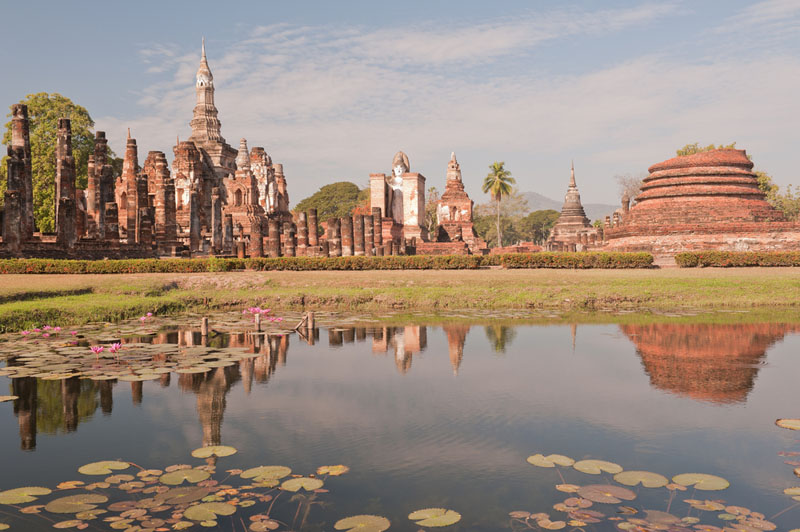 Founded in 1238 by two Thai chieftains, Khun Bang Klang Tao and Khun Pa Muang, the Sukhothai kingdom (meaning ''Dawn of Happiness'') was the first truly independent Thai kingdom, ending the Khmer rule from Angkor Wat. In the early 1300s, Sukhothai enjoyed a prosperous ruling period over the Chao Phraya River basin, westward to the Bay of Bengal and the entire peninsula.
Although the kingdom was short-lived, it was of immense cultural importance in the nation's history, and is considered the golden age of Thai culture. A popular saying defines that flourishing time in Thai history perfectly: "There were fish in the waters and rice in the fields."
The Ayutthaya period followed soon after, where the Thai kings of Ayutthaya became powerful in the 14th and 15th centuries. Its first king, Ramathibodi I, was both a warrior and a lawmaker, and by the 15th century, Ayutthaya had established a firm hegemony over most of the northern and central Thai states.
During the 15th century, the Ayutthaya kingdom transitioned from a small state to an increasingly centralised kingdom wielding tight control over a core area of territory and is also considered to be early Thailand's great era of international trade. Ayutthaya's role as a port made it a marketplace for goods from the Far East to be bought or bartered in exchange for merchandise from the Malay and Indonesian Archipelago, India, or Persia, as well as local wares and produce.
The good times didn't last, however, as the Burmese invaded Ayutthaya again in 1765 and destroyed everything including temples, manuscripts, and religious sculpture. After the capital fell, it belonged to the Burmese for two years until they felt the pressure of the Thai people rising up and lost their tenuous hold on the kingdom.
After the fall of Ayutthaya in 1767, the Thai general Taksin, drafted an army of patriots to take revenge for his country. After his troops successfully chased the Burmese away, he decided to build a new capital along the Chaopraya River and named it "Thonburi." King Taksin then reigned over a peaceful country for over 15 years and extended diplomatic relationship with many of the surrounding countries.
Unfortunately, King Taksin, who devoted his life to protecting his beloved country, could not handle the stress from the wars and eventually suffered from deteriorating physical and mental health. The collapse of the Thonburi came in the form of a coup in 1782 by the ambitious General Chakri.
The final lap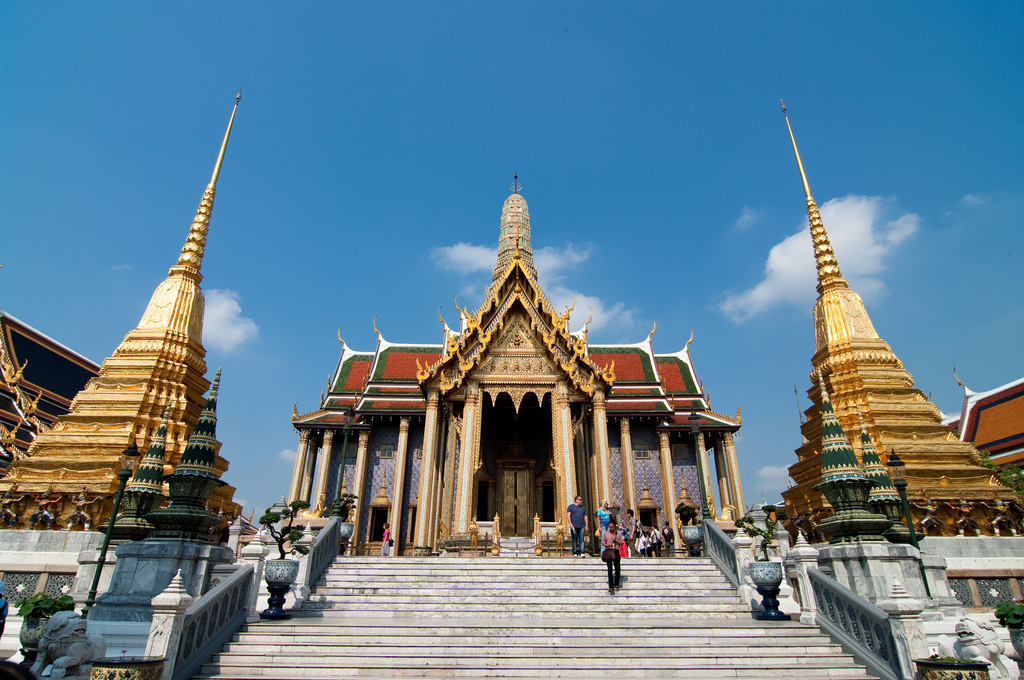 After Taksin's death, General Chakri became the first king of the Chakri dynasty, ruling from 1782 to 1809 under the title Rama I. His first actions as king were transferring the royal capital across the river from Thonburi to Bangkok and building the Grand Palace. Rama II (18091824) continued the restoration begun by his predecessor while King Nang Klao, otherwise known as Rama III (1824-1851), reopened relations with Western nations and developed trade with China.
King Mongkut, Rama IV (1851-1868) – of The King and I fame – concluded treaties with European countries, avoided colonisation, and established modern Thailand, making many social and economic reforms along the way.
Probably the most well-known Thai ruler, King Chulalongkorn, or Rama V (1869-1910), continued his father's tradition of reform by abolishing slavery and improving the country's welfare and administrative system. Compulsory education and other educational reforms were introduced soon after by King Vajiravudh, or Rama VI (1910-1925). During the reign of King Prajadhipok (1925-1935), Thailand changed from an absolute monarchy to a constitutional monarchy.
Evolving with the times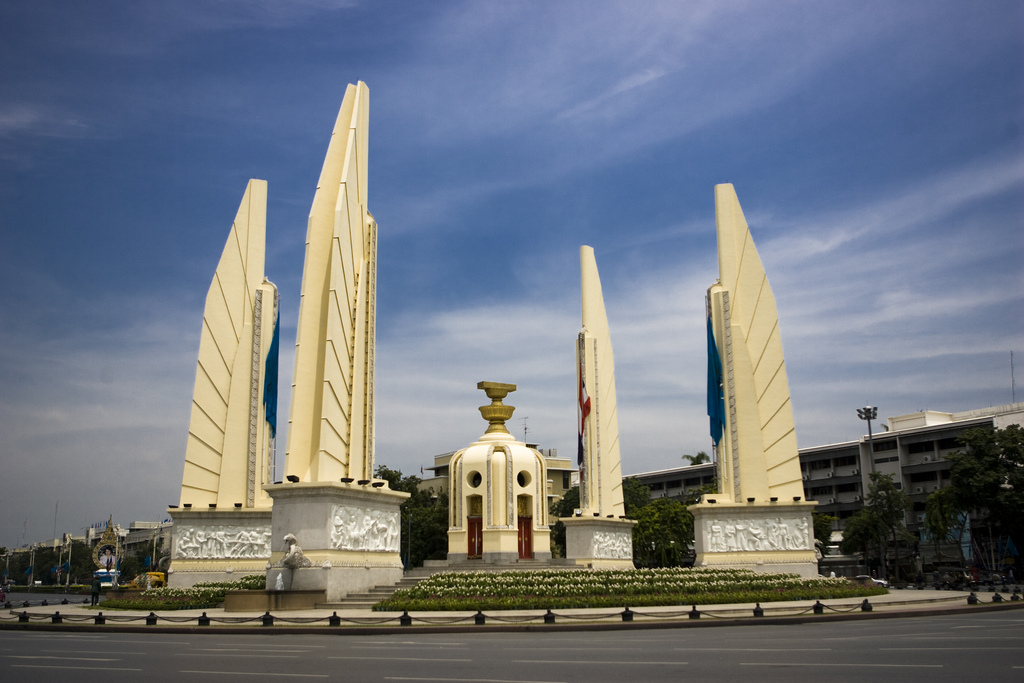 The politics of Thailand took a turn on 24 June 1932 when a group of young intellectuals, educated abroad and infused with the concept of Western democracy, staged a bloodless coup, demanding a change to the constitutional monarchy system. Determined to avoid any bloodshed, His Majesty King Prajadhipok (Rama VII) agreed to the abolition of an absolute monarchy and handed over the ruling of the country to a constitution-based system of government.
To some this demand was premature, but fortunately the far-sightedness of King Prajadhipok and his predecessors prepared the people for this transition. While continuing processes introduced by the two previous kings, King Prajadhipok harboured the intention of converting to the Western constitutional monarchy system and had considered the eventuality of such a form of government at an appropriate moment.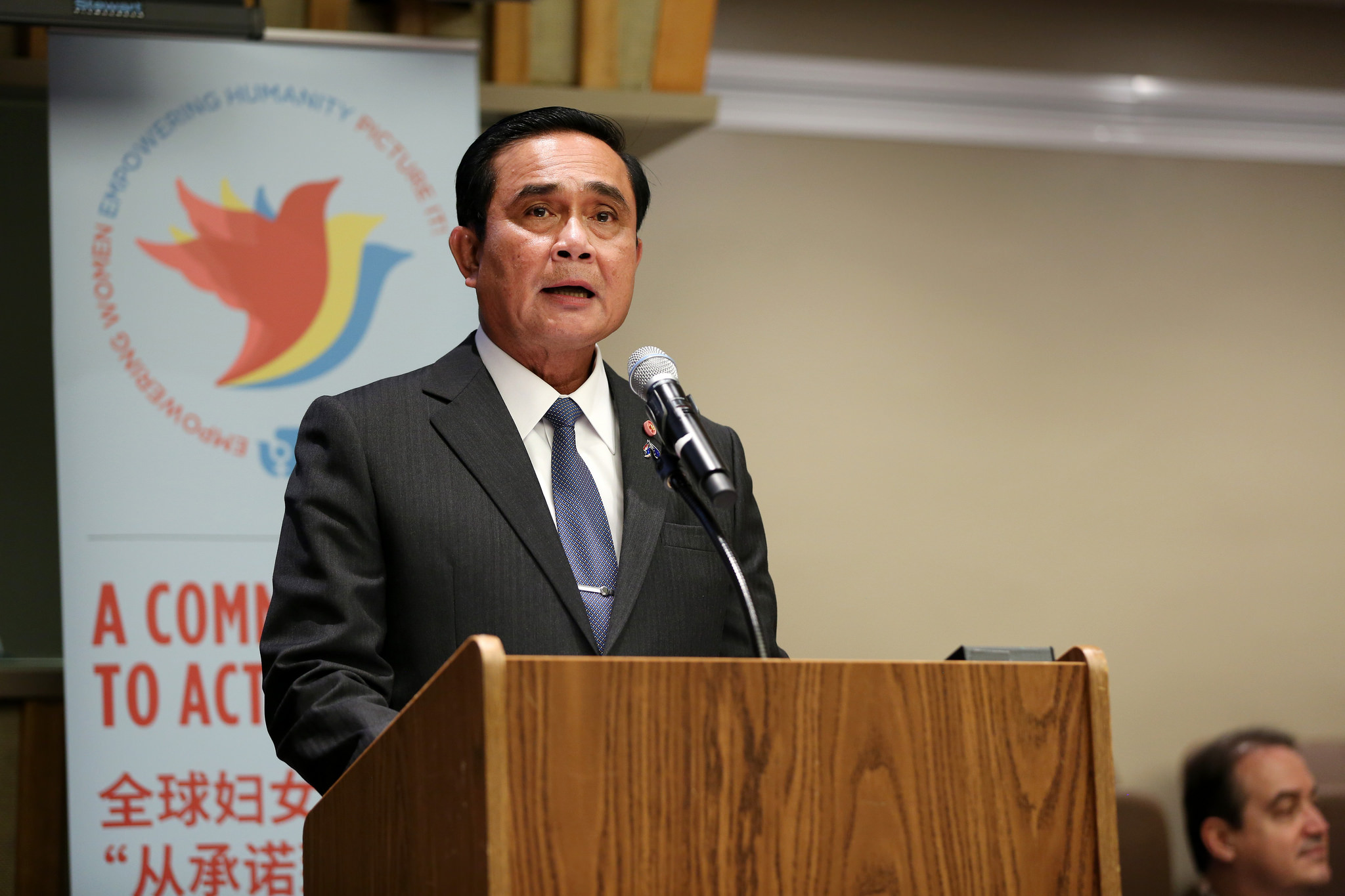 On 10 December 1932, His Majesty King Prajadhipok signed Thailand's first constitution, thus ending 700 years of absolute monarchy rule. Despite the number of successive constitutions that followed, currently standing at a whopping 19, the system laid down in the 1932 constitution has remained unaltered. The advent of a democratic government in 1939 also saw the country's name changing from Siam to Thailand.
Since 2001, Thailand's political scene has been roiled by various difficulties, including two full-blown political crises and an additional pair of coups. The most recent of these, in May 2014, saw the Thai army declaring martial law and suspending the country's constitution. Three months later, the National Assembly of Thailand elected Army General Prayut Chan-o-cha as the country's prime minister. Just under a year after the coup, martial law was formally ended.
The Land of Smiles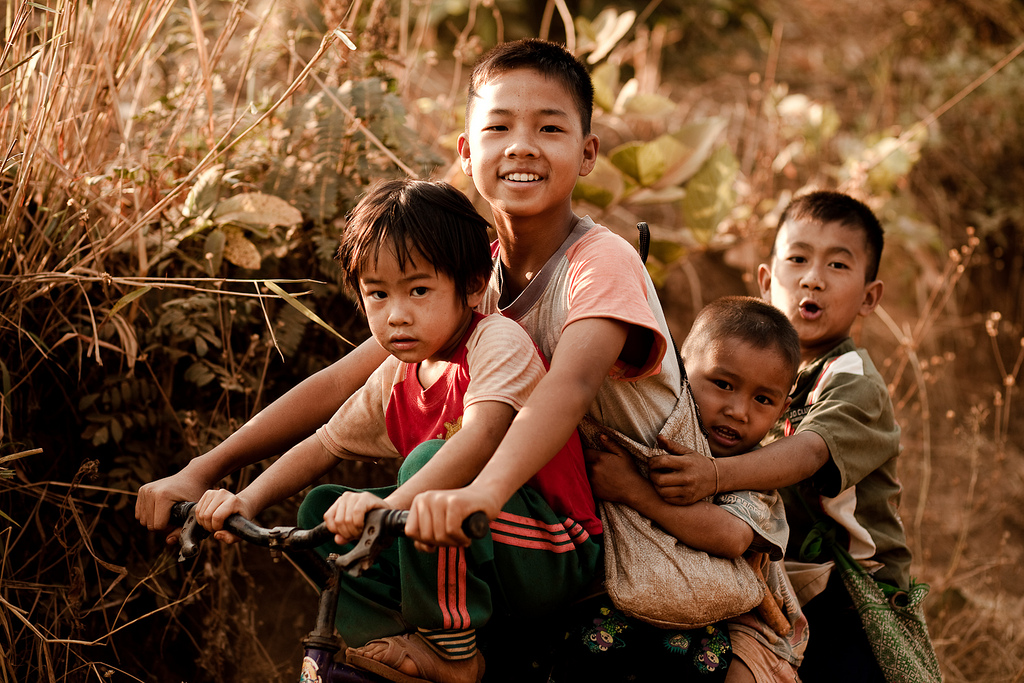 Throughout her long history, Thailand has gently absorbed immigrants who helped enrich her indigenous culture. People inhabiting Thailand today share a rich ethnic diversity – Khmer, Laotian, Chinese, Malay, Persian, and Indian bloodlines run through their veins, creating a country distinct in both culture and appearance.
Some 80% of all Thais are connected in some way with agriculture which, in varying degrees, influences and is influenced by the religious ceremonies and festivals that help make Thailand such a unique country. As any tourist or expat can attest, the people of Thailand wear their hearts on their sleeves. Always warm and welcoming, the Thai people are living proof that despite grievances with the powers-that-be, a peaceful country can emerge, and indeed thrive, through camaraderie, humility, and faith.
Thailand fact file:
Size: 513,120 km2 (World rank: 51st)
Population: 67,959,000 (2015 estimate)
Capital city: Bangkok
Largest city: Bangkok
Government: Constitutional monarchy, currently under military junta
Official language: Thai
GDP PPP*: $16,081
HDI**: 0.726, high (World rank: 93rd) Currency: Thai baht (1MYR = 8.28THB)
*GDP per capita, purchasing power parity, international dollars
**Human Development Index, a comparative measure of life expectancy, literacy, education, standards of living, and quality of life for 188 countries worldwide in 2015. (For comparison, Malaysia's HDI is 0.779, high, and is ranked 62nd.)
Both of these metrics have meaningfully improved since our 2013 ASEAN series, and Thailand today ranks third in ASEAN in quality of life.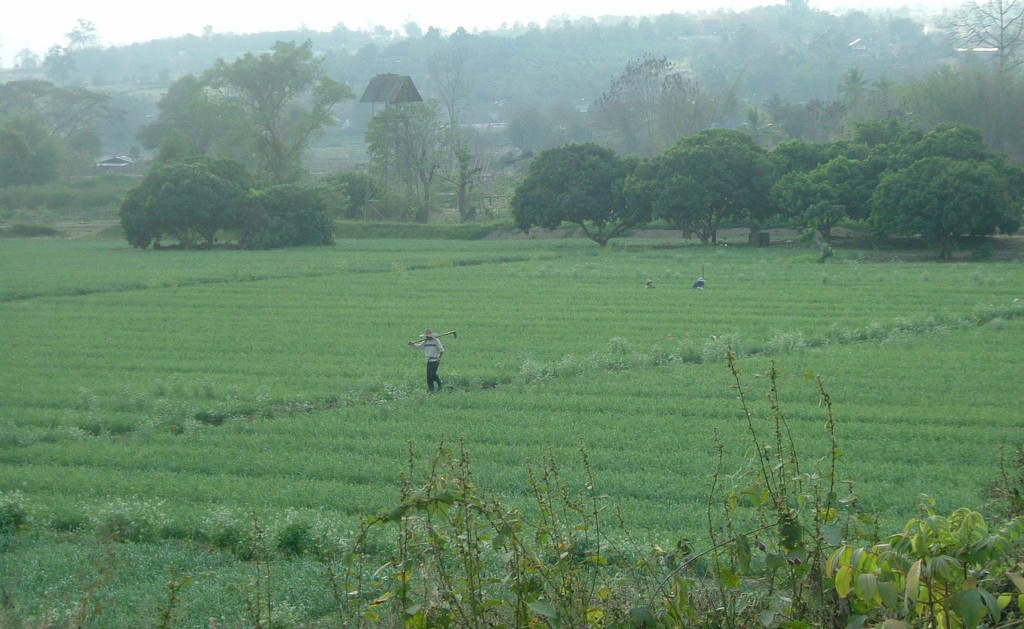 Notable facts:
Called Mueang Thai by her people, the kingdom of Thailand is often referred to as "the land of the free," with the Thai people taking pride in the fact that theirs is the only country in Southeast Asia never to have been colonized by any European power.
Rice is Thailand's most important crop, with about 55% of the country's arable land used for rice production; the country is the world's number one exporter of rice, as well. Overall, more than two-thirds of Thailand's economy is dependent upon exports.
Though Thailand was never colonized, large tracts of land surrounding it were: the territory to the east of the Mekong River by France, and the Malay Peninsula to the south by Great Britain. This eventually led to the loss of four southern Siamese provinces, as well as the island of Penang via the Anglo-Siamese Treaty of 1909. Predominantly ethnic Malay anyway, these provinces would ultimately be absorbed into present-day Peninsular Malaysia as its four northernmost states.
Plans for a large canal cutting across Thailand's Kra Isthmus have repeatedly surfaced throughout history, often going nowhere due to technological limitations of the time. However, the idea has been revived in recent decades as a way to improve transportation in the region and shorten shipping times. Needless to say, countries which would be negatively impacted by such a canal – namely Singapore and Malaysia – have steadfastly lobbied against the canal's construction.
With a "primate city" defined as being one that's at least twice as large as the next largest city and more than twice as significant, Bangkok has been called "the most primate city on Earth." The capital city is more than 40 times larger than Thailand's next-largest city, Nonthaburi.
This article was originally published in The Expat magazine (March 2016), which is available online or in print via a free subscription.
---
"ExpatGo welcomes and encourages comments, input, and divergent opinions. However, we kindly request that you use suitable language in your comments, and refrain from any sort of personal attack, hate speech, or disparaging rhetoric. Comments not in line with this are subject to removal from the site. "
Comments