Melissa Cheah, a born and bred Penangite and so a foodie by birthright, walks us through some of the top places for a cup of coffee and cake with a special atmosphere.
Over the last few years, the cafe culture in Penang has been burgeoning. From themed eateries to brunch places to dessert cafes, there has been a rise in creativity among the owners and restaurateurs, all with one singular purpose: to distinguish themselves from their competitors.
There is a multitude of cafes all across the island and we are sure that there are preferred cafes for those of you who have visited Penang. This list will direct you to cafes that we've found offer medley of great food and tastefully themed decor.
1. The Book Sandwich Cafe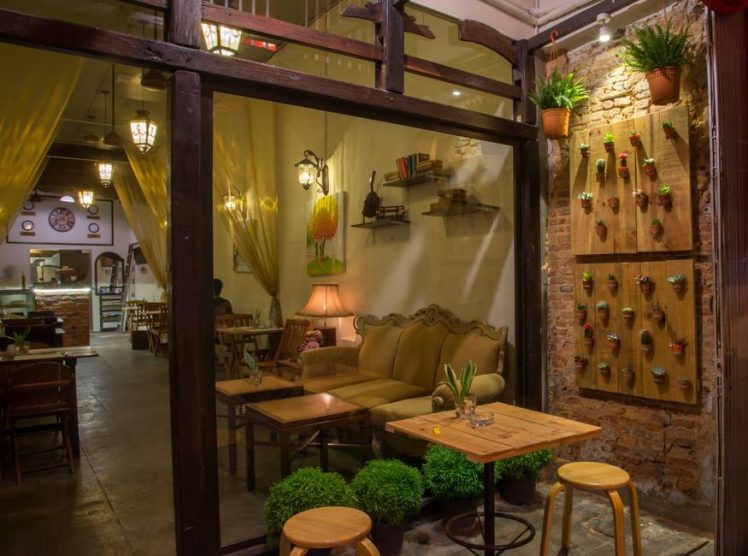 Books. Stuck to the walls. Perched on shelves. Arranged on tabletops. When asked about the inspiration behind the name 'Book Sandwich', the chef genially offered his explanation:
"When it comes to crafting a dish, each mouthful is meant to be savoured, like how it is when one reads a book. There are many layers to be explored and with every bite, we hope to bring you a surprising burst of flavour."
Well, we won't disagree with that interpretation. The star dishes here are a no-brainer; the sandwiches of course. From the classic Eggs Benedict to localised choices such as Beef Rendang and Sambal Udang sandwiches, the sweeping choice of food offers something for even the fussiest of eaters. More than sandwiches, this gem serves salads, burgers, soups, main courses, pastas, sandwiches and dessert as well.
Address: 205, Lebuh Pantai, George Town, 10300 George Town, Penang.
2. Moody Cow Dessert Cafe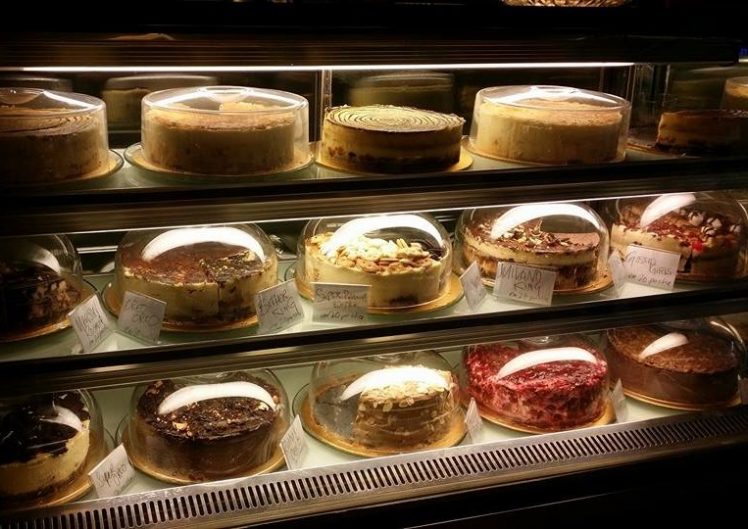 Now, we are not too sure about the logic behind the cafe's name – it could be attributed to the dimmed setting of the place, which is backed up by nostalgic artwork and theatrical whimsy like a big black curtain – but we are convinced about the cheesecakes here. The lusciously decadent cheesecakes, to be precise.
The choices are aplenty and the combinations are anything but ordinary. From nutella cheesecake, to cendol cheesecake to salted egg yolk with durian cheesecake, there is no doubt about going for a gastronomic experience when visiting this place.
Address: 170, Jalan Transfer, 10050 George Town, Penang
3. Dolce Dessert Cafe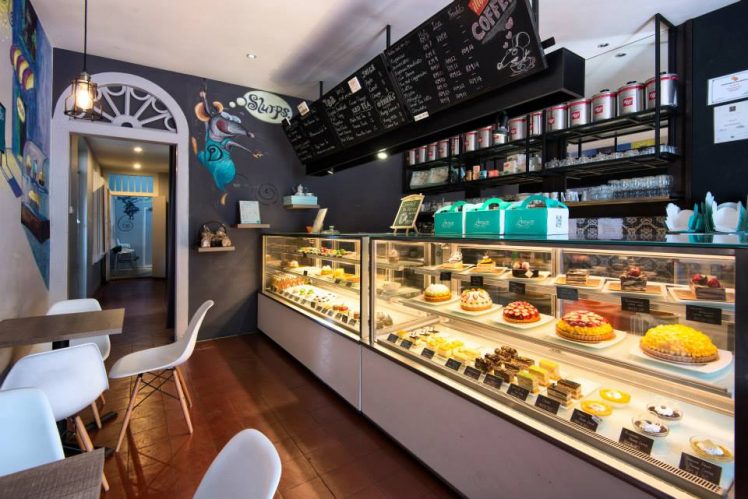 The soul of Dolce Dessert Cafe lies in its meticulously crafted desserts, marking it as a must-drop-in spot for cafe hoppers with a sweet tooth. It is located strategically within the colourful Kek Chuan Terraces, a row occupied with heritage restaurants. The colourful setting is enhanced with cute drawings and cartoons on the walls.
Some of the hits at this cafe include the passionfruit cheesecake – boasting a fresh blend of passion fruit seeds, a splendid confection of sweet, velvety and tangy – and the cafe's specialty fruit tarts, renowned for their crumbly crust, assorted tropical fruits and for being Instagram-worthy.
Address: 18, Jalan Kek Chuan, 10400 Georgetown, Penang
4. China House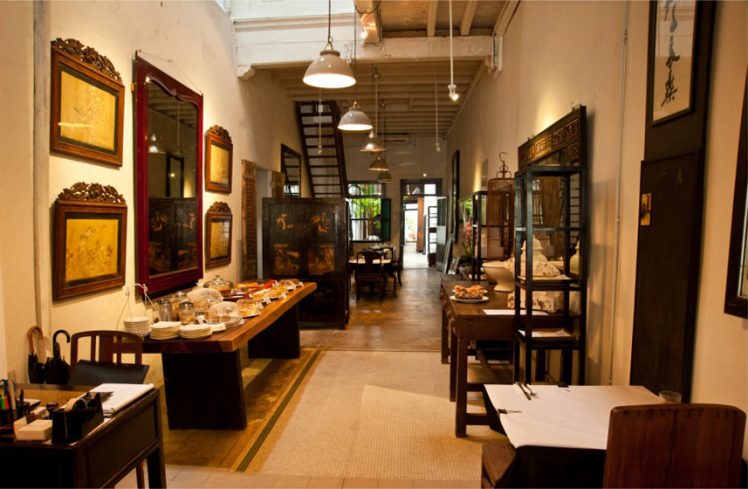 The much-publicised China House is one of the most established names in Penang's cafe scene. The result of combining three heritage houses into one fancy space, each house is uniquely decorated and carries a distinct vibe, leaving visitors with options to dine in an alfresco cafe in the courtyard, a hall or a bar.
The presence of arts is strong here, as the cafe houses a gallery upstairs and there are live performances every night by local, budding artists at the bar section.
The minute you walk into the cafe section of China House, there will be an immediate wafting of the vanilla-scented aroma into your nostrils. Look to the left, feast your eyes on the trays of glorious cakes spread across a wooden table and we promise you, it will make every cake lover's dream come true.
Address: 153, Lebuh Pantai, Georgetown, 10300 Georgetown, Penang
5. The Safe Room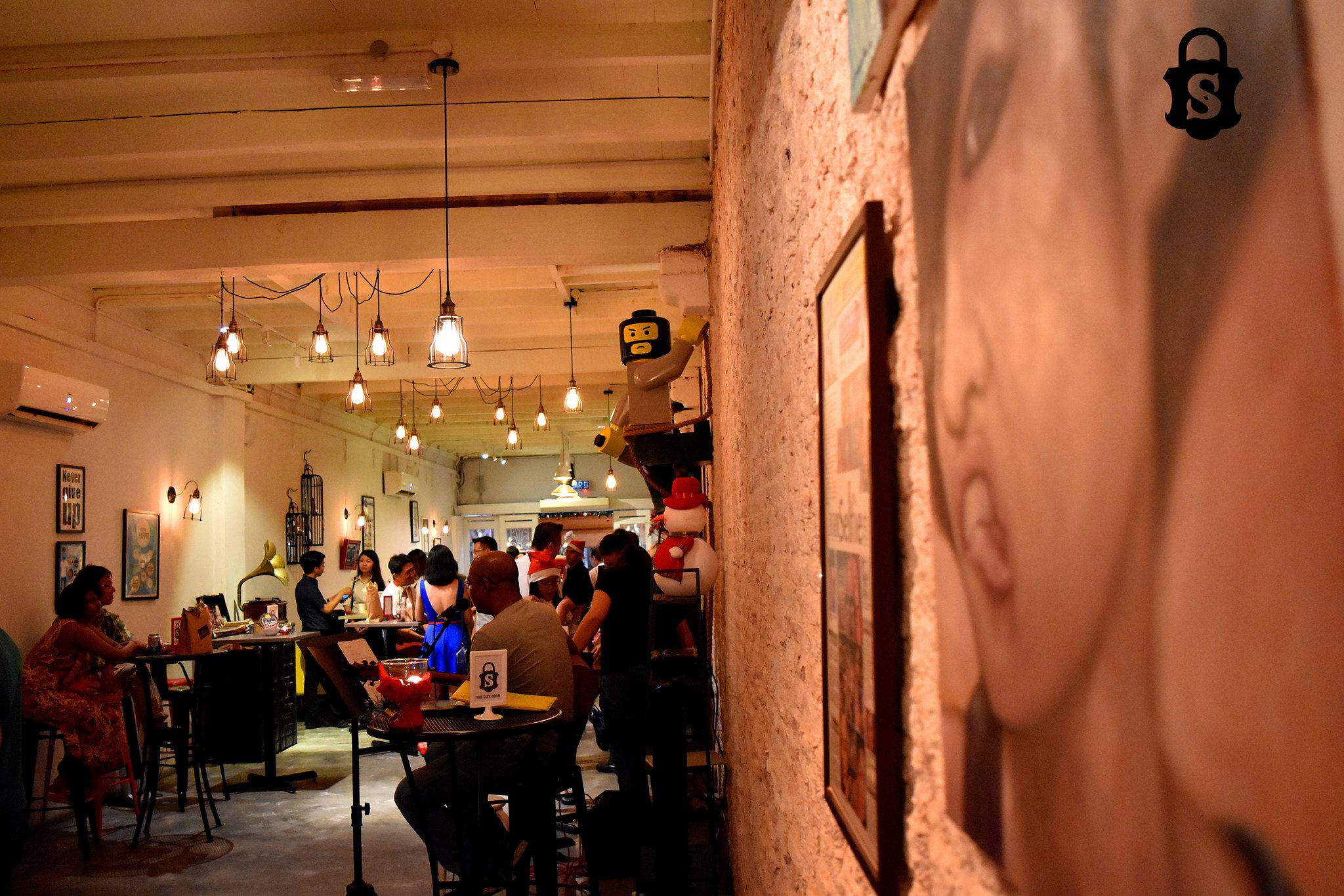 The Safe Room at Campbell Street is upping the game and giving its contenders something to be worried about by offering liquid nitrogen ice-cream on its menu. The first of its kind in Penang, the open-kitchen concept means that the diners get to witness the whole process at the bar – the extraction of liquid nitrogen from the tank, the blending of fruits and finally, the freezing process.
Also on its menu are a decent range of cakes and some mains such as pasta, sandwiches and breakfast food.
The Safe Room's signature, Coconut Nitro Ice Cream uses fresh coconut from the displayed refrigerator. Watch in amazement as the fresh coconut juice takes on a different form and morphs into snow-white, creamed sorbet; a fantastic treat to quell the blistering tropical heat.
Address: 42, Campbell Street, 10100, Georgetown, Penang
6. Tavern in the Park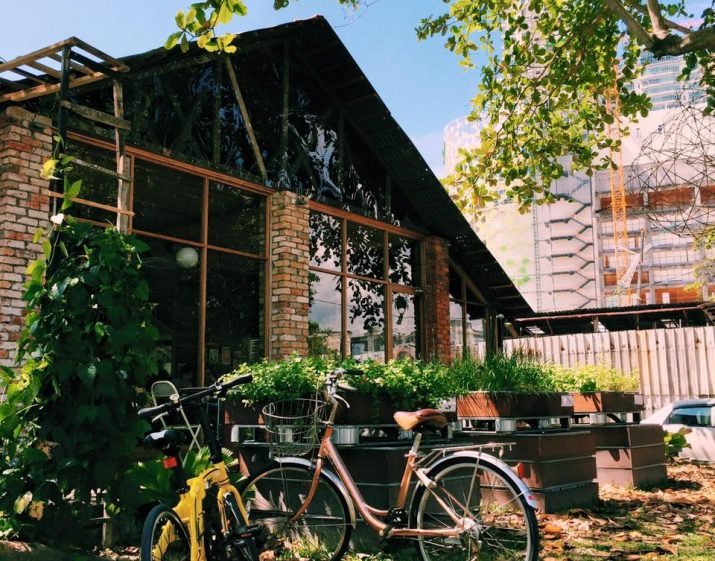 Update on 9 March 2017 – Tavern In The Park has since ceased operations.
A recent addition to the scene, Tavern in the Park is housed in a wooden cottage spruced up with classic tables and embellished chairs. Their grounds boast of an open kitchen on hardwood floors, a swing and a beautifully manicured garden. This place effortlessly exudes a laid-back vibe for relaxing way to spend a free afternoon.
Their signature offering, the Crostini (which comes in a set of three) is not only adorable to behold, but immensely flavour-packed. The underlying bread has crunchy edges with fluffy inner body, and you get to have sweet and savoury variants in one dish.
Their artisan burgers came strongly recommended to us and it was easy to see why, so we would be remiss not to pass on the message.
Address: Hin Bus Depot Art Centre, 125, Jalan Timah, 10050, Georgetown, Penang
7. Pik Nik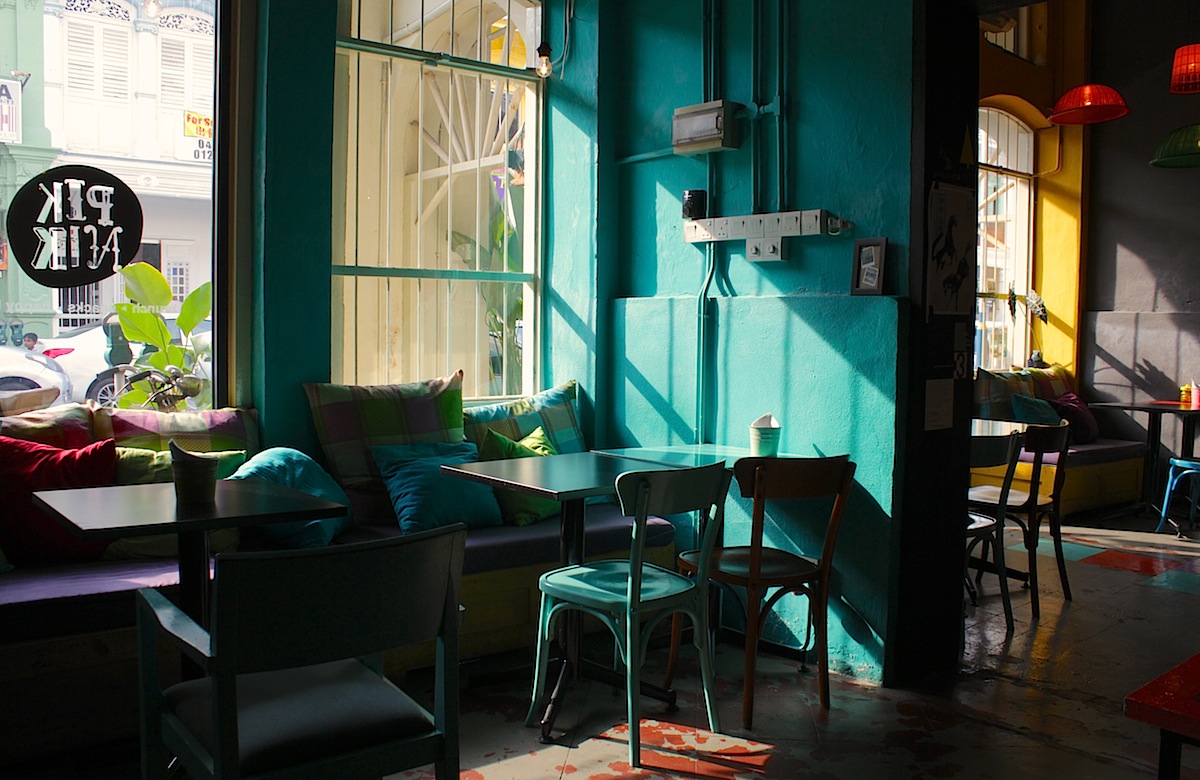 No, we did not mistakenly spell 'picnic', that really is how this cafe's name is spelled. One of the pioneers in Penang's cafe scene, this hipster hangout's interior is a hodgepodge of colour and texture – think brightly coloured pillows, chairs in a variety of shades and sizes, artfully-scribbled graffiti all over the walls and tables remade from old wooden doors.
Their acclaimed waffles are what makes this place tick – crispy, fluffy and generously adorned with savoury ingredients such as bacon, scrambled eggs and smoked salmon. When you're there, do also try out the waffle burgers – you can pick from Big Fish, Wonder Beef or Super Beef.
Address: 15 Nagore Road, 10050 Penang
8. Awesome Canteen by Sekeping Victoria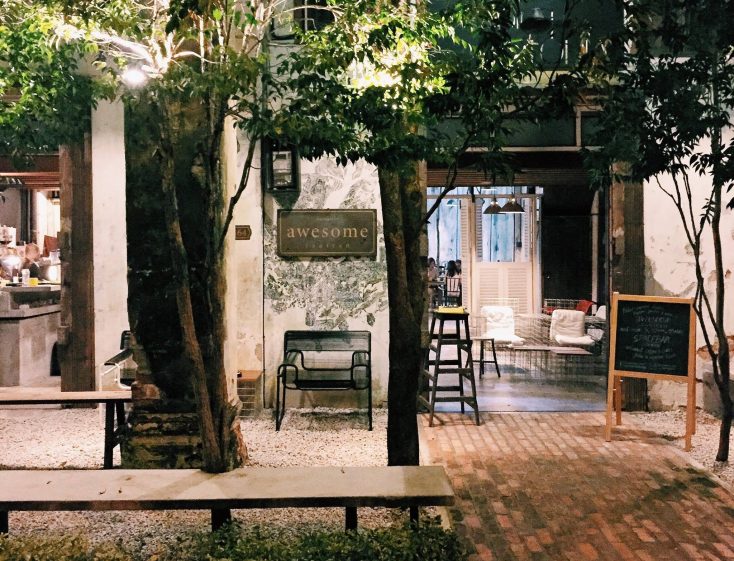 Chances are you might have stumbled upon a few snapshots of this cafe while scrolling through Instagram. Rustic and incredibly beautiful, Awesome Canteen is an extension of Sekeping Victoria – a guesthouse project by landscape architect, Ng Sek San.
With hardly any changes to the former heritage house, the streams of natural light, specks of greenery and open-wide space has made it a highly popular venue for events and exhibitions.
Coffee here is known to be thick and rich as well as sweet and balanced, and the food selection is fair – offering patrons a menu of drinks and cakes for early risers. Enjoy treats like in-house baked cakes, Japanese rice bowls, mocktails, and their Paleo/Caveman diet speciality.
Address: 164 A-B, Lebuh Victoria, Georgetown, 10300 Penang
---
"ExpatGo welcomes and encourages comments, input, and divergent opinions. However, we kindly request that you use suitable language in your comments, and refrain from any sort of personal attack, hate speech, or disparaging rhetoric. Comments not in line with this are subject to removal from the site. "
Comments