Journey to the ancient land of the Khmer Empire and revel not only in the splendour of Cambodia's most renowned tourist draw – the temple ruins of Angkor – but in the myriad delights of Siem Reap, a town which serves as both daytime gateway and evening entertainer, giving visitors plenty to enjoy.
A short two-hour flight from Kuala Lumpur had us touching down in the heart of what was once Southeast Asia's most powerful empire. At the zenith of an age that predated the Industrial Revolution by over 600 years, the Khmer rulers were embarking on a spree of temple construction that remains unrivalled in human history. Indeed, during the height of Khmer power, the vast capital city of Angkor was the largest pre-industrial urban centre in the world.
As surely as empires rise, however, they also ultimately fall. The Khmer Empire ended following a series of Ayutthayan sieges on Angkor, which resulted in its being abandoned as indefensible in 1431, with the capital then moved to Phnom Penh. Though the largest and most magnificent temples of Angkor remained known to the local Khmer and a handful of European visitors over the following centuries, many of the lesser temples were eventually cloaked beneath dense jungle until late in the 19th century.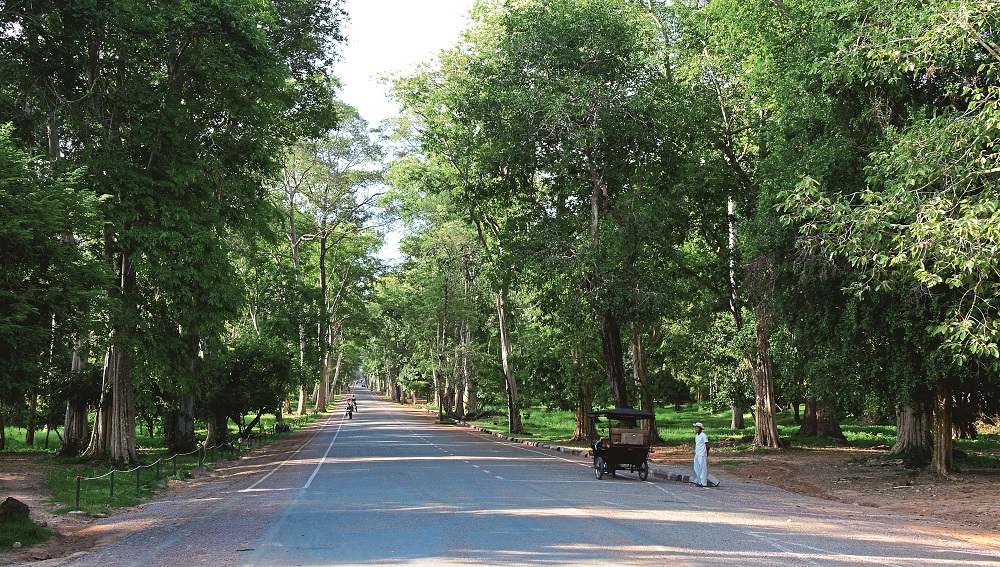 For much of the 20th century, French archaeologists undertook a laborious restoration process, clearing the forest growth from the temple ruins, repairing and stabilising foundations, and creating drainage paths to protect the temples from further water damage and erosion. This all came to a rather unceremonious end in 1970 with the Cambodian Civil War having paved the way for the rise of the Khmer Rouge regime. Angkor's restoration work resumed in 1993 after the fall of the regime and subsequent cessation of combat in the period of intermittent civil war that followed. In the time since, the efforts of the French have been joined by a truly international consortium of historians, ethnologists, archaeologists, and others, including notable contributions from Japan, India, Germany, the United States, and more, along with UNESCO and other domestic and international organisations.
The advent of tourism
Today, the town of Siem Reap – a rather inexplicable name which, despite the ignominious sacking of Angkor by the Siamese, translates to "the Defeat of Siam" – serves as the gateway to the former land of the Khmer Empire. The town of roughly 200,000 has flourished in lockstep with the growing popularity of Angkor Archaeological Park, the sprawling home to myriad temples and ruins, picturesque moats, and subtropical broadleaf forests.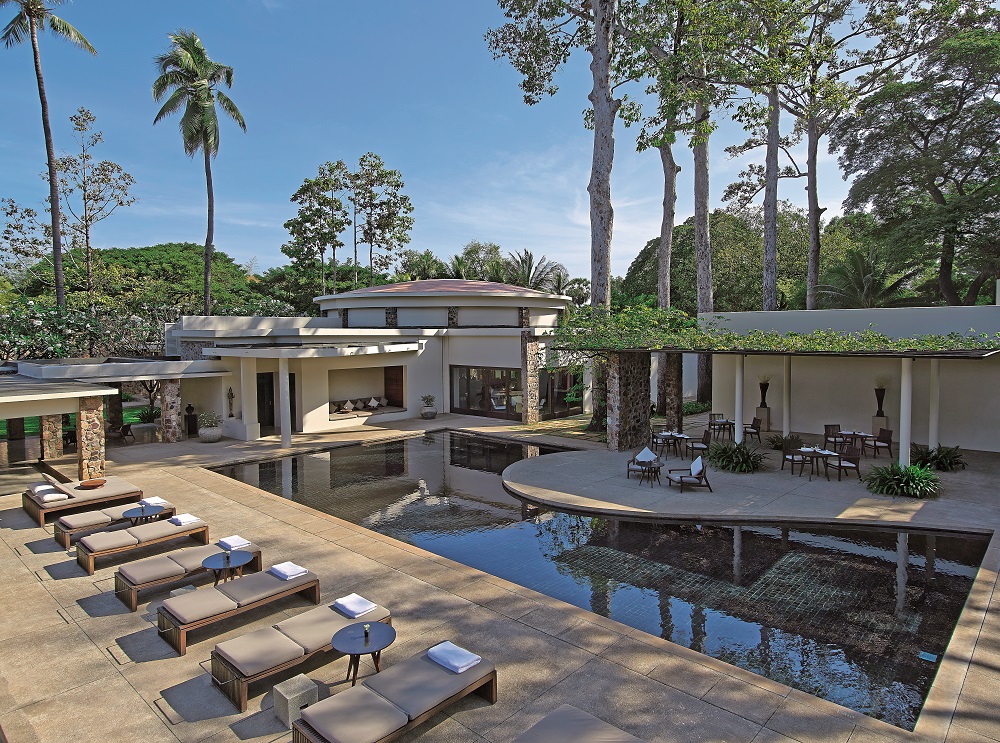 Tourism has exploded here in the last two decades, at once a boon to the local economy and a threat to the continued protection and preservation of the very temples which draw the masses. Less than 8,000 tourists visited Angkor in 1993; today, the annual numbers exceed two million. Authorities have sought to avoid large-scale commercial and mass-market tourism, and have so emphasised "the importance of providing high-quality accommodations and services in order for the Cambodian government to benefit economically, while also incorporating the richness of Cambodian culture."
Siem Reap is a charming town in which to stay, not least because of its relatively compact size. We stayed at the remarkable Amansara resort, located squarely in the middle of town on a plot of land that – once guests are ensconced by the nondescript walls and towering trees at the property's perimeter – feels very much like a refined oasis. Siem Reap really doesn't offer much madness compared to the many large cities of Asia, but whatever relative bedlam the city holds, once inside Amansara, a sense of comfort and serenity definitely pervades – unsurprising as the walled garden compound was once the guest villa of Cambodian King Norodom Sihanouk, built by French architect Laurent Mondet in 1962.
Today, Aman has transformed the lovely property into a 24-suite retreat of uncompromising grace and style, perhaps Siem Reap's premier manifestation of the government's desire for high-quality accommodations and services, a place to stay that celebrates and promotes the heritage destination while putting minimal pressure on it.
Experiencing the wonders of Angkor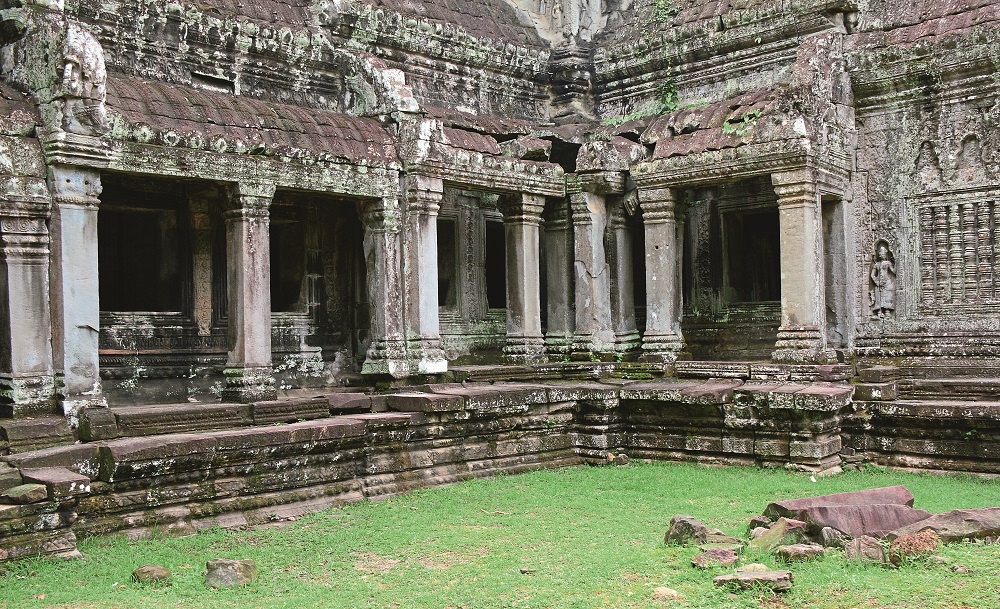 The first order of business, of course, was arranging the temple visits. Our concierge sorted this with ease, and we were provided with a personal tuk-tuk (also locally called a "remork," from the French remorque, or trailer), a driver, a marvellously knowledgeable and engaging guide, cool towels at every stop, fresh coconuts, cold water, and more.
All visitors must buy a temple pass from the Angkor authorities and this was all arranged on our behalf, too – we didn't need to do anything except settle the bill upon checkout. A one-day pass is $20, three days is $40, and seven days is $60. The three-day pass allows any three days in a week; the one-week pass, any seven days in a month. Each visitor will have a photo taken for the pass, which is printed on the spot and will be fastidiously checked and punched as necessary at any temples visited.
The Angkor experience is fascinating on several levels. What started out as a Hindu site and later converted to Buddhism was once one of the most powerful civilisations in the whole region, if not in the entire pre-industrial world, with its influence extending well beyond present-day Cambodian borders. In the dry season, Angkor is very much a parched inland landscape, so the society that evolved here was a hydrological one, focused on harnessing rainwater that fell during the wet season in order to sustain life throughout the whole year. Life was very much dependent then, and still is now, on the growing of rice. Along with canals and moats, large water-storing lakes (barays) were built to supplement the water from the Tonlé Sap, which is the largest inland waterway in the region.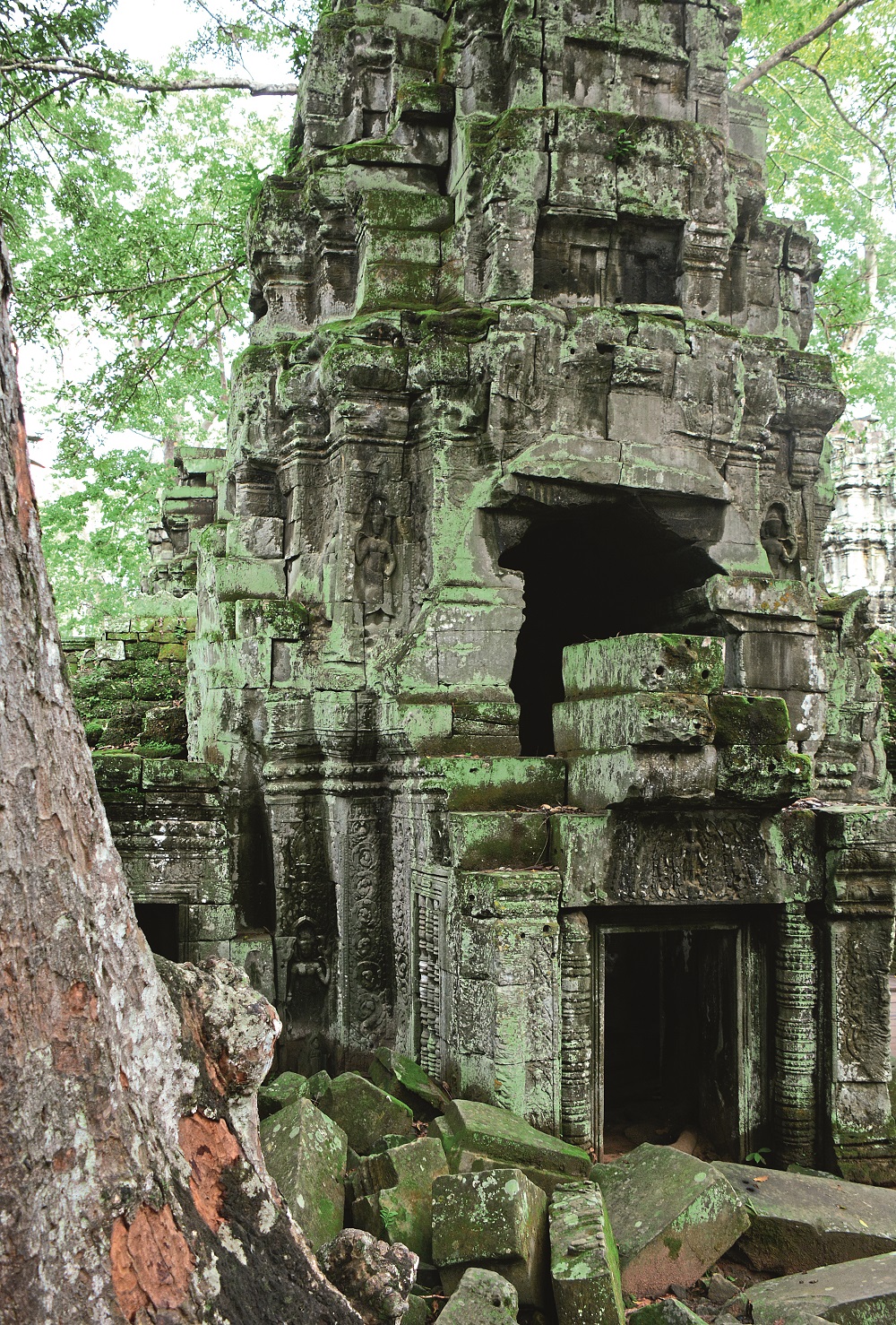 Angkor never really disappeared to be "rediscovered" by the colonialist Henri Mahout in the 19th century, as the tale sometimes goes, but it certainly went into abeyance. Temples were reclaimed by the jungle, with most becoming a jigsaw puzzle of stones, roots, and undergrowth.
Though Angkor Wat dominates the common knowledge of the site, Ta Prohm has long been the photographer's temple of choice because it was basically left in its natural state when the French became interested in restoring the site in the late 19th century.
Trees and other vegetation intermix freely with temple structures both collapsed and intact, forming an evocative and almost eerily atmospheric jungle temple experience. Ta Prohm's photogenic nature is surely what attracted the directors of the 2001 Angelina Jolie movie Tomb Raider, and cinema buffs still clamour today to snap selfies in front of iconic spots featured in the film. If Angkor as a whole bears testimony to the genius and might of the Khmer Empire, Ta Prohm certainly reminds us of the awesome living power of the jungle.
Appreciating Angkor can be a mammoth exercise for budding archaeologists. The best-known temple, Angkor Wat, is but one site in the Angkor Archaeological Park, a protected expanse which covers an area of nearly 310 sq km (that's a whopping 17.5 km x 17.5 km, so don't expect to do too much on foot). There are over 1,000 temples and numerous other archaeological sites in the park (and beyond), with possibly others yet to be unearthed. It is also a living site in which the local people go about growing crops in and around the area.
Other outlying temples and sites can be visited, with the 10th-century rose-pink sandstone temple (others are constructed from yellow sandstone and laterite) of Banteay Srei being a perennial favourite of Angkor aficionados owing to its beautiful, elaborate carvings. This temple is about 32km from the main group of temples, so may not be realistic for some visitors. If pressed for time, the three temples that should sit firmly atop your list are Prasat Bayon (located in Angkor Thom) with its 216 Buddhist faces, the aforementioned Ta Prohm, and of course, Angkor Wat. With a longer time in Siem Reap, temple sites Pre Rup, Preah Khan, and the green sandstone ruins of Ta Keo, a Hindu temple which was never completed, are all excellent candidates for temple visits. Outstanding views reward those who brave the steep climb to the top of Ta Keo temple.
Beyond Angkor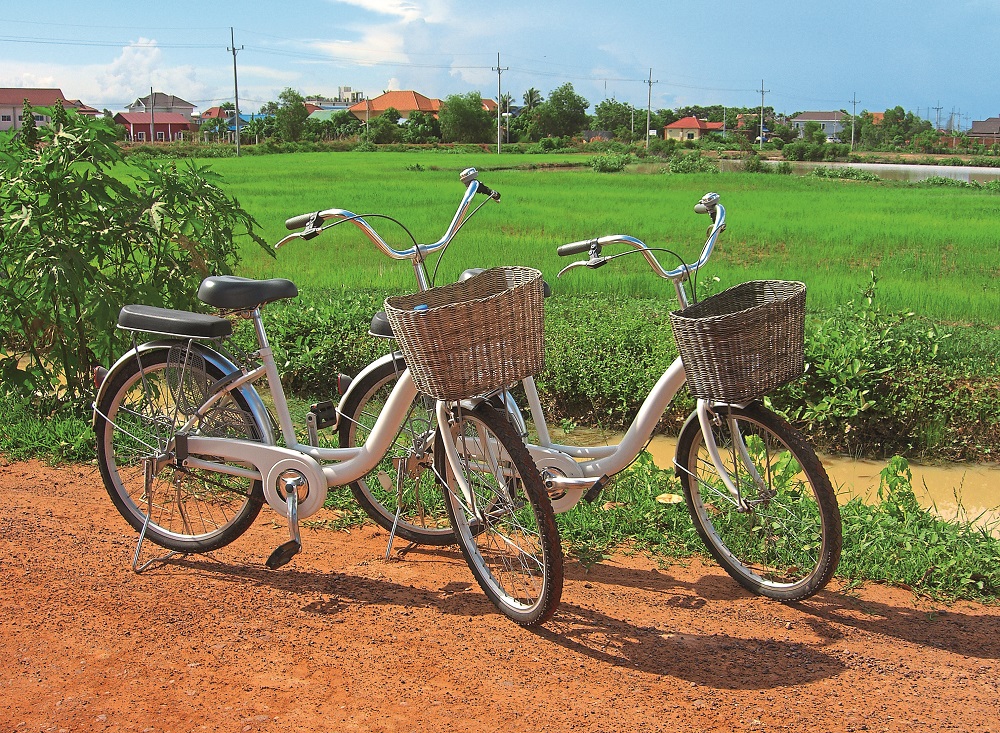 Though the facilities and level of comfort at Amansara are of course beyond exemplary, the management there stressed that what we most needed to do was experience the location Amansara calls home. And as a premium resort, they are well-positioned to offer a range of memorable excursions in and around Siem Reap. For culinary enthusiasts, the Khmer Kitchen experience is well worth the early rise to visit the chef's favourite markets in town, followed by a personal cooking experience side-by-side with Khmer cooks in the resort's Village House, located within the Angkor Archaeological Park. We were also invited to participate in a traditional Buddhist water blessing in the cosy confines of a 12th-century Angkorian temple. The private ceremony is conducted by monks from the neighbouring monastery and is certainly a special experience for visitors to Cambodia.
For those seeking the most luxurious bespoke memories of Cambodia, however, a range of experiences offered only by Amansara are at hand. Personal helicopter tours, exclusive cruises on the Tonlé Sap, or even an intimate private evening dinner held inside an ancient temple of Angkor after the crowds have departed are all available to guests of the resort. We were told reserving a temple for this privileged dinner requires a minimum of four weeks' notice – and no doubt some very deep pockets, too.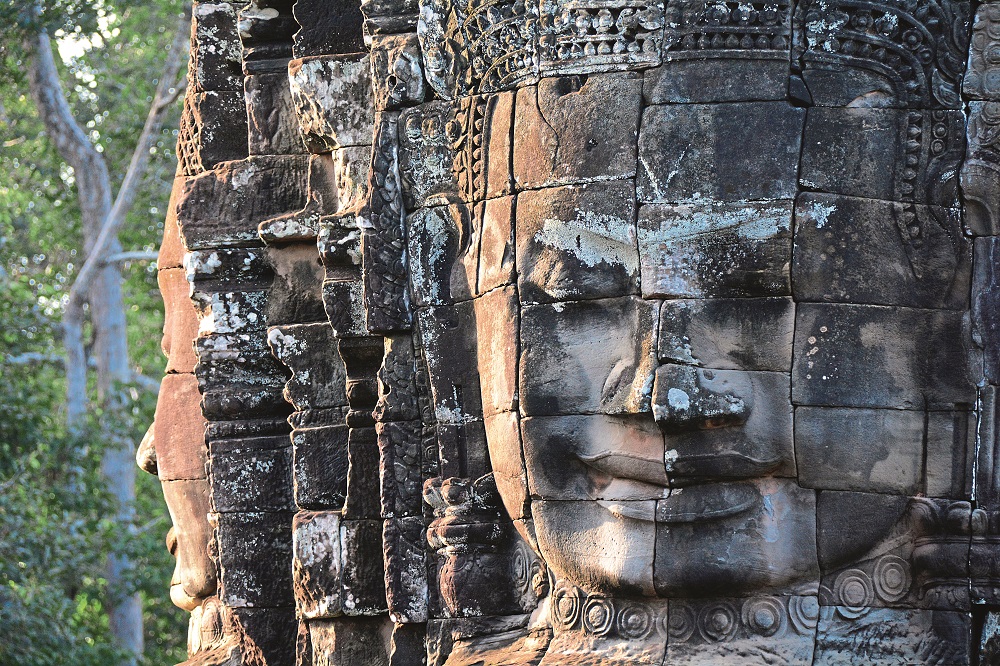 For us, we sought more approachable activities, so found bicycling in and around Siem Reap to be incredibly easy and enjoyable. Even though Amansara is in the heart of town, and a mere 10-minute tuk-tuk ride from Angkor, just three or four kilometres on a bicycle saw us pedalling through the scenic Cambodian countryside, a landscape so exquisitely serene and rural, we could scarcely believe we were still so close to town.
We cycled easily along dirt roads through open rice fields dappled with sugar palms under a mammoth blue sky, with views stretching to the distant Phnom Kulen hills. As we eventually headed back into town, we stopped at the popular Pub Street district for afternoon tea, which of course we took in the form of simple Khmer rice dishes washed down with several frosty cold beers – usually the similar-sounding Anchor and Angkor brands – for just 50¢ a glass. While the temples were once the main allure to the central Cambodian plains, it seems that some can now visit Siem Reap and actively occupy themselves without even experiencing the wealth of cultural attractions on the doorstep of their luxurious resort, indulgent spa, or gourmet restaurant.
Phare Cambodian Circus and pub street
Yes, tourist pursuits are now very much part of the Siem Reap scene. After a day in the archaeological field, it's now possible to be immersed in luxurious or entertaining distractions à la every other Asian resort destination – and some of course which are quite unique to Siem Reap. One such attraction, which was enthusiastically recommended to us by Amansara's management, is Phare: The Cambodian Circus, though this title doesn't at all convey what's actually offered. When many of us hear the word "circus," we may think of carnivals and sideshows, but this performance is on an entirely different level. Think Cirque du Soleil in Cambodia.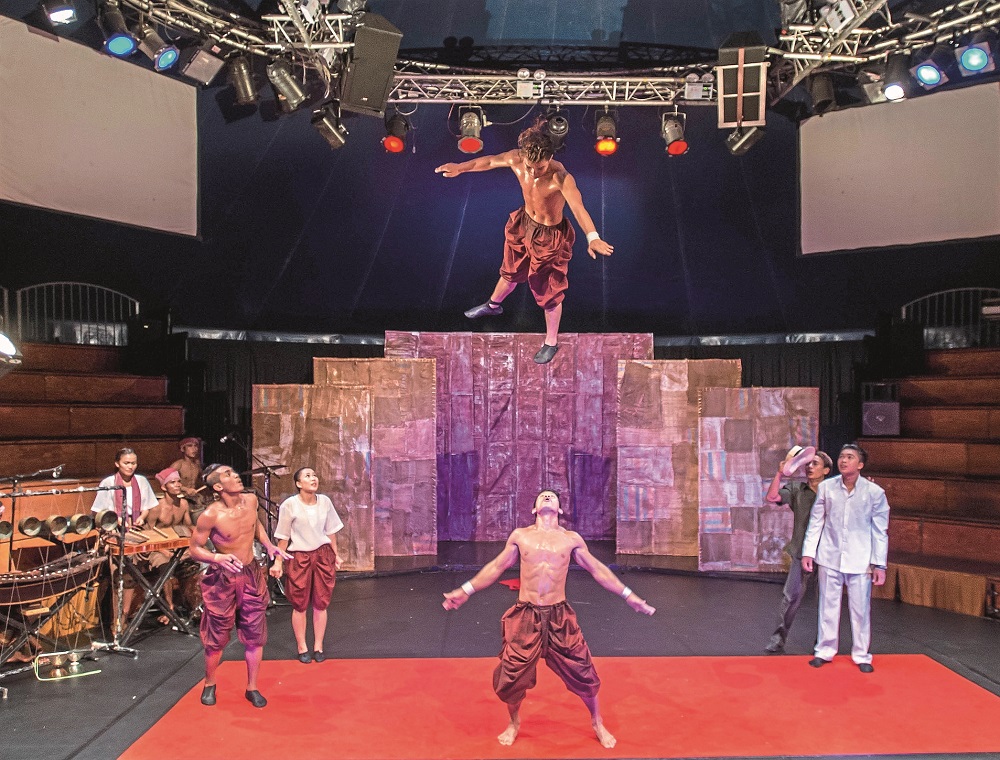 A quick browse on TripAdvisor revealed some 5,000 reviews and an average rating of five stars. With such universal praise, we figured there was no way this was going to be anything but fantastic, so a quick call to our concierge got our tickets and transport secured. We enjoyed an early dinner in town first and then proceeded to the show, this one called "Influence" (shows change regularly). And what a remarkable, astounding performance it was. An enormously talented and spirited troupe of seven performers, complemented by four musicians providing a live traditional soundtrack, transfixed and thrilled a sold-out crowd under the big top with feats of strength, acrobatics, and dramatic storytelling. Though the ticket prices, which range from $18 to $35, might be considered steep by some, there is no doubt this is a first-rate show and well worth the price of admission. Visitors will be further pleased to know that no animals are used in any of Phare's shows.
And purchasing that ticket doesn't merely support a commercial endeavour – not by a long shot. The talented artists involved are graduates of the performing arts school behind the circus, Phare Ponleu Selpak – which translates to "the brightness of the arts" – and hail from its Battambang campus, which is home to a school that provides free public education and vocational arts training to youth from disadvantaged backgrounds.
The organisation was founded in 1994 by a group of nine young refugees who, as children, who had taken part in drawing workshops in the camp and had the idea to form a creative association to help other children express the trauma of war and genocide, a horror widespread enough and fresh enough in Cambodian history that virtually no family today is untouched by it. Many of these performers have deeply moving personal stories of hardship and even abuse, making their immense talents and long periods of hard work and training a tale of triumph against all odds.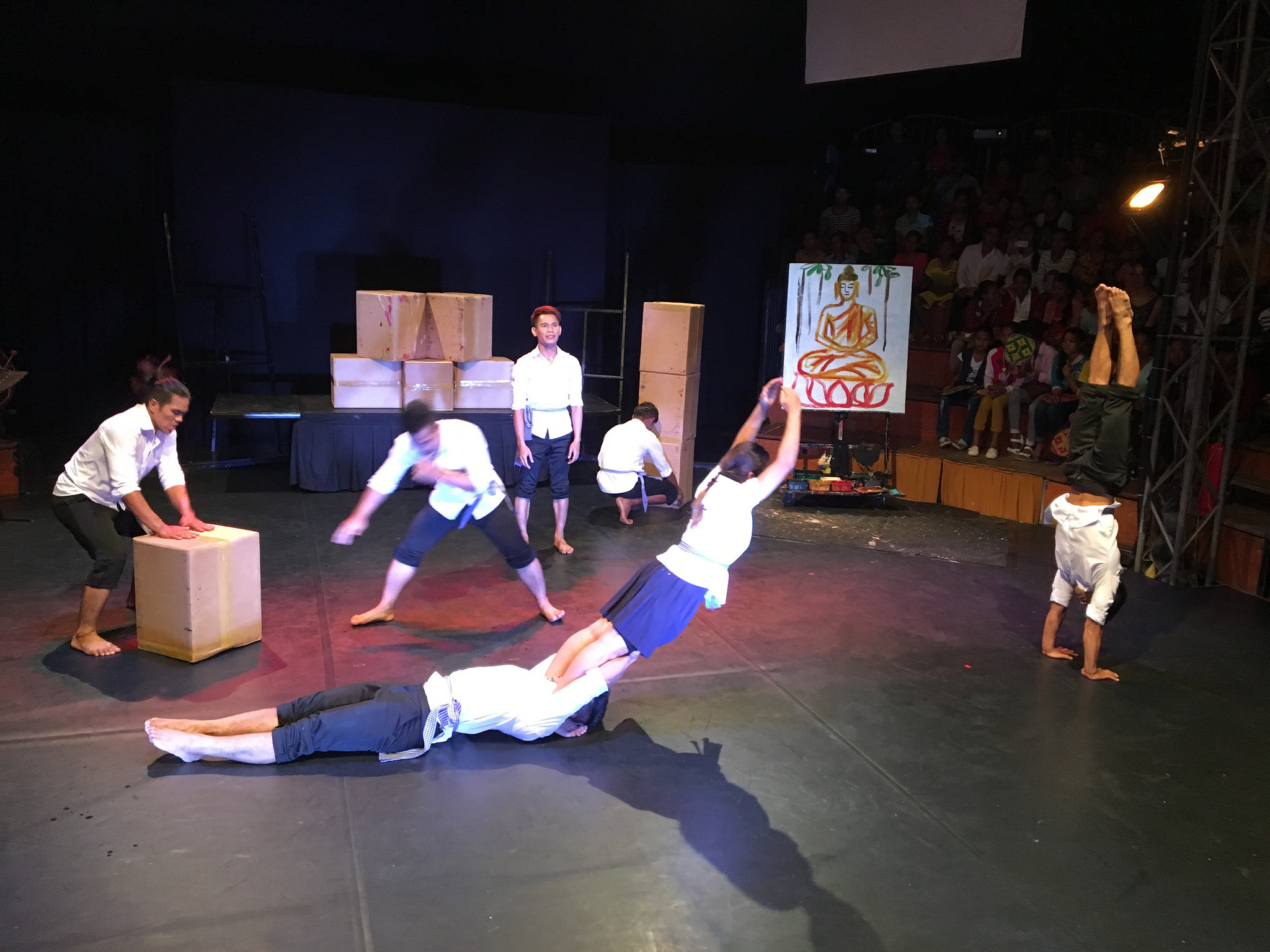 Proceeds from ticket sales are reinvested into the organisation, the school, and its community, making this a meaningful night out far beyond the incredible entertainment that's delivered. In the words of Lonely Planet, Phare: The Cambodian Circus is "so much more than a conventional circus, with an emphasis on performance art and a subtle yet striking social message behind each production… a unique form of entertainment that should be considered unmissable when staying in Siem Reap." After seeing the show ourselves, we couldn't agree more.
Apart from temple traipsing and seeing the circus, there are a number of other things to do in Siem Reap to keep you entertained and engaged. Touring around the city or Angkor Archaeological Park by tuk-tuk is fun, but for an even more unconventional experience, rent a Green e-bike. The bikes rent for $10 per day (defined as a 24-hour period) and have a range of about 40km on a full charge.
There are a number of free charging points around town, including several inside Angkor. What's more, the battery is removable and can be charged separately inside your hotel room at night if you keep the bike for longer periods. Check out the Old French Quarter and the Old Market by day if you're in town, and enjoy the pleasant and well-maintained roads of Angkor if you're in the park. Entry to the park is free for Cambodians, so you'll see plenty of them picnicking and relaxing under huge shade trees by the waterways, making for a surprisingly idyllic and very local scene in such a globally famous tourist location.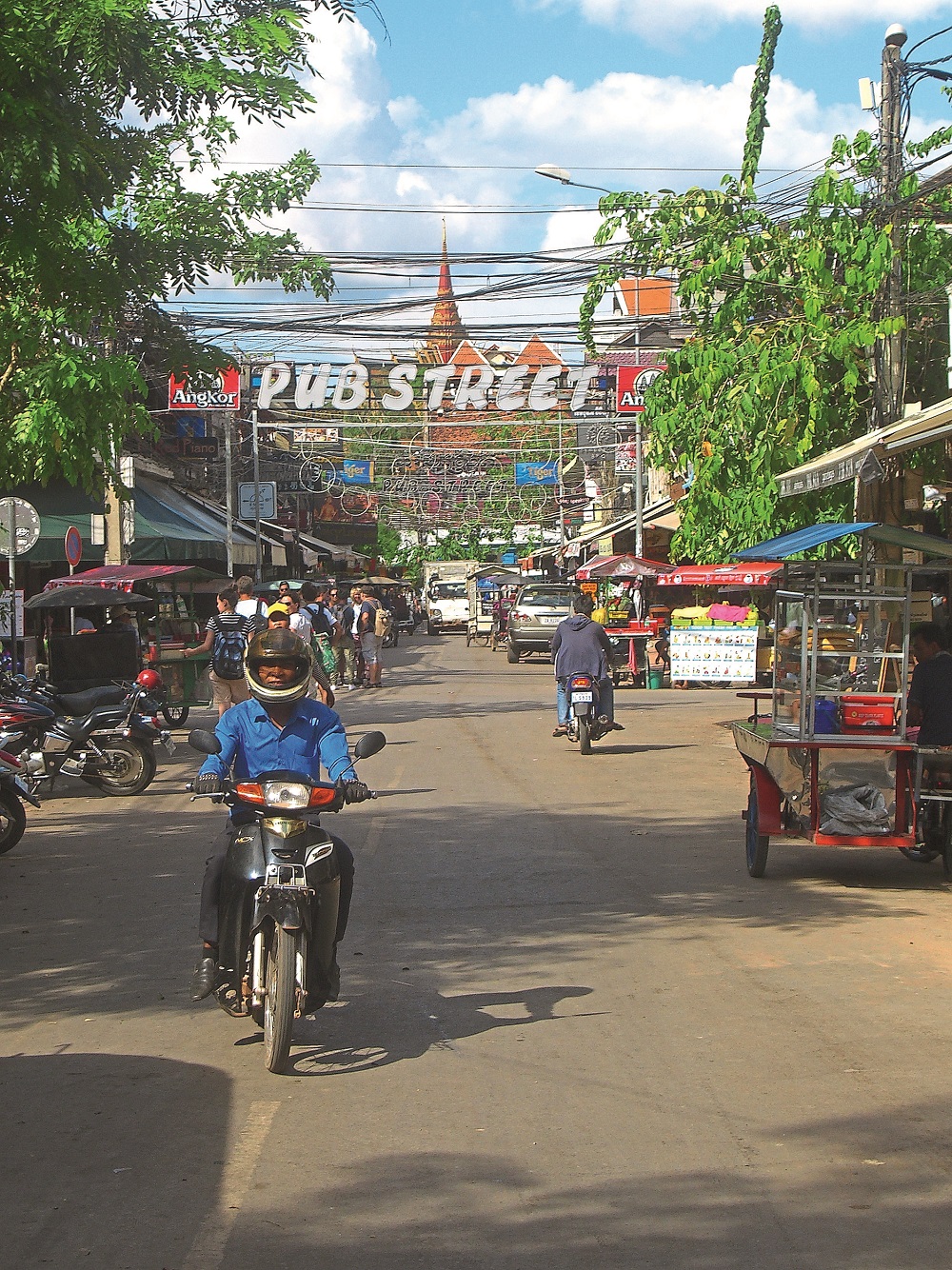 Though Pub Street is a nightly hot spot, with numerous restaurants, cafés, roving stalls, fruit vendors, silk and souvenir shops, and of course pubs, many of Siem Reap's best eateries are located elsewhere. One notable exception to that is il forno, an Italian bistro in the middle of Pub Street with a wood-fired oven, speedy service, great food, a decent wine list, and an actual Italian man running the show.
If you turn up at dinner time on a weekend without a reservation, you may have to wait for a table, but it's well worth it. Families, groups, couples, single backpackers, everyone joins in the fun here, and the Neapolitan-style pizzas hot from the oven are reason enough to pay a visit.
We checked TripAdvisor for some of our other nightly dinner options and recommend you do the same, as the ratings (and restaurants) tend to change over time. Not far from Pub Street, some of the smaller roadside eateries along Sok San Road serve up pretty authentic Khmer cuisine at low prices.
Local food tends to be considerably less spicy than most other regional cuisines – chillies are not really a big part of the flavouring here – so if you like it hot, you'll need to request some chillies on the side.
With ancient wonders, friendly people, and a number of fascinating pursuits to enjoy, Cambodia is certainly a country well worth exploring and Siem Reap is an ideal place to start. We thoroughly enjoyed our time there, and of course the wonders of Angkor combined with the serenity and service of Amansara played a considerable role in our stay. See the temples, see the circus, enjoy the food, explore the town and its surrounding countryside, and soak in the rich culture of a welcoming nation still struggling to find its footing after decades of war and poverty. Cambodia is a travel destination deserving of your time and attention.
This article was originally published in The Expat magazine (September 2016) which is available online or in print via a free subscription.
---
"ExpatGo welcomes and encourages comments, input, and divergent opinions. However, we kindly request that you use suitable language in your comments, and refrain from any sort of personal attack, hate speech, or disparaging rhetoric. Comments not in line with this are subject to removal from the site. "
Comments