Let's all be honest: in spite of our valiant efforts to avoid or graciously decline supper invitations, we've all fallen short every now and again. There is something deeply alluring about having a bowl of sinful carbs or a plate of deep-fried empty calories in all its glory at midnight.
Penang, being the food mecca that it is, has abundant eateries that spring to life when the clock strikes twelve. If you're going to indulge – and ruin all those hours at the gym – you must surely make it count.
There is truly no point in wasting those calories for anything that is less-than-glorious, so enjoy this delectably decadent list of places for midnight hunger pangs:
1. Old Green House Restaurant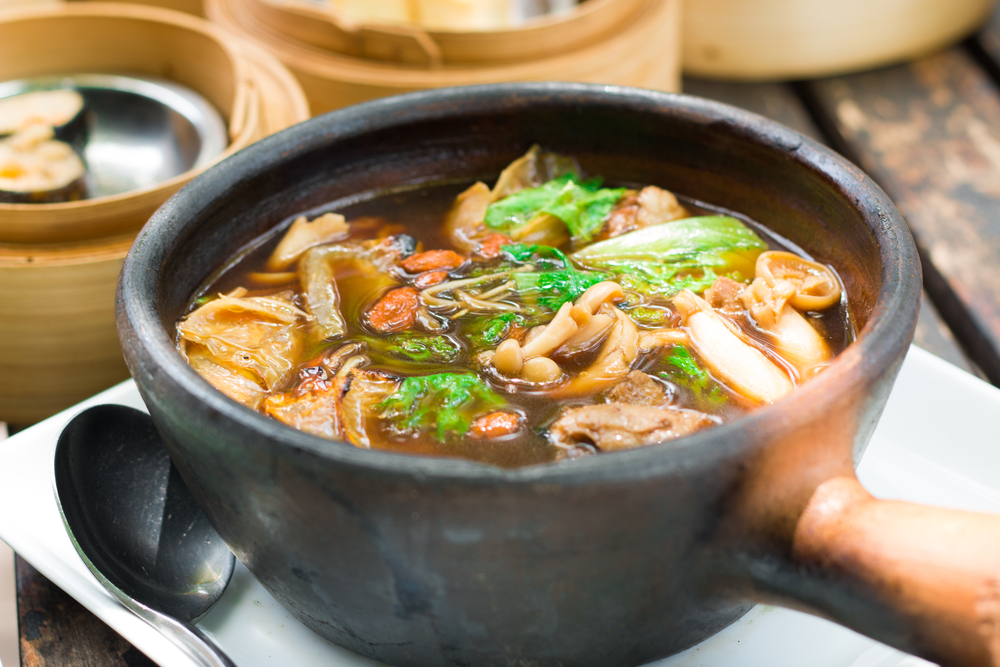 Say you've downed a couple of drinks and had a jolly good time at the bar. It's 1am and you're about to head home when suddenly, you hear a loud rumble. You stop in your tracks, and look up, wondering if the growl is a harbinger for a nasty downpour. No, it's not a thunderstorm, it's just your tummy roaring for food. Where should you go for some local hawker fare? Most Penangites would name Old Green House Restaurant as the de-facto spot for supper.
While most flock here for a bowl of Hokkien Mee (prawn noodles) and rub their hands with glee upon seeing the assortment of add-ons, it must be noted that the noodles are distinctly better at the original shop – Penang Famous Green House Prawn Noodles (read about it at #2).
The claypot Bak Kut Teh (BKT) is a crowd favourite, because of its aromatic broth and plentiful meat cuts. Another winner is the steamed chicken. The chicken is tender, the soy sauce is delicately tinged with sweetness and the accompanying chilli sauce – a piquant blend of chilli, garlic and ginger – rounds up the dish superbly. There is no going wrong with ordering either after a night of partying.
Address: 223, Jalan Burma, 10300, Penang.
Opening hours: 8pm – 4am. (Closed on Sundays.)
2. Penang Famous Green House Prawn Noodles
Not to be confused with Old Green House Restaurant. The original Green House Hokkien Mee (prawn noodles) was created here, with a secondary stall at the aforementioned restaurant (just a 5 mins drive down the road).
It's a true feat for any stall selling Hokkien Mee to stand out in Penang, with legions of likewise sellers on one tiny island. While the drawing factor may have stemmed from the option to customise their bowl of Hokkien Mee – with the likes of roast pork (highly recommended for the crunchy skin and well-marinated meat), meat balls, braised eggs (another personal favourite), Chinese sausages, chicken feet, shrimp and more – patrons return because of the delicious soup and homemade chilli paste that packs a mean punch.
Address: 151, 121, Jalan Burma, George Town, 10050 George Town, Penang.
Opening hours: 6pm – 3am.
3. Northam Beach Cafe
For a night out under the stars and overlooking the sea, this alfresco food court located along Jalan Sultan Ahmad Shah (previously known as Northam Road, the namesake for this place) is a splendid alternative to the perpetually crowded Gurney Drive.
More than the usual hawker offerings, this by-the-sea establishment gathers a wide variety of stalls ranging from fresh seafood cooked in Chinese style, German sausages with mash, Italian pizzas, Syrian rice and good ol' Penang favourites such as char koay teow and fried oysters. There's also a live band performance from 9.00pm to 10.00pm.
Address: Jalan Sultan Ahmad Shah, George Town, Penang.
Opening hours: 5pm – 1am.
4. Chulia Street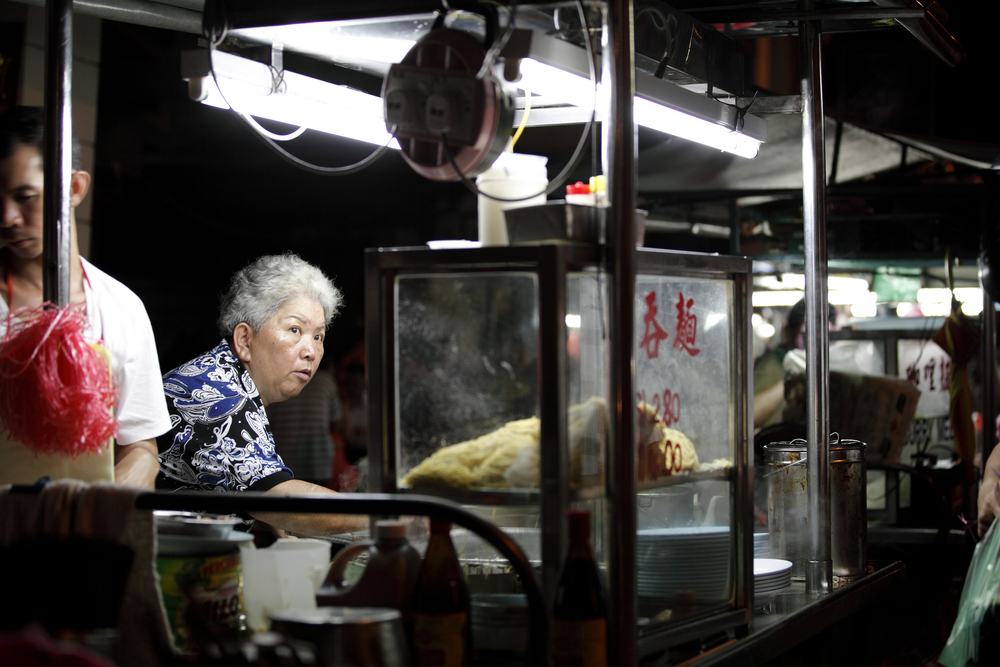 A hotspot for backpackers as there are a surfeit of hostels on either side of the road, the two-lane street is one of the oldest streets in Penang. While it's somewhat busy during the day, Chulia Street morphs into a buzzing scene come nightfall. The sidewalk is taken over by carts selling popular Chinese hawker food and being in the midst of it all is a treat for the senses – cars zooming by, the clanging of the wok, the barking of orders in rapid-fire Hokkien (a Chinese dialect) and the exquisite scent.
Don't miss out on ordering the char koay teow when you're here – located within the narrow alleyway – as well as the ever famous Wan Than Mee. Be prepared to wait for at least 15 – 20 minutes before the noodles arrive, but as we very well know, good things come to those who wait.
The plate of springy egg noodles, beautifully drenched in dark soya sauce, sprinkled with a generous amount of artery-clogging pork lard, slices of char siew (barbecued pork) strewn on top, meat-filled wan tans (dumplings) arranged at the side and a few meagre stalks of choy sum (a variant of cruciferous vegetables) would satiate even the pickiest of eaters.
Address: Chulia Street, 10200, Georgetown, Penang.
Opening hours: 6:30pm – 1am. (Closed on Mondays.)
5. Dhoby Ghaut Cafe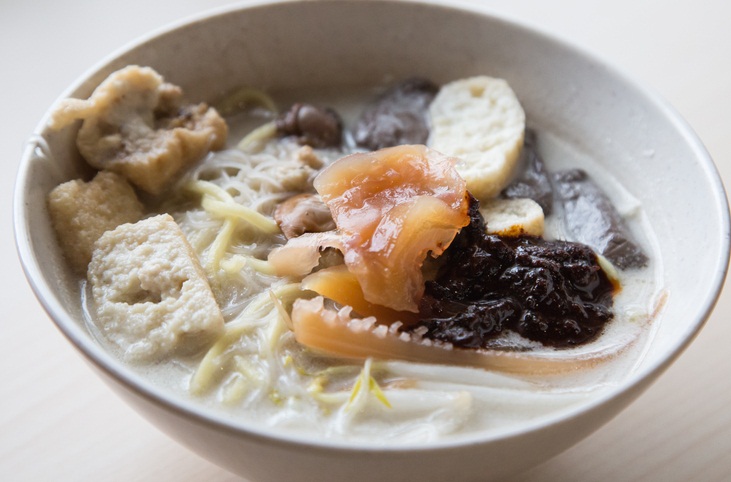 If you're feeling ravenous on a rainy night and happen to be hankering for a bowl of hot, soupy goodness – hits the spot every single time – this is the place to be. It stays open till 2am, serving stir-fried seafood dishes, duck meat koay teow th'ng (rice noodles soup) and curry mee.
The chilli paste for the curry mee deserves an award – fragrant, fiery and it turns the rich, white coconut soup into a delightful melange of creamy and spicy. You'll surely polish off your portion, till the very last drop.
One thing to note though, the portions here are considered menial, by Penang standards. This writer, however, thinks they are adequate, giving you that perfect in-between – just enough to keep your hunger pangs at bay, but not so much as to make you feel bloated before bed.
Address: 247H, Jalan Sultan Azlan Shah Sungai Nibong, Bayan Lepas, Penang.
Opening hours: 7pm – 2am (Closed on Mondays).
6. Air Itam Duck Rice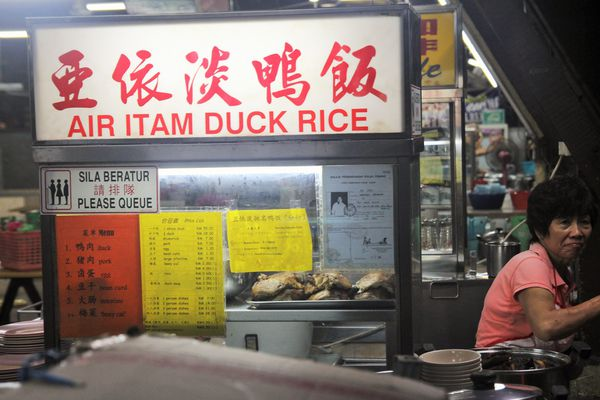 A few years back, I made the colossal mistake of asking a friend of mine – who is an ardent carb lover – out for supper. We ended up at this stall, I ate every scrumptious spoonful in shame (for I knew it was going right to my hips) and then, proceeded to share the good news to my circle of friends.
The modest stall can be found at Air Itam wet market and has been in operation for awhile now. Its crowd-pleasing menu includes Braised Duck Rice and Braised Pork Belly, with options of bean curd, eggs or pork innards (all braised in dark and light soy sauce) to complete the meal.
The winning combination of the succulent, fall-of-the-bone meat, flavourful gravy from the hours of cooking and spicy-sweet chilli sauce on fragrant white rice will cause you to stumble in momentary guilt and enrapture you, all at the same time.
Address: Air Itam Wet Market Hawker Center
Opening hours: 10:30 pm – 2:30 am. (or until the portions are sold out, whichever comes first)
7. Kayu Nasi Kandar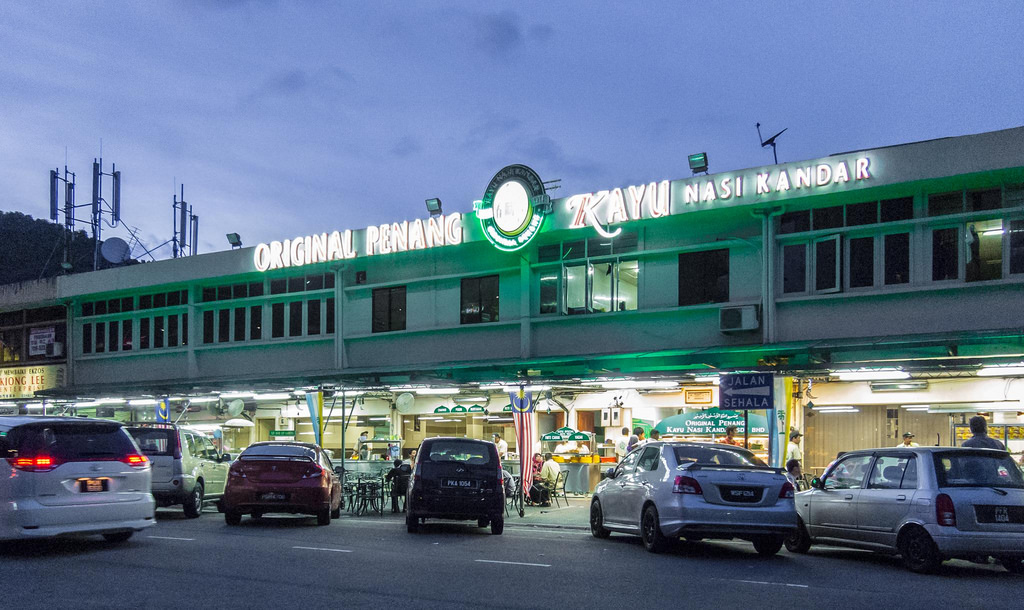 Despite the bad press and profiteering claims foreshadowing this mammoth-sized establishment, it has to be said that the quality of the food here remains uncompromised.
The dishes for the nasi kandar are fresh, sublimely spiced and one won't go wrong with ordering a plate of basmati rice with a scoop of kubis (stir-fried cabbage with tumeric), a slice of ayam goreng (fried chicken) and kuah banjir (mix of curries). Just before your plate of beautiful mess is handed to you, a teaspoon of kerisik (toasted coconut) is added to induce you into an utterly blissful food coma.
Order the roti tissue – hilariously tall and thin flatbread drizzled with melted butter, gooey condensed milk and sprinkled with sugar – if you're looking for a light bite. You'll want to stifle the urge to giggle when this flaky, one-ply bread is served; it usually requires two servers carry it to your table, for fear of it toppling down due to its rocket-like shape.
Address: 15, Lebuh Nipah, 11900 Bayan Lepas, Penang.
Opening hours: 24 / 7
---
"ExpatGo welcomes and encourages comments, input, and divergent opinions. However, we kindly request that you use suitable language in your comments, and refrain from any sort of personal attack, hate speech, or disparaging rhetoric. Comments not in line with this are subject to removal from the site. "
Comments