Frances Wilks visits the otherworldly "Art and Garden" where ordinariness is turned on its head and encounters its creator, Fuan Wong.
Gardens have always delighted me. They are the essence of civilisation, the cultivation of nature with an artist's skill. If it's well done it makes a seamless whole, a place of refreshment and repose. "Art and Garden" takes this idea a stage further and actually entwines art works – paintings, sculptures, and mosaics – with plants, trees, and flowers.
But we mustn't neglect the journey, as it's also part of the experience. First the rocky road beyond Batu Ferringhi, past another famous Penang garden, the Tropical Spice Garden. Then the fishing village of Teluk Bahang, though perhaps village is no longer the right word as it's fast becoming developed and the loudest sound you will probably hear is the pouring of concrete. But it still has a residual local charm and is home to many delightful places to visit, including Entopia, a butterfly garden, and Cat Beach, an artistic home for cats on the seashore.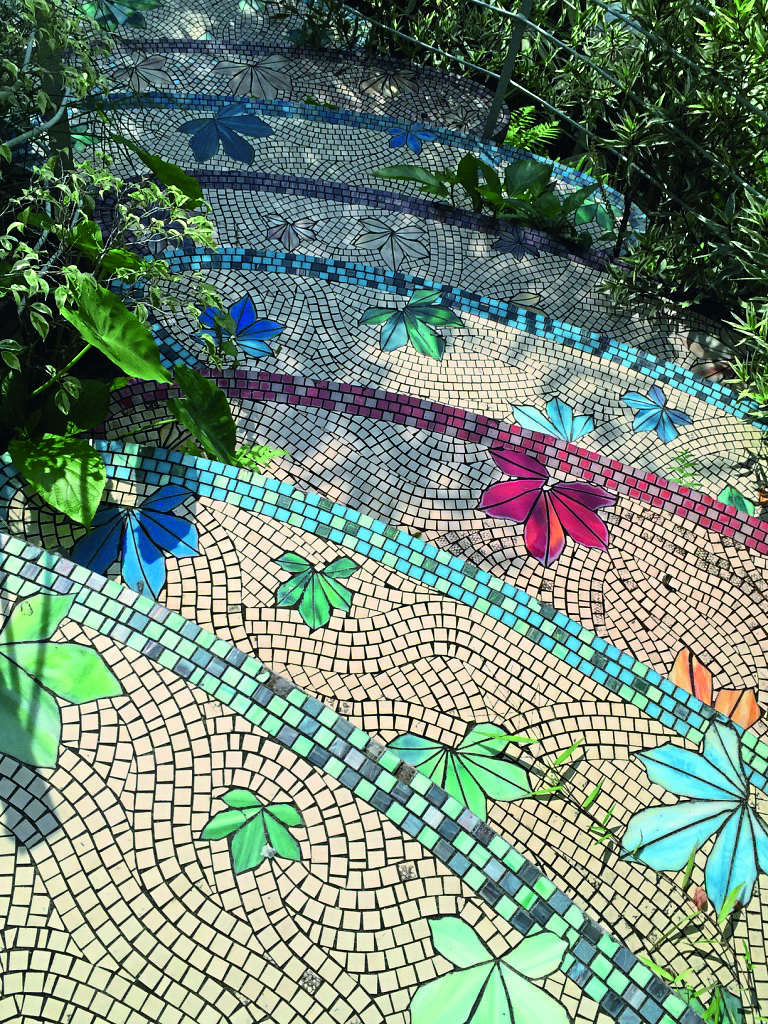 It's also known for ESCAPE, a theme park with a difference, where the theme is nature not technology, and instead of thrills being given to you by rides, you create your own pleasurable endorphin through activity. Then on, past the dam, on the winding jungle road that leads to durian plantations and ice-cold rock pools until you reach the edge of the hill range that overlooks the great flat plain of Balik Pulau.
Your first experience of "Art and Garden" is likely to be a fragrance in the air from whatever shrub is flowering at that moment. The garden is designed as a series of terraces with waterfalls and fishponds providing the cool tinkling sound of water.
It's also an outdoor art gallery and the art is an essential part of the design. Some of it is apparent and some more discreet. There are the wonderful mosaic steps by Adam Michalowski, each one a dazzling pattern of iridescent leaves perpetually strewn under the visitor's feet.
Ch'ng Kiah Keian has casually placed the jumbled elements of a Chinese landscape painting on a Malaysian hillside. His pen and ink sketches (he is a founder member of George Town Sketchers) are mounted on boxes, which invite the viewer to mentally re-assemble the landscape according to their own whims.
A series of white powdered coated metal steel hens flap over a large rock. "So where were we going?" is its plaintive title – a reference to the plight of collective thinking when it's stripped of its hierarchical structure and forced to make individual choices. This is the creation of Howard Tan, an interesting departure from his chosen medium of photography.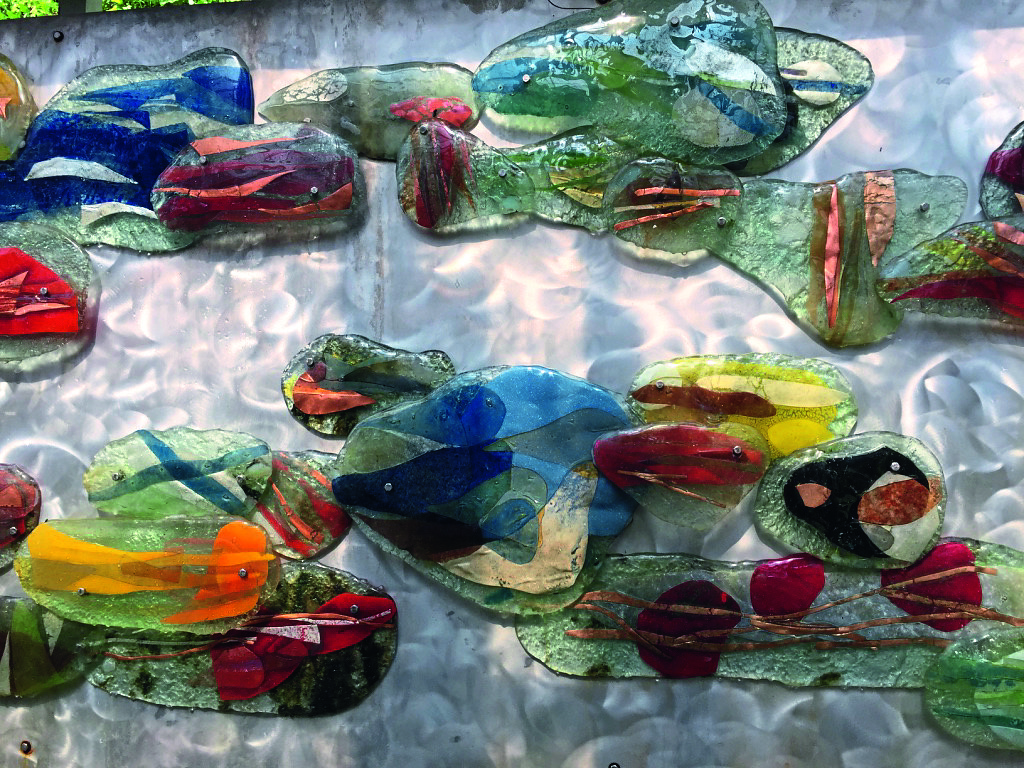 And don't miss the image on the back of Philip Hemnill's "The Dancers". The front is a black and white depiction of the elegant dances of colonial era with three couples waltzing in tuxedos and formal dresses. If you creep around the side, though, you can glimpse a frangipani girl watching the scene, although quite which of the dancers she has her eye on is a mystery. There's sculpture too, notably "Hope" – where the hook-like crozier of a fern in a tight coil awaits its full flowering, a reminder that hope is the substance of things as yet unseen. "Hope" is collaboration between Jonathan Yuan and Nizam Abdullah.
But what really strikes you is the use of glass – glass clouds, glass leaves, glass trees, and glass flower murals. They are all the work of FuanWong, a doyen of the Penang arts scene. His gorgeous bowls, plates, and sculptures adorn many a local drawing room. "Creating glass is a form of alchemy," he says. "Because glass is almost demented. It's not a crystal, it's not a metal, in fact it's actually a supercooled liquid. At high temperatures it becomes almost like water. You colour it with oxides, but there's always the element of chance in how it will come out of the kiln." It's a technique that goes back to Roman times, but only really became a means of artistic expression in the mid twentieth century.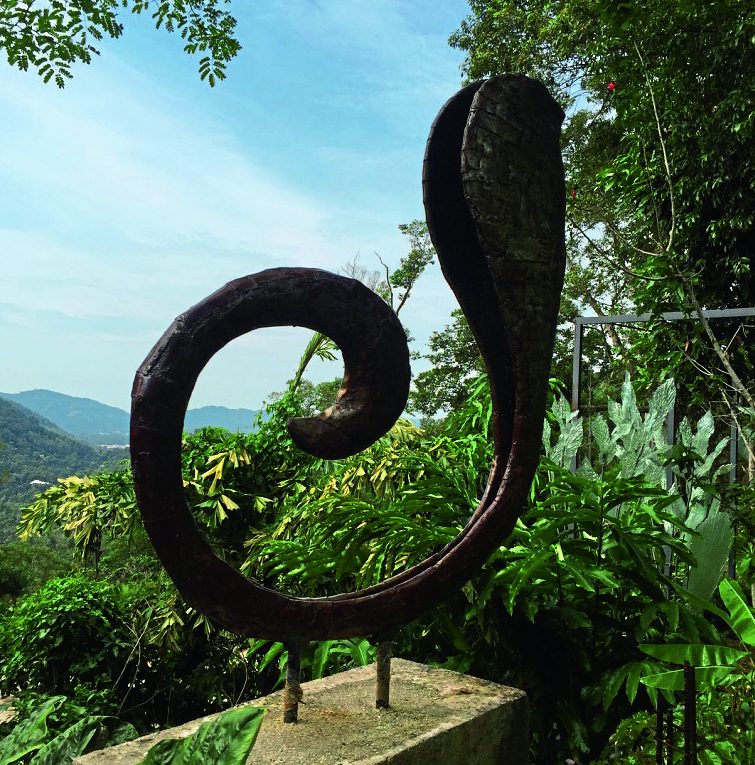 When Fuan discovered glass, after a youth spent drawing and painting, he felt he had finally found his medium. 'For me, it's like Christmas everyday because if you like what you do, it's a good life. I find I don't need holidays – there's nothing to get away from." One of his passions is to help younger artists find their feet and the garden is a way of doing this as it showcases their work. One gets the feeling that he knows how hard the early years are for any real artist as he or she struggles to find an authentic voice amidst the everyday concerns of making a living.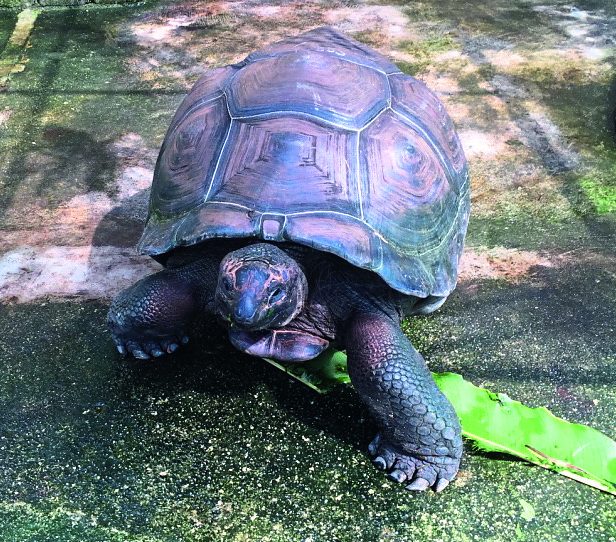 One of Fuan's other passions is plant collecting and when his collection became too large for his own garden he moved some of them out to his family's seven acre durian plantation. This was the genesis of "Art and Garden" and horticulturalists will enjoy the white bamboos, the rare sandalwood trees, the dazzling selection of bromeliads, the aloes and the agaves, the ferns, orchids, and the gingers. "We're not very commercial, I'm afraid," he says, "but we do manage to sell a fair number of plants, particularly bromeliads, and it's such a pleasure to see enthusiastic gardeners become excited and get serious about collecting plants." It took him three years of hard work to get the garden ready.
As we parted, Fuan suggested that I visited a nearby animal garden, Audi Dream Farm, which I found to be the polar opposite of his own ethereal creation. It's actually a petting zoo where you can get up close and personal with goats, birds, and bunny rabbits. True, the goats are fairly friendly and the budgerigars so tame that they will line up on your arm but there's an air of sadness about these trapped animals.
It's true that "Art and Garden" also has penned animals – a family of giant tortoises who look a hundred years old but are probably less – but they seem somehow happier in their own carapaces.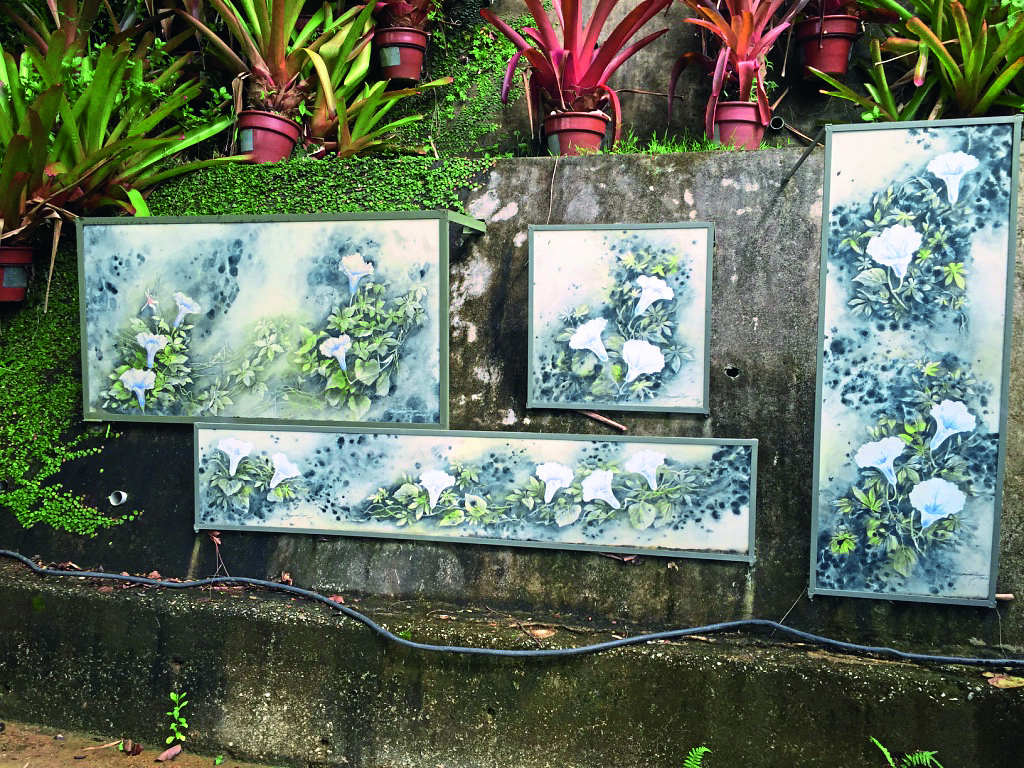 And in the evening, I was told, large white-bellied sea eagles patrol the skies above the garden. It's perhaps the role of art to liberate us from the shackles of the collective beliefs of the everyday world, and by entering the inverted looking glass world, invite the imagination to roam freely. As a way of creating this, "Art and Garden" is an astounding success and one that is sure to become a Penang landmark in years to come.
Art and Garden is open daily between 9.30am and 6.30pm and entrance is RM30 for adults and RM15 for children. It's situated on the road between Teluk Bahang and Balik Pulau, about 500 metres from the Tropical Fruit Farm. Don't forget your anti-mosquito spray and bring a hat. FB Art and Garden by FuanWong.
This article was originally published in The Expat magazine (October 2016) which is available online or in print via a free subscription.
---
"ExpatGo welcomes and encourages comments, input, and divergent opinions. However, we kindly request that you use suitable language in your comments, and refrain from any sort of personal attack, hate speech, or disparaging rhetoric. Comments not in line with this are subject to removal from the site. "
Comments