Creative and fascinating artist Infantino Fernandes chats with Sharuna Segaren about his challenging work process, unique sculptures, and positive outlook on life.
Although Infantino Fernandes initially studied to become a mechanical engineer, he soon realized that while he had an interest in the field, it was not what he really wanted to do with his life. Despite objections from his parents, the India native followed his heart and decided to embark on a career in the culinary arts, becoming a chef working in international hotel chains.
While working as a chef, the artist in him came out, and soon he was dabbling in ice sculpting. He realized his talent and passion for creating artwork through this medium. After stints in Dubai, China, Kuwait, and his home country of India, his career eventually led him to Malaysia, where he was commissioned to work as an in-house artist for the Hilton Group.
"It was for a new hotel, and at first, I wasn't sure how to go about it as there wasn't any set rules or instructions for my position. Inspired by the discarded metals and rubbish from the construction, I began picking them apart and started recycling them by using them in my artwork. My work became a success, with several other artists and people coming to view them. I even earned the nickname Garbage Artist," the soft-spoken artist said with a laugh.
His fascinating artwork and sculptures are a reflection of his raw talent, deep passion, and creativity, but after chatting with the interesting man, it became clear that his unconventional path in life was also the result of an open mind, willingness to keep learning, and hard work. He shared his story while showing me his impressive and mesmerizing sculpture in Sunway Pyramid, called 'Victor', a gorgeous lion hand-sculpted solely by Infantino, as he prefers to work alone.
Blood, sweat and tears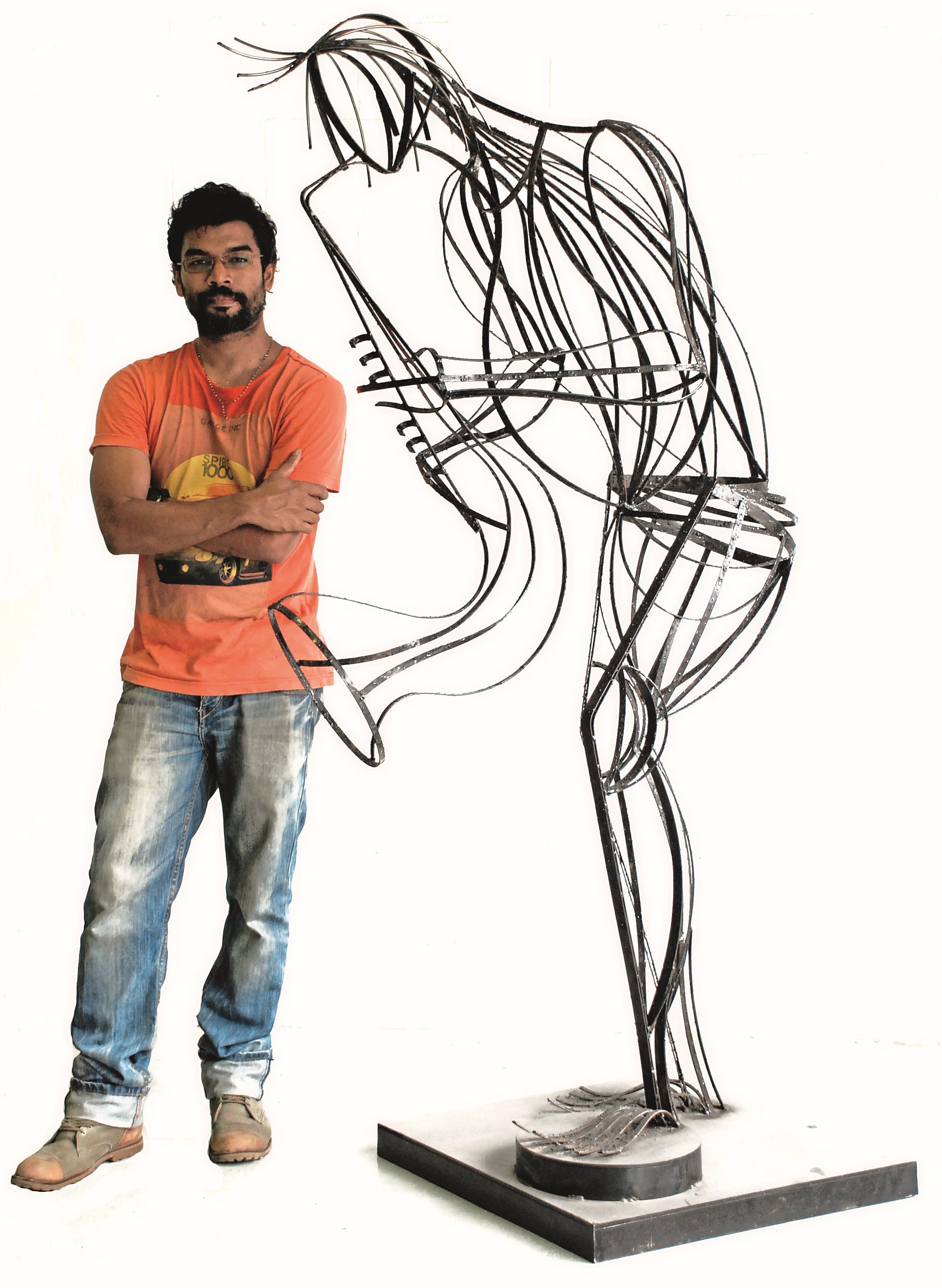 Infantino's sculptures are built in his workshop in the basement of Sunway Pyramid, made from primarily mild steel (carbon steel) scraps, which he welds together by himself.
He used to use aluminium and wood but finds mild steel more durable and hardy. His main tools are his own two hands, as he doesn't like to use a lot of tools and tries to keep the budget to a minimum.
Another interesting thing about his sculptures are that he leaves the work to corrode naturally as he loves the effect and colour that rust gives to the material. Once the steel corrodes to the point where he is satisfied, he arrests the corrosion process with a spray, stopping the rusting.
He doesn't believe in painting as he prefers to keep the work as organic as possible. The carefree and easy-going man showed me a protruding bone on his arm where he had previously injured himself after working on Victor, explaining that bending these kind of materials takes a lot of strength and hard work.
Indeed, Infantino pours himself both physically and mentally into his artwork, often staying up all hours to work when he has a project, but he has never regretted it. His work can be dangerous, another reason he prefers to work alone. Furthermore, he doesn't use sketches, he works only from his own visions and imagination, which makes it hard to explain to someone else.
At the Sunway Group, where he is currently attached to as an artist-in-residence, they give him complete freedom and trust to do whatever he wants, as well as his own workshop to work in.
"As an artist, you always pray you get an employer who respects  your profession and gives you complete trust to follow your visions. I'm very happy I am able to do that here. It's hard for me to explain my work before it's done because I don't sketch, but because they've seen what I can do, they leave me to it and don't get involved."
Several of his latest sculptures depict animals and nature, and when I inquired why, he said, "I think it happened subconsciously. I'm quite inspired by nature. Everything is so genuine. It's creation as a whole that I try to replicate. I think so many people don't really appreciate nature.
"For example, one day during a jog in the Taman Jaya park, I saw a fallen dry leaf. I stopped and picked it up because I found the shape and colours so beautiful. I went home and made a sculpture out of it, and this led to my 'autumn series' which plenty of people admired.
"But I'm only replicating what's already there. They would just walk by a dry autumn leaf without stopping to admire its natural beauty, but when it's painted or made into an art piece, then suddenly it becomes beautiful to them. Beauty is all around us anyway, if only we just stop to look at it."
Diverse interests
Besides being an artist, Infantino has several interests and passions. During the course of his career, he has also picked up several other skills which contribute to his work as well as his personal life.
He explained, "As an artist, I'm not confined to only my art form. I learned welding by observation and due to an interest in it, became good at it, which I apply to my work today. I was so happy when I mastered welding that the first art piece I made from this technique, I took it home and slept with it! Everything related to art is self-taught.
"I've studied plenty of different things during my free time such as graphic design, because it helped me build my website. Malaysia has allowed me to pick up and learn so many new things.
"So many places offer part-time courses where you can learn practically anything. I believe I am blessed with talent, but I sharpen my skills by constantly learning."
Ever the eclectic artist, Infantino enjoys watching live music performances, and he also loves dance. For the latter, he has recently started teaching Kizomba dance, which originated in Angola.
He said, "Like my work, dance came very naturally to me. I tried my hand at salsa but I couldn't adapt and enjoy it because of the structure. Kizomba allows you to improvise and be yourself. I learned it for several years and now I enjoy teaching and sharing my passion.
"I also dabble in food photography and styling. I picked this up during my career as a chef, and together with a friend, we sometimes take on projects for our friends and people we know. It's more of a hobby that we do when we can, because we enjoy it."
Infantino plans to stay in Malaysia, but as life has showed him, things can change anytime. He prefers to go where the wind blows, and won't miss a great opportunity if it arises elsewhere, but for now he is very happy here.
Concluding our interview, he says, "People are so nice and warm here. Even work-wise, people have been very accepting and understanding of my work. They appreciate talent. I think there is so much talent in Malaysia, I have friends in the music industry who are just brilliant.
They should just stick to it instead of getting discouraged and giving up. I followed my heart and passion, and so far it has brought me success and happiness, and I advise others to do the same. Live your life with no regrets, constantly better yourself, and strive for happiness." To view Infantino's work and for his contact information, please visit infantinofernandes.com.
This article was originally published in The Expat magazine (November 2016) which is available online or in print via a free subscription.
---
"ExpatGo welcomes and encourages comments, input, and divergent opinions. However, we kindly request that you use suitable language in your comments, and refrain from any sort of personal attack, hate speech, or disparaging rhetoric. Comments not in line with this are subject to removal from the site. "
Comments