Though the word 'lost' often has a negative connotation, I personally feel that every now and then, we all need to get a little lost; create a playlist of your favourite music, put on your earphones and just wander around.
Before you get truly lost, though, it's good to know the main areas and modes of transportation available to you. The main roads that make up the edges of the 'Golden Triangle' of KL are Jalan Pudu, Jalan Ampang, Jalan Imbi and Jalan Tun Razak. It covers areas such as Bukit Bintang, KL City Centre, Jalan Sultan Ismail, Jalan P. Ramlee and Jalan Raja Chulan.
Kuala Lumpur has three main railway lines, namely the LRT, the Monorail and the KTM. On the LRT, you can get off at either KLCC, Dang Wangi or Ampang Park. On the monorail, you can get off at Imbi, Bukit Bintang, Raja Chulan or Bukit Nanas.
1. KLCC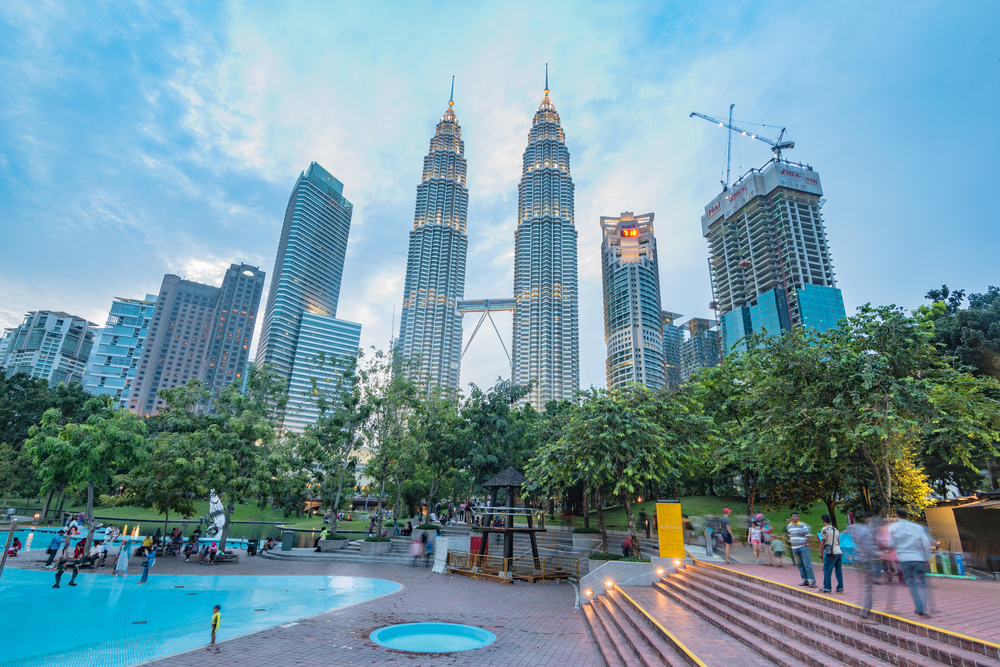 Getting off at the KLCC station from the LRT will lead you to the opposite side of the road from the Petronas Towers. Out from the token gates, you'll find yourself at Avenue K. The H&M here has an extensive sections for ladies' wear and home and living. After a quick look-around, you can grab a refreshing bubble tea from Chatime, located right outside H&M on the Men's level, as you head into the KLCC tunnel.
The walk through should take no longer than 10 minutes. At the end of the tunnel, you will arrive at KLCC's ground floor side entrance. As you walk straight through headed towards the centre of the mall, there's a row of stand-alone outlets that showcase and sell Malaysian-made products. The soap bar outlet is good for gifts or simply to pamper yourself with a bath in famous Malaysian scents.
Once at the Suria KLCC mall, a few of the stores I'd recommend you check out are Typo (for hipster stationary), Candylicious (for mountains of sweets), Kinokuniya (for book lovers) and Petrosains (for the curious wannabe scientist). For a light bite, you can check out either the Signatures food court on Level 2 or Chili's on Level 3.
End your mini tour with a walk around the KLCC Park in the evening around 7.30pm. Enjoy the lush green landscape and indulge in some people-watching before ending with a the KLCC Lake Symphony, a musical fountain show that starts at 8pm.
Good to know
KLCC has an elevated and air-conditioned pedestrian walkway that leads to Bukit Bintang, accessible from the underground walkway (located between the Candylicious/Maybank and the Guardian/Garrett outlets). You'll need to take the stairs in front of Aquaria (for some fun, slide your foot across the projected images on the ground at the foot of the stairs) and turn right at the doors and take the escalator up.
This is the beginning of the 1.1km walk to Connection, Pavilion, Bukit Bintang. The walkway has branches off along the way with exits to Jalan Raja Chulan, Jalan Pinang, Jalan Perak and Raja Chulan KL Monorail Station.
2. Pavilion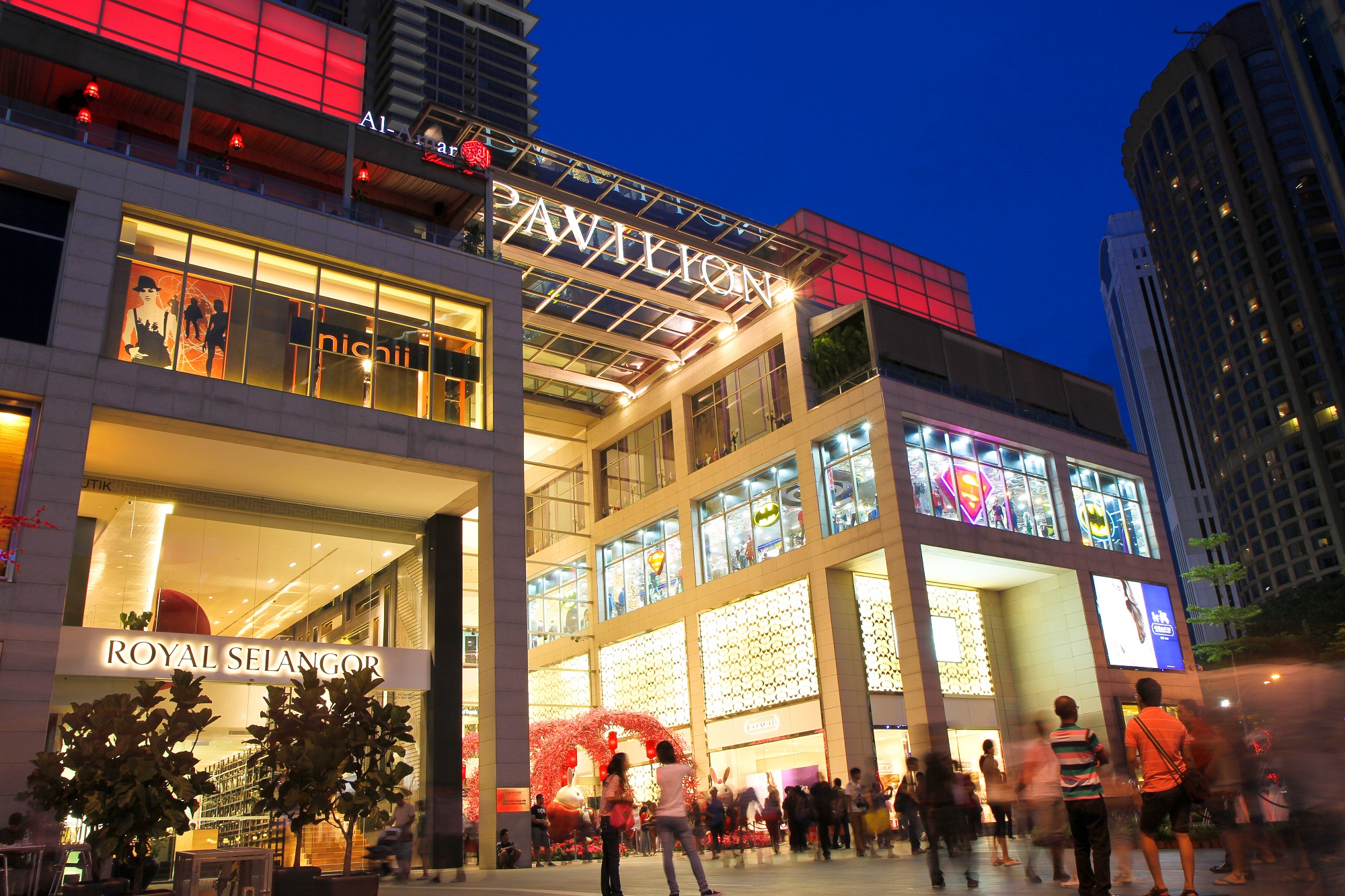 Connections is a segment in Pavilion where restaurants and bars sit in a sheltered but open-aired walkway. From the pedestrian walkway, walk straight through and you'll find yourself at the entrance of Pavilion where the water fountain stands, across the street from Sephora. As you walk through, you could stop for a meal, ice cream / gelato or simply some drinks and shisha at the Mexican Canteena.
Personally, I'd skip the outside section and turn into one of the side doors and take the escalator down two floors to Food Republic. It's a food court filled with a wide range of Asian delicacies. Here, I recommend Thye Hong's carrot cake, Hong Kong Roast's braised chicken, but my ultimate favourite, Sarawak Cuisine's laksa Sarawak – it tastes just like home.
After the energy refill, you can walk back out the entrance and cross the road over to Starhill Gallery. Cosmetics fans won't want to miss a visit to Starhill – they have plenty of makeup, perfume, and accessories stores to check out, including a massive Sephora outlet. From Sephora, you can walk down the road and pop into Fahrenheit 88, yet another mall in KL.
At Fahrenheit 88, bibliophiles should head straight to BookXcess on the 2nd floor. The shelves are filled with books, all priced incredibly cheap. It's a wonderland! You can get 3 or 4 books for the price of one elsewhere.
As you walk out of Fahrenheit 88 and turn left, Al Amar Express has a little Lebanese ice cream stand on your right that'll keep you cool. With tall rods as scoops, the staff hold a cheeky tricks session with each ice cream.
3. Bukit Bintang
You can get to Bukit Bintang from the Monorail and from KLCC as explained above. But if coming from the monorail, my preferred route would be to enter Sungei Wang from the pedestrian bridge. Sungei Wang is paradise for people who are fine with purchasing non-branded items and clones. It is also paradise for hair-dressing junkies like me.
Level G is mainly food while Level 1 is filled with gadgets and jewellery stores. On Level 3, you will find hair shop that I personally turn to for my hair-colouring sachets, MagicBoo. If you're one for DIY body, skin and hair treatments, MagicBoo can hook you up. But if you'd like to be pampered for the day and have the job done for you, APT – The Hair Academy on Level 4 is for you.
For sustenance, my personal favourite spot is the Teppanyaki on Level 3, near MagicBoo. However, if you're feeling like uncovering a secret, take the escalator all the way to APT and then take the stairs up and turn left at the top. Here, you'll find a food court; one of the best in KL, in my opinion. Abundant in choice and with meal prices starting at RM1.50, you won't regret a pit stop here.
Once you're done looking around, exit Sungei Wang by the main entrance and turn left to grab a slurpee at 7-Eleven.
4. Imbi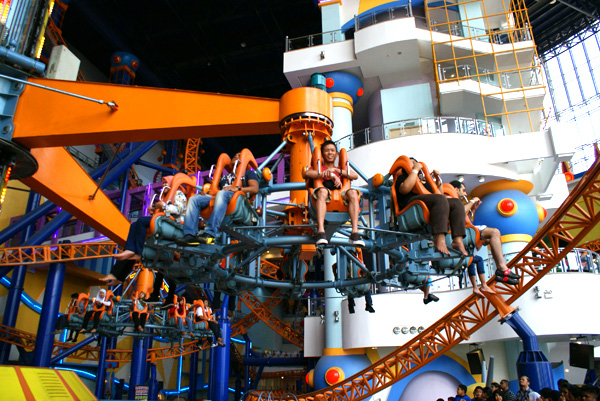 Berjaya Times Square, which is right next to the Imbi Monorail Station, has a movie theatre, archery range, 48-lane bowling alley and as well as a 133,000 square feet indoor theme park, CosmoWorld which is located on levels 5, 6 and 7 of the building.
When I'm here, I like walking into the costume and shoe outlets. and I get myself a cup of CoolBlog. It's a less pricey version on Chatime and Gong Cha – that's bubble tea, for the uninitiated. CoolBlog can be found on Level 1 of Times Square, behind the lift in the centre section, where the piano steps are. My recommendations are Strawberry Green Tea or Pink Guava Red Tea.
When leaving, take the pedestrian bridge that leads back to the monorail station, to get to the other side of the road. There, Amoda and Puma have well-priced original shoes. Not interested in shoes? Walk along the the side of KK mart and down a little further to a building called Plaza Low Yat. This, if you don't already know, is gadget city. Almost every electronic gadget you could possibly want can be found here- be prepared to haggle though. It's really a electronics market not a mall.
5.  Jalan Alor and Changkat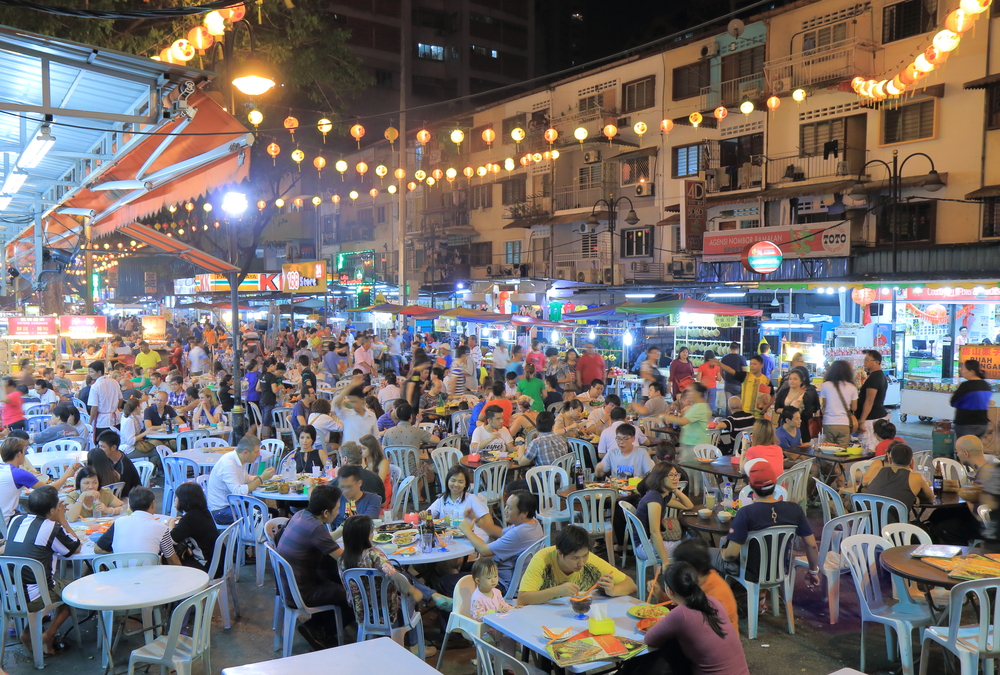 Changkat can be added to your itinerary at whichever point you enter into the city. From H&M on Lot 10 and Bukit Bintang, it's diagonally, one block over, to your right. Unfortunately you cannot simply cross diagonally but you can cross the road over to Tous les Jours bakery. They have delicious baked goods you can enjoy, especially if it's too early for drinks or street food. The nearby Jalan Alor – a.k.a food street – only comes alive at 5pm.
If yo are looking for Jalan Alor's street food you'll notice the cries of hawker stall owners and the smoky smells from a long way off. Nowadays, Jalan Alor is a tourist trap so it can be a more expensive than basic street food, but it's still worth a visit. Alternatively, pop across to Jalan Benangan for a chicken shawarma at Shawarma Halab.
After your meal, head to Changkat Bukit Bintang, 'the party street'. You'll know you're in the right place from all the signs of bars and clubs along both sides of the street. Here, be prepared to watch your wallet shrink. Many find it hard to resist bar-hopping here but for those who like to sit in one place, I suggest Opium (try their Concubine's Batida, Peking Man and Genghis' Poison Chalice),  The Whisky Bar, Sutraa (value for money: Long Island Iced Tea), The Rabbit Hole, and for a club, head to Zion.
To note
If you're ever in Changkat early or are there for a meal more than to drink, a memorable restaurant to check out is Dining in the Dark. It's an interesting experience of eating your meal in complete darkness, guided by experts. The staff there are visually impaired who will help you get adjusted before your meal. Experience your other senses heighten as give up the ability to see.
6. ChinaTown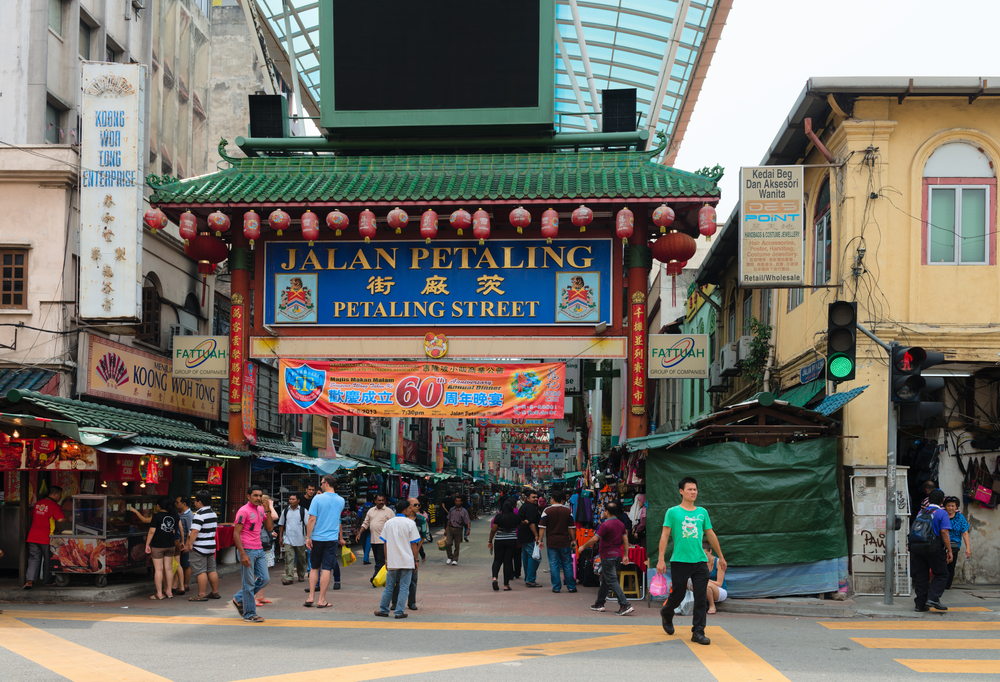 Also known as 'Chee Cheong Kai' (Starch Factory Street), for a detour away from the shopping malls and the drinking, head to ChinaTown. It's best reached by getting off at the Pasar Seni LRT station and here you've got to have your bargaining skills on point. You can find copies of shoes, music, accessories and so much more, all in one easy to walk to street.
When you reach the street right outside the LRT station, on the diagonal to your left will be a blue building signed Central Market. Next to it, where you can see the traditional Malay kite, the Wau, is Kasturi Walk. Cross the road from the main Wau and walk 4 minutes down the road past KK mart, and in about 260 metres, Petaling Street entrance will be on your right.
Operating since 1888, Central Market used to be a wet market but has now turned into a centre for Malaysian culture, heritage, art & craft. The building now houses about 300 shops that piece together both retail and heritage. Featuring local handicrafts, textiles, souvenirs, collectibles and also restaurants, central market is the ideal one-stop-for-all to experience Malaysian culture. This is also done by approaching the friendly shop owners and sitting with them for a little throwback story-telling session.
7. Bedtime
At the end of the night, get an Uber / Grabcar home or stayover atthe Hotel Budget Inn (RM32 a night), Rainforest B&B (RM35) or Sunshine BedzKL (RM94).
A lot of these places were found simply by getting lost. So, I would like to encourage you to pop in those earphones, play your jams and go explore. Comment below to let us know what you've found in your own episode of being lost in Kuala Lumpur.
---
"ExpatGo welcomes and encourages comments, input, and divergent opinions. However, we kindly request that you use suitable language in your comments, and refrain from any sort of personal attack, hate speech, or disparaging rhetoric. Comments not in line with this are subject to removal from the site. "
Comments