These dishes are staples for Malaysian foodies and are best enjoyed from street side vendors and local coffee shops. Many of these are modified versions of dishes from our ancestors' homeland, having been influenced by the multicultural Malaysian society for decade. Whether these dishes originate from Singapore, Malaysia, or elsewhere — the topic of food origins can spark a heated debate among Malaysians and Singaporeans in seconds — we can all definitely agree that these dishes are absolutely delectable.
1. Satay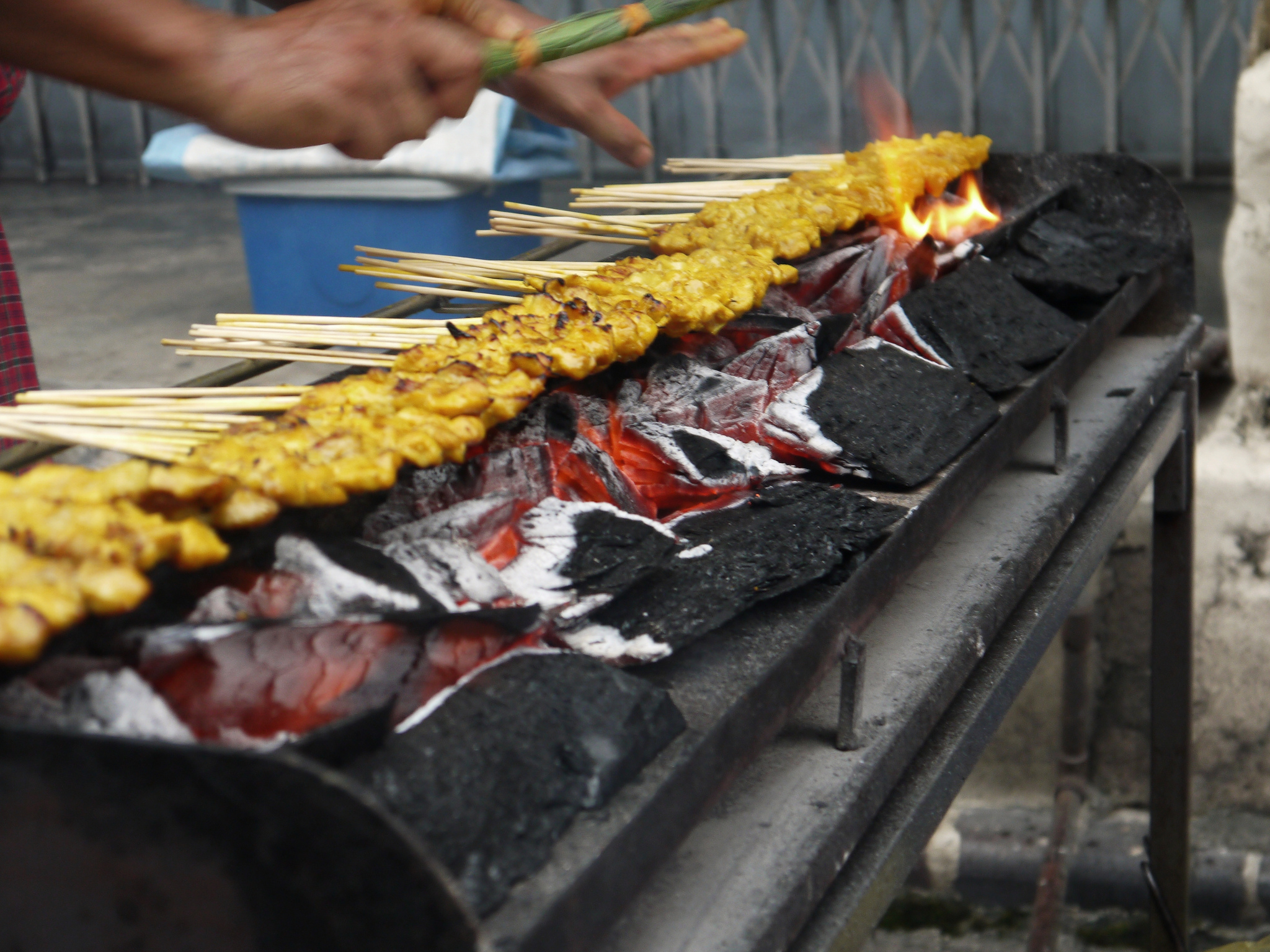 Satay may have originated in Indonesia, but it has become something of a national treasure on the street food scene in Malaysia and is loved by young and old, locals and foreigners alike.
This simple snack of seasoned, skewered, grilled meat tantalises your sense of smell, and nothing beats watching glistening satay being grilled to order just before the spitting, perfectly charred morsels arrive at your table with a pot of sinfully addictive peanut sauce. The meat of choice is usually chicken or beef, but look out for pork, mutton, fish, and sometimes even offal!
2. Chicken rice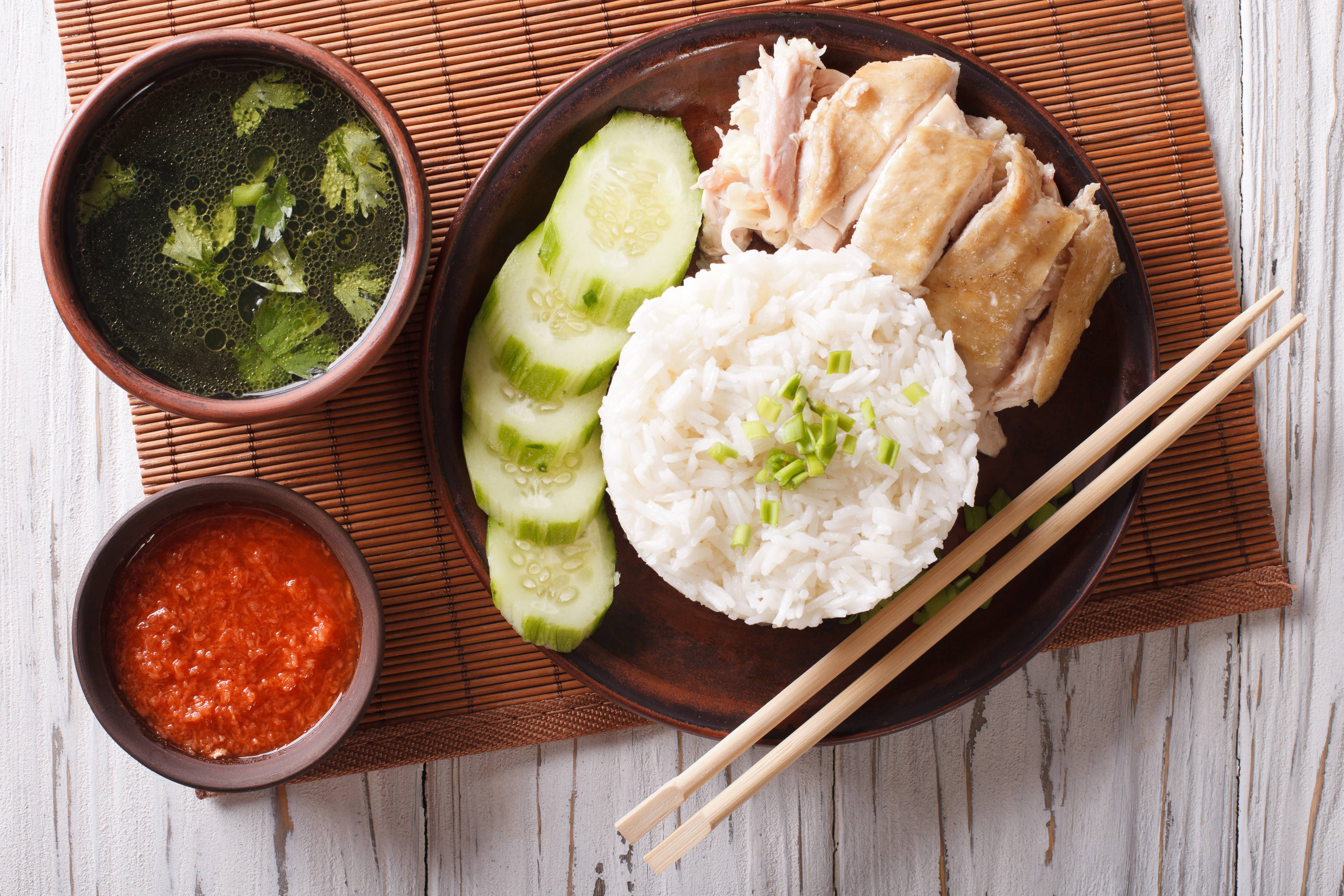 Who can fail to find a warming, tasty delight in a serving of Chicken Rice? This simple dish is something of a national favourite, with both Ipoh and Melaka boasting their own versions that are yummy enough to make Malaysians drive there just to eat.
The traditional version – known as Hainanese Chicken Rice – is a dish brought over to Malaysia by the Chinese and consists of steamed or roasted chicken with tasty, oily rice (cooked in chicken broth), served with a dish of chili sauce, some minced ginger, and a few slices of cucumber. A drizzling of dark soy sauce completes a meal you will remember.
3. Banana leaf rice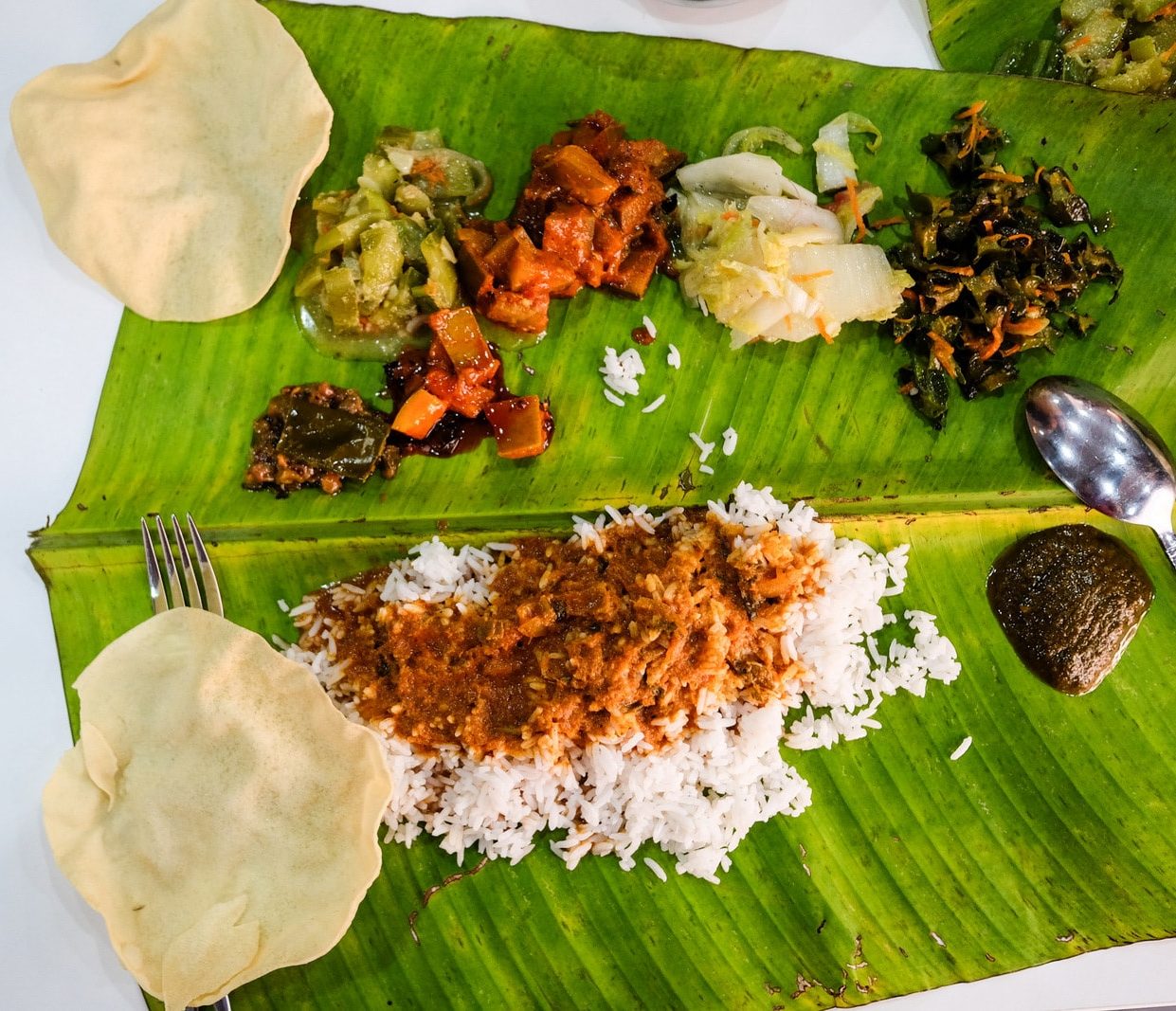 One of the food staples for the local Malaysian community is the banana leaf meal, a simple lunch that was brought to Malaysia by the Southern Indians and one that continues to offer cheap, quick, and tasty meals off a green leaf.
The premise is simple: for around RM5, expect a banana leaf to be piled with fluffy steamed rice and three different types of vegetables (these change daily, and include things such as pumpkin, potato, beans, and cabbage), a choice of curry or dhal, and various blob of chutney and pickle. The traditional method of eating is with the right hand, although no one will frown if you ask for a spoon.
It is thought that placing hot food onto a banana leaf releases the coating on the leaf and aids digestion. To show you enjoyed your meal, you must fold the leaf towards you upon completion.
4. Ketupat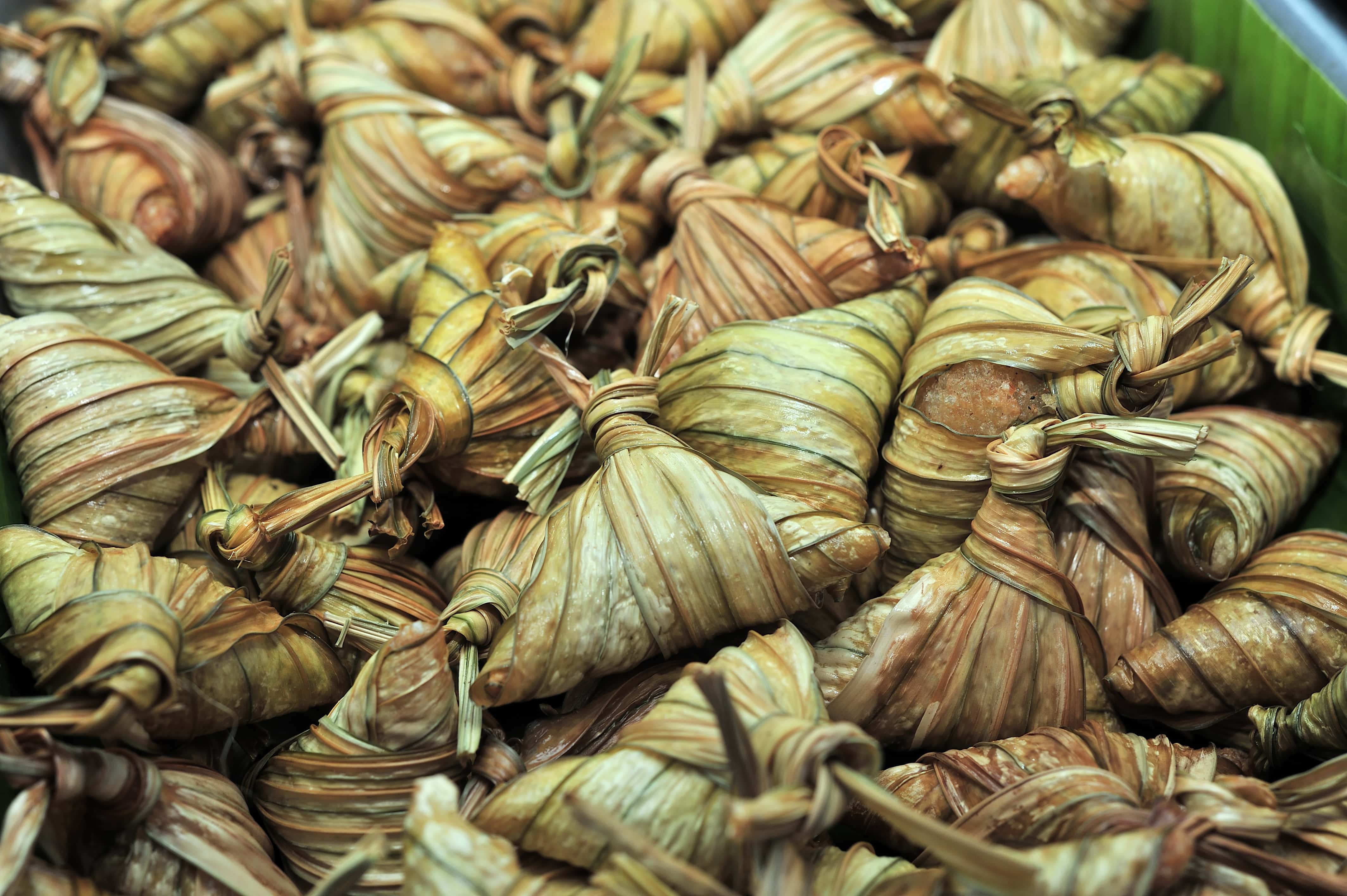 The Muslim festive holiday of Eid or Hari Raya sees the abundance of good food in the country double. With spreads that put royal banquets to shame, one delicacy that sees its inclusion unchallenged at every Hari Raya meal is the humble ketupat.
Best described as a packed rice dumpling, the ketupat is made from rice that has been wrapped in a handwoven palm leaf pouch and boiled. The pouch is made up of two strips of palm leaves twisted and woven tightly together to ensure no rice spills out. As the rice cooks, the grains expand to fill the pouch and the rice compresses itself.
Usually eaten with rendang and lontong gravy (Malay stew) or served as an accompaniment to satay or gadogado (vegetables with peanut sauce), the ketupat has cemented its place as one of the most popular dishes around, due to its creamy taste and versatility.
Local stories passed down through generations have attributed this style of rice preparation to the days when seafarers needed to keep cooked rice from spoiling during long voyages. These days, this delicious glutinous rice delight holds its own amongst other Hari Raya goodies, and is perhaps the most popular dish at celebrations across the nation.
5. Nasi kandar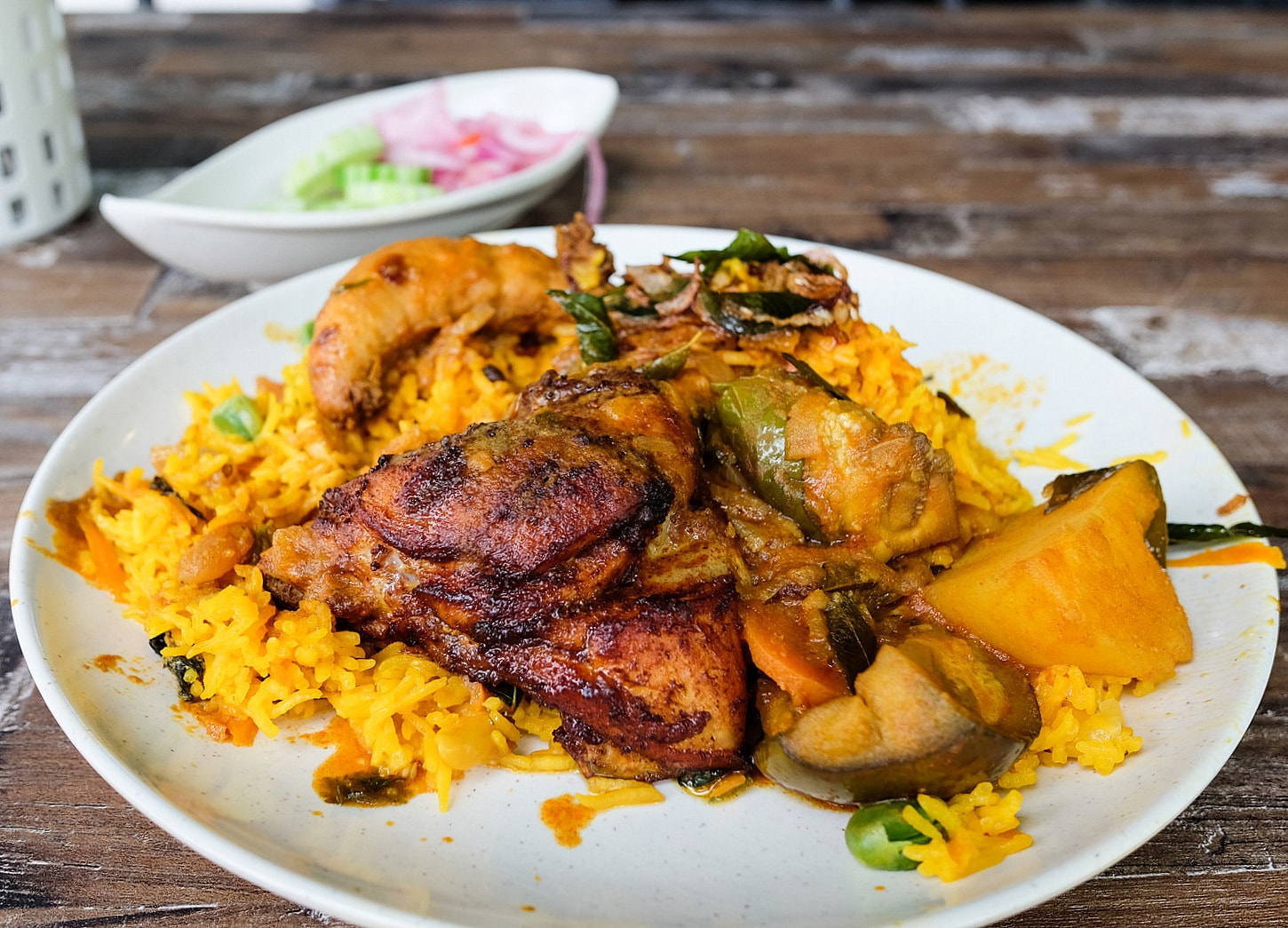 Ask some native Malaysians what their favourite traditional dish is and many will answer, "Nasi Kandar!" Originally developed in Penang, Nasi Kandar is an Indian Muslim dish that has developed over the years as the Indian immigrants fused their food with Malaysian spices and eating styles. It even takes its name from its history – in colonial times, this dish was served by vendors who balanced baskets of food, typically rice (nasi) dishes with a kandar pole.
The Nasi Kandar meal consists of rice soaked in a mix of varied curries and comes with some delicious meat accompaniments (e.g., fried chicken, gizzards, fish roe, curried mutton, or fried prawns) and a portion of vegetables.
You'll find Nasi Kandar joints on every street corner in most cities throughout Malaysia, so join the throngs heading there for a meal and find out what all the fuss is about.
6. Dosai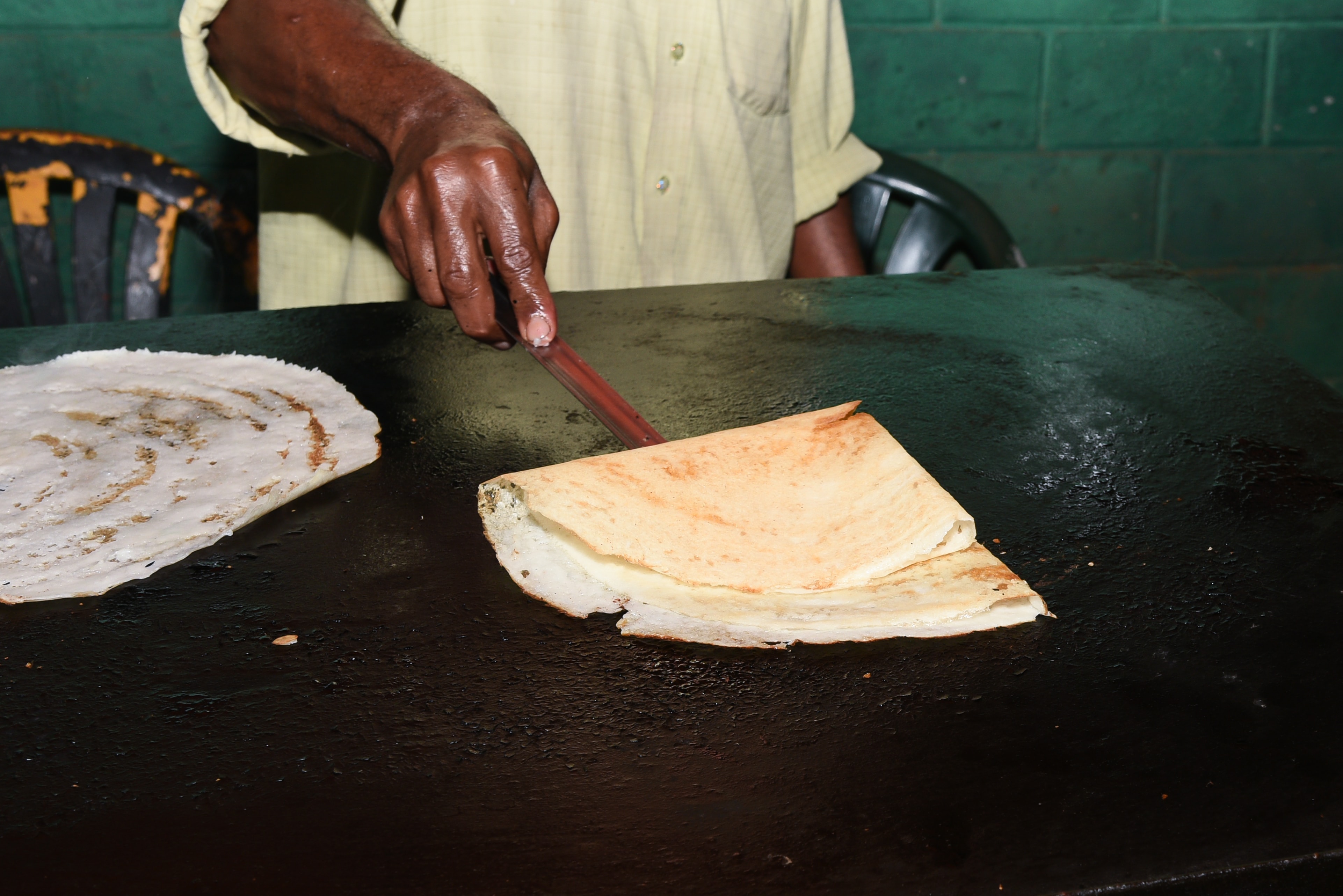 In a country filled with artery-clogging nosh and diabetes-friendly munchies, the dosai comes as a refreshing change from the usual oil-laden meal options.
This mamak stall staple is much like an Indian pancake, and is rich in carbohydrates, contains no sugar or saturated fats. The batter is made from fermented rice flour and ground lentils, before being spread out on a hot plate in a perfectly round shape, and cooked until it is lightly browned and crispy. The result is a pancake that is crispy around the edges and chewy in the middle.
But the part of the dosai experience that really tickles the taste buds, are the sauces served on the side. Dosai are generally accompanied by spicy chilli chutney, cooling coconut chutney, and a small bowl of lentil curry or sambar. For those after a more solid meal, a variation of vegetarian or non-vegetarian dishes such as spicy potato masala or a chicken dish, also see an inclusion in most restaurant menus. Apart from the plain dosai, other varieties include the rava dosai, paper dosai, masala dosai, egg dosai, and onion dosai.
Although cutlery is available, the best way to eat a dosai is with your fingers – perfect for soaking up all the delicious gravy. Amazingly versatile, this delightful local favourite attracts throngs of people wanting a tasty meal at any time of the day.
This article was originally published in Sense of Malaysia (Jan/Feb 2017) which is available online or in print.



" ExpatGo welcomes and encourages comments, input, and divergent opinions. However, we kindly request that you use suitable language in your comments, and refrain from any sort of personal attack, hate speech, or disparaging rhetoric. Comments not in line with this are subject to removal from the site. "



Comments