A wise man once said "to live well is to eat well", and in Malaysia, we believe this statement fully. Luckily for us, we are spoilt for choices when it comes to finding the tastiest yet heartiest meal – all thanks to the availability of Malay, Chinese, and Indian cuisine – and much more from around the world – all year long.
As such, dim sum – a meal that was originally enjoyed for breakfast on weekends but has now evolved into an anytime treat – is undoubtedly a crowd-pleaser. You're treated to a selection of delightful dishes that are meant to be shared in groups. These steamed, pan-fried, and deep-fried morsels are typically bite-sized, yet flavorful.
However, most people are unaware of the proper method of eating dim sum. Although a majority of the dishes requires one to just pick up the dumpling up with chopsticks and lightly dip it in a sauce before gobbling it down, certain dishes, like the famous xiao long bao (soup dumpling) require a little more skill.
Xiao long bao, fondly known as "little basket bun", is a dainty steamed dumpling filled with juicy pork meat and flavoured broth, encased in paper-thin dough wrapper. In order to create the soupy interior, aspic is added to the minced pork so that, upon steaming, the aspic will melt and fill the dumpling with a flavourful broth from the inside.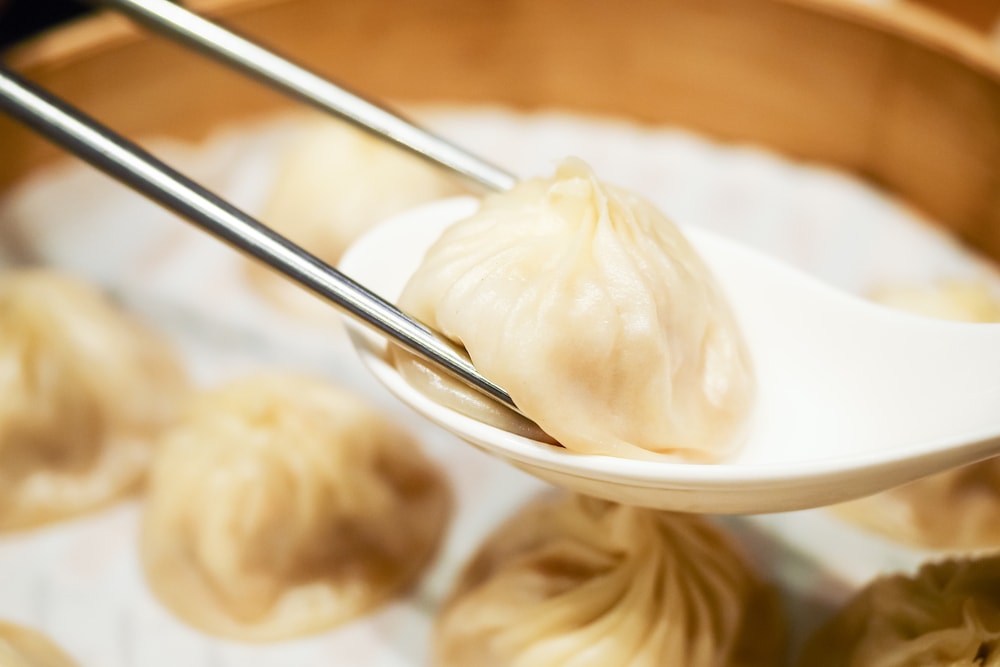 The origin of this type of dim sum is debatable, as everyone wants to take ownership of such a popular dish, but legend has it that a man named Huang Mingxian from Shanghai invented these little pockets of tastiness in 1875. Despite being created in China, it was the Taiwanese restaurant chain Din Tai Fung that popularised these palatable bite-size gems, and today, it has become a must-order dish during a dim sum feast.
Here are the five steps to eating xiao long bao the right way:
1. Prepare the sauce
Add a dash of soy sauce and vinegar in a small saucer along with finely sliced strips of ginger. For the best concoction, mix one part soy sauce to three parts vinegar. The perfect blend of salty and tangy liquids ensures the dipping sauce will complement the meaty pork filling well.
2. Dip carefully
Using your chopsticks, gently pick up the dim sum and lightly touch it in the dipping sauce. The thin dim sum wrappers are extremely delicate, so it's best to handle them with care.
3. Prick the wrapper
Next, place the xiao long bao on your spoon and slowly prick the skin so the piping hot broth oozes out of the skin. You can do this by either biting a small hole on the side of the dim sum or carefully poking the skin using your chopsticks. This step is vital, so do not skip it! Pricking the wrapper releases the steam inside the dumpling and cools down the broth so it doesn't burn your tongue when you bite into it.
4. Slurp the broth
Now comes the best part. Slowly slurp the scrumptious broth from the dim sum. This well-seasoned liquid will definitely get your palate ready for the next big meaty bite.
5. Enjoy the whole morsel
After sipping all the soupy goodness, gobble the whole dim sum down on one bite. Repeat steps 2 to 5 ad infinitum… or until you're properly satisfied.
Where can I find it?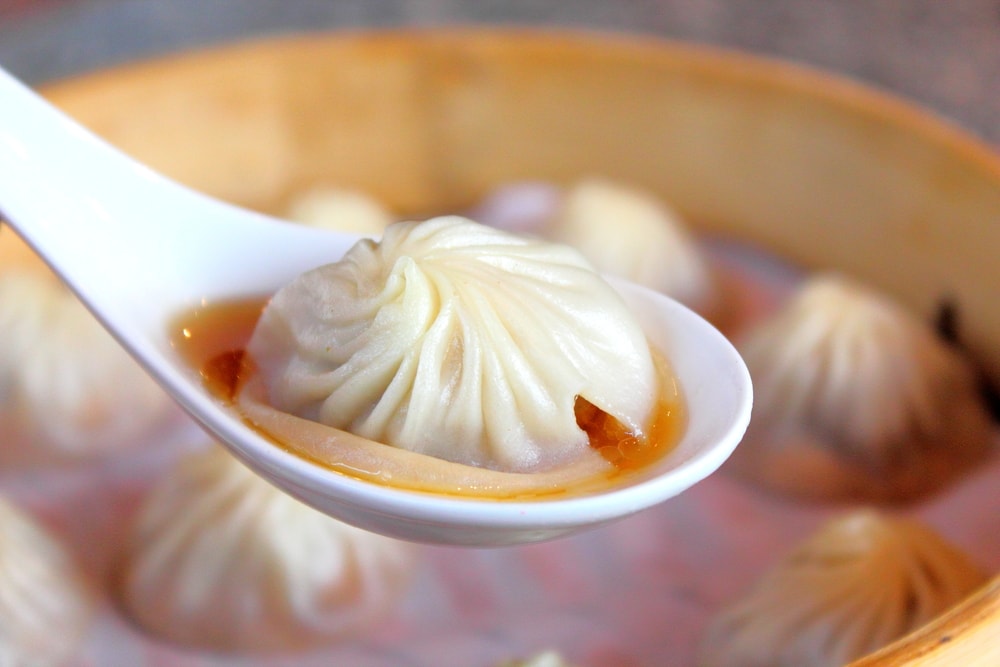 Now that you know the right method to enjoying xiao long bao, you need to know where to fine them. Here are some of our favourite restaurants for xiao long bao in Malaysia.
1. Din Tai Fung
Originally from Taiwan, Din Tai Fung is the mastermind behind internationalising xiao long bao. To date, the restaurant is still widely known for their juicy meat filling wrapped in a melt-in-your-mouth skin, with a minimum of 18 folds. It is said that every one must try their xiao long bao at least once in their lifetime. Din Tai Fung's Hong Kong branch has also won a Michelin star!
2. Dragon-i
Specialising in authentic Shanghainese cuisine, it is no surprise that xiao long bao is listed as one of the signature delicacies at Dragon-i. To ensure the standard is always top-notch, the restaurant adheres to strict standards, such as shaping each dumpling with 18 close-folding plaits bound neatly for a smooth texture. The chefs at Dragon-i are experts at making these dumplings and are able to wrap an impressive eight dumplings per minute.
3. Paradise Dynasty
While most xiao long bao comes with a standard pork filling, Paradise Dynasty does things a little different. Their Signature Dynasty Xiao Long Bao are available in a rainbow of eight varieties, giving you not just a visual pleasure, but also takes your taste buds on a palatable adventure. Available in enticing flavours like ginseng, foie gras, truffle, cheesy, crab roe, garlic, Szechuan, and of course, original, the dumplings are carefully arranged from subtle to intense flavours, making sure you have a lip-smacking experience.



" ExpatGo welcomes and encourages comments, input, and divergent opinions. However, we kindly request that you use suitable language in your comments, and refrain from any sort of personal attack, hate speech, or disparaging rhetoric. Comments not in line with this are subject to removal from the site. "



Comments