Malaysia's position in the equatorial zone guarantees a classic tropical climate and it's safe to say that the weather is fairly hot and humid all year round (with the exception of the cooler climes of the central highlands).
But lately the temperatures have been soaring across the country, making even the most heat-loving among us look for better ways to stay cool and one of the most common ways of beating the heat is to reach for an ice cream.
Whether it's to cool off from the unbearable heat or you're simply looking for an excuse to satisfy your sweet tooth, these places are sure to serve you up some pleasurable delights!
1. Inside Scoop
Since it opened its doors in Bangsar more than two years ago, Inside Scoop has gone on to become one of the fastest rising ice cream joint in Malaysia and it is with good reason too as their ice creams are freshly-made daily, using only natural, premium ingredients with no artificial flavourings, colouring or preservatives.
The offerings at The Inside Scoop are straightforward: ice cream, waffles, drinks but the ordering process could prove to be quite tricky as there are at least 17 flavours to choose from such as Durian, Pistachio, Salted Caramel and Valrhona Chocolate along with some of their more unique flavours such as Cempedak, Bandung, Kopi Peng, and Teh Tarik.
The ice cream can be eaten on its own or accompanied with their waffle cones in a choice of vanilla or chocolate that is also made in-house. Inside Scoop also carries a small selection of alcoholic ice cream such as Smoked Cognac and XO Cranberry, as requested by their customers.
2. Softsrve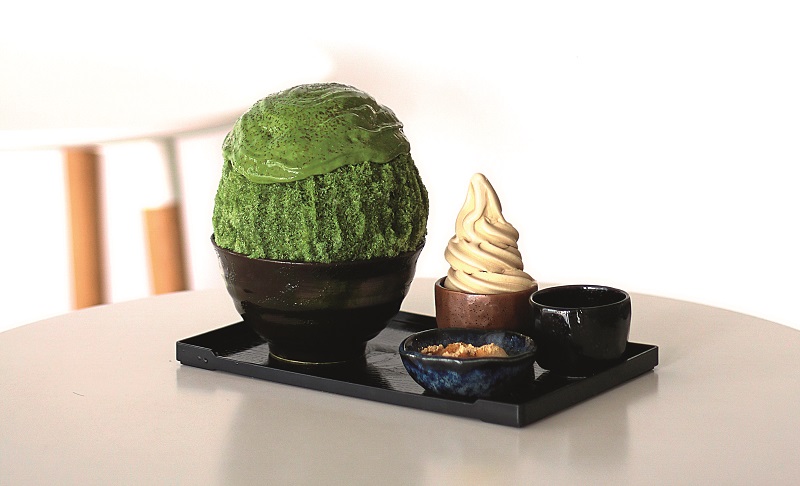 If you haven't heard of the soft serve mania that has gripped dessert lovers in and around Klang Valley then this is your chance to catch up with one of the newest and trendiest desserts. Soft serve is the ice cream that is known for its light flavour and rich texture that according to the Internet has been in existence since 1930s.
Soft serve is lower in milk fat, produced at a warmer temperature, and it also contains air that is introduced at the time of freezing. The amount of air alters the taste and texture of the product thus making it taste creamier and smoother. One venue that has perfected the art of making great soft serve is Softsrve in Damansara Uptown.
Inspired by the Korean soft serve ice cream craze, the venue which serves its namesake offers three flavours: Cereal Milk, Deep Chocolate, and Oolong Tea which can be customised with different toppings. Or better yet, opt to have your soft serve with churros or in a cone. Prices range from RM10 to RM12 for the ice cream variants. The churros served with soft serve ice cream is priced at RM18.
3. Tsujiri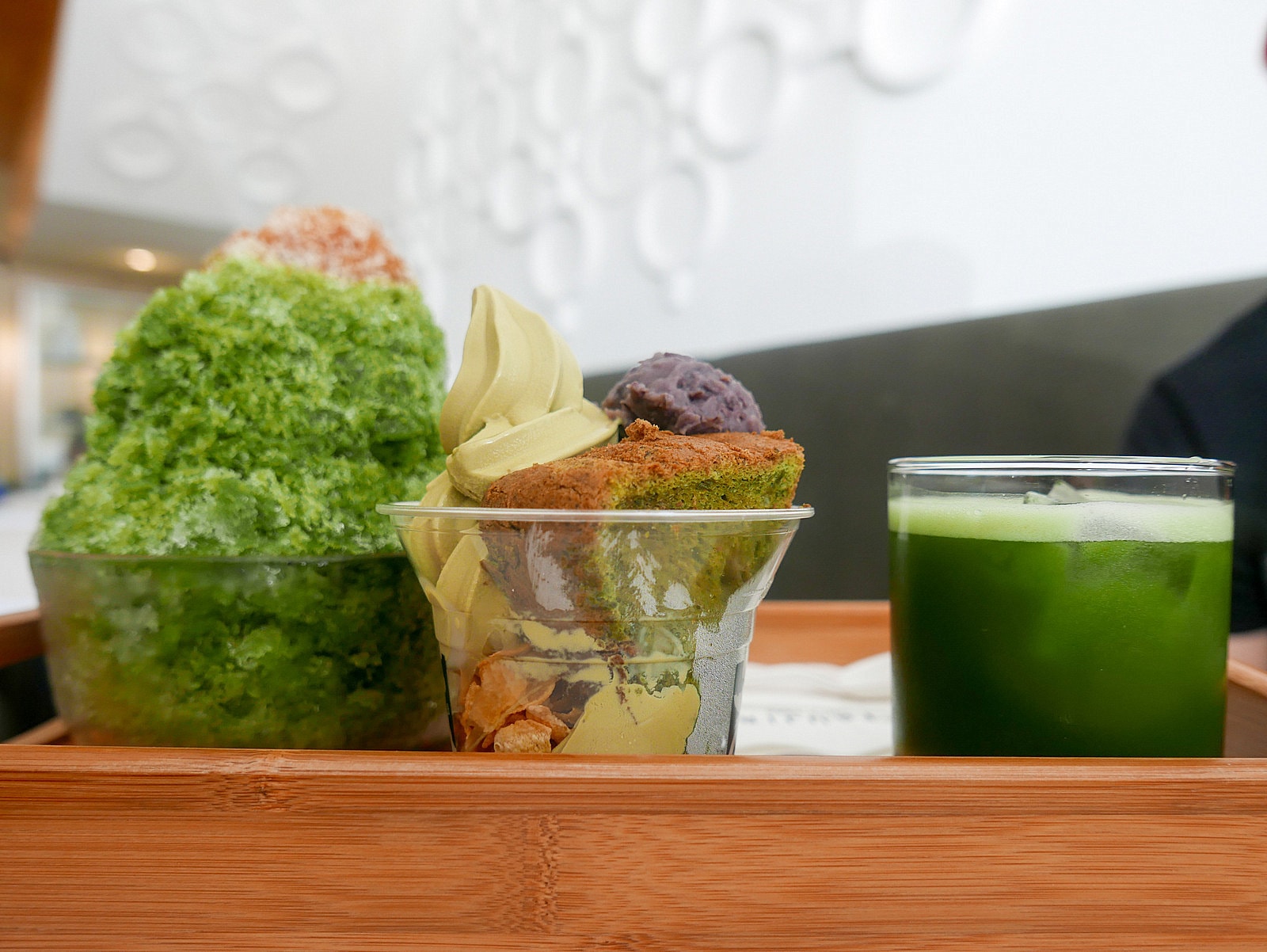 Matcha lovers can revel as Tsujiri is an outlet that serves green tea desserts. Hailing from Kyoto, Tsujiri tea house – boasting a 150-year-old legacy originally pioneered by Japanese tea innovator Riemon Tsuji in the late Edo period of the 1860s – opens its maiden outlet in Damansara Uptown.
Here, customers can savour the pure, simple pleasures of Uji-origin tea, or marry the flavours of matcha and hojicha with soft serves, parfaits & shaved ice desserts. You will be spoiled for choice from their variety of desserts ranging from soft serve ice cream and shaved ice to ice blended drinks and premium beverages but top temptations include Japanese inflected parfaits and Tsujiri's mountain of shaved ice, soaked in green tea syrup, with a hidden treasure of mochi-like shiratama dango dumplings beneath the ice.
Simply irresistible, Tsujiri ice cream is the place to go if you are a big fan of green tea.
4. Sangkaya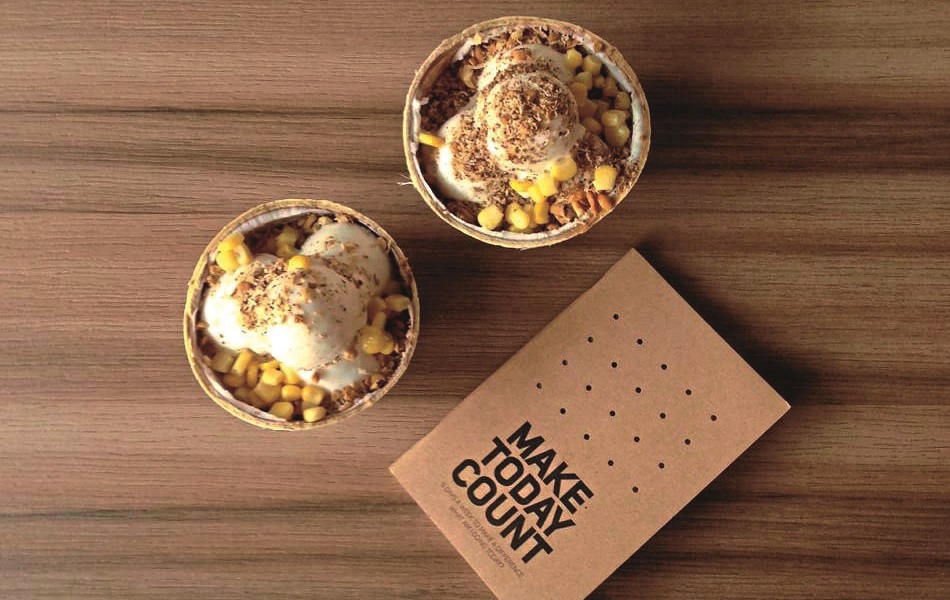 Founded on the philosophy of manifesting the true values of coconut as a consumable, Sangkaya is inspired by Sang Rida Kaya, the name of the founder's wife. Its rise to popularity started with its premium coconut ice cream, which is their signature and is served in husks sourced from Thailand and other ice cream flavours include coconut green tea and cha yen.
The first creamery in the market with coconut milk as the base as the replacement for fresh dairy, cream and egg, their products are freshly made daily using the best ingredients available. Sangkaya lets you discover a personal euphoria with a line-up of ice cream flavours that are unique in its own right.
In addition to these specialities, they also offer cendol – a blend of their signature coconut ice cream and seven toppings with a small pool of gula Melaka to top it off.
5. Kakigori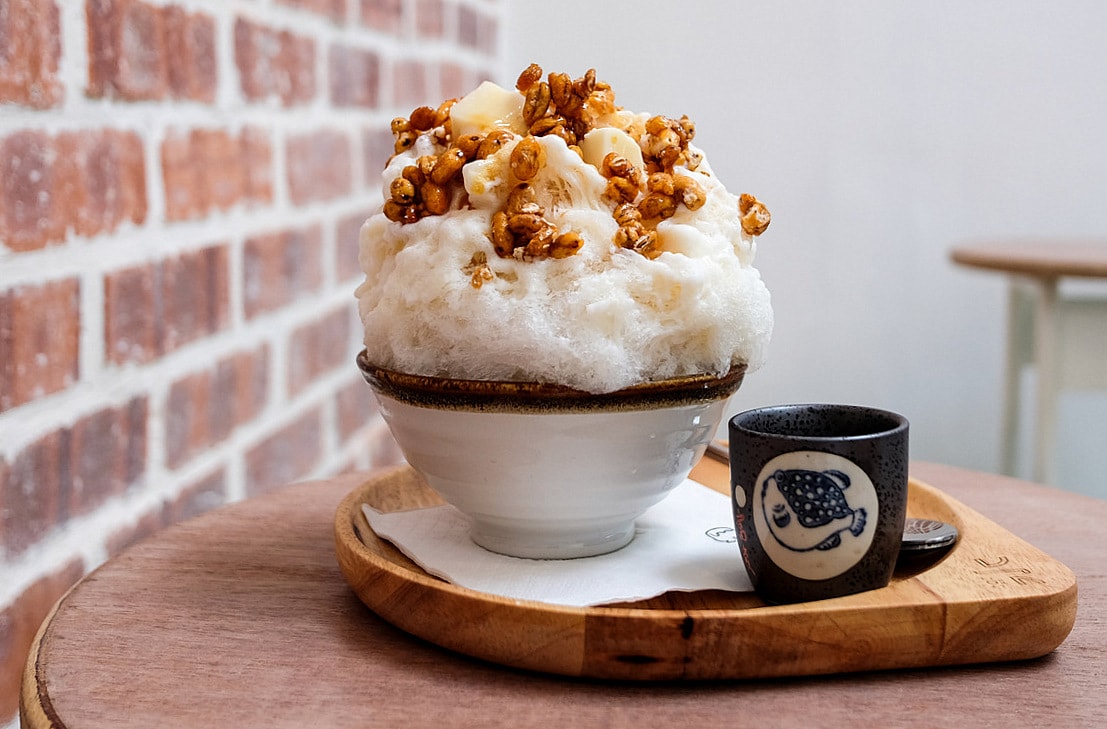 It's ice to meet you: Kakigori's founders are the three Beh siblings, who also spearhead Bangsar South's Thirdwave cafe – these cool cats say they've always loved air-conditioning and chilled treats, so when they discovered Japan's kakigori, they were determined to launch a venue dedicated to this dessert.
Kakigori promises Japanese shaved ice desserts that play it cool with distinctively spirited flourishes – a sub-zero remedy for the Klang Valley's perpetual summer, supplying succour like snowfall in the Sahara. After scouring Tokyo for all the kakigori they could eat, the Beh siblings were ready to unveil no fewer than ten wintry creations – traditionalists can start with the tea-based interpretations.
The Beh siblings uphold exacting standards, sourcing clear, strong ice shaved into smooth, ultra-light shards that melt slowly, complemented by natural, seasonal produce. For example, the Hojicha kakigori with candied chestnuts and kinako milk and the Uji Matcha kakigori with red beans, own-made warabimochi and kinako milk rely on tea cultivated by Kyoto's revered Marukyu-Koyamaen.
6. Bingsu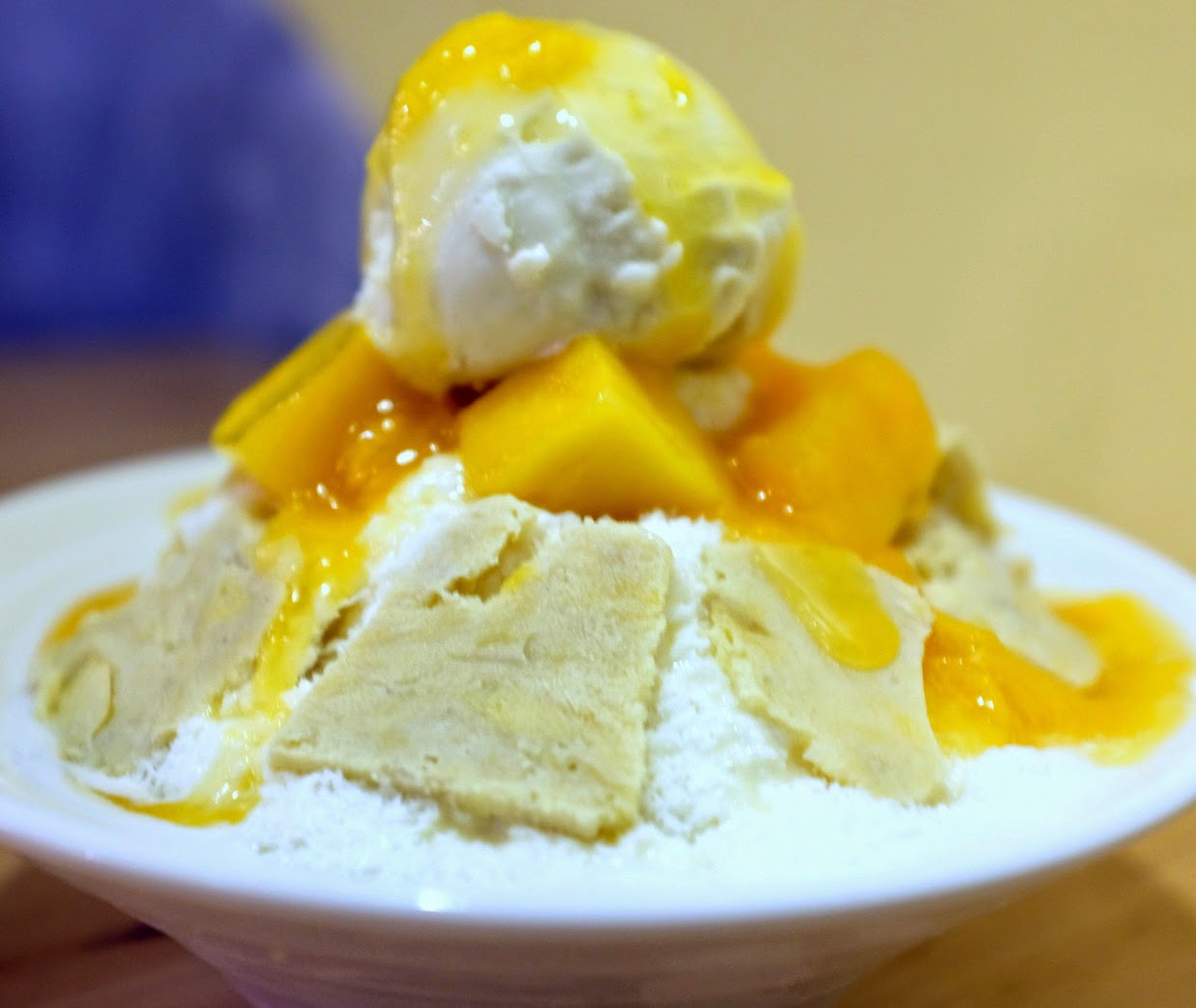 This Malaysian family-run cafe is one of the Klang Valley's coolest venues for 'bingsu' shaved ice desserts – KC, his wife Rachel and their sons first fell in love with bingsu while travelling in Seoul; they've since partnered with Korean collaborators to open Bingsu, which serves chilled desserts with a distinctive flair.
Bingsu raises the bar by sourcing top-flight ingredients for its bingsu, such as fresh Korean blueberries, heaped with cheesecake chunks for a true treat. Portions seem princely (two can share a bowl) and prices feel fair, ranging from RM12.90 for a basic 'injelomi' rice cake bingsu to RM16.90 for a Belgian chocolate bingsu and RM17.90 for a blueberry cheesecake bingsu.
7. IDC Ice Dreams Cafe
Everyone's a kid again at this dessert parlour that relies on New Zealand's Kapiti ice cream to create impishly playful desserts. IDC – Ice Dreams Cafe or Ice Cream, Desserts and Coffee – is founded by good friends Darren and C.K., whose understanding of ice cream is intimate and indisputable. Darren's father has been involved in ice cream distribution for more than three decades; their family's company has cultivated close ties with New Zealand's Fonterra dairy colossus, bringing in both Kapiti and Tip Top ice cream to Malaysia. The Kapiti brand is emblazoned everywhere here at IDC, which describes itself as 'inspired by Kapiti.'
IDC offer a range of 'affogatos' with a twist – instead of coffee, the ice cream is topped with a shot of something else. Our chief recommendation is the combination of vanilla ice cream laced with sea salt flakes, poured over with extra virgin olive oil. They also sorbet sodas and plated ice cream desserts like crepes with spiced cinnamon crumbs, lavender and cranberry-infused Welsh cakes with drizzled honey and peppercorn sprinkles.
8. Morelli's Gelato Malaysia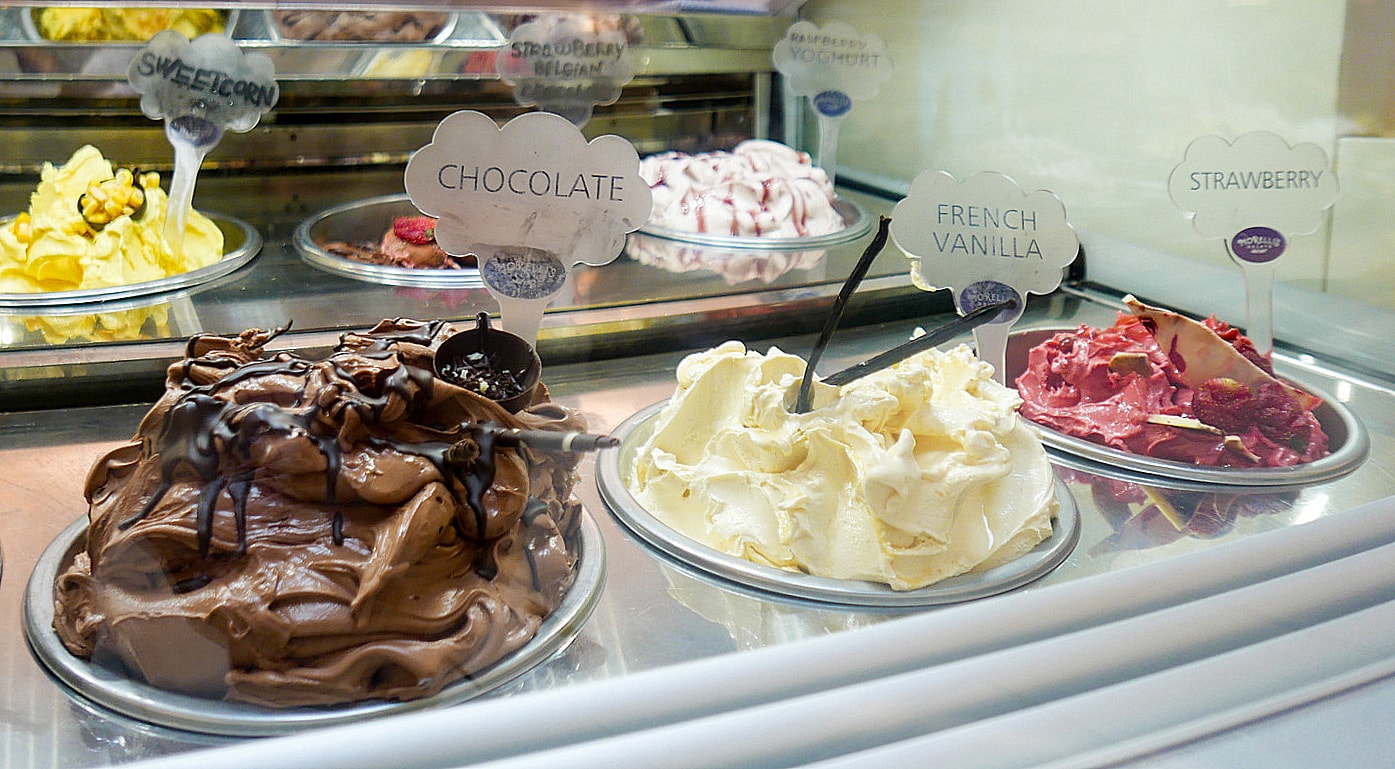 One of BSC's most cheerful spots for chilling out, Morelli's ranks high among KL's best bets for gelato, maintaining a reputation for top-flight Italian-style ice cream that stretches from Morelli's in London to Morelli's in Monaco, extending a proud tradition that first began when Italian emigrant Giuseppe Morelli settled in the UK and started selling ice cream from the back of his bicycle in 1907.
Morelli's showcases a wide selection of sundaes; alluringly crafted, they're not only supremely photogenic but taste as sumptuously delicious as they look. The ice cream flavours feel naturally rich and nuanced – a testament to the quality of its ingredients. Some sundae temptations here include the Berry Pavlova (with a base of wildberry sorbet, strawberry and fruit yoghurt), Banana Royale (banana, caramel dulce de leche and soft vanilla gelato), Pina Colada (pineapple sorbet, plus coconut and vanilla gelato), and quite a few more – certainly something for every sundae lover. If you prefer a simpler serving to relish on the move, gelato and soft-serve cones are also available, as well as as kids' sundaes and ice cream beverages.
9. Hail's Soft Serve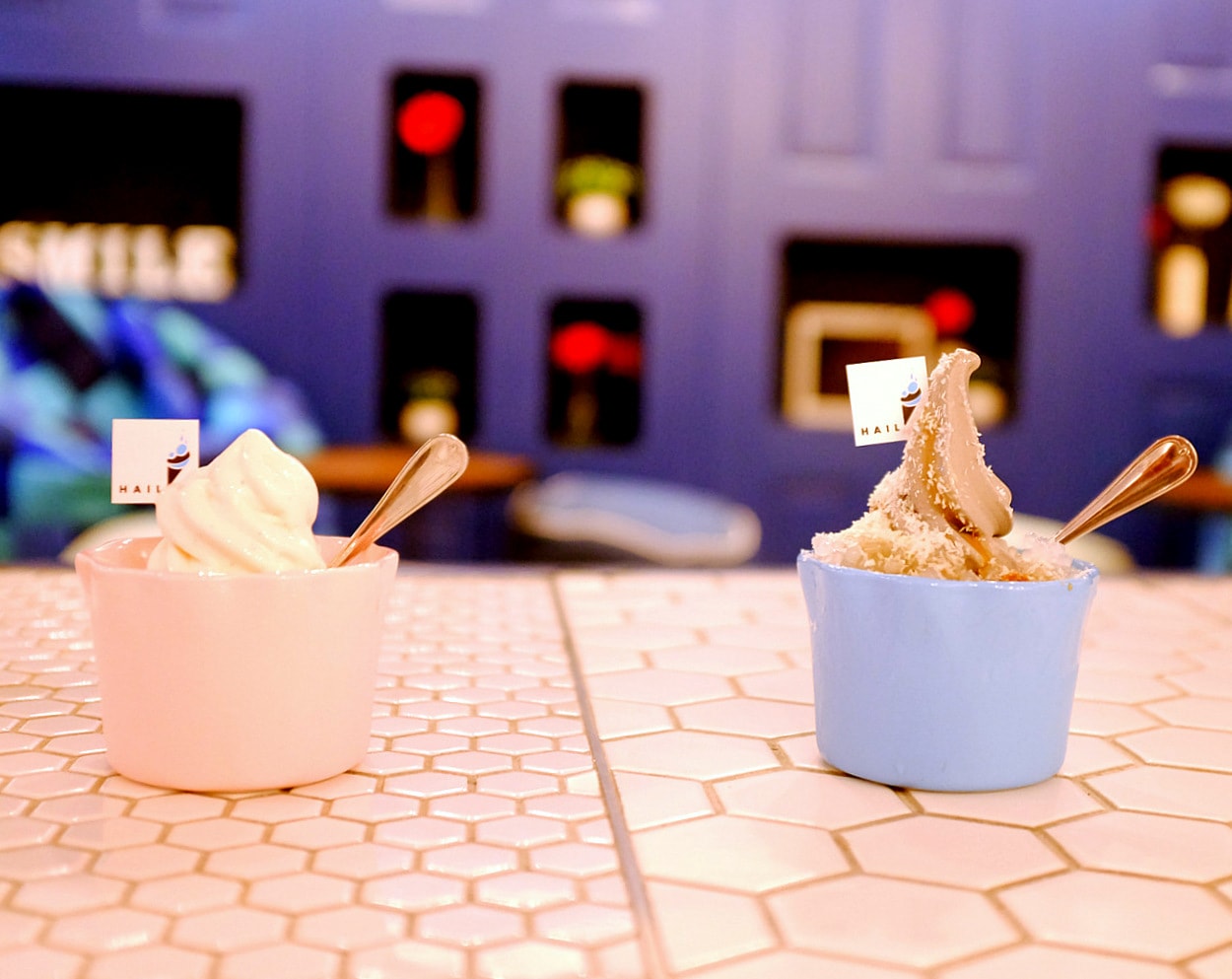 Soft serves are the speciality at Hail's – the signature pick is pink peppercorn, which tastes moderately of berries with a mild peppery finish, while the current seasonal alternative is black sesame, buoyed by natural nuances. Both flavours prove gently restrained, with a smooth, airy texture.
You can have the soft serve on its own or in sundae-like recipes such as Nyonya Delight – with sago pearls, coconut flakes and Gula Melaka. Service is super-affable, and the polished setting shimmers with charming embellishments – most tables are topped with their own unique, individual flower or plant.
This article was adapted from The Expat magazine (March 2017) which is available online or in print via a free subscription.



" ExpatGo welcomes and encourages comments, input, and divergent opinions. However, we kindly request that you use suitable language in your comments, and refrain from any sort of personal attack, hate speech, or disparaging rhetoric. Comments not in line with this are subject to removal from the site. "



Comments