For an enjoyable history fix, a visit to a city that celebrates its rich and diverse history can be the ideal weekend getaway. Travel photojournalist David Bowden finds Melaka to be a nearby destination that offers ample heritage and much more.
Melaka (also spelled Malacca) is a well-visited tourist destination south of Kuala Lumpur which has become even more popular since it was placed on the list of UNESCO World Heritage Sites nearly a decade ago. This list has become the global seal of approval for the world's finest cultural, historic and natural sites. It has help guide me on my global travels as a point of reference for the must-see destinations around the world.
The listing covers the 600-year-old historic Melaka town centre, which acts as a magnet for tourists wanting to see the vestiges of the old port's historic past (it is actually a dual site in sharing its listing with the historic centre of George Town in Penang). A UNESCO listing means that all such sites around the world must develop management plans and adhere to strict guidelines to ensure each site maintains its integrity and,subsequently, its place on the list.Those that don't, and there have been a few, lose their UNESCO status.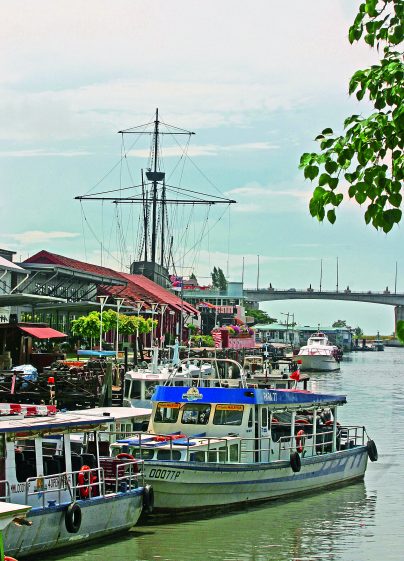 Historic Melaka has a wealth of cultural and historic features dating back to an era when it was one of the region's most strategic spice trading ports. Old buildings from the Portuguese, Dutch, and British colonial eras stand alongside historic shoplots that were initially built by influential Chinese merchants. Many still remain in the family and some continue traditional trades and activities carried on by their forefathers.
Today, Melaka's tourism assets are extensive and extend beyond its historic heart as I was to discover on my most recent trip that commenced in the semi-rural surroundings of Ayer Keroh and extended into its historic town precinct. Several tourist attractions are located near Ayer Keroh including Zoo Melaka, Ayer Keroh Recreational Forest, Crocodile Park, Taman Mini Malaysia, and an Orang Asli Museum. Most are well-visited by locals with the forest being popular for a range of activities such as picnics, jogging and cycling. The small zoo has a reasonable selection of animals including Tapirs, Malayan Tigers and Malayan Gaur.
Nearby, the Malacca Butterfly and Reptile Sanctuary (open daily from 8.30am to 5.30pm) is home to a menagerie of butterflies, snakes, lizards, crocodiles, birds, and tortoises. Children will love the displays, as there are several hands-on opportunities and places for photographs with some of the animals.
Mini Malaysia and Mini ASEAN has on display several miniature replicas of Malay houses as well as some from around the region. Local games and cultural performances are staged here every day between the hours of 9am and 5pm.
Ayer Keroh is located at the main highway exit to Melaka, and the Philea Resort and Spa makes a great base for those who want to explore this part of Melaka. The resort's unique log construction makes for an impressive retreat, especially as it is surrounded by lush and rustic landscaping.
Streets with stories
Melaka's best-known tourist precinct, brimming with shops, museums, and restaurants, is located at the mouth of the Melaka River in the centre of the town. Despite the heat and humidity, it's best to explore this part of Melaka on foot, especially at the weekends when traffic congestion can make progress grindingly slow. On hot days, covered walkways lined with souvenirs and assorted wares provide some respite from the weather.
The best place to begin exploring the old town is near the bridge over the Melaka River. It was here that Portuguese soldiers made their final assault in 1511 to claim the town as their own. The Melaka River is still an essential part of the town's fabric today, and visitors can take a 45-minute river cruise to gain an insight into the culture and lifestyle of the locals. There are regular daily departures from 9am to late at night.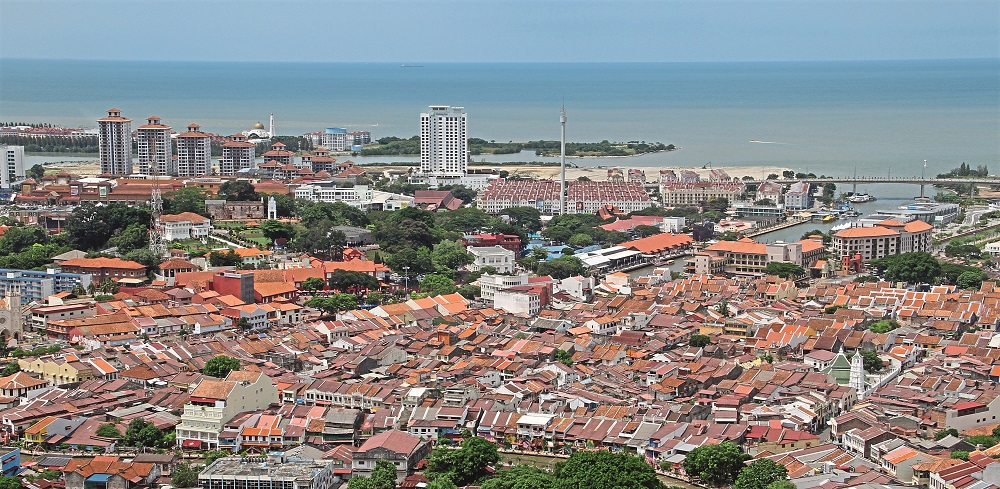 Melaka's architecture is best described as eclectic and visually stimulating, as something interesting is virtually around every corner. Chinese buildings stand adjacent to Dutch-built churches, and Moorish-inspired mosques are situated close by. Most colonial influences are reflected in the architecture of Dutch Square, and there is a sense of being somewhere in the Holland of the past while admiring the Christ Church and the neighbouring Stadthuys. The striking red-coloured Christ Church built in 1753 is Malaysia's oldest functioning Protestant Church.
Just across the Melaka River, streets in the historic commercial town area are lined with old two-storey shoplots. Some of these retain their historical integrity, while others have been modernised, to varying degrees, over the years.
Jalan Tun Tan Cheng Lock was once Melaka's 'Millionaires Row' and there are some fine examples of Baba Nyonya-styled houses along this street. The Chinese first traded with Melaka in the 15th century, and the Chinese settlers who followed and inter-married became known as the Baba (men) and Nyonya (women), or, less restrictively, the Straits Chinese or Peranakan.
Most of these houses and shoplots in Chinatown are deceptively small in appearance and from the street, it's difficult to gauge just how big they really are. Being terraces, windows to the outside were only built at the front and back entrances so open courtyards were incorporated into most to allow sunlight, fresh air, and rainwater (which was collected) to enter the middle part of each house.
Temple Street has been dubbed the 'Street of Harmony,' as it houses three different places of worship on the same side of the street close by to each other. Congregations of each religion have coexisted peacefully with each other for over three centuries.
Museums and markets
Melaka's tourism officials set about many years ago to distinguish the city from others by establishing a multitude of museums. The port's maritime history is recorded in the Maritime Museum situated next to a huge replica of the Flora de la Mar, a Portuguese vessel that sank in the Straits of Malacca.
Some of the other museums in the historic city precinct include Muzium Budaya (at the base of St Paul's Hill) which is a large wooden replica of a Melaka sultan's palace. Muzium Rakyat near the Porto de Santiago highlights the local society and its economy. There are others including the rather intriguing Muzium of Eternal Beauty which details how people have adorned their bodies over the ages.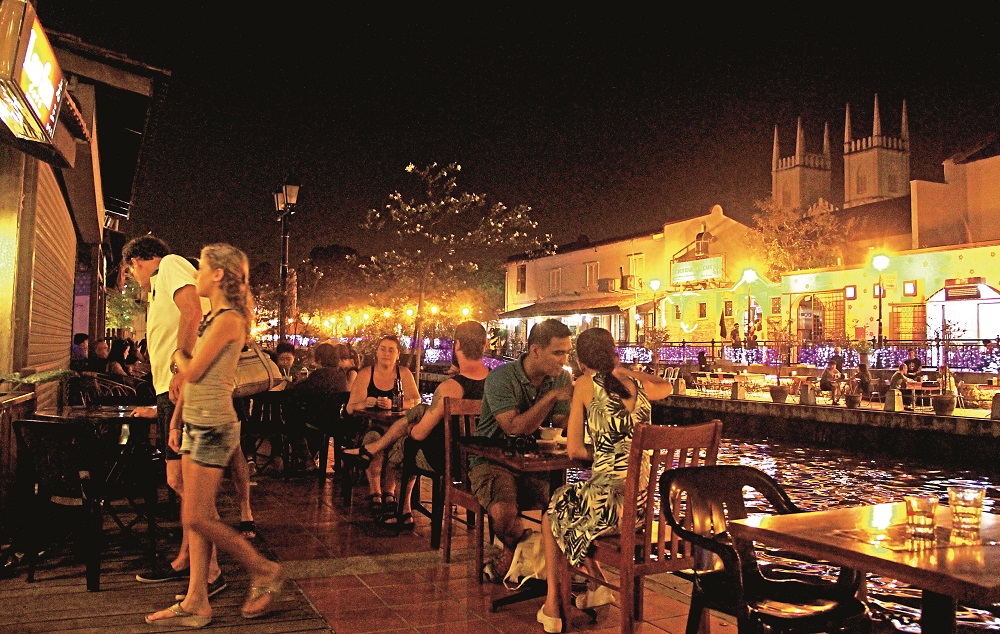 The weekend night markets along Jalan Hang Jebat (best known as Jonker Street) receive a lot of press, but the jury is still out as to just how good they are. They are certainly crowded and there is a lot of energy fromthe shear mass of humanity that congregates here each night. Many come to eat and are rarely disappointed with the variety but most of the goods sold bear little resemblance to the heritage surroundings. The good news is that bars such as The Geographer Café are located along the market strip, so a cold beer is never too far away. Nearby, Sid's Pub @ Jonker's overlooking the Melaka River has quickly developed a well-earned reputation for providing a traditional British greeting, chilled ales, and some decent pub nosh. For even more international flair, Hard Rock Café also operates an outlet on the river.
Where to stay, what to eat
One of the best city locations for accommodation is in the Hotel Equatorial Melaka which has impressive rooms offering either views across the Straits of Malacca or those of the historic downtown area. For those seeking a few extra luxuries, the Equator Club floors provides access to the private lounge on the 21st floor with personalised breakfasts and evening cocktails.
One of Melaka's big attractions is its food and the most unique local style is that of Nyonya cuisine. This is a blend of Chinese and Malay cooking traditions that has evolved over the centuries and one of the finest Nyonya restaurants is the Seri Nyonya in the Equatorial Hotel.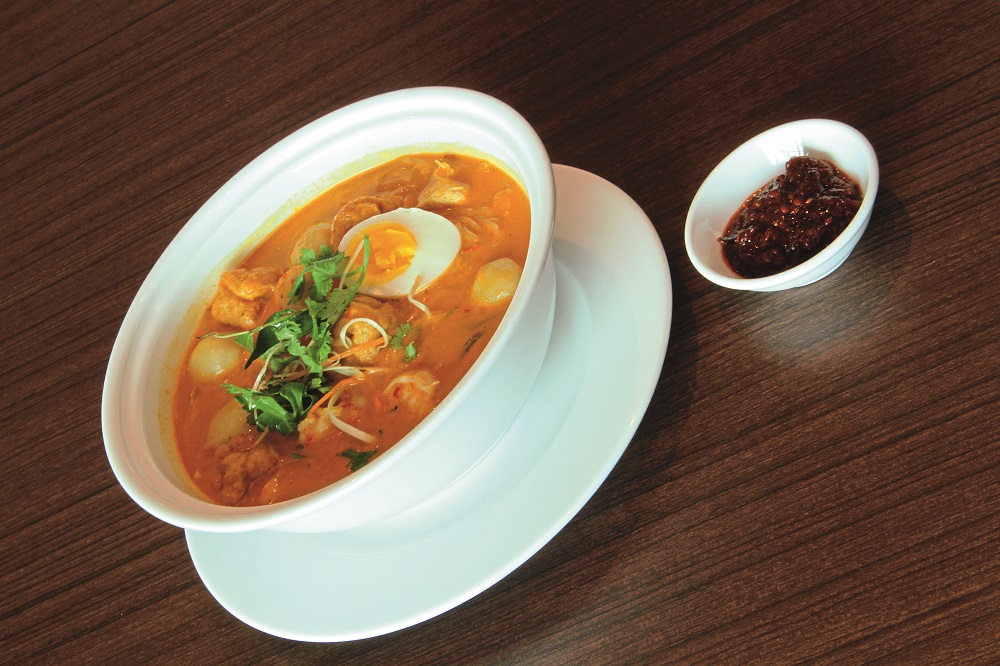 Here and in other similar-styled restaurants in the city, Nyonya laksa, the well-known spicy coconut soup and signature dish of the Peranakans, is served. Other dishes to order include hee peow soup, udang masak lemak, and kerabu udang.
Travel file
Getting There: Ayer Keroh is a two-hour drive south from Kuala Lumpur down the North-South Highway. Traffic in Melaka's historic centre is heavily congested on weekends and public holidays and choosing a hotel within close proximity and walking distance of the city centre is highly recommended.
Accommodation: In Ayer Keroh, stay at the Philea Resort and Spa while in the Melaka city centre, there are several options from the Hotel Equatorial Melaka to the Swiss-Garden Hotel Melaka, Holiday Inn Melaka, and Casa del Rio Melaka.
A version of this article was originally published in The Expat magazine (May 2017) which is available online or in print via a free subscription.
---
"ExpatGo welcomes and encourages comments, input, and divergent opinions. However, we kindly request that you use suitable language in your comments, and refrain from any sort of personal attack, hate speech, or disparaging rhetoric. Comments not in line with this are subject to removal from the site. "
Comments