Hanoi is changing fast, but the surge of motorbikes notwithstanding, the Vietnamese capital remains a serene city firmly in touch with its heritage. And as Petra O'Neill discovered while cruising along the Red River, Hanoi is just one of the appealing destinations in the north of this fascinating country.
With broad, tree-lined boulevards, tranquil lakes and parks, beautiful pagodas, and crumbling villas reflecting a blend of Indo-Chinese and French colonial influences, Hanoi has a grace unlike any other Southeast Asian city. Established as Vietnam's capital in 1010, it has long been the country's artistic and cultural heart.
At its centre, Hoan Kiem Lake – which was named after a legendary turtle, of all things – is at its most serene early in the morning when the Turtle Pagoda and Ngoc Son Temple, reached by a red bridge, are shrouded by mist and the grounds are dotted by locals who have gathered to practice tai chi in what appears to be slow motion.
Exploring on foot
Just north of the lake is the old quarter, or 36 streets, dating back to the 13th century. This area retains much of the original streetscape, with each street named after the merchant guild that once traded there, including silver, tin, rattan, bamboo, and silk, the pavements still doubling up as working space.Wander along the tangle of winding streets and back lanes and you'll discover cafés and boutiques, along with street vendors offering bowls of pho, rice paper rolls, juices, and diced fruit served curbside on plastic tables and stools. The narrow houses, known as tube houses, stretch back for up to 50 metres, devised as an ingenious way to reduce taxes, which were levied on the width of street frontages. You can also view several tube houses, including 87 Ma May and 38 Hang Dao.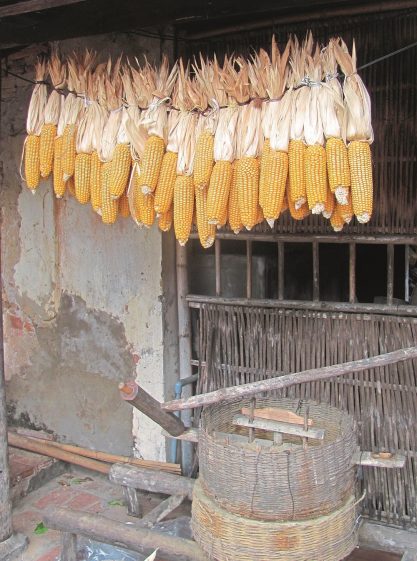 South is the French quarter with picturesque boulevards lined with banyan and tamarind trees, fronted by a mélange of run-down villas, elegant boutiques, restaurants, and art galleries showcasing Hanoi's contemporary art scene.
The stunning Opera House, modelled after the Palais Garnier in Paris, is also located here, as is one of Asia's most legendary hotels, the Metropole, where Graham Greene penned part of The Quiet American and Charlie Chaplin, Noel Coward, and William Somerset Maugham were guests. Beneath the hotel's bar is a bomb shelter that protected Jane Fonda and Joan Baez from air raids during the Vietnam War.
Lying west of the old quarter is the embassy district, home to many splendid villas as well as Hanoi's most impressive monuments, including the ancient walled gardens of the Temple of Literature founded in 1070 by King Ly Thang Tong, dedicated to Confucius, and the oldest University in Vietnam.
Just nearby, the One Pillar Pagoda dates back to 1049. Ho Chi Minh's mausoleum, a place of pilgrimage for many Vietnamese with a seemingly endless queue of schoolchildren, was actually built contrary to his wishes for a simple cremation. The mausoleum, with Ho Chi Minh's embalmed body lying in state, overlooks Ba Dinh Square where the revolutionary leader read his self-penned Declaration of Independence of Vietnam in 1945.
The ornate Presidential palace, built in 1901, is a beautifully restored Belle Epoque building. Though it was formerly the residence of the Governor of French Indochina, Ho Chi Minh chose not to reside in the palace itself, but in the gardener's quarters.
Hanoi also has many museums, including the National Museum of Vietnamese History housed in an imposing 1930s-era building with a fine collection of artifacts as well as explanations of its turbulent history. The Ethnology Museum offers stunning collections devoted to the numerous ethnic minorities, and the Museum of Vietnamese Women portrays the role women played in the development of Vietnam.
Eat, drink, discover
A city that is ideal for exploring on foot, the strong scent you are most likely to encounter is the heady aroma of roasting coffee beans.When the French introduced coffee along with pate, croissants and baguettes to Vietnam in the 19th century, Asia's first coffee culture was born. Vietnam is now the second-largest coffee producer in the world though the coffee is gritty, dark, and thick, best stirred with sweetened evaporated milk, or try it with coconut, cocoa, or egg. Head for Cafe Cho Ca Phe at 46 Cau Go Lane for great coffee, a funky ambiance, great hosts, and a furry resident cat clipped like a poodle.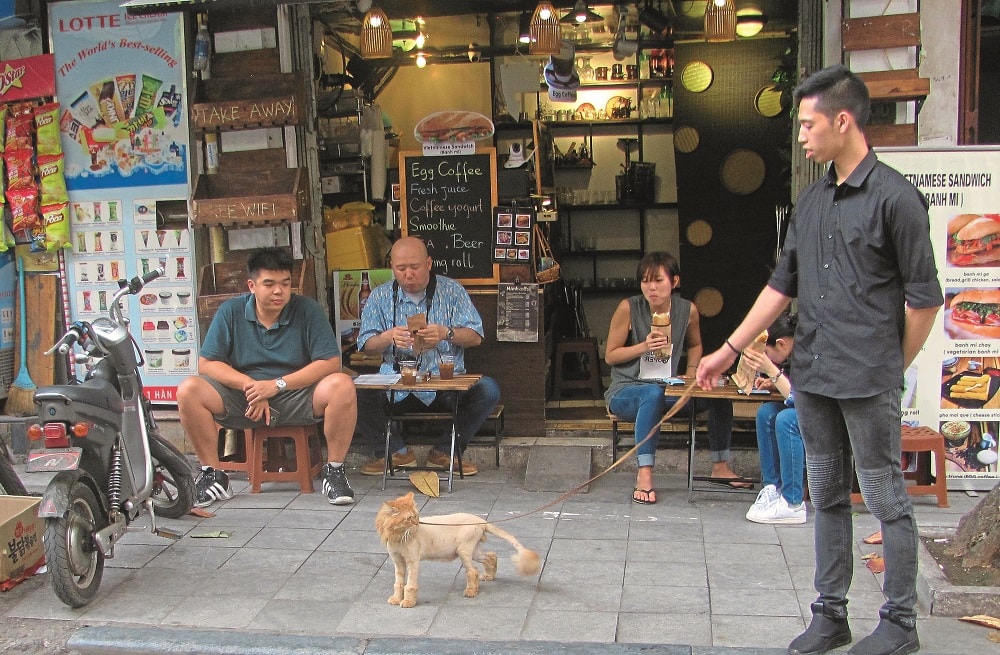 Every weekend, many of the streets in the old quarter are closed to traffic, transforming into a gathering place with impromptu entertainment from street artists offering calligraphy and balloon sculptures, to musicians playing traditional tunes, ballads, and rock. Also featuring street vendors and food carts, this small-scale 'street festival' is a great way to engage with the locals by joining in with games including badminton, ball games, bamboo dancing, and tug of war.
Like much of Vietnam, Hanoi is changing fast. Motorbikes have replaced bicycles and rickshaws, but the capital retains its antique fixtures, its produce markets and joss stick burning temples, ramshackle yellow villas, tree-lined avenues, lakes, and the old quarter. On arrival at the Metropole, the welcome card from the General Manager bore an invitation to 'Please discover the emotions, history, and elegance of the Grande Dame,' a statement that's equally applicable to Hanoi itself, a vibrant and pulsating city that both treasures and celebrates its past.
Beyond Hanoi
Stretching across a vast plain, the Red River extends for some 1,200 km, from China's Yunnan Province down across northern Vietnam to the Gulf of Tonkin. Joining 18 other passengers from Australia, the UK, USA, and France – along with our guides Vu and Duke – we departed from Hanoi by minibus for the short drive to begin our cruise.
The 10-night cruise aboard the Angkor Pandaw along the Red River and its tributaries provides the opportunity to experience the rural countryside of Vietnam's north.
Shaped like a long noodle, the character, pace and climate of Vietnam differs markedly, with the north much quieter than frenetic Saigon and the Mekong Delta.
Here there are villages, forests, minority tribes, limestone karsts jutting out from the sea, gold-lacquered Buddhas, temples and perhaps unexpectedly a proliferation of Catholic Churches with many little more than a steeple rising upwards rocket shaped from the ground.
As we commenced our cruise downstream, the heavily silt-laden river was reddish-brown, the sky overcast and the river banks green with plots carefully tended to by women wearing conical hats. There were rice paddies, green beans making their climb along bamboo trellising, fields of golden corn, clumps of eggplant, and, at the water's edge, peanuts.
While there were many bridges across the river, as towns turned to villages, ferries crisscrossed from one side of the river to the other transporting passengers and their motorbikes across while small fishing boats powered by a foot pedal showed us that, in parts of Vietnam, life moves along at its own unhurried pace, largely unchanged as it has done for centuries.
Life along the river
With days that were warm and sunny, the cruise offered excursions to experience daily life with walks and bicycle rides through the countryside stopping at villages, many of which specialise in a specific craft. Here we met with woodcarvers making intricate carvings by hand from jackfruit, blacksmiths hammering and shaping knives, and women stitching conical hats. There were also villages dedicated to bonsai, ceramics, and bamboo, where traditions are passed from one generation to the next.
Many of the villages are also ancient, including Duong Lam Village, where large wooden entry doors lead to family compounds within. Over a pot of green tea, an elderly man recounted how his family had lived in the same house for an incredible 15 generations – ever since it was built in 1650 – and had continued to produce a potent rice wine stored in large earthen jars.
There were pagodas to climb, with Tay Phuong Pagoda having 237 steep steps, and cathedrals to visit, including the beautiful Phat Diem Cathedral. Constructed in 1892, the cathedral was built from stone and combines gothic and oriental architectural features. Performances were also organised for us including a lion dance, a drumming and dance performance within an old temple, and a water puppet show at Thanh Ha village (at which we were soon joined by many locals). And we sampled local sweet treats such as candy made from beans, and a sticky, gooey, black, and delicious rice cake called Banh Gai that comes wrapped in a hemp leaf.
At Tam Coc, we were rowed in small boats to a cave surrounded by limestone mountains which rise from the flat plains of the rice paddies that surround them. I was enjoying the serenity of drifting back until the woman jolted forwards having stopped rowing and shouted, "Tip!" – an unmistakable sign that this has become a well-trodden tourist stop. As they often are when travelling like this, the most rewarding moments were unplanned, such as riding on a dirt road with no one in sight but for a young boy riding his bicycle and carrying his school books. Thrilled at the chance to practice English conversation, he rode alongside us until we reached his home.
Halong Bay
As we arrived at the busy port city of Haiphong a wind brought a chill to the air. Turning sharply, we entered the Gulf of Tonkin before making our way to Halong Bay, a 1,500-sq km wonderland that certainly makes its mark as one of the great natural wonders of the world.
For the millions of tourists who visit Halong Bay each year, most either fly into the airport or arrive after five hours of driving from Hanoi along a busy traffic-choked highway of honking horns, staying in any one of hundreds of cookie cutter-style hotels on the mainland before venturing out on junks that depart shoulder to shoulder. Instead, we had the altogether splendid experience of arriving at Halong Bay by cruising there, catching sight in the fading light of hundreds of jagged limestone karsts, caves, and grottos. That night, we enjoyed Halong Bay in ethereal silence, with only the slap of water on the hull.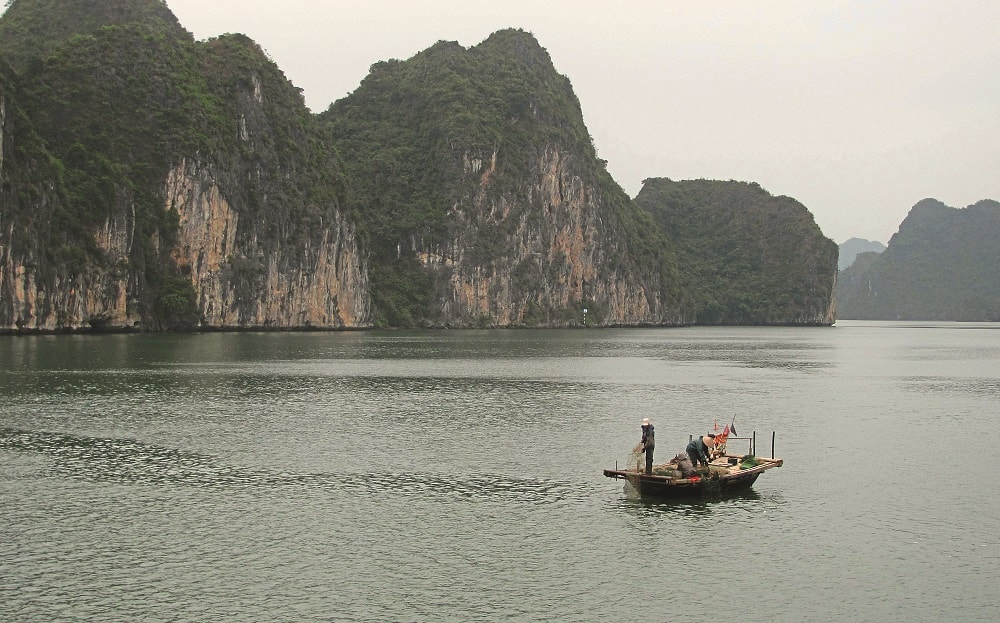 Surely among the most beautiful sights in Vietnam, after waking at sunrise the next morning I saw the limestone peaks taking shape as they emerged from the early morning mist as fishermen cast nets from their sampans across the water. Transferring to a smaller boat for a day of sightseeing, we sailed past junks with their saffron-coloured sails before going kayaking through a cave and, as a reminder that many tourists come here, the few lemurs in the trees were observed by numerous selfie-snapping tourists.
On our return to the Angkor Pandaw, it began to drizzle and as all the passengers sought shelter below, I stayed put and soon found myself alone on the upper deck. As we glided back over the shimmering water, I took in this vast and stunningly beautiful landscape and, for a time, had it all to myself.
Hanoi Fact File
Getting there
AirAsia, Malaysia Airlines, and Silk Air fly to Hanoi. From the airport, 35km outside the city, prearrange a pick up from your hotel (US$20-25) or catch a metered taxi with a reputable company such as Mai Linh (around VND400,000).
Where to stay
Opened in 1901 the Hotel Metropole Hanoi remains the city's best address. Choose from the opulent Opera Wing or HeritageWing with its wooden floorboards and period furniture. Visit sofitel-legend.com.
With stunning contemporary interiors the Hotel de l'Opera is another great choice. Visit hoteldelopera.com.
Many boutique and backpacker hotels are clustered in the old quarter including the funky Golden Snake Hostel.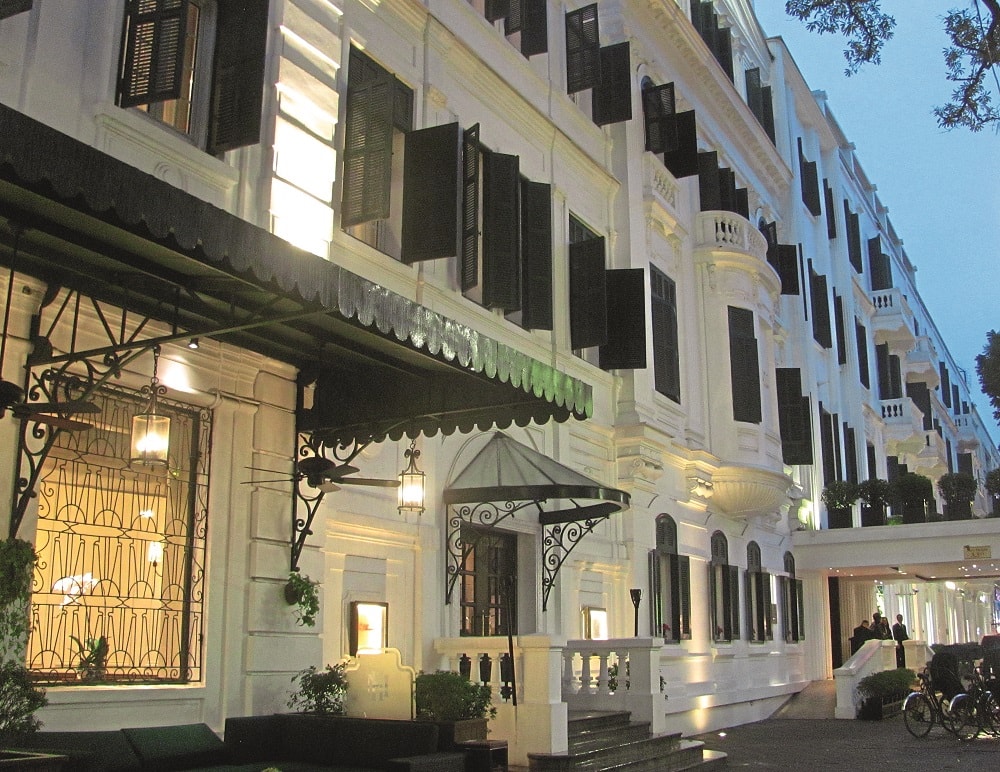 Dining
Hanoi's restaurants offer exceptional French, Italian and Vietnamese cuisine. There are a multitude of cafes in different pockets of the city, many in the old quarter including Cafe Cho Ca Phe, 46 Cao Go Lane. Join the queues of locals for bowls of pho, rice paper rolls, diced fruit and desserts sold curb side by street vendors.
What to buy
Many of Hanoi's boutiques are concentrated along Hang Gai and Hang Dao in the old quarter and nearby St Joseph's Cathedral from graceful embroidered clothing to exquisite silks, ceramics, lacquerware, and jewellery. I especially liked Hanoia 38 Hang Dao, Dragonfly 10 To Tich, Van Tribal 26 Hang Be, An and Ozu 6 Ly Dao, Vanloi 87 Hang Gai, Hadong Silk 102 Hang Gai, and Hanoi Hannah 64 Hang Gai.
Travel Tip
Come on the weekend to enjoy the pedestrian-friendly zone when pollution levels are lower.
Beyond Hanoi
With a maximum of 32 guests, the Angkor Pandaw is beautifully hand-finished in brass and teak with rattan furnishings and an informal ambiance that encourages convivial relaxation with a lounge, dining room, bar, observation deck, and friendly crew. Visit pandaw.com to learn more.
A version of this article was originally published in The Expat magazine (May 2017) which is available online or in print via a free subscription.
---
"ExpatGo welcomes and encourages comments, input, and divergent opinions. However, we kindly request that you use suitable language in your comments, and refrain from any sort of personal attack, hate speech, or disparaging rhetoric. Comments not in line with this are subject to removal from the site. "
Comments