Peter Cetera, The Rock & Roll Hall of Fame inductee, Grammy Award winning singer-songwriter and voice behind the group  Chicago, will be performing at the Mega Star Arena, Kuala Lumpur on Wednesday, 6th September 2017 at 8:00 PM. The Kuala Lumpur concert will be part of Cetera's Southeast Asia tour, which also features Manila and Singapore.
A true musical genius, Cetera who was the singer, songwriter, and bassist for the legendary rock group Chicago (1968 to 1986), recorded 18 of the most memorable albums of a generation, including hits such as "If You Leave Me Now", "Hard to Say I'm Sorry", "Baby What a Big Surprise", "You're the Inspiration", "Stay the Night", "Love Me Tomorrow", "Happy Man", "Feeling Stronger Every Day" and "Along Comes a Woman" with the band.
Cetera's solo career that launched in 1986 was also a successful venture. He recorded 10 time-honoured CDs which included some of his best works such as the Academy Award nominated song "Glory of Love" from the hit movie "The Karate Kid II"; "The Next Time I Fall" with Amy Grant; "Feels Like Heaven" with Chaka Khan; "After All" with Cher, from the motion picture "Chances Are"; "No Explanation" from the mega hit film, "Pretty Woman"; and the unforgettable, "Restless Heart" as well two of his chart topping songs.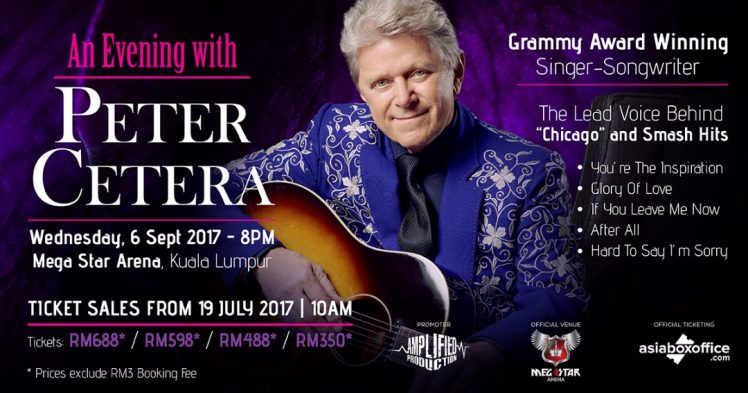 Cetera's performance at the Mega Star Arena will be an intimate one accompanied by his classic 7-Piece Electric Band. This exciting performance format adds to the music that continues to touch the hearts and lives of so many.
Tickets priced at RM688*, RM598*, RM488* and RM350* will be available on sale at www.AsiaBoxOffice.com from 25th July 2017, 10:00 AM (*excludes RM3 Booking Fee per ticket). For more info on the venue please visit http://megastararena.com.
Comments