In the advertising world, a brief is required whenever a new project comes up. In ad lingo, a brief catalogues a project's purpose, outlines the client's requirements, lists the expected deliverables, and the finalised deadline (a dreaded word for every creative).
My recent trip to Bangkok was one which involved a suit (person managing the client's expectations) and a creative (yours truly). Our project brief was fairly foolproof – go where the locals frequent and eat as much food as we can humanly stomach.
Like all good things, they are meant to be shared. Here is a compilation of the best meals we had during our time there. Enjoy!
Savoury
1. Goong Chae Nam Pla at Soei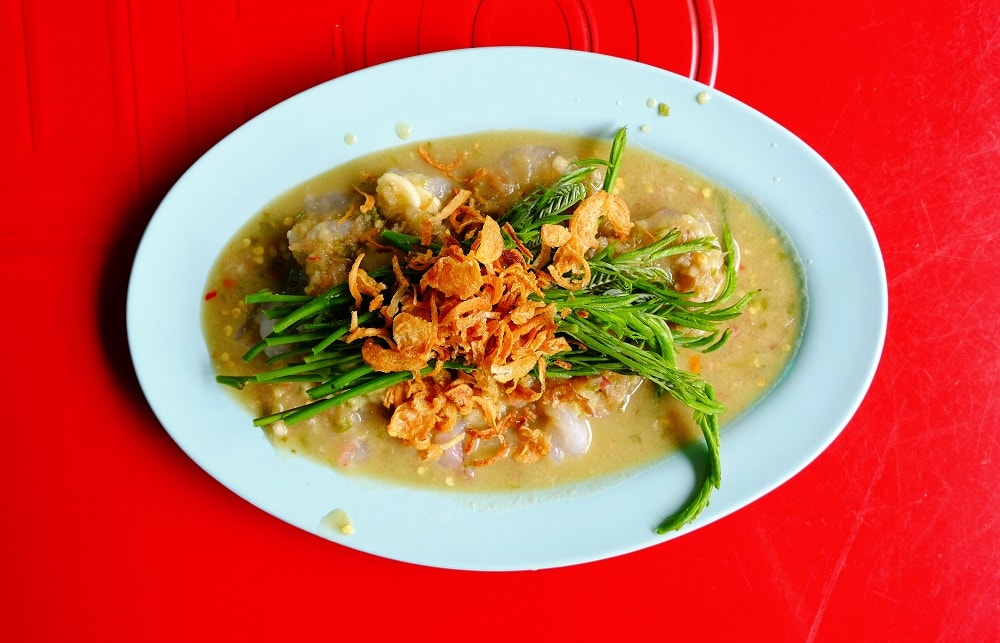 This was the first restaurant we visited right after we touched down in sunny Bangkok. It is situated nearby the Sam Sen Railroad Station, which is located in the peaceful Dusit district of Bangkok. Like all writers, I love a good story and the pristine restaurant is a medley of an interesting story and incredible food.
P'Soei – the owner, chef, and restaurant's namesake – was a former rugby, basketball, and football player, and even dabbled in coaching for several seasons. After every game or practice, his teammates would come over, down a couple of drinks, and like a good host, P'Soei would whip up some of his delectable dishes for them to enjoy. The rest, as the saying goes, is history.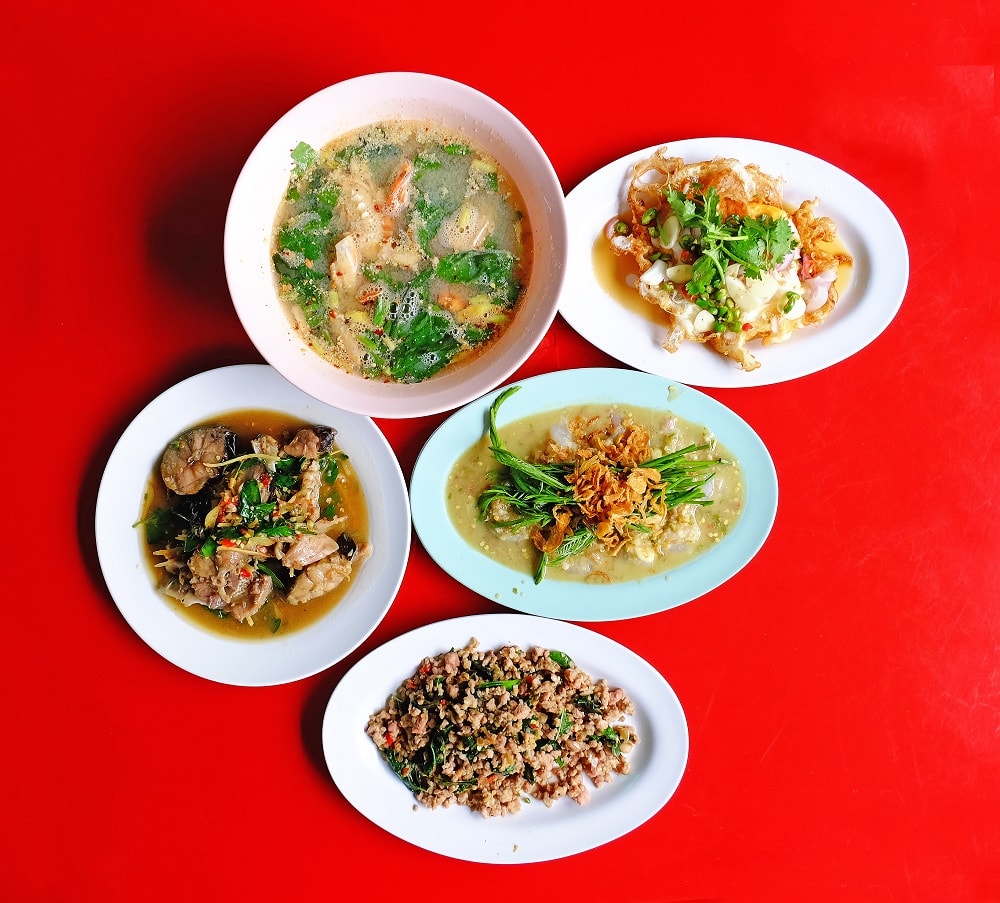 Goong Chae Nam Pla (Wasabi Prawns) is the Thai version of ceviche. At Soei, they take it several notches up the scale of awesomeness and spiced up the dish with a rather unexpected addition – the humble Japanese wasabi. It might not look like much, but the pale green sauce was a punchy combination of wasabi, lime juice, crushed chilies, and raw garlic.
We scooped the wasabi-drenched shrimp and garnished it with a sprinkle of crispy fried shallots and a sprig of green herb, known in Thai as krateen. The burst of flavours and contrasting textures were sensational – the wasabi burn shoots up your nose, and the second the explosive experience dies down, it leaves you wanting more all over again. So, we succumbed, over and over, till our plates were polished clean and not a grain of rice was in sight.
Address: Phibun Watthana 6 Alley, Khwaeng Samsen Nai, Khet Phaya Thai, Krung Thep Maha Nakhon 10400, Thailand.
Tel: +6681 563 3131
Opening hours: 10:00am – 9:30pm (Closed on Saturday)
2. Kuay Jab Nam Sai at Yaowarat
Usually made from a chicken or duck-based broth, this place defies the usual by using a pork-based broth instead. The result? A hearty and flavourful bowl with rolls of rice noodles, cuts of innards (delicate swine parts such as intestines and liver), and slices of roasted pork.
Located outside the old theater along Yaowarat (also known as Chinatown), the Kuay Jab Nam Sai's siren song lies in its full-bodied, peppery broth that was perfect on its own, or can be sparked with add-ins such as a sliver of chilli powder or a dash of vinegar.
Address: Thanon Yaowarat, Bangkok, Thailand.
Opening hours: 6:00pm – 3:00am (Daily)
3. Galam Bee Pad Nam Pla Neua Boo at Nhong Rim Klong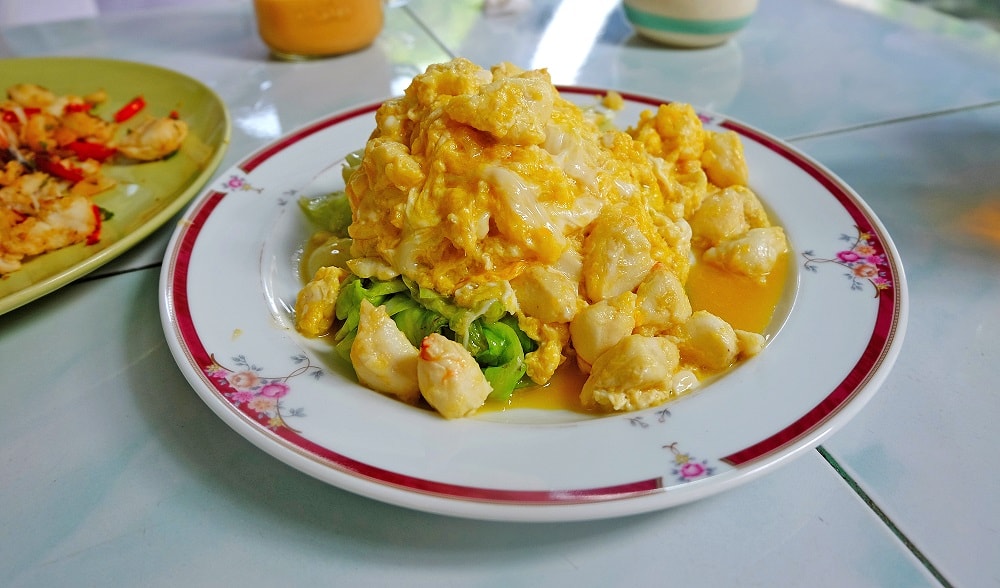 Nhong Rim Klong is located about 50 meters from the corner of Ekkamai and Soi 21, and the street food stall is an unlikely one – it literally sits over a canal and its kitchen is perched on the bridge with tables arranged on the left for dine-in customers.
If you think the title I wrote was gibberish, it translates to Stir-Fried Cabbage with Fish Sauce and Crab Meat. Also known as the food of gods. The seemingly ordinary mound is one of the stall's signature dishes – cabbage which is stir-fried with fish sauce and then topped with a heavenly concoction of fluffy eggs, generous chunks of crab meat and shrimp. It was to-die-for.
Word of caution: Do not visit this place if you have a growling tummy, or are in need of food, stat. We waited for more than an hour before the first dish arrived – there was a long list of takeaway orders as well as waiting customers (a lethal combination for hangry-prone folks) – but it was absolutely worth the wait.
Address: Ekkamai Soi 21, Khlong Tan Nuea, Kate Wathana, Bangkok, Thailand.
Tel: +6686 044 9478
Opening hours: 8:30am – 4pm (Monday – Saturday)
4. Leng Tom Sap at Ratchada Railway Station Night Market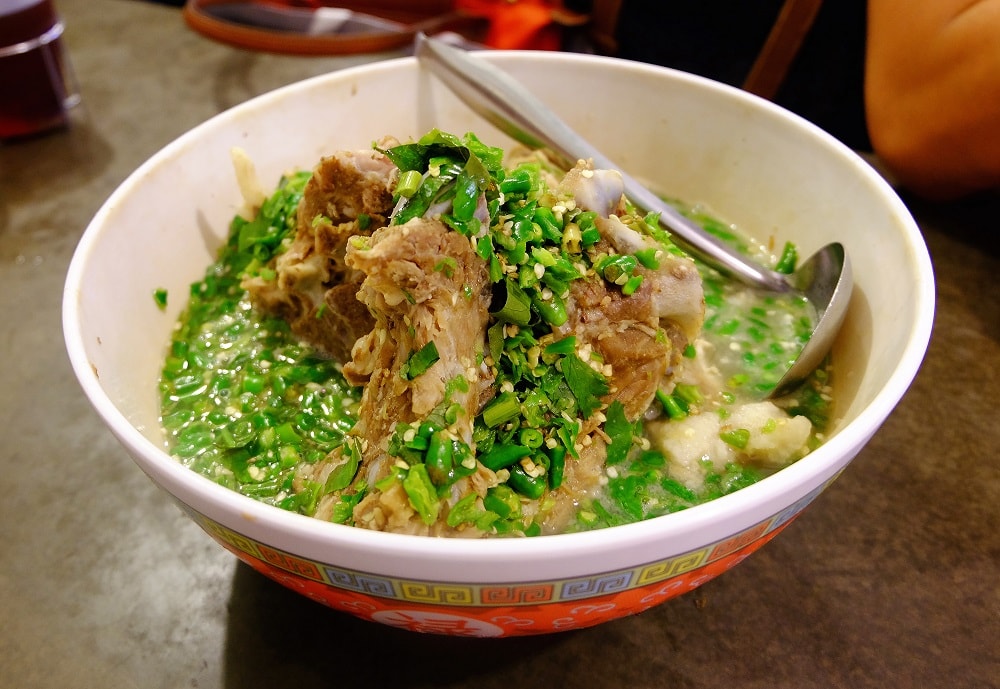 When in Bangkok, don't miss out on visiting the night markets. No two night markets are the same; each delightfully unique with its own draw. The Ratchada Railway Station Night Market behind the Esplanade Ratchadapisek Department Store was a sight to behold with its marquee of rainbow-coloured tents.
The food section here was abundant – you can get just about anything from traditional Thai street food to Japanese desserts and even cheesy nachos – at the low prices one would expect from a night market.
One option that took center stage was the Leng Tom Sap (Pork Spine Soup). The entire tent was packed when we arrived at 9pm (local time), but we were encouraged to place our orders first. There were four sizes to choose from – M, L, XL, and XXXL (which, in my opinion, is large enough to feed a small army) – and we opted for L, which was priced at a reasonable 220 baht (approximately RM28.00).
The throngs of people waiting in line made sense when we gently slurped the spicy-sour soup, made with copious amounts of bird's eye chilli, coriander, spring onions, lime juice, and you guessed it, pork spine. The melt-in-your-mouth, fall-off-the-bone meat was a bonus and a lure, one which ensured a visit back to Bangkok in the near future.
Address: Rathcadaphisek Road (Behind Esplanade Cineplex)
Opening hours: 5:00pm – 12:00am (Thursday – Sunday)
5. Jim Jum at Ekkamai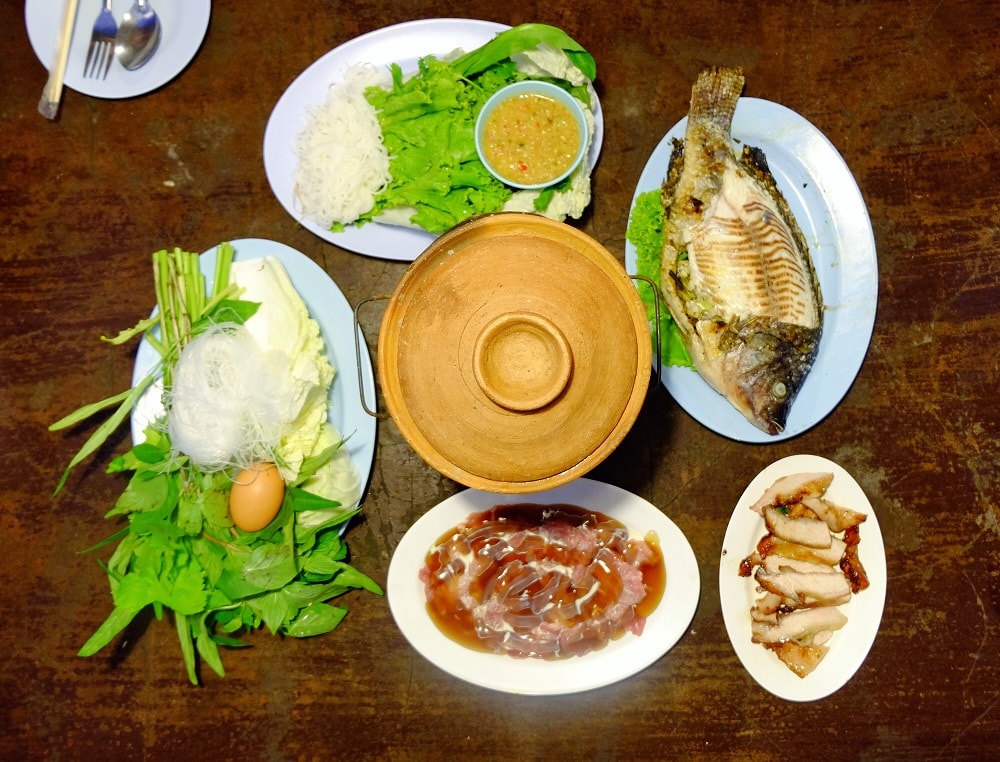 Jim Jum is the Isaan version of the hotpot (or steamboat, for some). It consists of a small claypot filled with aromatic broth, which is placed over a bed of brazen coals. As with all hotpot dining experiences, you have to wait for the broth to boil before tossing in the vegetables. A selection of raw morning glory, cabbage, and Thai basil was given with our order, so we added them into the soup and closed the cover.
The first stage of cooking is called 'jum', which means to dip something in water. When the soup began to boil, we dipped our thinly sliced pork meat (marinated with oyster sauce and beaten eggs) into the bubbling broth for a minute or so. Once cooked, we had to 'jim' (to dunk something in sauce) the meat into the bowl of tangy sauce (a blend of garlic, coriander root, chillies, palm sugar, fish sauce, lime, and shallots).
The meat was tender, the soup was hearty, and the company was my favourite. Accompanied by a bottle of local beer, I can't think of a better way to spend my penultimate night in one of my favourite cities in the world.
Address: BTS Ekkamai (Exit 1)
Sweet
It is no secret that I love all things sweet, so much so that I devoted an entire article to my sugary inclinations.
6. Mango Sticky Rice Kakigori at After You Dessert Cafe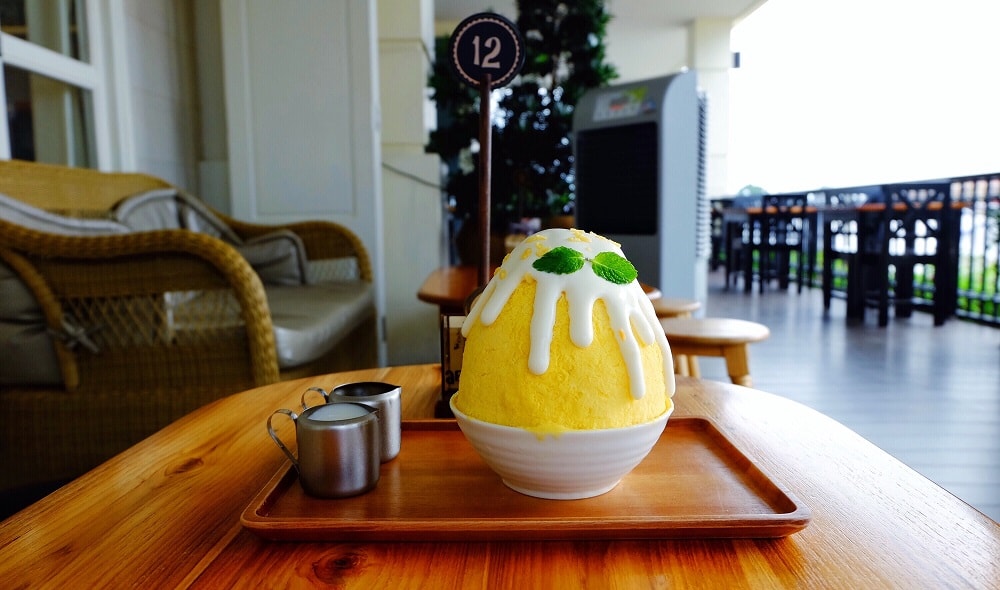 As we were walking into the chic cafe, I noticed After You's tagline – "There's always room for dessert" – and knew, right off the bat, I was in the right place. The same can't be said for my travel partner, who wasn't much of a sweet tooth, so I pandered from it; his loss, my gain.
Since its inception in 2007, After You has 23 branches all over Bangkok – most of them in shopping malls – but the newly opened one at Tha Maharaj was an easy favourite because of its location. We sat on the patio and witnessed the gorgeous setting of the sun over the famed Chao Phraya River while we waited for our dessert to arrive.
A little while later, the icy mound of deliciousness was placed before us. As we gingerly ate our way into the finely shaved ice, a surprise was waiting for us – there were cubes of freshly cut mangoes and sticky rice within the kakigori!
The medley of fluffy ice shavings and mango sauce were not at all cloying, but the coconut cream brought out a lush and soft creaminess to the palate which was endearing. To any ardent fan of dessert, this is a not-to-be-missed spot when you are in Thailand's capital.
Address: F1-03, Tha Maharaj, 10200, Bangkok, Thailand.
Tel: +6620 241 328
Opening hours: 10:00am – 10:00pm (Daily)
7. Matcha Cube at Nikko Cafe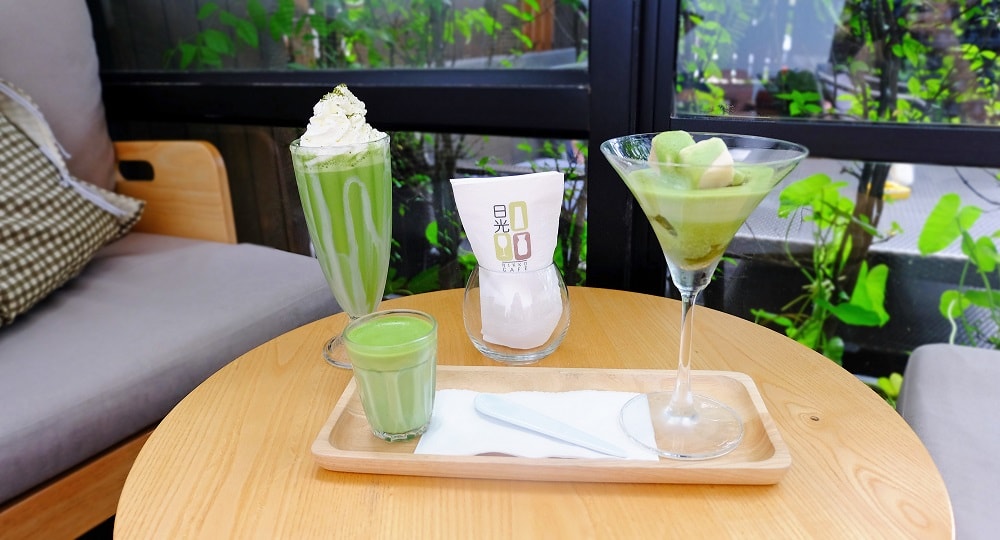 We adjourned to this minimalist Japanese cafe after a fiery lunch, and it turned out to be the perfect hideaway to cool off. Nikko Cafe looked like it was designed straight out of a Muji catalogue, complete with an indoor garden and water fountain. There are four main areas – an indoor area downstairs, an outdoor garden, an alfresco sit-down area upstairs, and a cosy nook indoors next to the vertical garden.
The cafe offered mostly Japanese-inspired alcoholic and non-alcoholic beverages. We tried out their Matcha Frappe and Matcha Cube, an interesting spin on the conventional matcha latte.
Artfully concocted on a martini glass, half of it was filled with warm matcha latte, iced matcha and milk cubes. As I poured in the remaining latte, the heat tenderly melted the cubes of flavoured iced, swirling in a luscious fusion of depth and richness to the drink.
Address: 31 Khwaeng Khlong Tan Nuea, Khet Watthana, Krung Thep Maha Nakhon 10110, Thailand.
Tel: +662 381 5291
Opening hours: 10:00am – 10:00pm (Daily)
8. Rainbow Mille Crepe Cake at Unicorn Cafe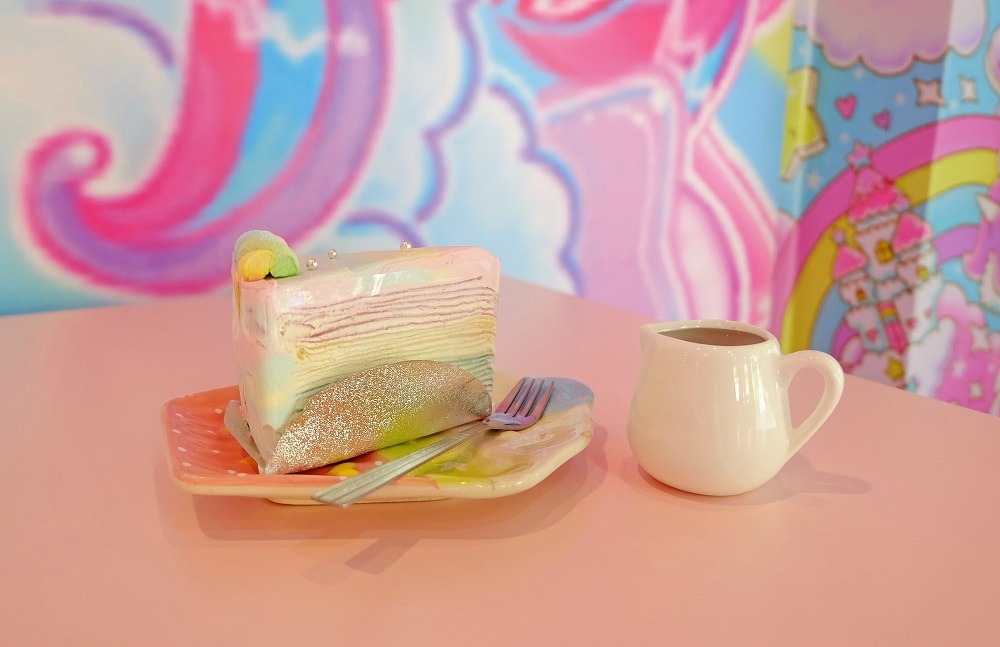 The Instagram-hyped Unicorn Cafe was worth a visit for both photography and posterity purposes. The psychedelic cafe was a kaleidoscope of colours, tacky pastel furniture, chandeliers, and unicorns of every imaginable size. So, what does one do and order when you are at such a place? You take a seat, look at the menu, and order the least luridly coloured item – the Rainbow Mille Crepe Cake.
In addition to being immensely pretty, the cake was surprisingly enjoyable; the crepe was fluffy, the creme was tinged with a hint of vanilla, and it wasn't overly sweet. Aside from the occasional oohs and aahs from visiting patrons, I was able to sneak in a few chapters of the book I brought along whilst cuddling a stuffed unicorn, which was quite magical.
Address: 44/1 Silom, Bang Rak, Bangkok 10500, Thailand.
Tel: +6686 397 9262
Opening hours: 12:00pm – 8:00pm (Closed on Monday)
9. Mango Thai Sundae at Mango Tango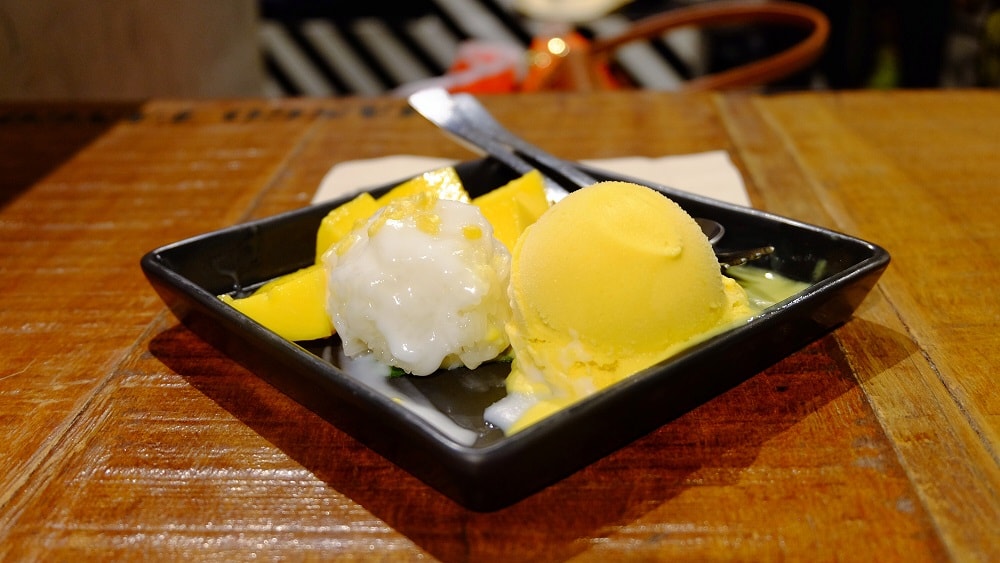 The name says it all – Mango Tango is the place to be for anything and everything mango-related. Here, you can find a myriad of the desserts inspired by the tropical fruit, such as ice cream, pudding, parfait, sundae, yogurt, smoothies, juice, and of course, with sticky rice.
The Mango Thai Sundae was essentially mango sticky rice with a scoop of ice cream. The mango was undoubtedly fragrant and juicy, the sticky rice was al dente, but the ice cream was the star of the order – it had a gelato-like consistency, was freshly made, and was splendidly sweetened.
Address: 1 Pathum Wan Rama 1 Rd, Siam Square Soi 3, Pathum Wan, Bangkok 10330, Thailand.
Tel: +662 658 4660
Opening hours: 12:00pm – 10:00pm (Daily)
10. Tang Yuan and Gingko in Ginger Soup at Sweettime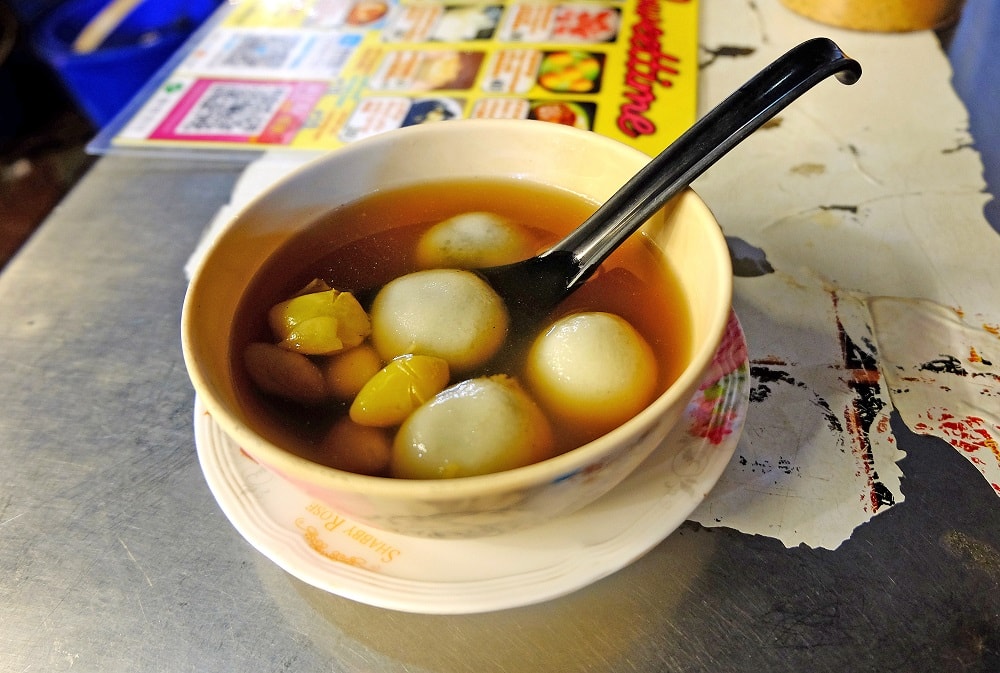 The weather was slightly erratic when we were in Bangkok – it was sweltering during the day, but when evening came a-knocking, the temperature dropped drastically and on some nights, it even rained a little.
The dough on the tang yuan (glutinous rice balls) was thin and expertly kneaded, resulting in silky dumplings which overflowed with black sesame filling at a gentle bite. Coupled with the gingery soup (young ginger steeped in water and sugar), this dessert was just the thing to warm us up on such nights.
Address: 436 Yaowarat Rd, Khwaeng Samphanthawong, Khet Samphanthawong, Krung Thep Maha Nakhon 10100, Thailand.
Tel: +6686 722 2458
Opening hours: 6:00pm – 2:00am (Closed on Monday)



" ExpatGo welcomes and encourages comments, input, and divergent opinions. However, we kindly request that you use suitable language in your comments, and refrain from any sort of personal attack, hate speech, or disparaging rhetoric. Comments not in line with this are subject to removal from the site. "



Comments