The thought of enchanting pineapple fields in Malaysia may sound like an overstatement. Perhaps it was the way one humble farmer so eloquently described Simpang Renggam that painted such a dramatic picture.
Simpang Renggam is a sleepy town in Johor, which is gradually gaining attention alongside the construction of the North-South Highway. What locals here call the "Sea of Pineapples", where vast pineapple fields stretch towards the horizon, has turned into a popular attraction.
From Snapshots to Sharing His Hometown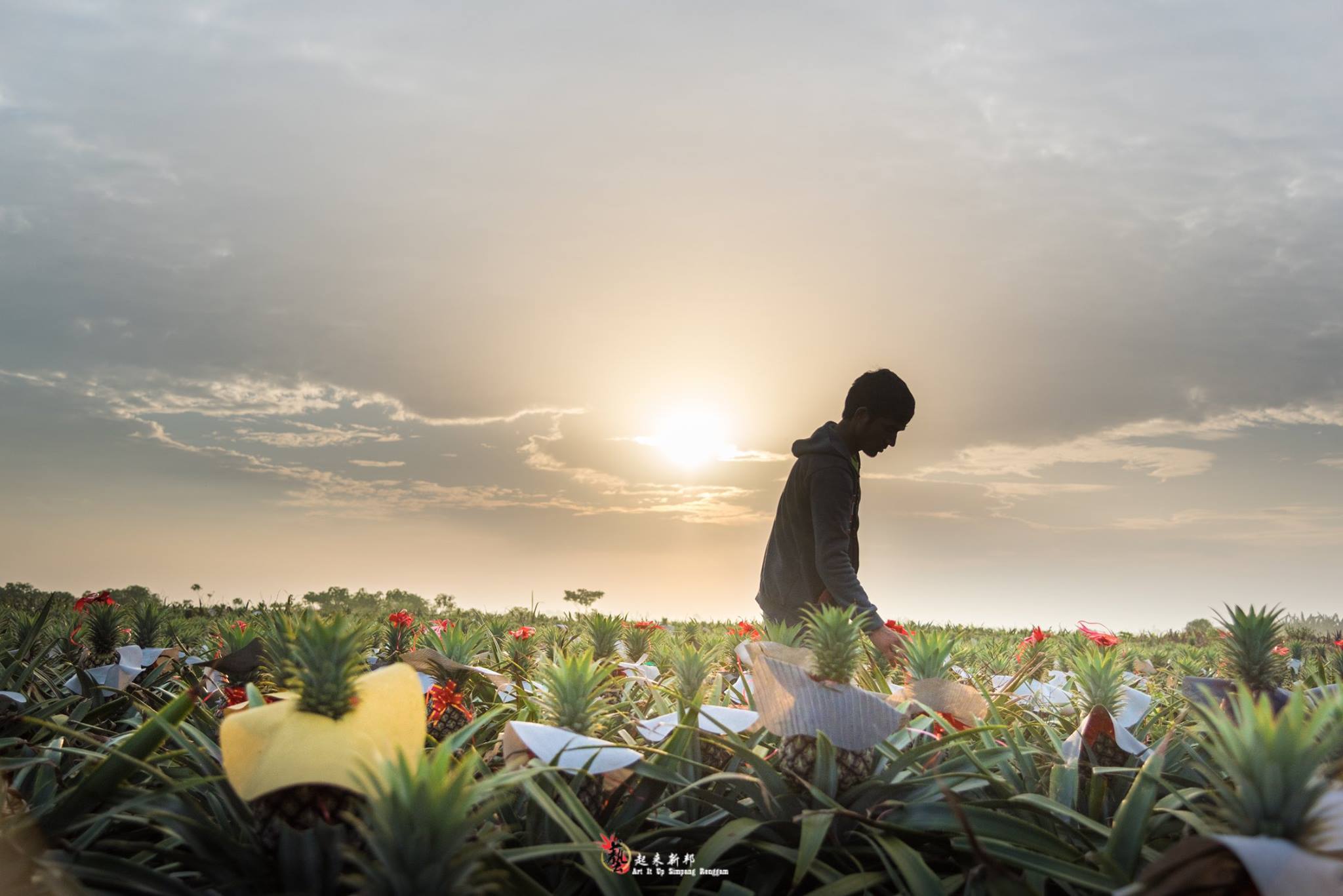 Ho Bao Kheong, 43, introduces himself as a farmer who "knows a bit of IT, knows a bit of photography". Like his parents and grandparents, he has been working in the fields of Simpang Renggam for as long as he can remember.
In 1996, he went to Singapore for work, where he stayed for 7 years. However, as he missed his family and home dearly, Ho decided to return to Johor, and continue working on familiar land.
Being an avid photography enthusiast, Ho and his like-minded friends would frequently capture photos of Simpang Renggam, especially the changing natural sceneries of their hometown. After uploading these on social media, the photographs received tons of positive response. Some people even asked if there were tours to Simpang Renggam available.
This was how in January 2016, several local farmers, shutterbugs, orchard owners and retirees came up with Art It Up. When there are requests, they would show visitors what it is like as a farmer out on the pineapple fields. Currently, they have about 7 members in the team, although it is mainly handled by 3 to 4 people.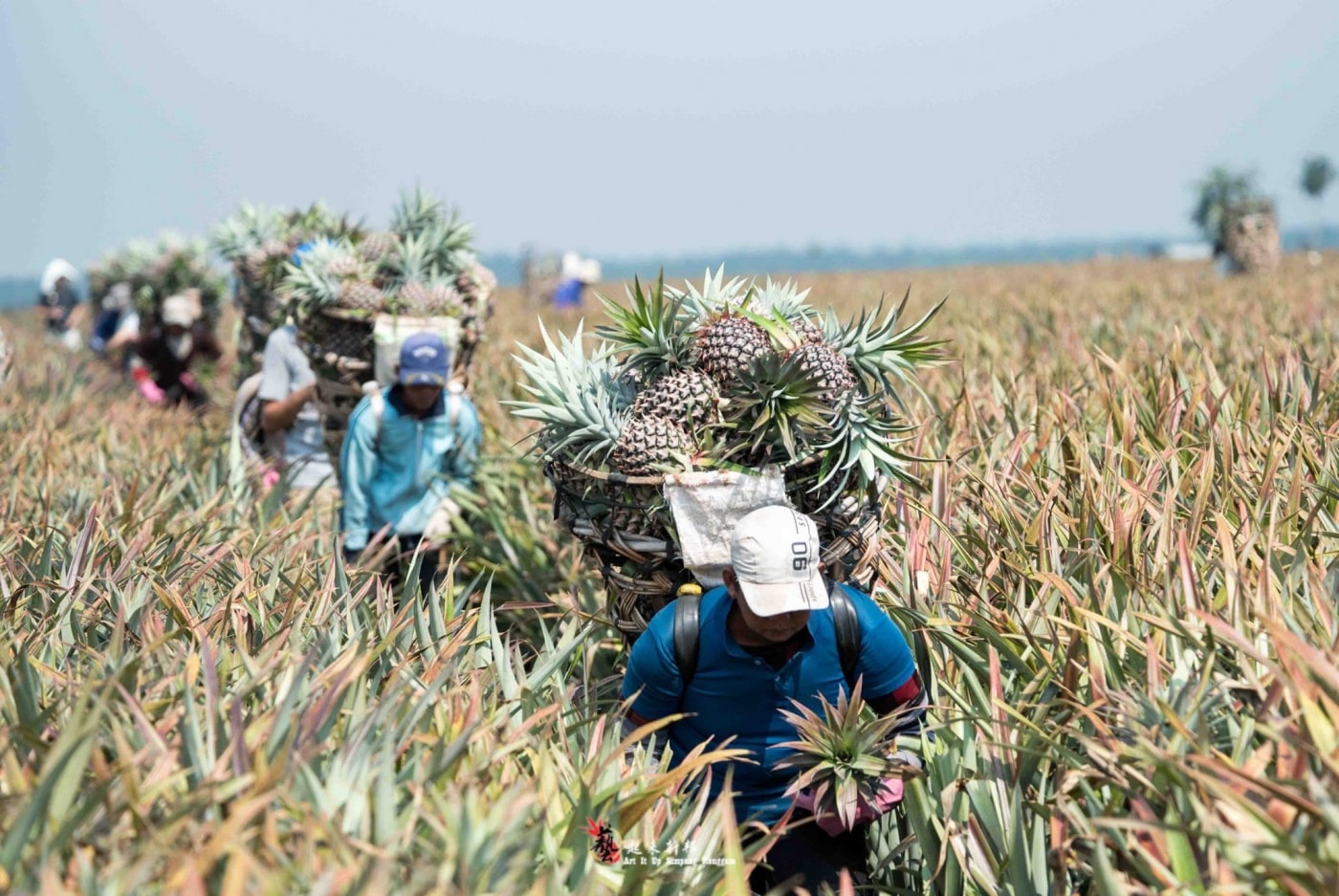 When asked about his motivation, Ho had a pensive reply.
"Because this is my hometown. People always feel a kind of longing for their hometown, an urge to show others the beauty of the place." – Ho Bao Kheong
On normal days when there are no guests to bring around, Ho would be handling his regular duties as a farmer.
Farm Life with a Slice of History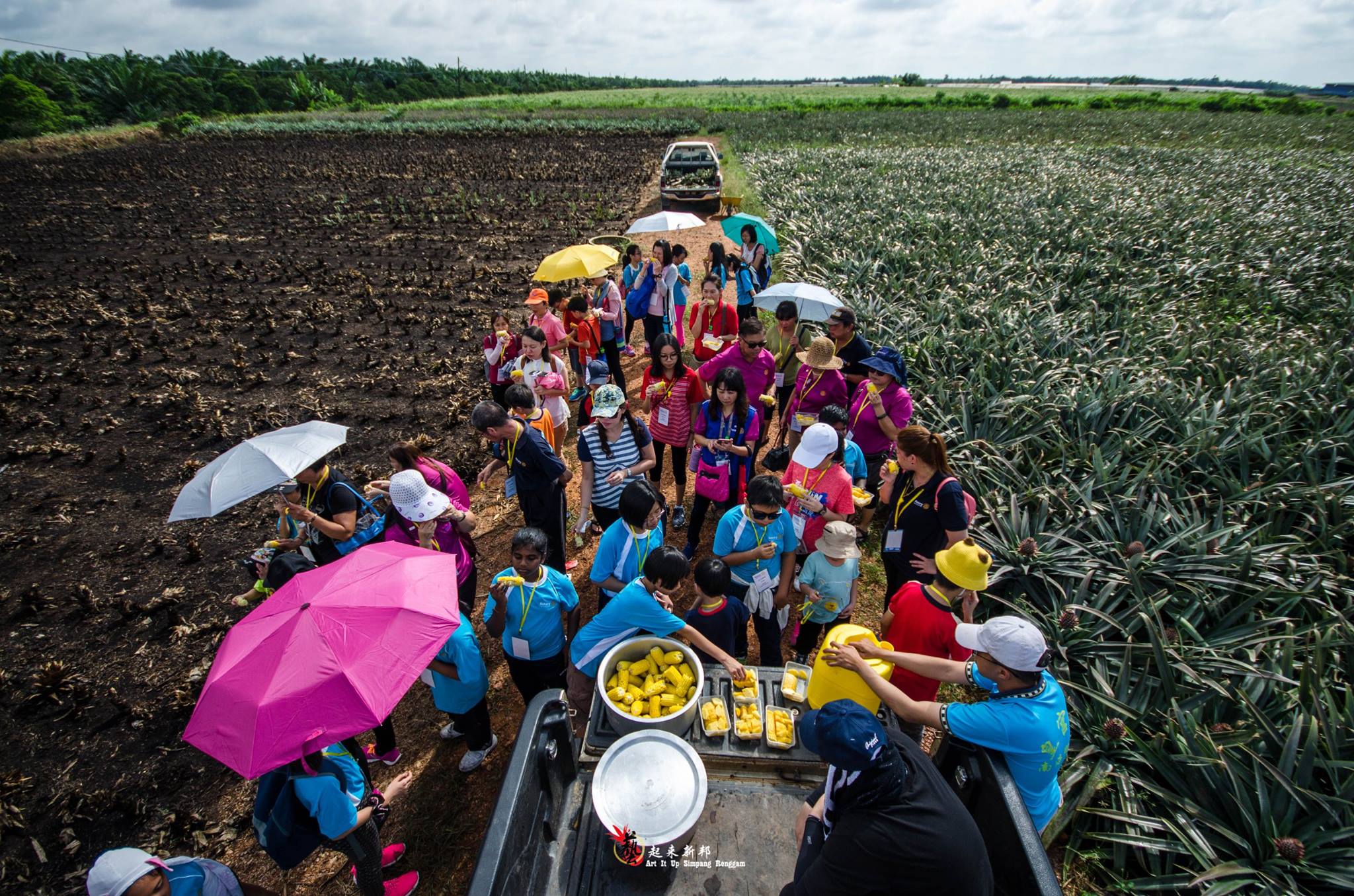 Since 1953, agriculture has been the main industry of Simpang Renggam. "Back then, if you didn't get into farming, you won't have a job," Ho said.
The centrepiece of Simpang Renggam is none other than the "Sea of Pineapples", surrounded by a corn field, and several types of vegetable plantations. There are also murals, a coffee farm and a bee keeping area, in which the honey produced carries a subtle taste of pineapples.
Ho usually runs his tours in the morning or evening, with each session showing a different side to the pineapple fields. In the morning, guests start the day by taking in an incredible sunrise, before following a farmer into the fields to observe how crops are planted, cared for and harvested.
During the evening session, guests can visit the coffee farm to learn about traditional methods of making coffee, and see a local mural. If they choose to stay till later, they can watch the sunset, and go stargazing out in the fields.
Simpang Renggam's best local delights are the pipa duck and bak kut teh. Pineapple infused dishes can be made to order, although Ho believes the strong pineapple aroma may mask the overall taste.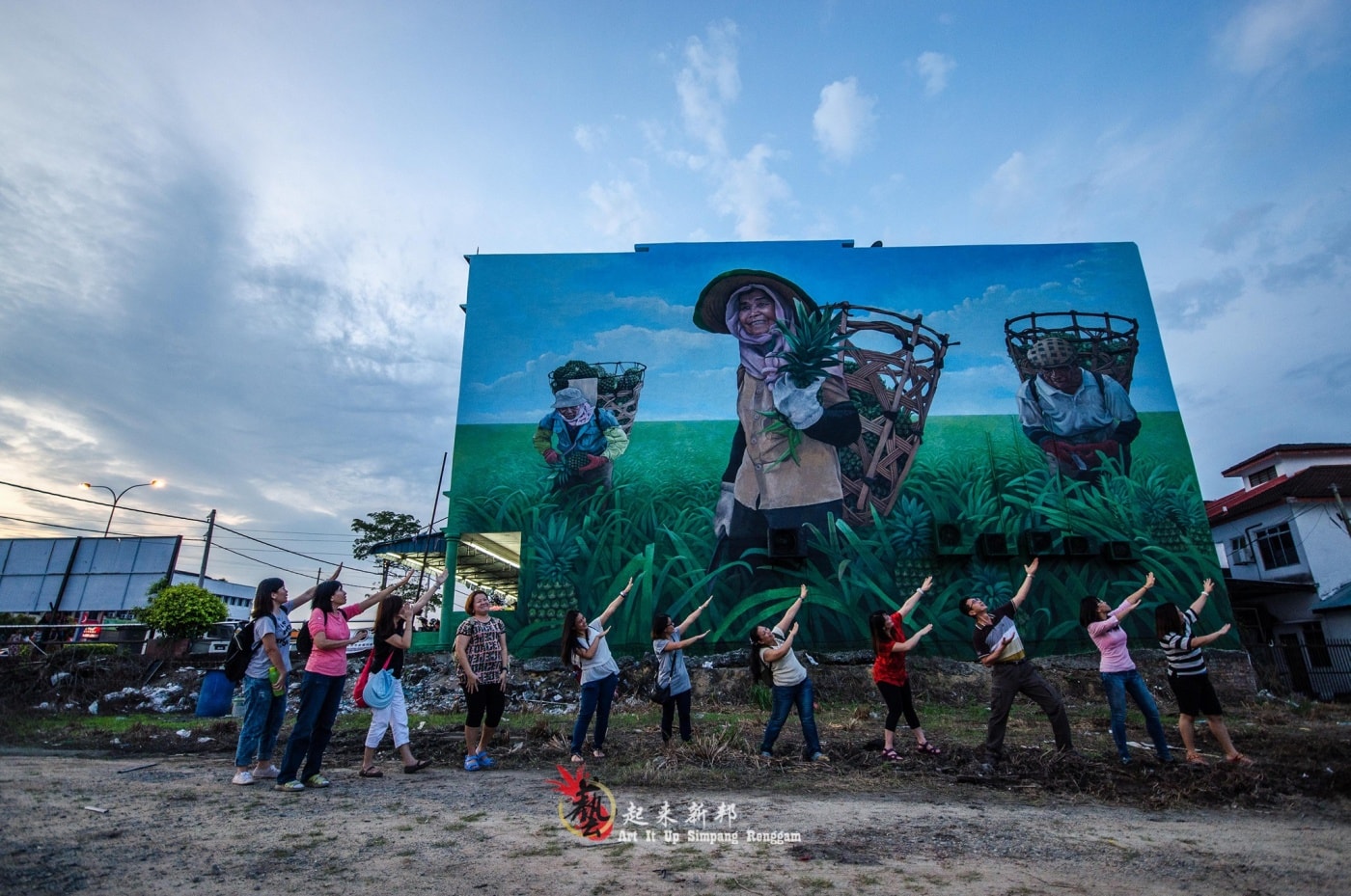 Fresh local pineapple, however, is a must try. There are about 6 kinds of pineapples grown in the plantation. The fruit grows all year, but tends to be abundant during Chinese New Year. At least 3 pineapples are only used for Chinese prayers, as the percentage of fibre in certain species may be too high for consumption.
The sweetness of the fruit depends on the weather. "If it rains too much, the pineapples would not turn out as sweet. When the weather is warmer, they will be sweeter," he added.
To Ho, showcasing the rural traditions of Simpang Renggam is a reason for emphasizing the farming experience in the tour. In other words, it is farming with a slice of history.
Being Part of a Stunning Pastoral Scenery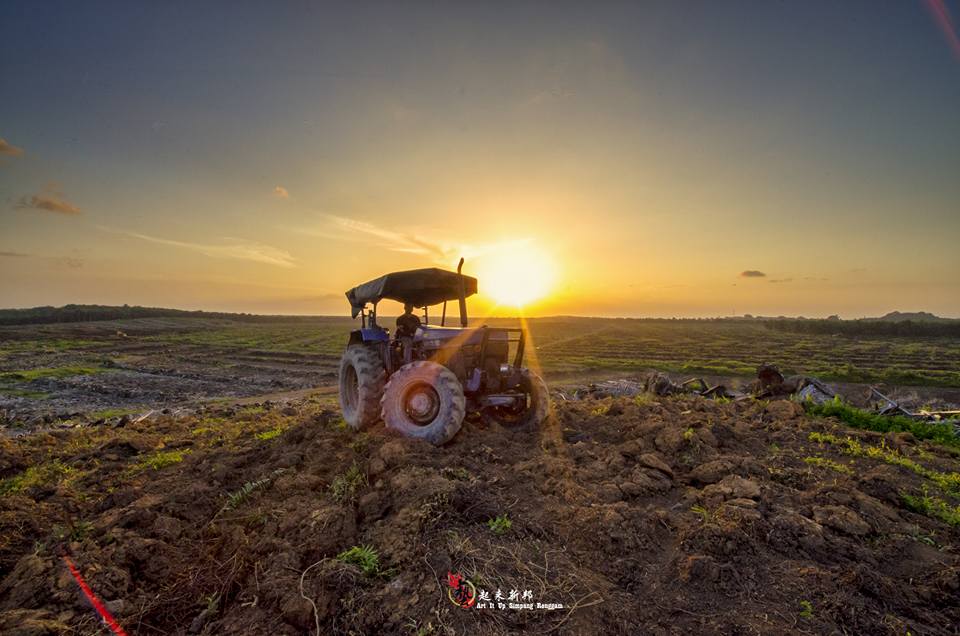 While Ho loves photography, he believes some sights should be enjoyed in the moment, no shots needed. In fact, he would always ask his guests to put down their camera while stargazing on the pineapple fields of Simpang Renggam.
"You have to sit quietly and watch. In a mere eight minutes, the sky will bring out a tinge of purple, a tinge of blue, a tinge of red…You can't catch it with a camera. I always ask them to put their camera aside and watch it with their own eyes. In that eight minutes as you adjust your settings, that moment will be gone."
Ho has plans for a homestay within the pineapple plantation in the future, but there are still many details to iron out. For now, he hopes to let people step into the shoes of local farmers, and show them how breathtaking a sleepy place like Simpang Renggam can be.
Discover this local experience in the "Sea of Pineapples" of Simpang Renggam on LokaLocal.
---
"ExpatGo welcomes and encourages comments, input, and divergent opinions. However, we kindly request that you use suitable language in your comments, and refrain from any sort of personal attack, hate speech, or disparaging rhetoric. Comments not in line with this are subject to removal from the site. "
Comments